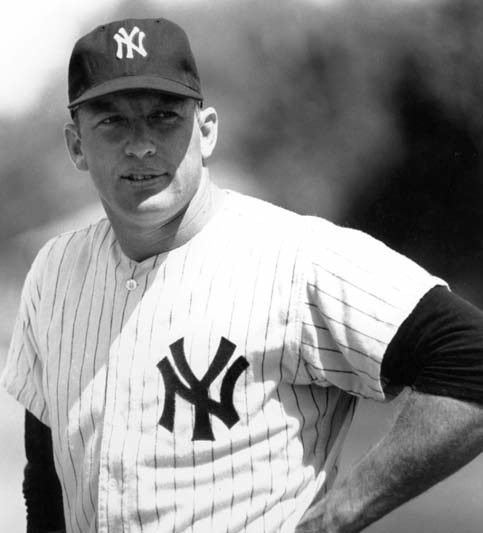 May 14, 1967: Mickey Mantle smacks his 500th home run
---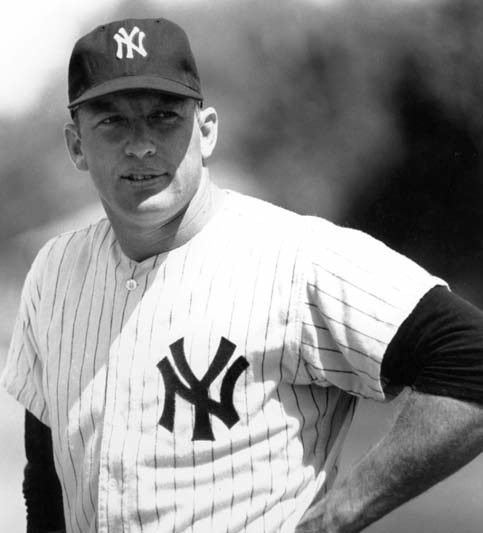 After winning five straight pennants, and two world championships in the first half of the decade, the New York Yankees were certainly getting a different view of the American League standings. After decades of being rulers of the roost, the Bronx Bombers were now, well, part of the roost.
After the Yankees won the pennant in 1964, they sank to sixth place, 25 games behind the first-place Minnesota Twins. Perhaps the only consolation for Yankee fans was that their hated rivals, the Boston Red Sox, finished even lower, landing in ninth place. But in 1966, while Boston remained in ninth place at season's end, the Yankees finished in the basement. New York had not finished in the second division in consecutive years since 1914-15. No doubt the rest of the junior circuit was enjoying their plight.
Through it all, or the last two decades anyway, there was Mickey Mantle. By now the Commerce Comet was a shadow of himself, and was a parallel comparison to the Yankees. Once a powerful slugger who was the envy of young boys and old men alike for his precision and power on the baseball field, Mantle had been slowed in recent seasons by a changing cast of teammates, injuries, and age – much like the club that employed him. Yankees fans who were used to seeing Mantle patrol the outfield would now have to get used to seeing him with a first baseman's glove. Injuries and age curtailed his defensive abilities as well.
When the 1966 season came to a close, Mantle had hit 496 major-league home runs. As the saying goes, "he was close, but yet so far" to accomplishing a goal that only a handful of other players reached in the history of the major leagues. And with the fans not expecting much on the diamond, Mantle's pursuit of the magical 500thh homer was something to rally around. "Everywhere you'd see, 'When is Mantle going to hit 500?' instead of about the team winning or losing," noted the New York Times.1
The Baltimore Orioles, winner of the 1966 World Series, came to Gotham for a three-game series beginning on May 12. The Orioles may have had a World Series hangover; they were sitting in the cellar with a 9-14 record, but only 6½ games behind league-leader Detroit. New York was in fifth place with an 11-11 record, four games back of the Tigers.
Baltimore took the first two games of the series. Jim Palmer beat Whitey Ford in the series opener. Palmer threw a complete-game victory as the score (14-0) resembled more of a Jets-Colts NFL game. Game Two went to the Orioles as well, as the Yankees blew a 3-0 first inning lead and lost 5-3.
Steve Barber (2-3, 2.20 ERA) started for Baltimore in Game Three, looking for a sweep. Mel Stottlemyre (3-2, 2.08) took the ball for New York. Stottlemyre was a Dr. Jekyll and Mr. Hyde pitcher thus far in his career. He won 20 games in 1965, but led the league with 20 losses in 1966. Barber, who spent his first 7½ years in an Orioles uniform, would spend his last 7½ with six different teams.
A Mother's Day crowd of 18,872 took in the day game at Yankee Stadium. No doubt they were hoping to see something historic. And of course, a Yankees win would always be a welcome sight.
After Stottlemyre set down the Orioles in order in the top of the first, the Yankees broke through in their half with three runs, as in the previous game. New York loaded the bases when Horace Clarke led off with a walk and went to second on Dick Howser's single to center field. Mantle stepped in and smashed a grounder to third. Orioles third baseman Brooks Robinson booted the baseball, loading the bases. For the spectators to see the seven-time Gold Glove winner make an error was a historic play all in itself. Barber shook it off and whiffed Elston Howard, but hit Tom Tresh and forced in a run as Clark scored the game's first run. Steve Whitaker followed with a single to right field, plating Howser and Mantle. Baltimore manager Hank Bauer brought in reliever Wally Bunker to replace Barber. Bunker shut the door on the Yankees, keeping the score at 3-0.
The score remained 3-0 until the top of the sixth inning. Stottlemyre retired the Orioles in order in four of the first five innings, but that changed when the Orioles batters finally started making contact. With one out in the sixth, Mark Belanger connected for his first major-league home run when he hit a liner down the left-field line and it struck the foul pole. Russ Snyder grounded out to second base for the second out. But the Orioles were just getting started as Curt Blefary walked and Frank Robinson followed with an infield single to third base to put runners on first and second base. Boog Powell followed with a double to center field, scoring Blefary and moving Robinson to third. Brooks Robinson was intentionally walked to load the bases. Bauer went to his bench, and sent up Charlie Lau to hit for Woodie Held. Lau came through, doubling to left field. Frank Robinson and Powell both scored and the Orioles pulled in front, 4-3.
New York manager Ralph Houk went to his bullpen, and summoned Dooley Womack, who got the final out of the inning.
Bauer also made a pitching move in the bottom of the sixth, bringing in Stu Miller. The Orioles' slim lead was short-lived. With one down, Tresh reached base on a boot by Powell at first base. Houk, continuing to make use of his bench, tabbed Joe Pepitone to hit for Bill Robinson. Pepitone made Houk look like a genius, homering to right field, and the Yankees recaptured the lead, 5-4.
The Yankees extended their lead to 6-4 in the bottom of the seventh inning, when Mantle slugged his 500th home run. Mickey deposited a 3-and-2 changeup from Miller into the right-field stands. The crowd got to their feet, serenading Mantle with cheers, and kept at it even after Mantle entered the dugout. Fans were hoping for a curtain call from their hero, but none was forthcoming. Howard was the next batter. "I couldn't understand why those people kept cheering me," said Howard after the game.2
The Orioles inched closer in the top of the eighth. With runners on first and second, Brooks Robinson hit a groundball to short. The Yankees got the force at second for one out. But Mantle dropped the relay from second baseman Clarke. Frank Robinson scored to slice the deficit to one, 6-5.
But neither team scored again, and the game ended with the Yankees as 6-5 winners. Womack (3-2) was the winner in relief, while Miller (0-4) took the loss.
"It felt like when you win a World Series," said Mantle of his 500th home run, "a big load off your back. I wasn't really tense about hitting it, but about everybody writing about it. Now maybe we can bet back to getting straightened out."3
"I don't care whether it was his first or his 500th," said Miller, "that means nothing to me. All I know, I was doing my damnedest to get him out, as I always try to do. He hit a good pitch."4
"I called my wife last night and told her I'd try to hit her a homer for Mother's Day," said Mantle.5
Mantle joined an elite group of players who had hit 500 or more career home runs: Babe Ruth (714), Willie Mays (546), Jimmie Foxx (534), Ted Williams (521), and Mel Ott (511). Mantle retired after the 1968 season, with 536 home runs.
Despite his hope, the Yankees floundered for the rest of the 1967 season, finishing in ninth place with a 72-90 record. Baltimore (76-85) was not much better, finishing in sixth place.
Sources
Video of Mantle's 500th home run: youtube.com/watch?v=1Orw6YsDn2o.
In addition to the sources cited in the notes, the author used these websites:
retrosheet.org/boxesetc/1967/B05140NYA1967.htm.
baseball-reference.com/boxes/NYA/NYA196705140.shtml.
Notes
1 "No. 500 Felt Like When You Win a World Series," New York Times, July 15, 1967: 79.
2 Ibid.
3 Ibid.
4 Dana Mozley, "Mantle's No. 500 Stu's Birds, 6-5," New York Daily News, May 15, 1967: 54.
5 Norm Miller, "Like Winning Last Game in WS: Mick," New York Daily News, May 15, 1967: 54.
Additional Stats
New York Yankees 6
Baltimore Orioles 5
---
Yankee Stadium
New York, NY
Box Score + PBP:
Corrections? Additions?
If you can help us improve this game story, contact us.
Tags
https://sabr.org/sites/default/files/images/brj39_2-039.jpg
600
800
admin
/wp-content/uploads/2020/02/sabr_logo.png
admin
2019-06-18 17:04:55
2020-04-17 10:22:36
May 14, 1967: Mickey Mantle smacks his 500th home run