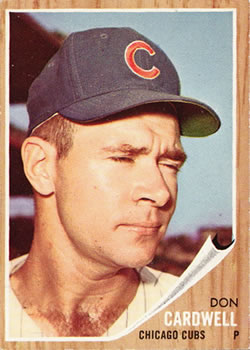 May 15, 1960: Don Cardwell tosses no-hitter in Cubs debut
---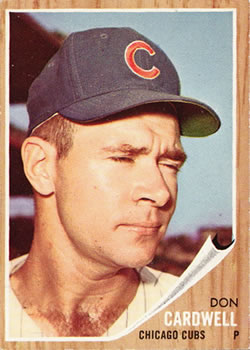 Putting on his Chicago Cubs uniform for the first time, recently acquired pitcher Don Cardwell just wanted to secure his spot in the rotation. He did more than that — he pitched the game of his life.
The Cubs were already in disarray a month into the 1960 season. Skipper Charlie Grimm, who had guided the club to pennants in 1932, 1935, and 1945, had been hired in the offseason to end the club's streak of 13 consecutive nonwinning seasons and second-division finishes, but his third stint with the North Siders lasted only 17 days. He was dismissed with a 6-11 record, replaced by the team's broadcaster, former big-league pilot Lou Boudreau. Heading into a Sunday doubleheader with the St. Louis Cardinals to conclude a four-game series, the Cubs (8-13) were floundering in sixth place, 7½ games behind the San Francisco Giants. The once mighty Redbirds were in the midst of their worst stretch of baseball in four decades and seemed destined to post their fifth losing season in the last six years. Mired in seventh place, the Cardinals (9-15) had dropped their last eight games and remarkably had lost all 12 games they had played on the road thus far in '60. Those inglorious streaks ended when the Cardinals Larry Jackson spun a four-hitter to win the first game of the twin bill, 6-1.
Starting the second game of the doubleheader for the Cubs was 24-year-old right-hander Don Cardwell, whom the team had acquired two days earlier in a multiplayer trade with the lowly Philadelphia Phillies. In his fourth season in the majors, the stout, 6-foot-4 North Carolinian had a record of 17-26, including 1-2 in 1960. In his last start, nine days earlier in the Los Angeles Coliseum, Cardwell held the Dodgers hitless for five innings before Duke Snider tripled to lead off the sixth. Forced to depart at the end of that frame with a strained arm, he settled for a no-decision. Making his second consecutive start for the Cardinals was right-hander Lindy McDaniel, a former swingman who had been converted into a full-time reliever in 1959.
Wrigley Field was packed with 33,543 spectators, the largest crowd in the Friendly Confines thus far in '60 and more than three times the eventual average game attendance that season. It was a beautiful, 80-degree afternoon with perfect conditions to play two, which must have made Cubs star Ernie Banks even more excited. In between games, Banks was presented his second consecutive NL MVP trophy by league President Warren Giles in a ceremony at home plate.
Catcher Del Rice had no idea what to expect from his batterymate, the hard-throwing Cardwell, still recovering from his sore arm. "Before the game I asked him what he threw," said the 16-year-veteran backstop. "[H]e said a curve, slider, fastball, and changeup. I told him I had never seen his slider, so we won't use it."1 After dispatching leadoff hitter Joe Cunningham on a weak infield grounder, Cardwell walked Alex Grammas. Few could have imagined that he'd be the only Cardinals baserunner of the game.
With afternoon shadows making it difficult for batters on both teams to pick up the ball, the game unfolded as a scoreless pitchers' duel. Cardwell mowed down the Cardinals in the first five frames, fanning five. McDaniel, who would emerge in the course of the season as one of the most effective relievers in the big leagues and finish third in Cy Young Award voting, hurled almost as well, yielding two innocuous singles.
On a day when the infamous wind at Wrigley Field was blowing out toward Lake Michigan, located about a mile east of the ballpark, bats were unusually quiet. The Cubs got on the board in the bottom of the fifth when Frank Thomas hit a one-out single, raced to third on Rice's single, and scored on Jerry Kindall's grounder. In the sixth, Banks connected for his seventh home run of the season, a two-run shot to left field, driving in Richie Ashburn, who had walked to start the inning, to make it 3-0. Mr. Cub was en route to leading the NL in round-trippers (41) for the second time in three seasons and would surpass the 40-home-run mark for the fifth time in six campaigns. In the seventh, the Cubs tacked on their final run on Ashburn's double, plating Kindall, who had singled and swiped second.
Cardwell had not yielded the semblance of a hit through seven, but had two scares in the eighth. Hot-hitting Daryl Spencer, batting .408 (29-for-81) in his last 19 games, led off with a sharp grounder. Second baseman Jerry Kindall darted to his right and made what sportswriter Richard Dozier of the Chicago Tribune called a "sensational stop."2 He scooped up the low bounder and threw across his body to erase Spencer by a hair. Leon Wagner followed with another tricky grounder. First baseman Ed Bouchee, also acquired from the Phillies along with Cardwell, added his name to the highlight reel by fielding the ball flawlessly and scampering to first to beat the speeding Wagner. To the plate stepped the venerable 39-year-old Stan Musial, pinch-hitting for Curt Flood. Just about a year earlier, Stan the Man spoiled a different Cubs pitcher's quest for immortality. Musial doubled with two outs in the seventh to break up Glen Hobbie's no-hitter, but this time the future Hall of Famer fanned on four pitches. "I was swinging at the sound," he quipped about Cardwell's heater. "When I got up there he was throwing bee-bees."3
A hush fell over Wrigley Field as Cardwell took the mound to start the ninth. Pinch-hitting for Hal Smith, Carl Sawatski led off with a deep blast to right field. Sawatski was well known for his towering home runs, and this shot "appeared to be labeled a hit," opined Dozier, but fleet George Altman sprinted to snare the ball just in front of the double green doors at the wall.4 "That ball Sawatski hit to Altman shook me up the most," said Cardwell later. "Sawatski used to catch me at Philly last year. … He knows pretty well what I throw."5 The first hard-hit ball of the game drew Rice to the mound for a brief conference with Cardwell, who had not pitched more than six innings in any of his previous five starts in '60. Redbirds manager Solly Hemus was pulling out all the stops and sent another slugging pinch-hitter to the plate, George Crowe. Big George had belted 31 round-trippers as a Cincinnati Red in 1957 but this time he hit a routine fly to deep center. Just an out away from a no-hitter, Cardwell fell behind against the second consecutive batter and for just the third time in the entire game. With the count full, Cunningham hit a Texas Leaguer to shallow left. Walt Moryn sprinted and, according to Dozier, made a "miraculous one-handed shoe-top catch" to secure the last out and preserve Cardwell's unlikely no-hitter.6 "If I'd have missed that last catch I'd have been begging for an error," quipped the former All-Star.7
Evoking a pennant-clinching or World Series-winning game, fans rushed onto the field in a scene described by the Tribune and the St. Louis Post-Dispatch as chaotic. Cardwell was besieged by youngsters as he frantically tried to make his way from the diamond to the clubhouse.
Cardwell retired 26 consecutive batters and needed only 93 pitches, including 15 in the final frame, to complete his no-hitter in 1 hour and 46 minutes.8 "He was able to keep the ball down all the way," said Rice of the hurler. "He was really humming at the finish."9 Described as "blistering fast" by Dozier and possessing a heater comparable to the Dodgers' Don Drysdale's, according to Boudreau, Cardwell struck out seven while fashioning the third of his 17 career shutouts.10 McDaniel went the distance, yielding just seven hits to absorb the loss. He made 717 more appearances, all but five as a reliever, before tossing his next complete game, on July 10, 1973, as a New York Yankee at the age of 37.
"I threw almost exclusively fast balls in the early innings," said Cardwell. "That's always been my best pitch. Later, I began to use a few changeups and some curves when they got used to looking at that fast one."11
Cardwell, like all other pitchers (as of 2017) didn't match the Reds' Johnny Vander Meer's 1938 feat of consecutive no-hitters. Given some extra time off, Cardwell struggled in his next start, 10 days later, yielding five runs (four earned) and lasted just 2⅔ innings in a loss to the Reds at Crosley Field. That outing inaugurated a rough stretch for Cardwell — a 6.81 ERA in 38⅓ innings spread over eight appearances. He finished the season with a combined slate of 9-16 with the league's second-highest ERA (4.38) in 205⅓ innings.
This article appears in "Wrigley Field: The Friendly Confines at Clark and Addison" (SABR, 2019), edited by Gregory H. Wolf. To read more stories from this book online, click here.
Sources
In addition to the sources cited in the Notes, the author also accessed Retrosheet.org, Baseball-Reference.com, and SABR.org.
https://www.baseball-reference.com/boxes/CHN/CHN196005152.shtml
https://www.retrosheet.org/boxesetc/1960/B05152CHN1960.htm
Notes
1 Richard Dozier, "'Did It With My Fast Ball' — Cardwell," Chicago Tribune, May 16, 1960: C1.
2 Richard Dozier, "New Cub Pitches No-Hitter; Aided by 4 Fine Plays," Chicago Tribune, May 16, 1960: 1.
3 Neal Russo, "Cardwell Faces Just 28 Cards in 4-0 No-Hitter," St. Louis Post-Dispatch, May 16, 1960: 20.
4 Dozier, "New Cub Pitches No-Hitter; Aided by 4 Fine Plays."
5 Dozier, "'Did It With My Fast Ball' — Cardwell."
6 Dozier, "New Cub Pitches No-Hitter; Aided by 4 Fine Plays."
7 Dozier, "'Did It With My Fast Ball' — Cardwell."
8 Pitch count from Dozier, "New Cub Pitches No-Hitter; Aided by 4 Fine Plays."
9 Russo.
10 Dozier, "New Cub Pitches No-Hitter; Aided by 4 Fine Plays."
11 Dozier, "'Did It With My Fast Ball' — Cardwell."
Additional Stats
Chicago Cubs 4
St. Louis Cardinals 0
---
Wrigley Field
Chicago, IL
Box Score + PBP:
Corrections? Additions?
If you can help us improve this game story, contact us.
Tags
https://sabr.org/sites/default/files/CardwellDon-CHC.jpg
600
800
admin
/wp-content/uploads/2020/02/sabr_logo.png
admin
2019-12-10 14:32:24
2020-04-17 10:22:22
May 15, 1960: Don Cardwell tosses no-hitter in Cubs debut