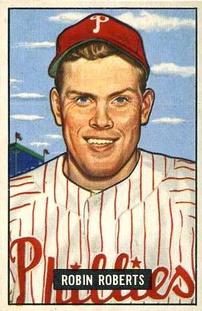 May 16, 1950: Phillies' Robin Roberts outduels Reds' Ewell Blackwell in two-hit shutout
---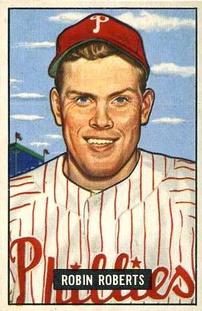 In a classic pitching duel between a bonus youngster and a veteran, the Philadelphia Phillies defeated the Cincinnati Reds, 1-0, at Philadelphia's Shibe Park, before "a howling crowd of 16,041."1 The hometown Phillies sent 23-year-old Robin Roberts to take the mound against the Reds' perennial All-Star, Ewell "The Whip" Blackwell.2
Roberts retired three first three Reds batters of the game on a strikeout and two groundouts. The bottom of the first featured scratch hits by Richie Ashburn and Granny Hamner. Ashburn opened the Phillies' offensive attack with a grounder to short. Virgil Stallcup knocked it down but Ashburn beat the throw. Hamner hit a ball that Blackwell also knocked down, but Hamner reached. Blackwell walked Eddie Waitkus to load the bases with no outs. The Phillies' cleanup hitter, Del Ennis, hit a groundball to Stallcup at short, who started a 6-4-3 double play. Ashburn scored as the Reds traded the run for two outs. Willie Jones grounded out to third to end the inning, but the damage was done. That lone run was all right-hander Roberts would need.
Ron Northey led off the Reds' second with a double to right field. Roberts stranded him there, retiring Joe Adcock, Connie Ryan, and Stallcup on a fly ball to right and two groundouts. In the bottom of the third, Ashburn walked with one out, stole second, and moved to third on a groundout, but Blackwell stranded him there, getting Waitkus to fly out to center field. Roberts allowed a two-out single to Northey in the fourth inning, but Adcock flied out to right to end the threat.
Blackwell allowed just one more hit, a single by Jones in the fourth inning. Jones was erased when Dick Sisler grounded into a second-to-short-to-first double play.In the seventh inning, home-plate umpire Frank Dascoli ejected Northey, the Reds' right fielder, for "heckling."3 After Northey had grounded out to Mike Goliat at second base, he retreated to the Reds dugout and then became a bit too vocal. Apparently, he was not too fond of some of the umpire's calls while he was batting. One sportswriter said he was tossed for "disputing a called strike a little too volubly."4With no outs in the bottom of the seventh, the Phillies' Ennis reached on an error by third baseman Grady Hatton (his third miscue of the young season). Jones tried to move the runner over to second, but when he bunted the ball, Blackwell pounced and threw to second, where shortstop Stallcup tagged the bag and relayed the ball to first base for the double play. Ryan, covering first base after first baseman Adcock charged the bunt, had to leave the game after being spiked in the leg by Jones. According to one reporter, "Puddin' Head Jones … came down on Ryan's foot so hard Connie may be shelved several days."5
In the eighth inning, Cincinnati catcher Dixie Howell walked, bringing Blackwell to the plate. Herm Wehmeier ran for Howell, and Blackwell successfully bunted him to second. Grady Hatton grounded to the right side, moving Wehmeier to third. Roberts then "bore down again and Wehmeier, running for Howell, died at midway,"6 as Lloyd Merriman flied out to left fielder Sisler to retired the side. Philadelphia got two runners aboard on walks in the bottom of the inning, but nothing came of it, as Blackwell struck out two and got a fly out. Roberts retired three straight in the ninth on two groundballs and a popout to preserve the 1-0 victory.
Phillies manager Eddie Sawyer described the pitching duel: "They call it the rabbit ball, but when a couple of pitchers like Roberts and Blackwell work there is about as much rabbit in the ball as there is in a rock. The hardest-hit ball of the night was Connie Ryan's foul."7 He was referring to Ryan's foul ball hit in the seventh inning. Ryan sent a Roberts offering deep into the left-field seats, but about two feet foul.
The Cincinnati Times-Star reported that this was "Blackie's best game in three years."8 However, as The Sporting News reported, "Roberts proved invincible in posting (the) shutout."9 None of Philadelphia's hits off of Blackwell were struck hard, but it didn't matter. Roberts was simply brilliant. He gave up two hits, both by Ron Northey, and only one runner reached third base. It was Roberts's sixth complete game of the season (in seven starts) and his earned-run average dipped to 1.95.
Between them, the Reds and Phillies got only five hits. There were seven walks, but only the free pass to Waitkus in the very first inning caused any damage. Robin Roberts became the first National League pitcher in 1950 to pick up his fifth victory (against one defeat). The loss moved Cincinnati to 10 games under .500 for the season. Philadelphia improved to 16-9, keeping the team atop the National League, just ahead of the Brooklyn Dodgers.Roberts later recalled how that game, in which he defeated one of the top pitchers in the league in a 1-0 shutout, had given him confidence that the Whiz Kids were a team to be reckoned with and had a legitimate shot at the pennant.10
This article appears in "The Whiz Kids Take the Pennant: The 1950 Philadelphia Phillies" (SABR, 2018), edited by C. Paul Rogers III and Bill Nowlin. Click here to read more stories from this book at the SABR Games Project.
Sources

In addition to the sources mentioned in the notes, the author consulted baseball-reference.com and retrosheet.org. The author would like to thank Holly A. Jackson, reference librarian at the Public Library of Cincinnati and Hamilton County, for her assistance in providing documents from Cincinnati newspapers.
Notes
1 "Blackwell Loses Brilliant Mound Duel to Roberts, 1-0," Cincinnati Enquirer, May 17, 1950.
2 Cincinnati's Blackwell stood 6-feet-6 and had a nasty side-arm delivery, hence his nickname. He was named to the National League All-Star squad every season from 1946 to 1951. In 1950 he was 27 years old. He finished the 1950 season with 17 victories and 15 defeats. Blackwell suffered from health and arm problems through much of his career and was out of the major leagues by the age of 32.
3 "Phils' Run in First Subdues Reds, 1-0," New York Times, May 17, 1950. According to retrosheet.org, the ejection was due to "bench jockeying."
4 "Phils Score Winning Run in First Frame on Double Play," Cincinnati Times-Star, May 17, 1950.
5 "Phils Hold Lead by Shading Redlegs, 1 to 0," Cincinnati Post, May 17, 1950. Ryan did not play again for 10 days.
6 The Sporting News, May 24, 1950.
7 Cincinnati Times-Star.
8 Ibid.
9 The Sporting News.
10 Robin Roberts and C. Paul Rogers III, The Whiz Kids and the 1950 Pennant (Philadelphia: Temple University Press, 1996), 225.
Additional Stats
Philadelphia Phillies 1
Cincinnati Reds 0
---
Shibe Park
Philadelphia, PA
Box Score + PBP:
Corrections? Additions?
If you can help us improve this game story, contact us.
Tags
https://sabr.org/sites/default/files/RobertsRobin-1951.jpg
600
800
admin
/wp-content/uploads/2020/02/sabr_logo.png
admin
2018-11-28 12:16:32
2020-04-17 10:23:44
May 16, 1950: Phillies' Robin Roberts outduels Reds' Ewell Blackwell in two-hit shutout