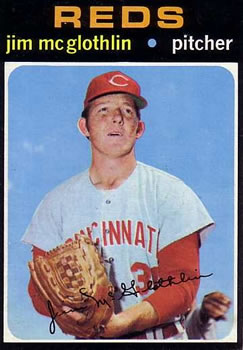 May 16, 1970: Reds' Jim McGlothlin pitches last shutout at Crosley Field
---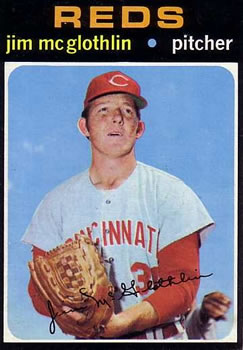 The National League West-leading Cincinnati Reds hosted division rival Atlanta for a three-game series starting on May 15, 1970. The Reds (24-10) had the NL's best winning percentage (.706) and enjoyed a four-game lead over the second-place Braves. The Reds' balanced attack was illustrated by their leading the league in runs scored (173) and fewest runs against (122), while the Braves were stronger offensively compared with their pitching and defense. The Braves won the series opener 3-1 behind 8⅔ innings of three-hit ball from starting pitcher Jim Nash; Hoyt Wilhelm earned the save when he struck out Reds outfielder Bernie Carbo with runners at first and second. Hank Aaron delivered the decisive two-run homer in the eighth inning, and was three hits away from number 3,000. Left fielder Rico Carty, who singled home Aaron with the Braves' first run, extended his hitting streak to 31 games with two hits.1
The Reds were led by relatively unknown 36-year-old rookie manager Sparky Anderson,2 who had spent five seasons as a minor-league manager before reaching the majors. Cincinnati's solid offense was built around All-Stars Johnny Bench, Tony Perez, and Pete Rose. However, their pitching and defense in 1969 were among the poorest in the league. Before the 1970 season the Reds acquired pitchers Pedro Borbon, Vern Geishert, and Jim McGlothlin from the California Angels in exchange for outfielder Alex Johnson and infielder Chico Ruiz. Of McGlothlin, general manager Bob Howsam said, "He's at an age 26 and at a point in his pitching experience three full major-league seasons where he should become a finished big-league pitcher."3
Atlanta was poised to repeat as division champion; the Braves won the NL West crown in 1969 after missing the postseason the previous 10 years. The heart of the Braves' order consisted of future Hall of Famers Hank Aaron and Orlando Cepeda complemented by 1970 All-Star Rico Carty. All three sluggers were hitting over .315 and slugging above .600 when the series started. The Braves' pitching staff started slow, compiling a 4.84 team ERA entering May.
Rookie Cincinnati pitcher Wayne Simpson (5-1) had been due to start, but was still recovering from a line drive off his hand during his start five days earlier. Anderson tapped McGlothlin as the starter.4 McGlothlin compiled a 33-43 and 3.37 ERA over five seasons with California, highlighted by his 1967 All-Star Game appearance. His record entering this game was 3-3 with a 3.23 ERA in seven starts. McGlothlin had below-.500 records in the two seasons before coming to the Reds, due in part to lack of run support.5 His run support hadn't improved in Cincinnati; Anderson commented, "Jim has been giving us solid performances, but we just haven't been able to get him many runs."6
Atlanta manager Lum Harris sent starting pitcher Phil Niekro to the hill. Niekro received his first All-Star Game nod the previous year, going 23-13 in 256⅔ innings; his 23 wins were second to Tom Seaver's 25. Success didn't follow into 1970, as Niekro started the season with a four-game losing streak; however, he won his next four decisions to bring a 4-4 record and 4.03 ERA against Cincinnati. His only previous start against the Reds this season was his fourth loss, when he allowed seven runs in 5⅓ innings. Before that loss, Niekro had defeated the Reds six consecutive times.7
Atlanta shortstop Sonny Jackson walked to start the game, and moved to second base when Felix Millan grounded out to second. Aaron walked, but Carty flied out to left field and Aaron was forced out at second base on a grounder as McGlothlin escaped the early jam. Rose led off for Cincinnati by flying out to center field. Bobby Tolan and Perez both singled to left field, with Tolan advancing to third base on Perez's hit. Niekro also responded to the early threat, striking out Bench and getting Perez on a force play grounder. Bernie Carbo walked in the second but was erased by a double play. In the third, McGlothlin set the Braves down in order, while Niekro ran into trouble against the Reds. McGlothlin struck out, Rose singled to center, and Tolan singled to right field, moving Rose to third base. With Perez up, Tolan stole second. Niekro again answered the call by striking out Perez and Bench to end Cincinnati's threat.
Each team managed a lone runner during the fourth inning. In the top of the fifth inning, the Braves' Clete Boyer singled to center field for Atlanta's first hit and advanced to second base on Bob Didier's sacrifice bunt. Niekro struck out and Jackson grounded out to end the inning. McGlothlin helped himself as the leadoff hitter in the bottom of the fifth with a double to center field. Rose lined out to first base and Tolan struck out, but Perez followed with a single to center field, driving McGlothlin home with the game's first run. Perez stole second base and went to third on a passed ball by catcher Didier. Bench walked, but Niekro struck out Lee May to strand the runners. In the sixth inning, Aaron doubled to left field and advanced to third on Carty's fly ball to right field. Cepeda couldn't plate Aaron, grounding to the shortstop for the third out. In the Reds' sixth, Dave Concepcion doubled to left but was stranded when McGlothlin grounded out to third base.
In the top of the seventh with one out, Boyer delivered his second hit. After he pitched six solid innings, allowing one run on eight hits and striking out eight, Niekro's day ended when Mike Lum hit for him. Lum singled to left field, and Boyer moved to third. But the Braves couldn't plate the runners when Jackson grounded out to McGlothlin. In the bottom of the seventh, Tolan delivered his third single and stole his second base of the game. But Cincinnati also struggled with plating runs, as Perez flied out to center field and Bench popped out to second. In the Braves' eighth, Aaron doubled again. Carty approached the plate with his 31-game hitting streak on the line. He hit a vicious shot through the middle that McGlothlin deflected with his glove to second baseman Tommy Helms, who threw Carty out. After the game, Helms said that if McGlothlin hadn't deflected the ball, "I never could have gotten to it."8 Aaron did reach third base on the play, but Cepeda grounded out, leaving Aaron 90 feet from tying the game. The Reds' May started the eighth by adding an insurance run with his 10th home run. (The blast extended his hitting streak to 14 games.)9 Carbo struck out, Helms walked, and Concepcion hit into an inning-ending double play. Pitching into the ninth inning for the third time in his last four starts, McGlothlin retired the Braves with relative ease: Tony González grounded out to him, Boyer flied out to right field, and Didier ended the game by also grounding out to McGlothlin. The 15,382 fans in attendance had just witnessed the last complete-game shutout at Crosley Field.
McGlothlin improved to 4-3 and lowered his ERA to 2.72 with the shutout. He won his next two games, firing a two-hit shutout against Houston on May 21 and allowing one run in seven innings against San Diego. On June 24, McGlothlin started the Reds' last game at Crosley Field before moving into Riverfront Stadium.10 He did not figure in the decision as the Reds defeated San Francisco, 5-4. He finished the season with a 14-10 record and 3.59 ERA in 210⅔ innings; his wins and innings totals were career highs.
Aaron got hit number 3,000 the following afternoon: an infield grounder off Wayne Simpson.11 Carty, now hitting .421, saw the third-longest hitting streak in NL history stopped. Although disappointed, he rationalized: "This streak, it should have ended long ago. In Pittsburgh I hit two line drives that were caught. Then, John Jeter lost a popup in the lights and I got my hit." Carty praised McGlothlin's fielding ability: "That McGlothlin is a pretty good fielder. He surprised me when he threw his glove out there and got the ball. You've got to give him credit when he gets you out."12
Atlanta visited Cincinnati for the season's final series in new Riverfront Stadium. The Braves ended their season in fifth place with a 76-86 record, while the Reds swept the Pirates during the National League Championship Series before falling to the Baltimore Orioles in the World Series.
This article was published in "Cincinnati's Crosley Field: A Gem in the Queen City" (SABR, 2018), edited by Gregory H. Wolf. To read more articles from this book at the SABR Games Project, click here.
Sources
Besides the sources cited in the Notes, the author consulted Baseball-Almanac.com, Baseball-Reference.com, Retrosheet.org, and the following:
Thorn, John, and Pete Palmer, et al., eds. Total Baseball: The Official Encyclopedia of Major League Baseball (New York: Viking Press, 2004).
https://www.baseball-reference.com/boxes/CIN/CIN197005160.shtml
http://www.retrosheet.org/boxesetc/1970/B05160CIN1970.htm
Notes
1 Bob Hertzel, "Aaron's 'Soft' Homer Makes It Hard for Reds", Cincinnati Enquirer, May 16, 1970: 13.
2 Bob Hertzel, "Sparky Gets Year to Do What Dave Didn't," Cincinnati Enquirer, October 10, 1969: 49.
3 Bob Hertzel, "It's Official: A.J., Ruiz to Angels," Cincinnati Enquirer, November 26, 1969: 25.
4 Bob Hertzel, "Aaron's Bet for 3000 Hits: Cincinnati's Right Fielder," Cincinnati Enquirer, May 16, 1970: 14.
5 Charles F. Faber, "Jim McGlothlin", SABR Biography Project, sabr.org/bioproj/person/c5cc1071.
6 Earl Lawson, "May Takes Record HR Route as Red Rapper," The Sporting News, May 30, 1970: 13.
7 Wayne Minshew, "Shell-Shocked Braves Agree: 'Ball Is Like Grenade,'" The Sporting News, May 9, 1970: 17.
8 Bob Hertzel, "McGlothlin Mows Down Braves, 2-0," Cincinnati Enquirer, May 17, 1970: 27.
9 Associated Press, "Front-Running Cincinnati Squeaks Past Atlanta 2-0" Jackson (Mississippi) Clarion-Ledger, May 17, 1970: 30.
10 Faber.
11 Wayne Minshew, "Hank's No. 1 in 3,000-Hit, 500-Homer Club, The Sporting News, May 30,1970: 6.
12 Bob Hertzel, "McGlothlin Mows Down Braves, 2-0."
Additional Stats
Cincinnati Reds 2
Atlanta Braves 0
---
Crosley Field
Cincinnati, OH
Box Score + PBP:
Corrections? Additions?
If you can help us improve this game story, contact us.
Tags
https://sabr.org/sites/default/files/McGlothlinJim-CIN.jpg
600
800
admin
/wp-content/uploads/2020/02/sabr_logo.png
admin
2019-10-08 13:23:51
2020-04-17 10:22:29
May 16, 1970: Reds' Jim McGlothlin pitches last shutout at Crosley Field