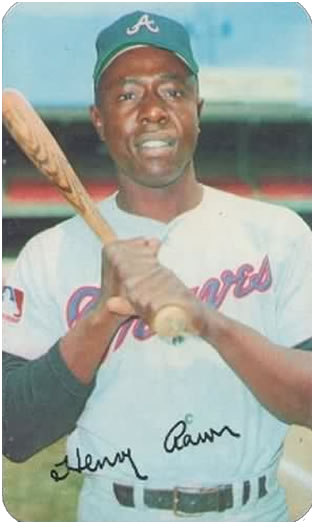 May 17, 1970: Hammerin' Hank Aaron collects 3,000th hit
---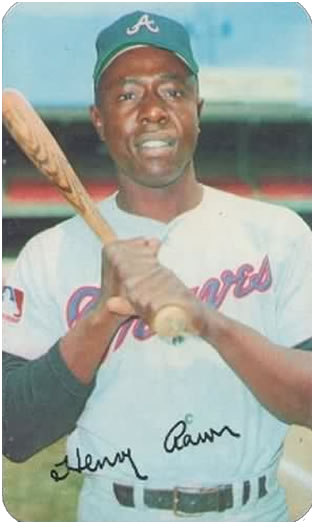 Hank Aaron was tired and a bit on edge as he made his way to Crosley Field for the Atlanta Braves' Sunday afternoon twin bill with the Cincinnati Reds to conclude a four-game series. He had fielded phone calls until 3 A.M. and had an upset stomach, too. "I didn't eat much," said Aaron. "I'm a little nervous about this."1 Less than two years after becoming the eighth member of the 500-home-run club, the Alabama native was on the precipice of joining another exclusive fraternity, which had welcomed only two players since 1925.
Hammerin' Hank began the 1970 season with his name plastered among the career leaders with 554 home runs, 1,724 runs batted in, and just 44 hits shy of 3,000, yet "never received the proper recognition," opined beat reporter Jesse Outlar in the Atlanta Constitution.2 Scribe Thomas Rogers of the Cincinnati Enquire lamented that Aaron was "not a household name" despite his daunting accomplishments.3 Playing far removed from East and West Coast media centers, Aaron was rarely mentioned by sportswriters as the game's best player, let alone one of the greatest players in history, but his value was never lost on his teammates, opponents, and front-office brass. "Statistics actually hide his value to our club," said Braves GM Paul Richards. "More than anything else, Henry is a game winner."4
Aaron, a reserved and modest player who shunned the spotlight, looked back on his career as he approached another milestone. "I just wondered, didn't know, whether I could play in the big leagues with players I had read about," Aaron revealed about beginning with the Milwaukee Braves in 1954. "Even when I left home to play with the Negro League Indianapolis Clowns in 1952, some people I played with told me I was making a bad mistake."5 Now in his 17th season, the 36-year-old Aaron was not slowing down. He entered the doubleheader leading the majors in home runs (15), RBIs (37), and slugging (.744), while batting .344
Despite gray skies, Crosley Field, the venerable green cathedral that would be replaced by the all-purpose Riverfront Stadium in less than six weeks, was packed with a standing-room-only crowd of 33,217, its highest attendance since April 27, 1947. The Reds, in first place in the NL West with the league's best record (25-10) and five games in front of the Braves (19-14), took the first game, 5-1, highlighted by Tony Perez's and Pete Rose's home runs. Aaron went 0-for-4, grounding out meekly twice, fanning once, and hitting a lazy popup to center, stuck on 2,999.
First-year skipper Sparky Anderson sent 21-year-old rookie right-hander Wayne Simpson to face the Braves in the second game. Simpson (5-1, 2.05 ERA) was an early-season sensation, who tossed a two-hitter in his debut and then a one-hitter in his third start. After Felix Millan reached second on shortstop Dave Concepcion's error with one out in the first, Aaron smashed a hard grounder up the middle as the speedy Millan was off on contact. Second baseman Woody Woodward backhanded the ball on the outfield grass but had no play at first as Aaron legged out a single and Millan scored. Simpson said Aaron caught up with an inside fastball and added, "If he hits like that now, how'd he hit 10 years ago?"6
Aaron became just the ninth player in major-league history to collect 3,000 hits, and the first to also have 500 home runs.7 Only two other players with at least 3,000 hits, Paul Waner (1942) and Stan Musial (1958), had begun their careers in the post-1920 Live Ball era. A brief ceremony interrupted the game to honor Aaron. Braves President Bill Bartholomay and Musial left their box seats and proceeded to the pitcher's mound where Aaron was given the game ball to the delight of fans and photographers.
Though Aaron's 3000th hit was not one of his famed line drives, his next hit was. In the third with Millan on first via a single, Aaron lined a bullet over the left-field wall to give the Braves a 3-0 lead. Never known for monstrous home runs, like his former Braves teammates Joe Adcock and Eddie Mathews, Aaron still derived his success from the bat speed generated from his compact, 6-foot, 180-pound frame. "Henry had the greatest hand action," said one-time teammate Bobby Thomson. "The most lethal way of whipping that bat around. … he hit nothing but line drives – even on home runs, those balls jumped out like they were shot out of a cannon."8
The Braves led, 3-0, entering the bottom of the sixth. Their southpaw starter, George Stone, whose 4-1 slate thus far in '70 had improved his career record to 24-15, was working on a three-hitter. Slugger Lee May's two-out double got the Big Red Machine on the board, driving in Perez and Johnny Bench both of whom had singled. Rose, mired in a slump and batting just .254 entering the doubleheader after leading the NL in bating the previous two seasons, led off the eighth with his sixth home run to tie the game. Woodward and Perez followed with singles to end Stone's day. Hoyt Wilhelm, a 47-year-old knuckleballer, intentionally walked May with one out to load the bases, then retired the next two to escape the jam.
After the Braves squandered a leadoff single by Orlando Cepeda in the ninth, skipper Lum Harris's squad benefited from two Reds miscues to score three unearned runs in the 10th. The Braves loaded the bases on singles by Millan and Aaron and a walk by Tony Gonzalez off reliever Wayne Granger, in his second inning of work. Second baseman Darrel Chaney misplayed Cepeda's grounder, permitting two runs to score; Gonzalez reached third while Cepeda was thrown out at second. After Mike Lum drew a walk, Perez muffed Clete Boyer's laser to third, resulting in another run.
The Reds, who ultimately led the NL with 191 home runs in 1970, needed only the first three batters to tie the game in the bottom of the 10th off reliever Ron Kline. After Perez singled, his fifth consecutive hit of the game, Bench connected for his 11th round-tripper of the season. May made it back-to-back with his 11th to tie the game, 6-6.
This game featured five future Hall of Famers, but the Reds' 19-year-old rookie right-hander Don Gullett was the surprising hero. In the 15th, he tossed his second scoreless inning of relief, yielding only another two-out walk. Concepcion led off the bottom of the frame with a single off reliever Gary Neibauer, the Braves fifth hurler, in his third inning of work. After Angel Bravo executed a sacrifice bunt, Rose was intentionally walked. To the plate stepped Gullett, who had two hits, including a triple, in his only three other big-league at bats, and had scored three times. According to sportswriter Bob Hertzel of the Cincinnati Enquirer, Anderson thought the teenager had enough speed to avoid a double play.9 Anderson's unconventional move paid off when Gullett hit a bounder to the right side, between Cepeda and Millan, to drive in Concepcion for the winning run, 7-6.
It was a storybook ending for Gullett, whose RBI single ended the game after 3 hours and 55 minutes and made himself the winner. Equally happy were his 35 guests from his hometown, Lynn, Kentucky, about 120 miles southeast of Cincinnati. "That's the biggest thrill I've ever had, said Gullett."10
The Reds overcame shoddy defense and 15 runners left on base to emerge with the victory, their 13 in their last 17 games. The Braves blew two three-run leads to lose their fifth in seven games after an 11-game winning streak.
Gullett had the decisive hit of the game, but Aaron was the big story. He was besieged by reporters in the dressing room. "I'm glad it's over," he replied matter-of-factly when asked how he felt about his 3,000th hit. "I wanted to get it over with so I could get on with my business."11 Aaron, always uncomfortable speaking about his own achievements, barely had the chance to savor the afterglow of his milestone hit. Reporters hounded him about something bigger – the most sacred statistic in baseball. Asked if he had a chance to break Babe Ruth's record of 714 home runs, he was pragmatic. "If I can hit close to 100 home runs the next two years, I'll think about going after it," said Aaron, whose third-inning blast was his 570th. "I can't see having a shot at it if I'm not well over 600 by the time I'm 38."12
Aaron still had a lot of baseball left in him.
This article was published in "Cincinnati's Crosley Field: A Gem in the Queen City" (SABR, 2018), edited by Gregory H. Wolf. To read more articles from this book at the SABR Games Project, click here.
Sources
In addition to the sources cited in the Notes, the author also accessed Retrosheet.org, Baseball-Reference.com, Newspapers.com, SABR.org/bioproj, and The Sporting News archive via Paper of Record.
https://www.baseball-reference.com/boxes/CIN/CIN197005172.shtml
http://www.retrosheet.org/boxesetc/1970/B05172CIN1970.htm
Notes
1 Wayne Minshew, "The Day of the 3000th," Atlanta Constitution, May 18, 1970: 1C.
2 Jesse Outlar, "Hank, Stan and Club 3,000," Atlanta Constitution, May 19, 1970: 1C.
3 Thomas Rogers, "Braves' 3,000 Hitter. Henry Louis Aaron," Cincinnati Enquirer, May 18, 1970: 47.
4 Ibid.
5 Charlie Roberts, "The Greatest Thrill, Admits Happy Henry," Atlanta Constitution, May 18, 1970: 3C.
6 Bob Hertzel, "Reds Scalp Braves, 5-1, 7-6," Cincinnati Enquirer, May 18, 1970: 47.
7 The previous players with 3,000 hits and the year they got number 3,000 were Cap Anson (1897), Honus Wagner (1914), Nap Lajoie (1914), Ty Cobb (1921), Tris Speaker (1925), Eddie Collins (1925), Paul Waner (1942), and Stan Musial (1958).
8 Hal Hayes, "Something 'Special' About Aaron From Start," Atlanta Constitution, May 18, 1970: 3A.
9 Hertzel.
10 Ibid.
11 Ibid.
12 Ibid.
Additional Stats
Cincinnati Reds 7
Atlanta Braves 6
15 innings
---
Crosley Field
Cincinnati, OH
Box Score + PBP:
Corrections? Additions?
If you can help us improve this game story, contact us.
Tags
https://sabr.org/sites/default/files/Aaron-Hank-1969.jpg
600
800
admin
/wp-content/uploads/2020/02/sabr_logo.png
admin
2019-10-08 13:38:35
2020-04-17 10:22:29
May 17, 1970: Hammerin' Hank Aaron collects 3,000th hit