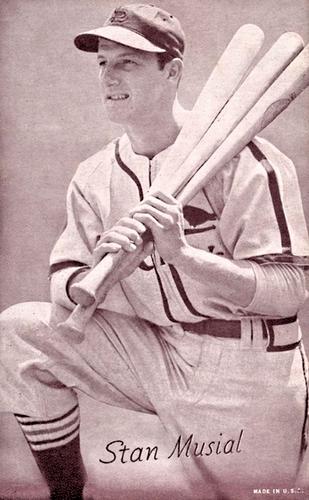 May 2, 1954: Stan Musial sets major-league record with five home runs in doubleheader
---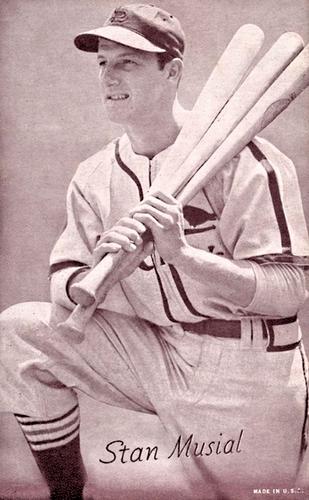 Early on Sunday morning, May 2, 1954, a group of 37 people from Chillicothe, Missouri, boarded a chartered bus for the first leg of a round trip to Busch Stadium1 in St. Louis to see a doubleheader between the Cardinals and New York Giants. The Midwestern town's depot agent, J.E. Brotherton, had arranged the excursion, which would be trailed by several carloads of locals.2 The 235-mile route to the big riverfront city would proceed east via US 36 to Hannibal, and then southeast on US 61 before intersecting with US 40 eastward until a north turn onto Grand Boulevard.
Jack Buck arrived at the ballpark long before the 1:30 P.M. start of the first game to go over the between-innings copy he would read for D'Arcy Advertising Agency during the radio broadcast of the twin bill. A couple of months before, the 29-year-old Buck had packed his family and belongings into a 1950 Plymouth and driven from Rochester, New York, to join the Cardinals' announcing team of Harry Caray and Milo Hamilton.3
Horace Stoneham, president of the Giants; his son, Pete; and other representatives from the New York ballclub were attending the doubleheader. They were much impressed with the recent improvements to Busch Stadium.4 A persistent morning rain fell long enough to cancel batting practice. Thirty minutes before game time, St. Louis skipper Eddie Stanky was on the steps of the third-base dugout when he was approached by a reporter. Arch Murray, an enterprising scribe for the New York Post, was working on a magazine story when he posed a carefully phrased question. "Who," Murray inquired, "is the best player in baseball? Stan Musial?" Stanky wasted little time with his reply, "You," said manager to writer, "have just asked and answered your own question." Murray nodded and explained that all other managers had agreed.5
Game One — The 33-year-old left-handed Musial, limping slightly with a charley horse, was batting .346, and starting in right field for St. Louis.6 The Giants, managed by former Gas House Gang shortstop Leo "The Lip" Durocher, were in fifth place at 8-7, while the Redbirds, at 8-6, found themselves in a virtual tie for second with the Philadelphia Phillies and Brooklyn Dodgers in the early-season bottleneck of the National League standings. Johnny Antonelli (2-1, 1.12), a 6-foot-1 southpaw, would make his fourth start of the season for New York. The Cardinals' starter, 6-foot right-handed veteran Gerry Staley (2-1, 5.59), had struggled a bit during five appearances, which included three starts.
This would be the season's only scheduled Sunday doubleheader in St. Louis.7 Staley benefited from a groundball double play to end a scoreless top half of the first. Antonelli, who had been obtained from the Milwaukee Braves in February, had not allowed a home run this season, but that changed quickly when the Cardinals' leadoff hitter Wally Moon, hammered his third homer of the year. After that blast Antonelli immediately found himself in an early jam after allowing consecutive walks to Red Schoendienst and Musial. A force play and a strikeout followed, but with two outs rookie first baseman Tom Alston, who a few weeks earlier had become the Cardinals' first African American player, singled home Schoendienst to put the Cardinals up 2-0.
Antonelli had retired five consecutive batters when he faced Musial with one out in the third. Musial parked a slow curveball onto the right-field pavilion roof for his fourth round-tripper of the season and a 3-0 St. Louis lead. Staley set down seven straight Giants until second baseman Davey Williams, who entered the day batting .137, singled to open the fourth. With one away, back-to-back doubles by Hank Thompson and Monte Irvin, followed by Don Mueller's single, produced three quick runs to tie the score. Staley escaped further trouble when Willie Mays bounced into an around-the-horn double play.
Mays, who would turn 23 in four days, had not regained his admirable major-league skill set since returning to the Giants in March from nearly two years in the US Army. In the bottom of the fourth, the left-handed-swinging, 6-foot-5 Alston launched a high "wind-blown" drive to the deep center that the "Say Hey Kid" lunged for and missed. It then bounced away toward left field while Alston circled the bases for an inside-the-park home run to give the lead back to St. Louis.8 But the tide turned quickly when Whitey Lockman and Wes Westrum popped back-to-back home runs to begin the top of the fifth and put New York up, 5-4.
The Cardinals once again struck back quickly in the bottom half as Schoendienst reached first on shortstop Al Dark's error. Musial stepped to the dish and crouched in his trademark stance. Antonelli fired a low, inside fastball out of the strike zone, but Musial uncoiled to send another shot up and away to the right-field roof as St. Louis moved in front, 6-5.9 Ray Jablonski singled to end Antonelli's appearance, with Durocher bringing in right-hander Jim Hearn, an ex-Cardinal who had not pitched in nine days and was rumored to be in Durocher's doghouse.10 Burdened with an early-season ERA of 8.31, Hearn seemed to bring a gasoline can with him to put out the fire after Rip Repulski doubled Jablonski to third and Alston walked to load the bases with no outs. The veteran Hearn, though, reached back to notch a groundball force at home and followed with successive strikeouts to keep it a one-run game.
With Staley out of the game, lefty Al Brazle took the mound in the sixth for St. Louis and looked good when he fanned Thompson. That "look" certainly proved deceiving when Irvin pounded his fourth homer of the season to tie the back-and-forth affair at 6-6. Hearn, who certainly displayed some moxie a couple of innings earlier, was still toeing the rubber for the Giants in the bottom of the eighth. Moon singled, Schoendienst walked, and up strode Musial who was 3-for-3 with a pair of runs scored and three RBIs. The fans, who had been watching dark clouds move in, turned their attention back to the playing field, and the stands echoed with the rhythmic staccato clapping that traditionally accompanied Redbird rallies. Hearn pondered before he went into his stretch and fed Musial a slider. Musial ripped into it and pulled a shot down the line to right toward the 37-foot-high screen attached to the roof in front of the pavilion seating area. This drive looked too low to clear the screen, but it just made it onto the roof for Musial's third home run of the contest.11 Hearn hung his head, and the home crowd went wild as the Cardinals took a 9-6 lead. St. Louis added another run on a pair of singles followed by a Giants fielding miscue to increase its margin to 10-6.
With threatening clouds moving closer, the stadium lights were now on as the 40-year-old Brazle had some room to work with in the top of the ninth. After the first two Giants went down easily, St. Louis native son Bobby Hofman was tabbed as a pinch-hitter. The side-armer Brazle, who was the NL's oldest player in 1954, struck out Hofman to end the lid-lifter at 2 hours and 48 minutes.
Both teams retreated quickly via the Cardinals' dugout to their respective clubhouses to rest and relax a bit before the second contest got underway. The line score for the opener showed St. Louis with 10 runs, 14 hits, and no errors. New York plated six runs on nine hits and two errors. The winning pitcher was Brazle (1-0) while the loser was Hearn (0-2). Brazle, pleased to be credited with a win, offered Musial a bonus for the upcoming game: "Hit three more, kid, and I'll buy you a beer."12
Musial removed his spikes and uniform number 6, draped a towel over his shoulders, and sat stoically in front of his locker while munching on a ham sandwich and drinking a glass of milk. His wife, Lil, could not attend today's action because their daughter, Jan, was sick. Lil called Stan to teasingly remind him that this was the second time she had missed seeing her husband hit three home runs in a game during his professional baseball career. At age 20, playing for Springfield (Missouri) of the Class C Western Association in 1941, Musial had swatted three round-trippers against Topeka. Lil was at this game, but not sitting in the stands during any of her husband's homers because of a trio of "under-the-stands diaper-duty trips" for their infant son, Dickie.13
Game Two — Before returning to the diamond, a teammate kiddingly asked Musial, "Going to change uniforms, Stosh?" Musial grinned and replied, "Heck, no."14 Stanky also appeared superstitious when he posted the same starting lineup and batting order from the first game with the exception of the batteries. Each starting pitcher in the nightcap was making his initial start of the season. Durocher selected 5-foot-10 lefty Don Liddle (0-1 with a 9.00 ERA), while Stanky went with 5-foot-9 right-hander Joe Presko, who sported a pair of relief wins.
Presko performed admirably for the first three innings while holding the Giants scoreless on one hit. After Schoendienst's one-out double, Liddle tried to pitch around trouble in the first and walked Musial to a chorus of boos from the faithful. That strategy failed after he issued another free pass to Repulski, and Alston doubled to clear the bases for a 3-0 St. Louis lead. Leading off the third, Musial faced the southpaw again. The crack of the bat and the trajectory of the ball brought the fans to their feet once more as it appeared to be another home run. However, Mays was able to get under this 410-foot blast on the gravel warning track in dead center for an out.15 The Cardinals threatened to score again in the frame, but left two runners on base.
During three of their previous six losses, the St. Louis pitching staff had displayed the inability to stave off a "crooked number" inning. That achilles heel flared up in the top of the fourth when New York tallied eight runs on as many hits while facing a trio of Cardinals hurlers. Three of the Giants' safeties went for extra bases with the big blow being Hofman's three-run pinch-hit home run against left-handed reliever Royce Lint. Right-hander Mel Wright entered to suppress the uprising, but he allowed both inherited runners to score on a single by Mays. Musial spared the manual scoreboard operator some grief when he nailed catcher Ebba St. Claire trying to stretch his hit into a double for the third out.
Rain had started to fall and it was enough to cause an 18-minute delay before knuckleball specialist Hoyt Wilhelm came in and retired the Cardinals in order. St. Louis was looking at an 8-3 deficit, and some in the crowd were considering departure. Wright got three quick outs from New York in the fifth, and suddenly the Redbirds' bats fired up in their half. Schoendienst tripled and Musial followed by knocking a slow curve from Wilhelm over the right-field roof onto Grand Avenue.16 Jablonski immediately trailed "The Man's" act with a blast of his own into the left-field bleachers, and it was now 8-6.
Anticipation grew in the bottom of the sixth with a runner on second, but Wilhelm struck out Moon and got Schoendienst on a groundball to second to end the inning with Musial on deck. Right-hander Tom Poholsky dispatched the Giants in order in the seventh, and the fans eagerly waited for Musial to come to the plate. Wilhelm disdained his curveball and floated in a knuckler, but it never made it to his catcher's mitt. Musial's timing this day was impeccable as he unleashed a swing that tattooed another baseball. The crowd knew it was gone, and roared with delight as the sphere grew tinier, cleared the roof in right-center, and struck a taxi beyond the ballpark on Grand Avenue. The driver, who had been listening intently to the game on KXOK, pulled over and exited his vehicle to retrieve the baseball.17
Musial had just become the first major leaguer ever to hit five home runs in a doubleheader. The All-Star from Donora, Pennsylvania, smiled broadly as he started yet another trot around the Busch Stadium bases. The usually reserved Musial could not contain himself, and actually laughed for joy as he rounded third with the large crowd and his teammates cheering loudly for him.18 Folks in the stands had to set aside their applause to realize that New York was still in front, 8-7, but that fact did not seem to matter. Jablonski stroked a single, and that was all for Wilhelm as Durocher called for veteran right-hander Larry Jansen to quell the uprising.
The 33-year-old Jansen certainly performed yeoman service for his team. He coaxed Repulski to hit into a 5-4-3 double play, then issued a pair of walks before retiring Solly Hemus on a comebacker to end the seventh. In the eighth Jansen allowed a one-out single before stabbing Schoendienst's hard grounder and starting a 1-6-3 twin killing. This defensive play occurred with the all-too-familiar uniform number 6 kneeling in the circle. Later, Jansen, batting for himself with two outs in the ninth, singled home an important insurance run to increase the Giants' slim spread to two runs. Jansen's clutch hit was struck off right-hander Cot Deal, who was Stanky's fifth hurler of the nightcap.
Nearing 8:00 P.M., Jansen strode to the mound for the last of the ninth. As Musial trekked to the plate, the crowd of 26,662 was buzzing while preparing themselves to erupt one more time for another long one. Jansen got the sign, wound up, and fired. Musial swung heartily and watched the flight of another baseball take shape. However, this one traveled a mere 90 feet and fell harmlessly into the glove of first baseman Whitey Lockman. The St. Louis fans then stood and gave Musial a thunderous ovation, and then, as if an evacuation alarm had just sounded, whisked themselves toward the nearest exit of the ballpark. Many folks had their backs to the action when Jablonski grounded out and Repulski fanned.19 The 2-hour and 58-minute contest officially ended when Westrum picked up the dropped third strike and pegged it to first to preserve New York's 9-7 triumph.
The line score in the second game for New York read 9 runs, 13 hits, and 1 error, with the Cardinals notching 7 runs on 10 hits and no errors. The winning pitcher, with three innings of one-hit relief, was Jansen (1-0), and the loser was Lint (1-1). With the doubleheader split, the Cardinals (tied for second) and Giants (in fifth place) remained where they had started the day in the NL standings. For the two games the teams combined for 12 home runs, eight by St. Louis.
Despite Musial's setting the record for home runs hit by a player in a doubleheader, there was little celebration in the clubhouse as Stan forced a grin posing for numerous photographs. He lamented, "You can't smile too much when you lose a ballgame."20 Musial also had his name next to a new mark for total bases (21) in a twin bill. His offensive numbers for the two games were six hits in eight official at-bats, nine RBIs, and six runs scored. His batting average jumped 54 points to .400, and his slugging percentage soared from .654 to .917. For his fast start to the season, Musial credited Stanky for playing him more during spring training, but offered, "I've never had a day like this one."21
The weary outfielder dutifully answered questions about the pitches he hit and the last at-bat. "Jansen got me out on a bad pitch — a high fastball, inside." He admitted, "Yeah, I was going for one that time."22 Cab driver Joe Capraro, who had recovered the record-setting ball, returned it to the Cardinals' dressing room, and Peanuts Lowrey gave him another one to replace it.23 Baseball Hall of Fame director Sid Keener phoned Musial from Cooperstown to request the history-making bat after he was through with it. "I'll send it right away," Stan said without delay. "I got a lot of bats."24 The more he thought about it, the more amazed Musial was by his feat. "I still can't believe it. You mean real sluggers like Babe Ruth, Lou Gehrig, Ralph Kiner — men like them — never hit five homers in a doubleheader?"25
Lost in all the record-setting clamor were three other players with big days. For New York, it was Bobby Hofman26 and Don Mueller, both natives of St. Louis. Hofman, who had starred at nearby Beaumont High School,27 hit the big round-tripper in the nightcap to highlight the eight-run fourth inning, while Mueller went 6-for-9. The Cardinals' Tom Alston enjoyed a 5-for-6, 5-RBI total, and joked with reporters in comparing himself to Musial, "Man, every time I watch Stan hit, I'm ashamed to take a bat up to the plate."28
Musial was last player to get dressed and leave the clubhouse. He was beaming when he finally arrived home to his family. However, the feeling of accomplishment was tempered after he was greeted by his 13-year-old son, Dick, who inquired, "They must have been giving you fat pitches, eh, Dad?"29
Jack Buck just had fun being at Busch Stadium for the historic day. He was not concerned that Harry Caray was at the microphone for all five of Musial's home runs. It was just as well, since Buck already knew that it bothered Caray if something really big happened when he was not calling the game.30
The chartered bus finally returned to Chillicothe, Missouri, past midnight. The tired passengers smiled as they thought about the baseball history they had witnessed, courtesy of Stan "The Man" Musial.31
This article appears in "Sportsman's Park in St. Louis: Home of the Browns and Cardinals at Grand and Dodier" (SABR, 2017), edited by Gregory H. Wolf. Click here to read more articles from this book online.
Sources
In addition to the sources noted in these two game accounts, the author also accessed Retrosheet.org, Baseball-Reference.com, SABR.org/bioproject, and The Sporting News archive via Paper of Record. Additional websites accessed were newspapers.com, mapquest.com, and modot.org.
Notes
1 Ray Gillespie,"Busch Buys Sportsman's Park From Browns, $400,000 Improvement Program Started," The Sporting News, April 15, 1953: 8.
2 "Chartered Bus Takes 37 to St. Louis Ballgame," Chillicothe Constitution-Tribune, May 3, 1954: 1.
3 Jack Buck with Rob Rains and Bob Broeg, Jack Buck, That's a Winner! (Champaign, Illinois: Sagamore Publishing, 1997), 81, 83-84.
4 Bob Broeg, "Raschi to Pitch Tonight," St. Louis Post-Dispatch, May 3, 1954: 4C.
5 Broeg, "Musial's Five Homers in Doubleheader a New Major League Mark," St. Louis Post-Dispatch, May 3, 1954: 4C.
6 Jerry Lansche, The Man Musial, Born to Be a Ballplayer (Dallas: Taylor Publishing, 1994), 130.
7 St. Louis Post-Dispatch, February 5, 1954, 22. Three additional Sunday doubleheaders were played at Busch Stadium to make up weather postponements.
8 Robert L. Tiemann, Cardinal Classics, Outstanding Games From Each of the St. Louis Baseball Club's 100 Seasons, 1882-1981 (St. Louis: Baseball Histories, Inc., 1982), 194.
9 Broeg, "Musial's Five Homers."
10 Stan Baumgartner,"Ragged Start Gives Phillies 'Job Jitters,'" The Sporting News, May 5, 1954: 8.
11 Tiemann.
12 Associated Press, "Loss of Game More Important to Musial Than Batting Feat," Kansas City Times, May 3, 1954: 22.
13 Stan Musial as told to Bob Broeg, The Man Stan: Musial, Then and Now (St. Louis: Bethany Press, 1977), 24, 61.
14 Kansas City Times, May 3, 1954: 22.
15 Broeg, "Musial's Five Homers."
16 Ibid.
17 Kansas City Times, May 3, 1954: 22.
18 Broeg, "Musial's Five Homers."
19 Ibid.
20 Kansas City Times, May 3, 1954: 22.
21 Ibid.
22 Broeg, "Musial's Five Homers."
23 Kansas City Times, May 3, 1954: 22.
24 Broeg, "Stan Sends Five-Homer Bat to Museum at Cooperstown," The Sporting News, May 12, 1954: 6.
25 Broeg, "Musial's Five Homers."
26 Hofman was the nephew of Arthur Frederick "Circus Solly" Hofman, who played in all three major leagues from 1903 to 1916.
27 Beaumont High School (opened in 1926 and closed in 2014), located at 3836 Natural Bridge Avenue, St. Louis, was built on the same grounds that housed League Park/Cardinal Field/Robison Field (home of National League baseball in St. Louis from 1893 to 1920). Joan M. Thomas, SABR BioProject, sabr.org/bioproj/park/88929e79.
28 Broeg, "Alston Knows How Gehrig Felt Hitting Behind Ruth," The Sporting News, May 12, 1954: 6.
29 Broeg, " 'Fat Pitches?' Asks Dickie After Dad Stan's Big Day," The Sporting News, May 12, 1954: 6.
30 Buck, 85.
31 "Chartered Bus."
Additional Stats
St. Louis Cardinals 10
New York Giants 6
New York Giants 9
St. Louis Cardinals 7
---
Busch Stadium
St. Louis, MO
Box Score + PBP:
Game 1:
Game 2:
Corrections? Additions?
If you can help us improve this game story, contact us.
Tags
https://sabr.org/sites/default/files/Musial-Stan-1955.jpg
600
800
admin
/wp-content/uploads/2020/02/sabr_logo.png
admin
2018-11-21 00:01:43
2020-04-17 10:23:45
May 2, 1954: Stan Musial sets major-league record with five home runs in doubleheader