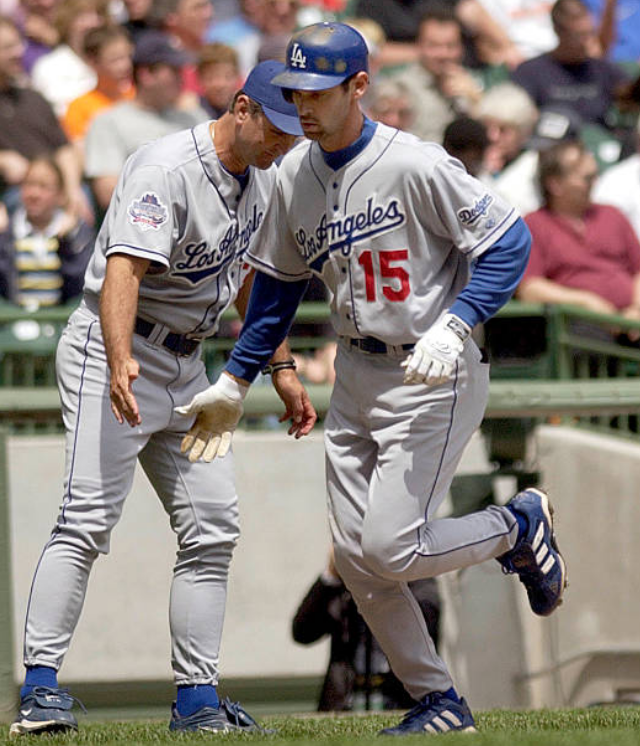 May 23, 2002: Shawn Green hits four home runs, sets record with 19 total bases
---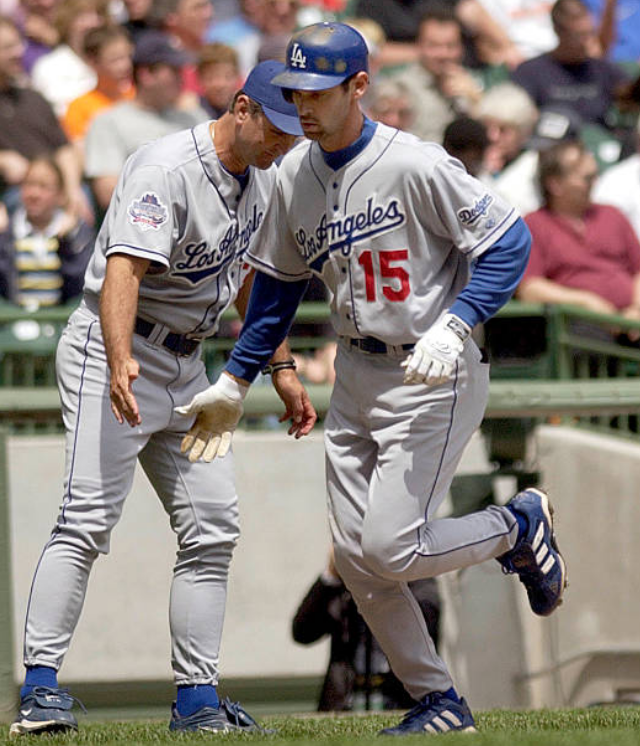 On May 23, 2002, the Los Angeles Dodgers' Shawn Green had a breakout game against the Milwaukee Brewers, after coming to "the land of beer and bratwurst mired in the worst slump of his eight-year career."1 Mike DiGiovanna of the Los Angeles Times wrote of Green's day: "Not bad for a guy who went five consecutive games without hitting a ball out of the infield last week."2
Green, the Dodgers' right fielder, put on an offensive display and led his club to a 16-3 drubbing of the Brewers as he put on "one of the most prolific single-game performances in baseball history."3 Green smashed four home runs, tying the major-league record for the most homers in a game, and amassed 19 total bases, establishing a new mark, in front of a Miller Park crowd of 26,728.
The Dodgers (26-20, third place in the National League West) and Brewers (15-31, sixth and last in the NL Central) were playing the rubber game of a three-game series, the first series of the season between the two ballclubs. Both teams were looking for a spark in offense.
Rookie left-hander Kazuhisa Ishii was making his ninth start of the season for the Dodgers. He had won the first six decisions of his career before losing in his last start to the New York Mets six days previously. Ishii was opposed by fellow southpaw and former Mets pitcher Glendon Rusch, who had been acquired by Milwaukee in the offseason in a three-team, 11-player trade. Rusch brought a 3-3 record into the game.
The Dodgers jumped on Rusch right away, scoring three runs in the first. Cesar Izturis lined a single into right field to start the game. After Izturis advanced to second on Adrian Beltre's sacrifice, Green lined a double down the right-field line, plating Izturis. Eric Karros walked, and Brian Jordan lashed an RBI single to left-center. Karros advanced to third on the play and came home on Marquis Grissom's sacrifice fly.
Ishii ran into trouble as well, yielding back-to-back singles to Ronnie Belliard and Mark Loretta in the home half of the first. An out later, Richie Sexson walked, loading the bases. Alex Ochoa worked a full count before also drawing a free pass, which brought Belliard home with a run. The threat ended when Geoff Jenkins grounded into a 4-6-3 double play.
Chad Kreuter started the Dodgers' second with a single through the hole at short. He was forced at second by an Ishii grounder. Izturis singled and after Beltre flied out, Green deposited a 1-and-1 pitch into the bleachers for a three-run home run. Karros doubled and Jordan homered to deep left-center, giving Los Angeles an 8-1 lead. Grisson then walked and Mark Grudzielanek singled. The Dodgers had batted around, and Rusch's day on the mound was finished. Valerio de los Santos entered in relief and retired Kreuter on a fly out.
Brian Mallette became the third Brewers hurler at the beginning of the fourth inning, and Green hit another 1-and-1 pitch over the wall in right-center. The Dodgers then loaded the bases but did not score. That meant that Green batted again in the fifth. With two outs, he jumped on a 1-and-0 offering from Mallette and sent it out of the park for his third home run of the game. By the time the fifth inning ended, Los Angeles had built a 10-1 lead.
Ochoa gave Milwaukee its second tally in the bottom of the fifth. Sexson had singled and moved to second base on a wild pitch. Ochoa then lined a single up the middle, and Sexson came around to score. The Brewers loaded the bases in the sixth, but Guillermo Mota came out of the Dodger bullpen and got Jeffrey Hammonds to ground into an inning-ending double play.
Green led off the eighth for LA and grounded a single into center for his fifth hit of the day. Two batters later, Hiram Bocachica, who had replaced Jordan in the sixth, hit a homer (his third of the season), with Green scoring ahead of him. In the Los Angeles ninth, Kreuter led off with a double off Jose Cabrera, Milwaukee's fifth pitcher of the afternoon. With two outs, Beltre joined the fun by clubbing his third home run of the season. Green followed and "punctuated his record-setting day with a boom, hitting a 450-foot shot"4 out of the park, his fourth round-tripper of the day. Dave Hansen, who had replaced Karros, made it three in a row with his first homer of the season.5
Ochoa hit a solo shot off Jeff Williams with two down in the bottom of the ninth, and the game ended with the score 16-3, Dodgers. Nine Dodgers batters had hit safely. In addition to Green's six safeties, Jordan and Kreuter each collected three. The Dodgers hit eight home runs (with Green accounting for half of them), a team high to that point in the season. Ishii picked up his seventh win, despite facing 29 batters through just 5⅓ innings. His defense turned two key double plays; the Brewers left 12 men on base.
For Milwaukee, Ochoa went 2-for-4 with a walk, and he drove in all three Milwaukee runs. In absorbing the loss, Rusch lasted just 1⅔ innings, the shortest start of his 12-year major league career. The Brewers used six pitchers in the game.
With his 6-for-6 performance (a single, double, and four homers), Green eclipsed the Milwaukee Braves' Joe Adcock's total-bases record of 18, set on July 31, 1954, in a game against the Brooklyn Dodgers at Ebbets Field. In that game, Adcock also drove in seven runs, going 5-for-5. Green became the 15th major leaguer to hit four home runs in a game; he and Gil Hodges are the only Dodgers to achieve the feat. Green's quartet of homers came exactly three weeks after Seattle's Mike Cameron hit four against the Chicago White Sox.6
This was the first season two players had hit four home runs apiece in a game. Green's effort in Milwaukee also tied the modern era record for most runs in a game; he became the first player to score six runs since Edgardo Alfonzo of the New York Mets did it on August 30, 1999, against the Houston Astros. At the time of Green's accomplishment, hitting four home runs in a game was even more rare than pitching a perfect game; there had been 16 perfect games through the 2002 season.7
Green had been in a 1-for-19 skid entering the series with the Brewers. In the three-game series, however, he banged out nine hits (including six homers), scored eight runs, drove in 10 and totaled 30 bases, raising his batting average 34 points to .265. Over the next week, Green continued his barrage on opposing pitchers. On May 28, he reached a nine-game hit streak and had raised his average to .283.8
When asked about his success, Green said, "The ball had been looking like a ping pong ball. Today, it probably looked like a softball."9 The slugger had hit 49 home runs with 125 runs batted in in 2001, but "he spent the first month and a half of 2002 in hibernation."10 Facing the Milwaukee Brewers must have been just what the doctor ordered to heal his slump. His manager, Jim Tracy, said, "That was an amazing feat. You can go a lot of games, and you won't see another offensive day like that by one individual in a long time, if ever."11
Green commended the Brewers for not pitching around him, saying, "I respect that they gave me something to hit. That's a classy team to do that."12 Milwaukee skipper Jerry Royster told reporters that Green earned it: "We were trying to get him out."13
Sources

In addition to the sources mentioned in the Notes, the author consulted the Baseball-Reference, MLB, Retrosheet, and SABR websites.
baseball-reference.com/boxes/MIL/MIL200205230.shtml
retrosheet.org/boxesetc/2002/B05230MIL2002.htm
Notes
1 Mike DiGiovanna, "Green's Fantastic 4," Los Angeles Times, May 24, 2002: D1.
2 Ibid.
3 Ibid.
4 "Dodgers' Green Belts 4 Homers," Green Bay (Wisconsin) Press-Gazette, May 24, 2002: C1.
5 Cabrera came into the game to start the eighth inning. In his 1⅔ innings of work, he gave up four home runs.
6 In addition to Green, the other players who hit four home runs in a game (through 2018) are Bobby Lowe (Boston Beaneaters, May 30, 1894), Ed Delahanty (Philadelphia Phillies, July 13, 1896), Lou Gehrig (New York Yankees, June 3, 1932), Chuck Klein (Philadelphia Phillies, July 10, 1936), Pat Seerey (Chicago White Sox, July 18, 1948), Gil Hodges (Brooklyn Dodgers, August 31, 1950), Joe Adcock (Milwaukee Braves, July 31, 1954), Rocky Colavito (Cleveland Indians, June 10, 1959), Willie Mays (San Francisco Giants, April 30, 1961), Mike Schmidt (Philadelphia Phillies, April 17, 1976), Bob Horner (Atlanta Braves, July 6, 1986), Mark Whiten (St. Louis Cardinals, September 7, 1993), and Mike Cameron (Seattle Mariners, May 2, 2002).
7 As of the beginning of the 2019 season, there have been 23 perfect games in major-league history (including two in 1880 and 21 since 1904). Since Green's achievement, four more players hit four home runs in a game, raising the total to 18, still fewer than the number of perfect games. Those following Green are Carlos Delgado (Toronto Blue Jays, September 25, 2003), Josh Hamilton (Texas Rangers, May 8, 2012), Scooter Gennett (Cincinnati Reds, June 6, 2017), and J.D. Martinez (Arizona Diamondbacks, September 4, 2017). Gennett and Martinez became the second pair to hit four home runs in a game in the same season.
8 Green finished the 2002 season batting .285, his career average. He belted 42 home runs and knocked in 114 runs.
9 DiGiovanna.
10 Ibid. In the 42 games from Opening Day on April 2 through May 19, the last day the Dodgers played before the Milwaukee series started, Green hit .231 with three home runs and 21 RBIs. Entering the 2002 season, Green was a career .285 hitter over seven seasons with the Toronto Blue Jays and two with Los Angeles.
11 Ibid.
12 Arnie Stapleton, "Green Gets Real Offensive," Capital Times (Madison, Wisconsin), May 24, 2002: 5D.
13 Ibid.
Additional Stats
Los Angeles Dodgers 16
Milwaukee Brewers 3
---
Miller Park
Milwaukee, WI
Box Score + PBP:
Corrections? Additions?
If you can help us improve this game story, contact us.
Tags
https://sabr.org/sites/default/files/Green-Shawn-2002.png
600
800
admin
/wp-content/uploads/2020/02/sabr_logo.png
admin
2019-08-21 16:24:21
2022-05-23 11:01:05
May 23, 2002: Shawn Green hits four home runs, sets record with 19 total bases