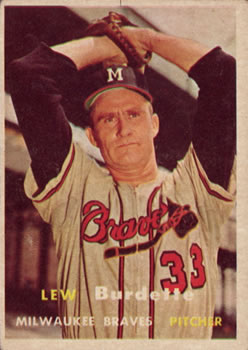 May 28, 1954: Milwaukee's Lew Burdette pitches complete game in 12-inning walk-off win
---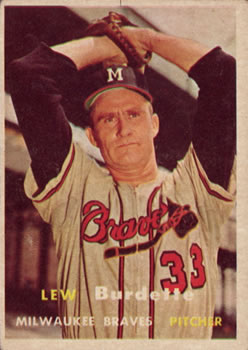 A County Stadium crowd of 34,146 sat through two rain delays and then a 12-inning game that took 3 hours and 20 minutes, but when it was all over, the Milwaukee Braves had beaten the St. Louis Cardinals in a thriller, 3-2. The Milwaukee Journal reported, "It took them until after midnight to do it, but Milwaukee's heroes made it 10 in a row Friday night, or rather, Saturday morning."1 For the fourth time in the six games Milwaukee had played against St. Louis this season, the outcome was determined in extra innings.2
The Braves, with a first-place record of 22-14, had a nine-game win streak on the line. The Cardinals entered the contest in fourth place with a 21-19 record. Milwaukee handed the ball to Lew Burdette (4-3); he was in his first full season as a starter in the major leagues. Vic Raschi (5-0) took the mound for St. Louis. He had come to the Cardinals before the season in a cash deal after spending eight seasons with the New York Yankees. Raschi's record with New York was an amazing 120-50 (a .706 winning percentage), and he was continuing his winning ways early in the 1954 season. The meat of the Cardinals' order had Wally Moon batting .336, Red Schoendienst at .324, Stan Musial batting .365, and Ray Jablonski hitting a league-leading .376. Joe Adcock (.343) and Andy Pafko (.331) were the only Milwaukee batters hitting above .300.
Mother Nature delayed the start of the game for 45 minutes with rainshowers. Another 24-minute rain delay stopped play with two outs in the bottom of the first. Once play resumed, the Braves were retired and then St. Louis touched up Burdette for a run in the top of the second. With two outs, Tom Alston stroked a ball to right field. Pafko tried to make a shoestring catch and missed, and the ball skipped past him for a double. Alston scored when Alex Grammas blooped a single to right.
Burdette gave up only two more hits until the 12th inning. As expected, Raschi was equally impressive. Through the first six innings, only Eddie Mathews had produced a safety for Milwaukee, a groundball through the right side in the first inning. Then in the seventh, Adcock led off with a walk for the Braves. Johnny Logan sacrificed him to second. Hank Aaron hit a fly-ball double to deep right, and Adcock sped home with the tying run. Del Crandall followed with an infield single to the left side, but Aaron stayed at second and was stranded when Raschi retired the next two batters.
The Braves and Cardinals continued to send batters to the plate each inning, and the pitchers continued to send them back to the dugout. Musial led off the seventh for St. Louis with a single but was eliminated on a double play. Grammas led off the Cardinals' eighth with a single and moved to second on a sacrifice bunt, but Burdette retired the next two batters. Logan led off the Braves' ninth with a single, but Raschi retired Aaron on a fly ball and got the next two batters to ground into force outs. Raschi gave way to Joe Presko after the ninth inning, but Burdette continued to pitch for Milwaukee. The 10th and 11th innings ended without incident, and then came the excitement.
Moon drew a leadoff walk for St. Louis in the top of the 12th. Schoendienst bunted Moon to second. Musial was "purposely passed,"3 putting runners on first and second. Jablonski slapped a groundball past Burdette and into center field, and Moon came around to score the go-ahead run, with Musial motoring to third. Then Alston hit a hard grounder to third baseman Mathews who fired home to his catcher. Crandall tagged out Musial in a bang-bang play for the second out of the inning. "Musial, who rarely complains, beefed at the call," reported the St. Louis Post Dispatch.4 Cardinals skipper Eddie Stanky raced to the plate from his third-base coaching box, apparently to argue the call with home-plate umpire Larry Goetz, but instead "he did an about face after a second or two pause and then returned to third in a hurry."5 Grammas popped to short to end the inning, but the Cardinals had grabbed a 2-1 lead.
It appeared the contest was finished for the Braves, as both Bill Bruton and Danny O'Connell flied out to start the bottom of the 12th. Mathews was the last hope, and he kept the inning alive by drawing a walk off Cards reliever Joe Presko. Pafko followed with a single, and the crowd started to roar. Stanky came to the mound and signaled for Gerry Staley to shut down the Braves. Braves skipper Charlie Grimm sent Jim Pendleton in to run for Pafko. Adcock worked Staley to a full count before sending the next offering into center field for a single. Mathews raced home with the tying run and Pendleton scampered to third base. Pandemonium was breaking loose in the stands as Logan stepped into the batter's box. Johnny lined the first pitch from Staley into left-center. Pendleton crossed home plate, and "the hoarse fans yelled themselves hoarser."6 The Braves had won in a walk-off, 3-2
Thanks to the extra frames, Joe Adcock extended his hitting streak to nine games with his single in the 12th inning. Johnny Logan, the batting hero for the Braves, was 3-for-5 with a sacrifice. Alex Grammas collected two of the five St. Louis hits; he also had reached when hit by a pitch in the fifth inning. Vic Raschi pitched well enough to win for St. Louis, scattering five hits in nine innings, with only one earned run.
Burdette's performance was more than memorable. In collecting his fifth win of the season, he had allowed only five hits in pitching a 12-inning complete game, had struck out eight, and had issued only two walks, both in the dramatic final frame. He pitched 13 complete games in 32 starts in 1954, but finished the season with a disappointing record of 15-14 despite an earned-run average of 2.76. Lew was visibly upset when teammates congratulated him after the Braves' victory. He told reporters, "I stood in the dugout tunnel and didn't see Adcock's hit score Mathews with the tying run. I didn't see Pendleton score on Logan's hit, either. I was still peeved because I failed to grab Jablonski's bounder for the third out in the 12th. … I should have had Jablonski's bounder." 7
The walk-off victory brought the Braves' winning streak to 10 games, and they led the National League by 1½ games over the New York Giants. But St. Louis beat Milwaukee the next day, and the Braves would lose 10 of their next 12 games. However, they did put together two more 10-game winning streaks in the 1954 campaign, both after the All-Star break.
Lew Burdette seemed destined to excel while pitching in extra-inning games. On May 26, 1959, five years minus one day after this exciting game, Burdette won the famous 13-inning contest against Harvey Haddix and the Pittsburgh Pirates, which many consider one of the greatest games ever pitched. Haddix pitched 12 perfect innings before losing to Burdette and the Braves. Lew had given up 12 hits without a walk in 13 innings, and won the game, 1-0, again in walk-off fashion.
This article appears in "From the Braves to the Brewers: Great Games and Exciting History at Milwaukee's County Stadium" (SABR, 2016), edited by Gregory H. Wolf. To read more stories from this book at the SABR Games Project, click here.
Sources
In addition to the sources mentioned in the notes, the author consulted baseball-almanac.com, baseball-reference.com, retrosheet.org, and sabr.org.
"Raschi Given Job of Stopping Braves in Milwaukee Tonight," St. Louis Post Dispatch, May 28, 1954.
"Braves Nip Cards in 12 Innings, 3-2," New York Times, May 29, 1954.
"Players From The Past: Lew Burdette," http://bleacherreport.com/articles/285844-players-from-the-past-lew-burdette.
Goldstein, Richard. "Lew Burdette, Masterful Pitcher, Dies at 80," http://nytimes.com/2007/02/07/sports/baseball/07burdette.html?fta=y&_r=0.
Notes
1 "Pafko, Adcock, Logan Hit in 12th to Win for Braves," Milwaukee Journal, May 29, 1954.
2 "Braves Top Cards in 12th for Tenth Straight," St. Louis Post Dispatch, May 29, 1954.
3 "Pafko, Adcock, Logan."
4 "Braves Top Cards."
5 "Even in Victory, Lew Burdette Is Annoyed Over Failure to Handle That Easy Grounder," Milwaukee Journal, May 29, 1954.
6 "Pafko, Adcock, Logan."
7 "Even in Victory."
Additional Stats
Milwaukee Braves 3
St. Louis Cardinals 2
12 Innings
---
County Stadium
Milwaukee, WI
Box Score + PBP:
Corrections? Additions?
If you can help us improve this game story, contact us.
Tags
http://sabr.org/sites/default/files/images/BurdetteLew_0.jpg
600
800
admin
/wp-content/uploads/2020/02/sabr_logo.png
admin
2018-03-01 13:18:10
2020-04-17 10:24:54
May 28, 1954: Milwaukee's Lew Burdette pitches complete game in 12-inning walk-off win