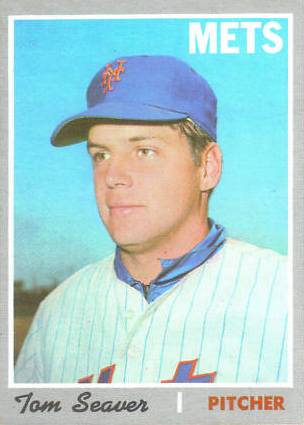 May 29, 1971: Tom Seaver strikes out 10 Padres to win opener for Mets
---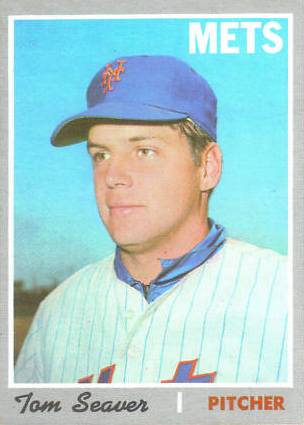 Tom Seaver maneuvered his way through National League lineups in 1971 with force that may have inspired people to ask whether he had Kryptonian blood. Nicknamed "Tom Terrific" and "The Franchise," the righthander led the NL with 289 strikeouts and the major leagues with a 1.76 ERA.
On May 29 Seaver's performance exemplified his status as one of baseball's pitching icons. Taking a shutout against the San Diego Padres into the ninth inning, he struck out 10 and allowed seven hits in a 5-1 victory in the first game of a doubleheader kicking off a nine-game road trip on the West Coast.
Seaver began strong in the bottom of the first inning. Enzo Hernandez flied out to right fielder Dave Marshall, then the Mets ace struck out Garry Jestadt , a part-time infielder with 75 games and a .291 batting average in 1971, and regular right fielder Ollie Brown, the first player selected by the Padres in the expansion draft for the team's first season in 1969.
In the second inning, San Diego left fielder and former Mets teammate Larry Stahl became Seaver's third strikeout victim.
Both teams put goose eggs on the scoreboard until the fourth inning. In the top of the fourth, Mets first baseman Ed Kranepool — the only player on the '71 squad with a tenure dating to the inaugural 1962 season — doubled off Padres righty Steve Arlin with two outs. Arlin intentionally walked second baseman Ken Boswell, who had a nearly 10 percent walks-to-at-bats ratio in 1971 (36 to 392). But hopes of an infield force out to either second base or first base evaporated when catcher Jerry Grote singled Kranepool home; Boswell moved to second.
San Diego stopped third baseman Tim Foli from extending the rally when his grounder to his hot-corner complement, Dave Campbell, forced out Boswell on an unassisted play. Foli's status with the 1971 Mets had emerged because of Wayne Garrett's military obligations. The US Army drafted Garrett, assumed to be the starting third baseman for 1971: "Foli took full advantage of the chance, worked hard in Florida, and came north with the team as the backup to the more experienced Bob Aspromonte, who had been acquired from the Atlanta Braves in December 1970," explained Norm King in Foli's SABR biography.1 Foli played in 97 games for the Mets in 1971.
In the bottom of the fourth, Stahl struck out for the second time. Bob Barton, the Padres' regular backstop, became strikeout number five for Seaver when he whiffed in the fifth inning. Center fielder — and future Blue Jays manager (1989-1997, 2008-2010) — Cito Gaston struck out in the bottom of the sixth.
The Mets scored their second run in the top of the seventh on an old-fashioned sequence. Foli singled; Seaver sacrificed him to second. After Tommie Agee went down swinging, Bud Harrelson singled to score Foli.
Seaver's next two strikeouts came in the seventh: Campbell and Barton.
The Mets padded their lead with three runs in the eighth on a barrage of singles. First aboard was Cleon Jones, followed by Kranepool's fly out to Gaston; Boswell's single put Mets on first and second. It was enough for Padres manager Preston Gomez to relieve Arlin with right-hander Bob Miller; Gomez' decision seemed effective when Miller struck out Grote.
But Foli singled to score Jones and send Boswell to third base; Seaver banged an RBI single to place runners at first and second. Miller faced the .285-hitting Agee, who avenged his previous at-bat and belted a single, which scored Foli and sent Seaver to third.
New York's hammering ended when Harrelson grounded out on a 4-3 play.
With a comfortable 5-1 lead, Seaver faced Angel Bravo, pinch-hitting for Miller, to lead the inning. The Mets ace struck him out; Enzo Hernandez followed with a 5-3 groundout. Jestadt singled, but inspiration for the Padres faithful diminished when Gaston's grounder to Harrelson forced Jestadt at second base.
Gomez called Dick Kelley to the hill for the ninth. The lefty dissolved any visions of another Mets rally. Ken Singleton pinch-hit for right fielder Marshall and struck out; Jones grounded into a 6-3 play; and Kranepool struck out looking.
Seaver maintained his shutout status until the bottom of the ninth, when Nate Colbert hit a solo homer to lead off the half-inning. The Padres continued the momentum with Brown singling and moving to third on Stahl's single. It was a classic scenario: the underdog rallying for a comeback in the bottom of the ninth. Rather than give his ace a rest, though, Mets skipper Gil Hodges kept Seaver in the game. Campbell flied out to Jones; Barton popped to Seaver; and
Ed Spezio pinch-hit for Kelley and struck out.
The New York Times noted that Seaver's strikeout tally was his 26th double-digit performance since joining the majors in 1967. Seaver began the season with four straight victories in April and a 2-1 record before the May 29 contest.2 "It's been a long time," said Seaver after the game. "It's been a long time since I felt right. Everything was just right this time."3
Seaver's 20-10 record for 1971, his league-leading strikeout total, and his microscopic 1.76 ERA earned him second place in the Cy Young Award voting. Chicago's Fergie Jenkins won the award with a 24-13 record, 263 strikeouts, and a 2.77 ERA. Jenkins also led the majors in complete games (30). He topped the NL with games started (39) and innings pitched (325).
San Diego's baseball fans who turned to the San Diego Union the next day for the recap of the doubleheader found a feature on Seaver by sports editor Jack Murphy, the future namesake for the Padres' stadium. Seaver, whom the Mets got in a drawing, rejected the common attribution of the Mets' 1969 championship being a result of divine intervention. "They still talk about the Miracle of the Mets and that's bunk," declared the California native and USC alumnus. "We won the pennant because we had a lot of good ballplayers who worked hard at their jobs. It didn't just happen, you know. The credit belongs to many people: Gil Hodges, the farm system, management and the ballplayers."4
Sources
The author used Baseball-Reference and retrosheet.org for box scores and play-by-play information.
baseball-reference.com/boxes/SDN/SDN197105291.shtml
retrosheet.org/boxesetc/1971/B05291SDN1971.htm
Notes
1 Norm King, "Tim Foli," SABR Baseball Biography Project, https://sabr.org/bioproj/person/bb0176a8.
2 Joseph Durso, "Seaver Is Victor in First Contest," New York Times, May 30, 1971: S1.
3 Jack Lang, "Mets Trumpet Late Arrival of Ryan's Express," The Sporting News, June 12, 1971: 3.
4 Jack Murphy, "The Mets Were Never Funny to a Man of Seaver's Talent," San Diego Union, May 30, 1971: H-1.
Additional Stats
New York Mets 5
San Diego Padres 1
Game 1, DH
---
San Diego Stadium
San Diego, CA
Box Score + PBP:
Corrections? Additions?
If you can help us improve this game story, contact us.
Tags
http://bioproj.sabr.org/bp_ftp/images4/SeaverTom.jpg
600
800
sabr
/wp-content/uploads/2020/02/sabr_logo.png
sabr
2020-07-28 20:59:16
2020-11-10 14:14:55
May 29, 1971: Tom Seaver strikes out 10 Padres to win opener for Mets