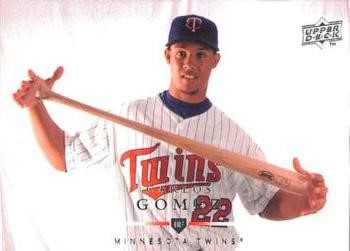 May 7, 2008: Minnesota's Carlos Gomez hits for reverse natural cycle
---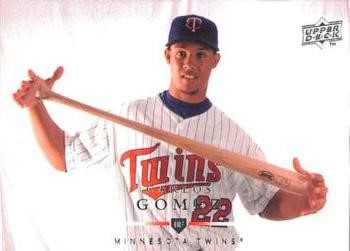 A month into the 2008 season, the top two teams in the American League's Central Division battled in the second game of a three-game series. The 16-15 Minnesota Twins held a one-game lead over the 15-16 Chicago White Sox. The Wednesday-night contest before a crowd of 21,092 fans at U.S. Cellular Field was delayed by rain for an hour and 44 minutes. However, that didn't dampen the Minnesota bats. One night after Chicago White Sox righty Gavin Floyd came within two outs of no-hitting the Twins, Minnesota roared back with a vengeance, exploding for 13 runs on 16 hits, including six in the ninth inning. Twins pitching shut out the Sox until the final frame, and center fielder Carlos Gomez hit for the cycle.
Minnesota sent Livan Hernandez to the mound to face the White Sox. In February, he had signed a one-year contract worth $6 million to pitch for the Twins.1 Opposite him was Chicago's Mark Buehrle, coming into the game with a 1-3 record and a 4.42 earned-run average.
Gomez, Minnesota's leadoff batter, smacked Buehrle's third pitch of the game into the left-field seats and sprinted around the bases, prompting the Minneapolis Star Tribune to report, "Forget the home run trot. This was a home run blur."2 Buehrle then struck out the next two batters, Brendan Harris and Craig Monroe, and he retired Justin Morneau on a grounder to first with Buehrle covering the bag for the out. But his troubles were just starting.
In the fifth, Mike Redmond reached on an infield single and Matt Tolbert followed with a single to left. Nick Punto bunted the ball in front of the plate, and Chicago catcher A.J. Pierzynski pounced, firing to third for the force out on Redmond. Third baseman Joe Crede then threw in time to first to retire Punto for the double play. That brought Gomez to the plate. He crushed Buehrle's 1-and-2 pitch into deep left-center for a triple, driving in Tolbert.
Hernandez kept the White Sox hitters off balance, limiting them to one hit through the first four innings, a one-out single in the second by Pierzynski. Chicago didn't get a runner to second base until the fifth inning, when Nick Swisher singled with one out and advanced on a groundout by Crede. But Juan Uribe also grounded out and the White Sox stayed off the scoreboard.
Trailing 2-0 in the top of the sixth, Buehrle began to unravel. Monroe and Morneau both singled to left. Michael Cuddyer hit a weak grounder to shortstop Orlando Cabrera, whose only play was at first, and the runners moved up a base. Chicago manager Ozzie Guillen then called for Buehrle to intentionally walk Delmon Young, loading the bases. But Redmond lifted a fly ball to deep right-center and all three runners advanced, with Monroe scoring the third Twins run. Tolbert worked a walk, loading 'em up again. Punto jumped on Buehrle's first offering and stroked a double down the left-field line, clearing the bases. Gomez followed with a double, plating Punto with the Twins' fifth run of the inning.
After Gomez's RBI-double, Guillen came out of the dugout and started toward the mound. Buehrle didn't wait for him, walking off the hill and handing his manager the ball on his way to the dugout. Once there, Buehrle "grabbed one of Juan Uribe's bats and whacked it five times against a space heater and a dugout bench before tossing his cap and shaking his head."3 After the game, he said, "It was everything building up. It was the way I pitched, the way we're playing. It was one of those games where you can't hold it back."4 Octavio Dotel replaced Buehrle on the mound.
Gomez, leading off the top of the ninth, drove a ball up the middle that deflected off reliever Ehren Wasserman. Shortstop Alexei Ramerez fielded the carom and had to rush the throw to first; it sailed wide and Gomez had an infield single. This meant he had hit for the cycle, in only his 86th major-league game. Further, he sparked a six-run rally by the visitors. Wasserman allowed two runs on four singles and a walk, retiring only Morneau on a strikeout. He gave way to Nick Masset, who was tagged for a two-run double by Redmond and a two-run triple by Punto. Gomez struck out swinging to end the inning, but the Twins had sent 10 batters to the plate and had a 13-0 lead.
Hernandez "was within two outs of earning a shutout when Jermaine Dye ripped his fifth home run." Hernandez then allowed back-to-back-to-back singles to Pierzynski, Swisher, and Pablo Ozuna, loading the bases. All three were stranded as Hernandez retired Uribe and Ramirez for the complete-game victory.
The Twins earned their sixth victory in seven games, and they increased their American League Central lead to 1½ games over the Cleveland Indians. Every Minnesota batter had at least one hit except Harris, who reached on two walks. Gomez and Redmond each had three RBIs while Punto, batting in the ninth spot in the order, knocked in five. Chicago fell to two games back. Buehrle lost his fourth straight decision; the White Sox ace had not won since April 6, more than a month earlier. The seven runs he allowed tied his season high. "We played a sloppy game from the beginning," said Guillen.5 Chicago was batting .207 over its last 12 games. Hernandez improved to 5-1, and his ERA dropped to 3.83. This was his first complete game in almost a year. He struck out three and walked one.
Gomez became the eighth player in Twins history to hit for the cycle, and the accomplishment came 22 years after the last Minnesota player did it, Kirby Puckett (August 1, 1986). Gomez told reporters, "You know, it's amazing. Kirby Puckett – I've seen the video. He's a good player. He's an All-Star, and I can't explain to you to be the first since Puckett to hit for the cycle, that's unbelievable."6 The first six cycles for Minnesota occurred in a 10-year stretch:7 Rod Carew (May 20, 1970), Cesar Tovar (September 19, 1972), Larry Hisle (July 4, 1976), Lyman Bostock (July 24, 1976), Mike Cubbage (July 27, 1978), and Gary Ward (September 18, 1980).
Gomez's rare feat was also the ninth reverse natural cycle, meaning that he attained his hits in reverse order of total bases: home run, then triple, then double, then single. Entering the start of the 2020 season, the 10 players who have hit reverse natural cycles are listed below:8
Henry Larkin, Philadelphia (AA), June 16, 1885
Bid McPhee, Cincinnati (AA), August 26, 1887
Sam Mertes, New York (AL), October 4, 1904
Gee Walker, Detroit (AL), April 20, 1937
Arky Vaughan, Pittsburgh (NL), July 19, 1939
Jackie Robinson, Brooklyn (NL), August 29, 1948
Jim Fregosi, California (AL), May 20, 1968
Luke Scott, Houston (NL), July 28, 2006
Carlos Gomez, Minnesota (AL), May 7, 2008
Rajai Davis, Cleveland (AL), July 2, 2016
Sources
In addition to the sources mentioned in the notes, the author consulted baseball-reference.com and retrosheet.org.
baseball-reference.com/boxes/CHA/CHA200805070.shtml.
retrosheet.org/boxesetc/2008/B05070CHA2008.htm.
Notes
1  Mark Gonzales, "Rout Drives Buehrle Batty," Chicago Tribune, May 8, 2008: 4-1. According to baseball-reference.com, the amount was $5 million.
2  Joe Christensen, "Twins' Gomez Goes for Cycle," Minneapolis Star Tribune, May 8, 2008: C1.
3  Gonzales.
4  Ibid.
5  Ibid.
6  Christensen.
7  mlb.mlb.com/mlb/history/rare_feats/index.jsp?feature=hit_for_cycle.
8  The author has reviewed the order of 293 of the 330 total times that a batter officially hit for the cycle (the other orders are not available, due to lack of play-by-play accounts in the newspapers) and has found these ten reverse natural cycles.
Additional Stats
Minnesota Twins 13
Chicago White Sox 1
---
U.S. Cellular Field
Chicago, IL
Box Score + PBP:
Corrections? Additions?
If you can help us improve this game story, contact us.
Tags
https://sabr.org/sites/default/files/GomezCarlos.jpg
600
800
admin
/wp-content/uploads/2020/02/sabr_logo.png
admin
2018-02-22 14:51:53
2020-07-28 13:09:47
May 7, 2008: Minnesota's Carlos Gomez hits for reverse natural cycle