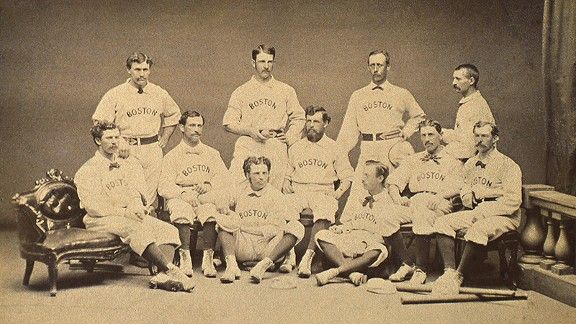 May-June 1871: The Boston Red Stockings' homestand from hell
---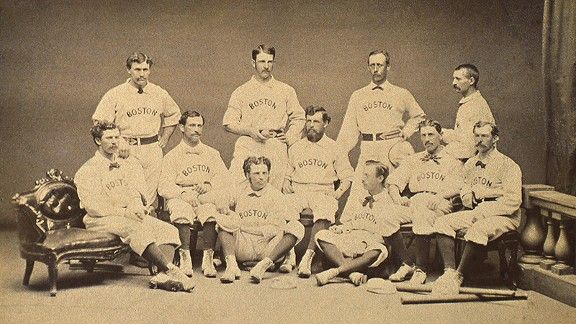 Losses in May and June count as much as those in September; just ask any second-place team.
Ivers Whitney Adams's assembled dream team of Boston Red Stockings was designed to have an exciting and superior baseball season in 1871. But after winning their very first two games on the road, their initial home appearance at the South End Grounds, between Columbus Avenue and the South End railroad yards, proved disastrous. The 29-14 Opening Day thrashing there by the Troy Haymakers on May 16 shocked local fans. But who could have known that Troy's 15-run margin would be the largest Adams's stars ever suffered in their 292 NA games? Later success unknowable at the time, it was not the way to begin their inaugural "homestand" before highly expectant fans.
A few days later Boston made amends by beating pitcher-manager John Dickson McBride and his strong Athletics of Philadelphia, 11-8, behind Harry Wright's and Charlie Gould's hitting and a seven-run inning. All seemed well again. Making its debut that day at the Grounds was the ever-enterprising Max Mort Rogers' "elegant new scorecard with Harry's picture on the cover," noted the Boston Herald.1 The mediocre Washington Olympics were the next visitors, featuring pitcher Asa Brainard, the iconic hurler of the Cincinnati Red Stockings with whom four of the now Boston Red Stockings played in 1869 and '70. The other half of Cincinnati's legendary barnstorming team also had signed with Washington: catcher Doug Allison, third baseman Fred Waterman, outfielder Andy Leonard, and infield sub Charlie Sweasy. Joining them was the little fireball, Davy Force, at second.
Businessman Adams had signed Cincinnati brother-stars Harry and George Wright back in January, along with catcher Cal McVey and first sacker Gould. By late April Charlie Gould and George Wright were already in the sporting-goods business on Boylston Street. Star batsman and shortstop George Wright missed the Troy trouncing and nearly half the season because of an injury, but the other Red Stockings certainly appeared to have enough combined talent to win without him. Of note also on Boston's roster was Albert Spalding of the old Rockford Forest Citys amateurs, who was in the pitcher's box with his Rockford second baseman, Ross Barnes, behind him, while Philly native Harry Schafer played third and tough David Birdsall of the New York Morrisania club patrolled the outfield with manager Harry Wright.
Spalding was terrific for seven innings against Washington (allowed three hits) and held a 4-1 lead as Boston scored its four in the third inning. In the ninth a defensive collapse became crucial as with two outs and nobody on a few Boston errors (six total by Schafer) let Washington tie the score 4-4 just before umpire (and scorecard seller) Mort Rogers of the Lowell Club called the game because of darkness, a decision not agreed with by many of the spectators who enjoyed the exciting, small-score battle. Not only was it the Reds' only tie in 1871, it was the only NA tie game ever in Boston. Both the Olympics and Red Stockings then boarded a late train and met to play each other at Brooklyn's Union Grounds three days later in an unusual neutral site game on May 27. It is listed as a home game for Boston. The Reds jumped out to a comfy 5-1 lead before squandering it all in the final two innings and losing 6-5 to a rally sparked by ex-mates Allison, Waterman, and the pesky Force. Two sure wins were instead a very disappointing loss and tie. The Westernmost NA Rockford Forest Citys pro team then arrived in Boston. They had been thrown together in the final weeks before the National Association started and just did not have the all-around talent of the other clubs. Boston swept two, 25-11 and 11-10, winning in the ninth on Decoration Day, May 30, as Birdsall walked, made third on McVey's hit, and scored on Gould's single.
June brought Chicago's White Stockings to the Hub with ace thrower George "The Charmer" Zettlein. George would be as much a thorn in the Red Stockings' side as anyone for all five NAPBBP seasons. He was no stranger to four of them as Zett was the Brooklyn Atlantics hurler who beat the undefeated Cincy club in June 1870, 8-7 in 11 innings, garnering national headlines. However, on June 2, 1871, he was pounded for 10 runs in two innings and dejectedly walked to right field — replaced by third baseman Ed Pinkham. Pinkham didn't have much on the ball but the Reds suddenly had less. Though wild at first, relief man Ed held the Reds to four more runs while Spalding lost his touch completely. Manager Harry Wright did so poorly in relief trying to quell the rally that Spalding came back in a second time to allow even more runs. The Chicagomen scattered 11 unanswered runs for a 16-14 victory, thanks to Brooklynites Pinkham (three runs) and shortstop Ed Duffy (three doubles, four runs). Tied in the ninth, Chicago got two hits, a Boston error, and two groundouts that scored the winning tallies. Relief winner Pinkham, (really an infielder) pitched twice more during the year, notching one save. He did not play in the NA beyond 1871. In this giveaway Boston made 12 errors, four by Schafer at third.
Twelve days went by before Albert George Pratt came to town with the Cleveland Forest Citys, which had lost the very first NA game, 2-0 to the Fort Wayne Kekiongas. Cleveland behind the hitting of catcher James Doc White (three hits/two RBIs), first baseman Jim Carleton (three hits/two RBIs), and third sacker Ezra Sutton (four hits/one run) maintained a slight lead for "Uncle Al." In the ninth Boston needed three to win but plated just one, losing 8-7. Pratt tried for the next four years but never beat Boston again. Meanwhile the South End horror show continued as the solid New York Mutuals visited the Red Stockings. Pitcher Reinder "Rynie" Wolters gave the Reds fits, winning easily 9-3, getting two hits with one RBI himself, and getting help from Dickey Pearce (two hits/two runs) and Joe Start (three runs). Reds sub second sacker Sam Jackson had five errors of the 12 Boston committed. Only one other time in those five years would the Reds lose three consecutive South End games. (In late September of 1874 they lost three straight and five of six, but were far ahead in the standings by then.)
Fort Wayne's struggling Kekiongas paid the price for the Reds' awful showing as they played the final homestand game before Boston left town. Spalding allowed the light-hitting Indiana club only a two-out, first-inning single by Jim Foran. The contest turned out to be Spalding's best pitched NA game in terms of hits allowed, and the Red Stockings ripped the usually reliable Bobby Mathews (tosser of the league's Opening Day 2-0 shutout of Rockford), 21-0. It was Spalding's only shutout of the year and Bobby's worst defeat in his NA career. The Reds stood at 6-5.
Still minus George Wright's bat and defensive prowess, the Reds boarded a southbound train for Philly and were beaten by McBride, 20-8, at the new Jefferson Street Grounds at 25th. They rallied and whipped Brainard in Washington, but out West in Chicago Zettlein took his revenge, 7-1, easily the fewest runs scored in one game by the Bostons that year. That sequence left Adams's Wrightmen at 7-7, their worst 14-game starting record during the five NA seasons. After George Wright rejoined the squad, the Reds were terrific and won their last seven home games, but enough damage had been done. In a close finish but behind the champ Athletics, the Reds could have/should have salvaged at least three of those home losses and tie that they suffered by blowing leads. Those victories would have given them a better final record than Philadelphia and therefore a clean sweep of all five National Association championships. Apparently the Red Stockings did learn a valuable lesson, and won 87 percent of their home games (113-17 the next 4½ years) after that hapless homestand from hell.
This article was originally published in "Boston's First Nine: The 1871-75 Boston Red Stockings" (SABR, 2016), edited by Bob LeMoine and Bill Nowlin. To read more articles from this book at the SABR Games Project, click here.
Notes
1 "Affairs About Home," Boston Herald, May 22, 1871: 4. The Boston Daily Advertiser offered more information about the scorecard: "Mort Rogers issued for the first time at the Boston-Athletic match, Saturday (May 20), his photograph score-card. Each of these cards contains the names of the players in order of striking, with their positions, and on its back a photograph of some prominent player. The card at the match, Saturday, had a capital picture of Harry Wright, by Black, and other members of the Boston club will figure on the cards for succeeding games here. It will be seen readily that a person can secure by the close of the season a record of all important games here, and a collection of photographs of the Boston club and all the leading base-ball players in the country. The idea is an excellent one, and Mr. Rogers will doubtless reap the remuneration he deserves. These cards will be sold inside the grounds." Boston Daily Advertiser, May 22, 1871: 1.
Additional Stats
Corrections? Additions?
If you can help us improve this game story, contact us.
Tags
https://sabr.org/sites/default/files/1871-Boston-Red-Stockings.jpg
600
800
admin
/wp-content/uploads/2020/02/sabr_logo.png
admin
2018-08-28 17:20:36
2020-04-17 10:24:43
May-June 1871: The Boston Red Stockings' homestand from hell