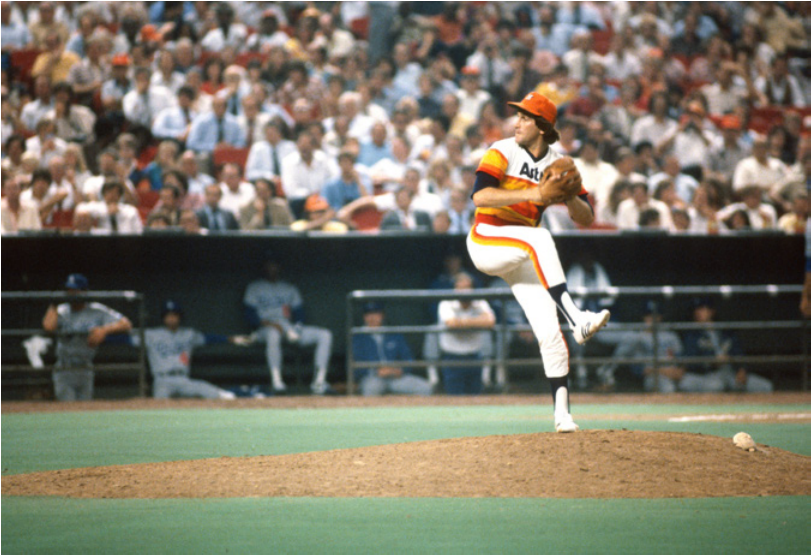 October 11, 1980: Phillies stay alive in Game 4 with 10th-inning rally at Houston
---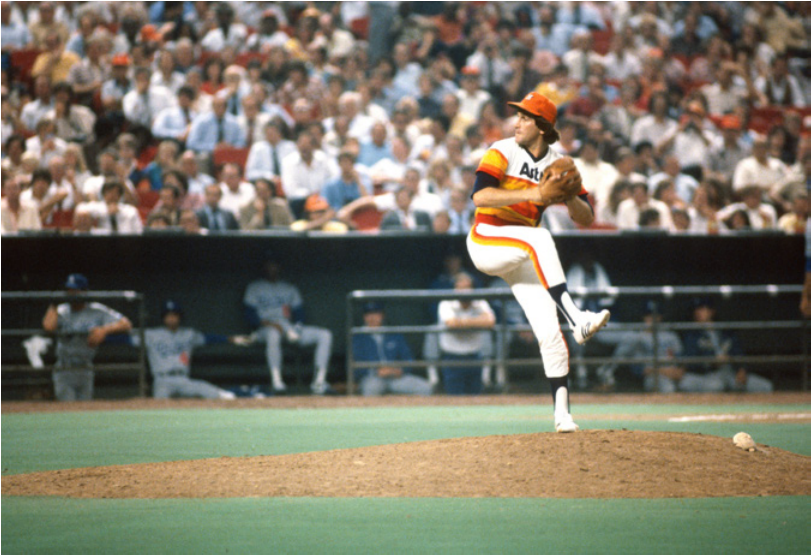 The champagne was ready in the Astrodome. With a two-games-to-one lead in the best-of-five National League Championship Series, the Astros were one win away from their first trip to the World Series. Considering the obstacles that both they and their opponents, the Phillies, had overcome, no one was apt to be counting on an easy win. It is unlikely, though, that anyone could have foreseen the weird twists and turns that lay ahead.
Houston had started 1980 strong, surging into the division lead by the end of April. By the end of May, however, the Astros had surrendered the lead to Los Angeles. Despite losing ace starter J.R. Richard to a stroke in late July, Houston battled the Dodgers for the Western Division crown all season. When the Astros lost three straight to LA at the end of the 162-game schedule, the two teams found themselves tied for first place. Joe Niekro shut the Dodgers down in the tiebreaker game to pick up his 20th win and send the Astros into the playoffs for the first time in their 19-year history.
The Phillies had fared only slightly better. In nearly 100 years in the National League, Philadelphia had made it to just two World Series and three playoff series, but each had ended in loss. They also had a tight regular-season race in 1980, clinching the Eastern Division title over the Montreal Expos in their 161st game.
That high-pressure atmosphere continued into the first three games of the League Championship Series. Game One was close, but the Phillies earned a 3-1 win behind their ace, Steve Carlton, who would soon receive his third Cy Young Award. Things got more intense in Game Two, in Philadelphia. After several late-inning rallies, the Astros pushed across four runs in the 10th to win the game and even the series. A pitchers' duel broke out when the action moved to the Astrodome in Game Three, with zeroes on the scoreboard through 10 innings. Houston broke through in bottom of the 11th against Philadelphia closer Tug McGraw in his fourth inning of work, plating a run on a triple by Joe Morgan and a sacrifice fly by Denny Walling.
For Game Four, Phillies manager Dallas Green sent Carlton back to the mound, while Astros skipper Bill Virdon went with Vern Ruhle, who had not pitched in nearly a week because of an injured finger.1 The first three innings looked like a repeat of the previous game, with no runs and only three hits recorded between the two teams. In the top of the fourth, the Phillies opened with two singles. Garry Maddox then fisted a soft, low liner in front of the mound with the two runners moving. Ruhle nabbed it near the turf and threw to first for an apparent double play. Although the umpires at first and third had indicated Ruhle's catch was an out, home-plate umpire Doug Harvey, who had been partially blocked by Maddox, signaled no catch. After consulting with umpire Ed Vargo at first, Harvey signaled an out, reversing his initial call. This prompted Green and several Phillies to come out of the dugout and protest hotly.
With lead runner Bake McBride standing on third and the players and umpires uncertain what had happened, Astros first baseman Art Howe took the ball and ran to second. He and his teammates then ran off the field thinking he had recorded the third out on McBride. The umpires gathered to confer, and initially signaled the outcome as a triple play, a decision that met with more vigorous protests by Green and his players. Harvey responded by consulting with National League President Chub Feeney, who was seated near the Astros dugout. They decided to change the ruling to a double play, and allowed McBride to stay at second.
After the game, Harvey explained: "I felt that the runner at second base had gone to third base on my call. The jeopardy rule … gives the umpire the right to correct a mistake if he feels his call has put a runner in jeopardy."2 However, the Phillies contingent continued to believe that Ruhle had caught the ball on a bounce and that only one out was legitimate. Neither team was satisfied, but neither protested formally.3 The inning ended when Larry Bowa grounded out.
The Astros scored first in the bottom of the inning. Enos Cabell led off with a double and moved to third on a groundout. After Gary Woods drew a walk, Howe hit a ball to deep left that Lonnie Smith caught. Cabell tagged up and Smith, whose career was marked by slapstick hijinks in the outfield and on the basepaths, tried to throw the ball in, but it slipped from his hand and dribbled away. Seeing the misplay, Woods raced toward second and kept going to third, but Smith recovered the ball and threw to third, where Woods was tagged out.
While Ruhle held the Phillies scoreless, the Astros tacked on a run in the fifth to make it 2-0, and then loaded the bases against Carlton in the sixth. With one out, manager Green went to reliever Dickie Noles. The first batter he faced, light-hitting catcher Luis Pujols, hit a fly ball to McBride in deep right. Woods tagged at third and came home on an apparent sacrifice fly. Noles, however, threw the ball to third on an appeal play. Umpire Bob Engel granted the appeal, ruling that Woods had left early, and erasing the run. "When I saw the whole Philadelphia bench up and screaming in the dugout, I figured they would appeal," Woods said. Even some on the Astros bench agreed; they did not protest the call.4
The Phillies chased Ruhle in the eighth with three straight singles; the last, by Pete Rose, drove in a run. Philadelphia had men at second and third and no one out when Virdon called in Dave Smith to face Mike Schmidt. With an 0-and-2 count, Schmidt fouled a ball off catcher Pujols' ankle, forcing him from the game. Bruce Bochy, who had started only two games that year, replaced him. Soon after, Schmidt beat out a grounder to second base, driving in Lonnie Smith to tie the game and sending Pete Rose, with the potential go-ahead run, to third with no outs.
Closer Joe Sambito came to the mound and struck out Bake McBride for the first out, but Manny Trillo stroked a low liner to right. Jeffrey Leonard, who had replaced Woods, appeared to catch the ball just above the turf. At third base, Rose played it safe and waited until the out was called before coming home with the go-ahead run ahead of the throw from Leonard. Bochy, seeing Schmidt at second, where he had gone because he thought Leonard had trapped the ball, threw to first for the out on Schmidt.
The score stood at 3-2 into the bottom of the ninth. Instead of calling in McGraw, who had pitched in the three previous games, Dallas Green stuck with Warren Brusstar, who had pitched a clean eighth inning. Brusstar quickly allowed the tying run on a walk, a sacrifice, and a single by Terry Puhl. Puhl stayed at first and was doubled up on the next play when he was caught off first on a fly ball to right field.
As Green did with McGraw in the previous game, Virdon left Sambito in for his third inning to start the 10th. Like his move the day before, it didn't work. Sambito struck out leadoff batter Del Unser but gave up a single to Rose. After Schmidt lined out to left, Green called slugger Greg Luzinski off the bench. Luzinski responded with a double to the left-field corner. Jose Cruz fielded it cleanly, but Rafael Landestoy hesitated slightly before relaying it home to try to cut down Rose, who was running from first on contact. Landestoy's throw short-hopped catcher Bochy, bouncing off his chest protector just before Rose, who came in standing, checked him with a forearm to safely reach the plate. "I knew Rose wasn't going to stop," said second baseman Morgan, who had played with him in Cincinnati. "I was yelling at Rafael all the way but with all the noise he couldn't hear me."5 In the other clubhouse, Rose said "I had no choice but to do precisely what I did. I had to run into him because I couldn't reach home plate with my foot."6
The Phillies added an insurance run when Trillo doubled in Luzinski, then Bowa fanned to end the inning. In the bottom of the 10th, McGraw set the Astros down in order, quietly ending a drama- and mistake-filled game.
After the game, Morgan said, "It's just like the Dodgers series last weekend. We had it and we let it get away."7 However, it was McGraw, who was known for his colorful quotes, who summed up the game best: "It was like a motorcycle ride through an art museum. … You see the pictures but afterward you don't remember what you saw."8
This article appears in "Dome Sweet Dome: History and Highlights from 35 Years of the Houston Astrodome" (SABR, 2017), edited by Gregory H. Wolf. To read more articles from this book at the SABR Games Project, click here.
Sources
Several details included in this article were based on a review of the original game broadcast, which can be viewed at: www.youtube.com/watch?v=-2kkfWU0zz4
https://www.baseball-reference.com/boxes/HOU/HOU198010110.shtml
https://www.retrosheet.org/boxesetc/1980/B10110HOU1980.htm
Notes
1 John Wilson, "'Strange' Game by Any Standard," Houston Chronicle, October 12, 1980.
2 "Astros Were Losers on Appeal," New York Times, October 12, 1980.
3 Frank Dolson, "Phillies' Emotional Roller Coaster Rolls On," Philadelphia Inquirer, October 12, 1980.
4 Harry Shattuck, "Phils Clip Astros in 10th to Knot Series," Houston Chronicle, October 12, 1980.
5 Ibid.
6 Jayson Stark, "Phils Come Up With a Surprise Ending in Wild and Crazy 5-3 Win Over Astros," Philadelphia Inquirer, October 12, 1980.
7 Larry Eichel, "Astro-Nots: Breakdowns Cancel Out Breaks as Houston Misses Chance," Philadelphia Inquirer, October 12, 1980.
8 Lowell Reidenbaugh, "Chaos or Playoff, It's Phils on Top," The Sporting News, October 25, 1980.
Additional Stats
Philadelphia Phillies 5
Houston Astros 3
10 innings
Game 4, NLCS
---
Astrodome
Houston, TX
Box Score + PBP:
Corrections? Additions?
If you can help us improve this game story, contact us.
Tags
https://sabr.org/sites/default/files/SambitoJoe.PNG
600
800
admin
/wp-content/uploads/2020/02/sabr_logo.png
admin
2018-09-18 12:03:42
2020-04-17 13:34:01
October 11, 1980: Phillies stay alive in Game 4 with 10th-inning rally at Houston