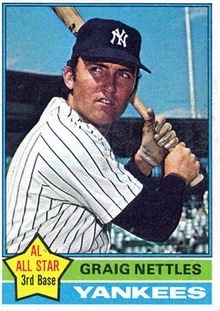 October 13, 1978: Graig Nettles' defense leads Yankees in Game Three win
---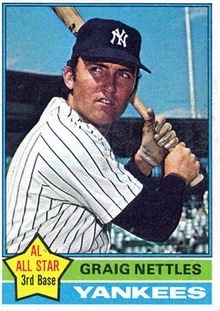 The Yankees and Dodgers have met more times in the World Series than any other pairing in postseason history.1 This World Series rivalry is punctuated by moments that have become as much a part of baseball history as the games themselves.
Two of the plays in the historic 1955 World Series are recalled. Jackie Robinson steals home in Game One with two outs in the eighth inning. Protests by Yankees catcher Yogi Berra ensue but the call by umpire Bill Summers stands. The Dodgers moved to within one run, but the Yankees held on to win, 6-5. In Game Seven, Dodgers left fielder Sandy Amoros is inserted as a defensive replacement in the sixth inning just in time to make a running catch in the left-field corner on a shot off the bat of Yogi Berra with two men on base. Amoros wheels around and throws to Pee Wee Reese, who fires to first base to double off Gil McDougald, a key moment in the Dodgers' clinching World Series win. And the moments that capture this rivalry go on.2
When the New York Yankees faced the Los Angeles Dodgers in the 1978 fall classic,3 it was the 10th time they had met dating back to 1941, when the Dodgers played in Brooklyn. When the teams returned to Yankee Stadium for Game Three, the Yankees were in the unenviable position of having lost the first two games at Dodger Stadium.
In Game One, the Dodgers pounded out 15 hits as Tommy John beat the Yankees 11-5 in front of a record Los Angeles crowd (55,997). Davey Lopes led the way by driving in five runs on two home runs, one off losing pitcher Ed Figueroa, who also yielded a homer to Dusty Baker in the second inning. Figueroa didn't make it out of that inning. Relief pitcher Ken Clay surrendered Lopes' other home run, in the fourth inning. Reporting of the game made it clear that Figueroa and other Yankees were none too happy with National League umpire Ed Vargo's interpretation of an "exceedingly small strike zone."4
The outcome of Game Two was going to be determined in the ninth inning with the Dodgers leading 4-3. Ron Cey had accounted for all the Dodgers' runs on a fourth-inning RBI single and a sixth-inning three-run homer. Reggie Jackson had done the same for the Yankees with a two-out double in the third inning and an RBI infield out in the seventh. With two on and one out in the ninth, Dodgers manager Tommy Lasorda called on rookie Bob Welch5 to face Thurman Munson who flied out to right for the second out. Then came another one of those epic moments in this rivalry, Welch pitching to Jackson. The instructions were clear. "I was told to throw strikes, to make them hit my pitch," reported Welch, "so I threw only fastballs."6 Nine fastballs and a swinging strike three on a full count. The Dodgers led two games to none and the teams headed to Yankee Stadium.
For Game Three, the Yankees had their ace on the mound, Ron Guidry (25-3, 1.74 ERA). Guidry had a career year, leading the American League in wins, ERA, winning percentage (.893), and shutouts (9) while completing 16 games in 35 starts.7 With the Dodgers countering with Don Sutton (15-11, 3.55 ERA, and 12 complete games), there was every expectation that a stellar pitching performance on either side could determine the outcome of the game. The defensive prowess of Yankees third baseman Graig Nettles was well known, even if underappreciated since he broke in with the Minnesota Twins in 1967.8 His defensive plays would turn Game Three and the World Series toward the Yankees in dramatic fashion and become the lead highlight of Joseph Wancho's SABR biography of Nettles.9
The Yankees struck first with single runs in the first and second innings for a 2-0 lead. Roy White homered down the right-field line in the first and Bucky Dent's one-out groundout in the second scored Nettles, who had singled earlier in the inning. The Dodgers got one run back in the third when Bill Russell singled to score Bill North, who had walked, stolen second, and advanced to third on a groundout. It could have been worse had it not been for Nettles' wizardry. Reggie Smith hit a rocket down the third-base line. Nettles dived to his right to snag it, hurried to his feet, and threw Smith out at first to end the inning.
Nettles' best would come in the fifth and sixth innings to bail out Ron Guidry. Guidry was still holding a 2-1 lead without his best stuff. In each of the first six innings, Guidry walked a batter. In the fifth inning, Smith came up again and lined another shot toward Nettles, who was only able to knock it down, holding Smith to a single and loading the bases. Steve Garvey did the same thing, lining a shot to third. This time Nettles backhanded the ball from his knees, spinning in one motion for a throw to second for an inning-ending force out. Davey Lopes came to bat in the sixth inning with the bases loaded and two outs and drilled one in Nettles' direction. Again, Nettles made the play, throwing to second for a force out to end the inning.10
The Yankees got to Don Sutton decisively in the seventh inning with three more hits. An RBI single by Thurman Munson scored Bucky Dent from third and brought in reliever Lance Rautzhan, who yielded another RBI single to Reggie Jackson, scoring White. Lou Piniella's groundout scored Munson to finish the game's scoring, 5-1. For Guidry, it had been a struggle not being able to retire the Dodgers in order in any inning. "When I was warming up before the game, I thought I had a good fastball. I must have left it in the bullpen," he said.11 But his 137-pitch gutsy performance meant the Dodgers' World Series lead had been cut in half, two games to one.
Game Four was an extra-inning thriller, but not without controversy. The controversy involved Reggie Jackson as a baserunner in a sixth inning that started with the Dodgers leading 3-0. Jackson had singled to right field to drive in a run. When shortstop Bill Russell stepped on second after fielding Lou Piniella's grounder, he attempted to throw to first for an inning-ending double play. Did Jackson intentionally interfere with the thrown ball when it hit his hip and bounced away from first baseman Steve Garvey?12 No interference was the umpiring crew's call and Thurman Munson scored on the errant throw, cutting the Dodgers lead to 3-2.13 In the bottom of the 10th inning, Lou Piniella hit a Bob Welch fastball to right-center, scoring Roy White for a 4-3 Yankee victory and a tied World Series after four games.
The rest of the World Series was dominated by the Yankees, Game Five at Yankee Stadium and Game Six at Dodger Stadium. The Yankees outscored the Dodgers 19-4 in those two games to secure the 1978 title.
Momentum changes in any game occur frequently and in many ways. Was Game Three the momentum change that altered this World Series? Perhaps. The Dodgers gave it their best "shots down the third-base line" that could have given them an almost insurmountable three-games-to-none lead. Instead, Graig Nettles handled them all, five assists in Game Three, and the Yankees won four straight games to become 1978 World Series champions. Dodgers first baseman Steve Garvey captured the sentiment regarding Nettles' play that night: "Some teams break your heart in one shot, others break it little by little and tonight was a perfect example."14 For Nettles, his night's work with his glove was business as usual: "I've been making plays like this ever since I was in Cleveland."15
Author's note
Thanks to the generosity of a friend, my father and I found ourselves behind the Dodgers' dugout on the third-base side of Yankee Stadium, both of us attending our very first World Series game. Of course, memories returned of Octobers in 1952, 1953, 1955, and 1956 when the Brooklyn Dodgers played the New York Yankees in the fall classic. For me, sneaking a small transistor radio into elementary school or watching a weekend game on a 12-inch black-and-white television was in order. The moment of unbounded joy came in Game Seven of the 1955 World Series with two outs in the bottom of the ninth inning: Elston Howard grounds to Dodgers shortstop Pee Wee Reese who throws to first baseman Gil Hodges and Johnny Podres' 2-0 shutout of the Yankees seals the first and only World Series title for the Brooklyn Dodgers.
Sources
The author accessed Baseball-Reference.com for box scores/play-by-play information (baseball-reference.com/boxes/NYA/NYA197810130.shtml) and other data, as well as Retrosheet.org (retrosheet.org/boxesetc/1978/B10130NYA1978.htm).
Notes
Additional Stats
New York Yankees 5
Los Angeles Dodgers 1
Game 3, WS
---
Yankee Stadium
New York, NY
Box Score + PBP:
Corrections? Additions?
If you can help us improve this game story, contact us.
Tags
http://bioproj.sabr.org/bp_ftp/images5/NettlesGraig.jpg
600
800
admin
/wp-content/uploads/2020/02/sabr_logo.png
admin
2018-01-04 16:34:58
2020-04-17 13:34:04
October 13, 1978: Graig Nettles' defense leads Yankees in Game Three win