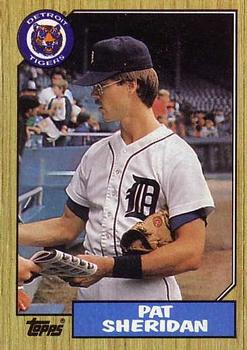 October 10, 1987: Local kid Pat Sheridan makes good with ALCS homer for Tigers
---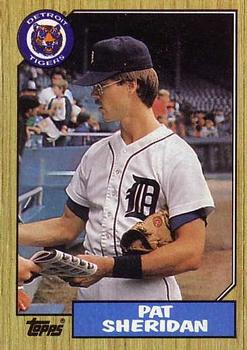 Before Game One of the 1987 American League Championship Series between the Detroit Tigers and Minnesota Twins, Tigers manager Sparky Anderson made a statement about Pat Sheridan. Although the Tigers outfielder ended the season 5-for-68 and spent most of the last three weeks on the bench during a tight race for first place, Anderson had a hunch.
"It wouldn't surprise me if Pat won a few ballgames and is the hero," Anderson said. "World Series and playoffs have produced some strange heroes."1
Potential heroes and proven veterans filled the Tigers' roster, which is one reason why Detroit was heavily favored to win the ALCS. The team played at a .659 clip after stumbling out of the gate with an 11-19 record, and finished with more wins (98) than any other team in the majors. Stacked with left-handed power, the team hit 225 home runs, then the second highest single-season total in major-league history. Detroit also had 20 players with postseason experience (12 played for the 1984 World Series champions).
In contrast, the Twins played one game under .500 after the All-Star break and lost their last five regular-season games after clinching their division. Minnesota had the worst road record (29-52) of any division or pennant winner in major-league history. With their 85-77 record, the Twins would have finished fifth in the American League East, 13 games behind Detroit. Minnesota beat Detroit four times in 12 meetings that season. The Twins had just six players with postseason experience.
But no team that season could match Minnesota's exceptional home-field advantage. The Twins led the majors with a 56-25 home record (Detroit was second at 54-27) and capitalized on it in the first two games of the best-of-seven ALCS, played at the raucous Hubert H. Humphrey Metrodome in Minneapolis. More than 50,000 fans packed the stadium for each game, generating ear-piercing decibel levels and enthusiastically waving their "homer hankies" — a new promotional giveaway that has since become nearly ubiquitous at postseason baseball games.
Detroit blew a late lead in Game One and lost 8-5, then endured a 6-3 thumping in Game Two. Tigers fans hoped the team's fortunes would turn once they returned home.
The series moved to Detroit's Tiger Stadium for Game Three on Saturday, October 10. The weather was cold, gray and brisk with a game-time temperature of 49 degrees and winds of 10 to 15 miles per hour. The Twins started right-hander Les Straker, a 28-year-old rookie who won eight games that season after spending 10 years in the minor leagues. The Tigers countered with Walt Terrell, a veteran right-hander who was 13-2 with a 2.47 ERA in home games that season.
Terrell, who was pitching on eight days' rest, struggled early to find a groove and often fell behind in the count. Still, he allowed just one walk, no hits and no runs in his first two innings.
The Twins blew a chance to put runners at first and third with no outs in the third. Tom Brunansky walked, then attempted to steal as Steve Lombardozzi lifted a pop fly to short right. Brunansky reached second base but retreated quickly toward first, thinking the ball had been caught. The ball actually fell safely, and Sheridan threw to Lou Whitaker to complete an easy force out at second. Terrell retired the next two batters and the game remained scoreless.
The Tigers broke the game open in the bottom of the third. A double by Sheridan, single by Whitaker, and a walk to Darrell Evans loaded the bases with no outs. Kirk Gibson hit into a fielder's choice at second to drive Sheridan home with the game's first run. After Gibson stole second base, the Twins drew their infield in with cleanup hitter Alan Trammell at the plate. On a 1-and-1 count, Sparky Anderson noted a slight movement by Straker while he peered at the catcher's signals from the rubber. As Anderson bolted from the dugout pointing toward the mound, home-plate umpire Drew Coble called a balk, scoring Whitaker and advancing Gibson to third. Anderson's actions may have prompted the umpire's call, but Straker also had a reputation for balking, having committed five that season. Trammell singled to center on the next pitch, scoring Gibson with the Tigers' third run. After retiring Matt Nokes on a popup and walking Chet Lemon, Straker was lifted by Twins manager Tom Kelly, having thrown 69 pitches in 2⅔ innings. Reliever Dan Schatzeder faced pinch-hitter Larry Herndon, who hit a two-RBI double to left, giving Detroit a 5-0 lead. Tom Brookens, the ninth Tiger to bat that inning, flied out to end the frame.
Greg Gagne got the Twins' first hit and run to start the fourth with a home run to left. The Twins scored another after a one-out walk to Kent Hrbek and consecutive singles by Gary Gaetti and Randy Bush. Terrell retired the next two batters to keep the score 5-2.
The Twins continued to chip away at the Tigers' lead in the sixth. Terrell walked Randy Bush with two outs, then Brunansky homered to left, making the score 5-4.
Minnesota opened the seventh with back-to-back singles by Sal Butera and Dan Gladden, putting runners at the corners and prompting Anderson to insert rookie reliever Mike Henneman. Gagne hit a grounder to third baseman Brookens, whose throw home nabbed pinch-runner Mark Davidson. After Kirby Puckett's foul fly advanced Gladden to third and Gagne to second, Detroit walked Hrbek intentionally to load the bases and bring Gaetti to the plate. The move backfired, as he singled to right, driving in two runs and giving the Twins a 6-5 lead. A fly out ended the Twins' threat, but the Tigers' lead had evaporated.
Schatzeder and subsequent reliever Juan Berenguer (both former Tigers) had held Detroit scoreless for 4⅓ innings after its five-run outburst. Only two Tigers had reached scoring position after the third inning. Had the Twins maintained their lead through the final six outs, they would have achieved the biggest comeback in LCS history and taken a commanding 3-0 series lead.
To start the eighth, Kelly inserted hard-throwing right-hander Jeff Reardon, the team's closer and saves leader (31).
"We were pretty tight in the dugout [at that point]," Trammell said after the game. "It kind of felt like life or death."2
After a first-pitch single by Herndon, Anderson inserted pitcher Jack Morris to pinch-run. The move was unusual in the designated-hitter era when pitchers seldom bat. But Morris had served as a pinch-runner twice that season and was said to be among the team's fastest runners. As it turned out, he didn't need to break a sweat. Brookens popped out to first on a bunt attempt. Then Sheridan, a left-handed hitter who had recently been encouraged by his coaches to avoid pulling the ball,3 lined a first-pitch fastball into the upper deck in right, giving Detroit a 7-6 lead.
The explosive home run unleashed a burst of electricity in the ballpark. As Sheridan and Morris rounded the bases, thousands of ecstatic fans tossed "Go Get 'Em Tigers" giveaway placards onto the field. Reardon stood in stunned disbelief as the cards littered the field. Sheridan emerged from the dugout for a rousing curtain call. The game was delayed for several minutes while the grounds crew scrambled to gather up the placards. The 49,730 in attendance continued roaring when play resumed. The inning ended with a groundout, walk and foul out.
Henneman retired the Twins in order in the ninth and raised his arms in triumph after striking out Gaetti to earn the win. Reardon took the loss.
Sheridan, who hadn't hit a home run since August 20, spoke humbly with reporters about his game-winning hit.
"I'm from Detroit, so it's certainly a dream where you hope you can get in that situation and come through," said Sheridan, who grew up in Wayne, Michigan and played baseball at Eastern Michigan University in nearby Ypsilanti. "I sucked it in, tried to keep working hard, and here I am today. … I've never been in the limelight and I probably wouldn't be very good at it. I'm glad I helped the team win, but I wouldn't consider myself a hero."4
Chet Lemon thought Sheridan's blast might shift momentum toward the Tigers.
"[Sheridan] lifted us right off that ground with that one," Lemon said. "And it could very well be the turning point for us. … I don't think it could have happened to a better guy. He's been struggling, but overall he's done a lot of good things for us. If we had to pick one guy overall to hit that home run, we'd have picked Patrick."5
As the cheers faded, so did the Tigers' hopes of winning the ALCS. Minnesota defeated Detroit 5-3 and 9-5 in Games Four and Five, respectively. The Twins, who had played poorly away from the Metrodome all season, took two of three on the road to earn their first World Series appearance since 1965.
Detroit wouldn't return to the postseason until 2006, seven seasons after leaving Tiger Stadium. Sheridan's game-winning homer marked the Tigers' last postseason victory at the corner of Michigan and Trumbull.
This article appeared in "Tigers By The Tale: Great Games at Michigan and Trumbull" (SABR, 2016), edited by Scott Ferkovich. To read more articles from this book, click here.
Sources
In addition to the sources cited in the Notes, Retrosheet.org and Baseball-Reference.com were also accessed.
https://www.baseball-reference.com/boxes/DET/DET198710100.shtml
http://www.retrosheet.org/boxesetc/1987/B10100DET1987.htm
NBC Television Network. Recorded broadcasts of games One, Two and Three of the 1987 American League Championship Series.
Notes
1 "Sheridan a hero in '85, too," Detroit Free Press, October 11, 1987.
2 Mitch Albom, "That's the Way!" Detroit Free Press, October 11, 1987.
3 Tom Gage, "Sheridan's shot shocks Twins 7-6," Detroit News, October 11, 1987.
4 Joe LaPointe, "Pat on the back," Detroit Free Press, October 11, 1987.
5 "Tigers mini-quiz," Detroit News, October 11, 1987.
Additional Stats
Detroit Tigers 7
Minnesota Twins 6
Game 3, ALCS
---
Tiger Stadium
Detroit, MI
Box Score + PBP:
Corrections? Additions?
If you can help us improve this game story, contact us.
Tags
https://sabr.org/sites/default/files/SheridanPat.jpg
600
800
admin
/wp-content/uploads/2020/02/sabr_logo.png
admin
2018-02-12 19:00:47
2020-04-17 13:34:04
October 10, 1987: Local kid Pat Sheridan makes good with ALCS homer for Tigers