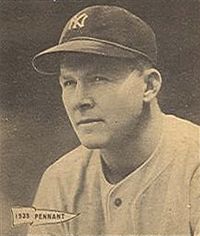 October 11, 1943: Spud Chandler, Yankees bring World Series championship back to New York
---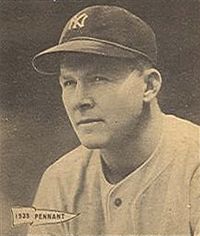 If you were listening carefully, you might have picked up on it — a subtle, perhaps unconscious acknowledgement that the curtain was falling.
As Sportsman's Park public-address announcer George Carson introduced the home team, he left something out. For the first time all season he didn't refer to them as the "World Champion Cardinals."1The New York Yankees led St. Louis three games to one as they closed in on their 10th World Series title on this sunny Monday afternoon. It was a battle of 20-game winners as the Yankees' Spud Chandler (20-4, and the winner of Game One) took on Mort Cooper (21-8).
According to Cardinals left fielder Danny Litwhiler, the Yankees had the Cardinals' pitchers figured out to some extent. Apparently third-base coach Art Fletcher had deciphered St. Louis's signs by observing how catcher Walker Cooper moved his elbow as he put down his fingers.2 However, that didn't help them against Mort Cooper in Game Two, when he threw a complete-game six-hitter. It wouldn't help them much on this day, either.
St. Louis manager Billy Southworth shook up his lineup for Game Five, benching Litwhiler for Debs Garms and center fielder Harry Walker for Johnny Hopp. Southworth's logic was unclear because he refused to speak to the press before the game — he had all but thrown the writers out of the clubhouse after the Cardinals' 2-1 loss in Game Four, snarling, "How did you fellows become sportswriters — some of the stupid questions you ask?" 3 — but the move reeked of desperation. Although Walker and Litwhiler struggled at the plate in the first four games, Garms and Hopp both had endured miserable regular seasons.
The Sportsman's Park crowd, somnolent throughout Game Four, finally came alive when Cooper struck out the side in order in the top of the first. The St. Louis right-hander then fanned the first two hitters in the second, coming within one of Hod Eller's 24-year-old Series record of six consecutive strikeouts, before walking Nick Etten. Walker Cooper's errant pickoff throw allowed Etten to scoot into scoring position, but Joe Gordon grounded sharply to third baseman Whitey Kurowski, who knocked the ball down and whipped it to first to end the inning. "Mort Cooper was looking great. … [He] was throwing hard," recalled Chandler years later. "The only way we were going to beat him was to hold the Cardinals down and wait for something to happen."4
Chandler was far from dazzling but he did, indeed, hold the Cards down. The first man he faced, Lou Klein, smacked one back to the box and off his shin for an infield hit. Garms laid down a perfect sacrifice, nearly beating the throw from third baseman Billy Johnson. Stan Musial walked, but Chandler escaped the jam with groundballs off the bats of Walker Cooper and Kurowski.
More trouble awaited Chandler in the second. After Ray Sanders opened with a single, Hopp hit what appeared to be a routine double-play ball back to the mound. Chandler fired to second in plenty of time, but shortstop Frank Crosetti dropped the ball as he took it out of his glove to make the relay to first. American League umpire Joe Rue initially put up his right arm, but then changed his call and declared Sanders safe. New York manager Joe McCarthy stormed from the dugout, contending that Crosetti had the ball long enough for the force, but Rue stood his ground. New York Times columnist Arthur Daley cracked, "Officially, it was scored as an error for Crosetti. Unofficially, the press-box tenants scored it as an error for Rue."5
The Cardinals, however, let Chandler off the ropes. With men at first and second, eighth-place hitter Marty Marion, an All-Star who batted .280 for the season, curiously laid down a bunt. He was credited with a sacrifice that moved two Cardinals into scoring position, but all that did was pass the buck to Mort Cooper, a .170 hitter, who struck out. Klein flied to deep right, and that was the end of the threat.
St. Louis rallied again in the fourth as Kurowski legged out a bunt single down the third-base line and Sanders coaxed a walk. After Chandler missed with the first three pitches to Hopp, catcher Bill Dickey stomped out to the mound.
"What's the matter?" he asked.
"Nothing," muttered Chandler.
"Then get the ball over the plate," Dickey suggested helpfully.6
Chandler's next two pitches were called strikes, setting up a critical 3-and-2 pitch. "I'll never forget it as long as I live," said Chandler. "It was a fastball and it had to be at least eight to ten inches outside — and he swung at it and missed." Marion and Mort Cooper both grounded into force outs to end the inning and Chandler returned to dugout in a buoyant mood. "I said, 'Fellows, there's no way I can lose today.'"7
In the top of the fifth, with a man on third and two outs, Walker Cooper took a foul tip off his bare hand and suffered a grotesque compound dislocation of his right index finger. He kicked his mitt toward the dugout as he trudged off and Ken O'Dea took his spot behind the plate. Unfazed, Mort Cooper got Crosetti to loop a lazy fly ball to Garms in left to extinguish the threat.
New York finally broke through in the sixth. With two out Charlie Keller slapped a single past second baseman Klein and into right field. Klein had been shading the right-handed-hitting Keller up the middle, and was unable to move to his left quickly enough to make the play. Next came Dickey, who turned on Cooper's first pitch, powering it onto the roof of the right-field pavilion for his fifth career World Series home run and a 2-0 lead. "Boy, that certainly felt good," Dickey remarked after the game. "It was a high fastball and I gave it a ride."8
Over the final innings, the desperate Cardinals continued to jab at Chandler but he kept bobbing out of the way. O'Dea led off the sixth with an infield single but was immediately erased on a double play. Harry Walker, pinch-hitting for Mort Cooper, delivered a single with two away in the seventh but Chandler stranded him when he struck out Klein. With two gone in the eighth, O'Dea and Kurowski strung together consecutive singles but Sanders grounded to second. It was that kind of series for St. Louis; they batted .152 (5-for-33) with runners in scoring position and stranded 37 men in the five-game series.
In the top of the ninth Cardinals right-hander Murry Dickson became just the second active member of the military to see action in a World Series. Dickson, on furlough at the request of Commissioner Kenesaw Mountain Landis after being inducted into the Army in September, retired the final two Yankees hitters to keep his team within range.
St. Louis put something together again in the bottom of the ninth. With one out, Marion singled to left and Litwhiler followed with a pinch-hit single to center. However, Chandler buckled down once more. Klein went down on strikes on three pitches, nearly corkscrewing himself into the ground on his final swing, and then Garms hit a harmless roller to Gordon for the game's final out.
Chandler scatted 10 hits and walked two, but got the outs when he needed them in going the distance. Mort Cooper, pitching just a few days after the death of his father, was brilliant other than that one pitch to Dickey, allowing just five hits and striking out six through seven innings.
The Yankees were champions for the sixth time in the last eight seasons. Joe Gordon, the goat of the 1942 fall classic against St. Louis, redeemed himself by setting a Series record, handling 43 errorless chances at second base over the five games, and leading his club with an OPS of .821. Chandler gave up just one earned run in 18 innings.
Southworth lamented the lack of timely hitting and his club's ragged defense; they made at least one error in every game and 11 overall. "If anyone had told me that I would get as good pitching as we had in the Series, I would have thought the Series was in the bag," he said.9 His club left 11 men on base in Game Five and set ignominious Series records for the most hits in a game without scoring and the most hits in a game without an extra-base hit.
Meanwhile the Yankees sang at the top of their lungs in the clubhouse, and even got Landis to join in the chorus. "That wound up 1943," Chandler mused. "That beautiful year."10
This article appears in "Sportsman's Park in St. Louis: Home of the Browns and Cardinals at Grand and Dodier" (SABR, 2017), edited by Gregory H. Wolf. Click here to read more articles from this book online.
Notes
1 W.J. McGoogan, "Series Sidelights," St. Louis Post Dispatch, October 11, 1943: 2,1.
2 Danny Litwhiler, Danny Litwhiler: Living the Baseball Dream (Philadelphia: Temple University Press, 2006), 86.
3 "Feudin' Goes on Between Southworth and Writers," St. Louis Star-Times, October 11, 1943: 18.
4 Donald Honig, Baseball When the Grass Was Real (New York: Coward, McCann, and Geoghegan, 1975), 220.
5 Arthur Daley, "Sports of the Times: Champions of the World," New York Times, October 12, 1943: 32.
6 Baseball When the Grass Was Real, 220.
7 Ibid.
8 "Sonic Boom Across Yankee Clubhouse in Boisterous Victory Demonstration," New York Times, October 12, 1943: 31.
9 "Series Reel Cutbacks," The Sporting News, October 21, 1943: 8.
10 Baseball When the Grass Was Real, 220.
Additional Stats
New York Yankees 2
St. Louis Cardinals 0
Game 5, WS
---
Sportsman's Park
St. Louis, Mo
Box Score + PBP:
Corrections? Additions?
If you can help us improve this game story, contact us.
Tags
https://sabr.org/sites/default/files/images/ChandlerSpud.jpg
600
800
admin
/wp-content/uploads/2020/02/sabr_logo.png
admin
2018-11-14 12:04:53
2020-04-17 13:34:00
October 11, 1943: Spud Chandler, Yankees bring World Series championship back to New York