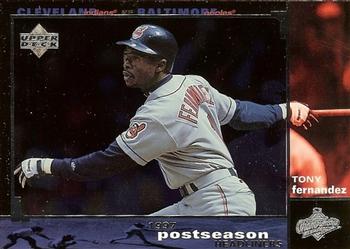 October 15, 1997: Tony Fernandez extra-inning home run wins pennant for the Tribe
---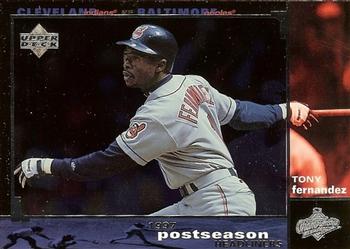 A warm autumn day at Baltimore's Camden Yards was the backdrop for Game Six of the 1997 American League Championship Series. The Orioles were hosting the Cleveland Indians in a must-win game for the Birds.
After winning Game One by a 3-0 score, the Orioles dropped the next three games to the Indians, each defeat by the slimmest of margins, a single run. Then Orioles won Game Five at Jacobs Field, 4-2.
Now as the series returned to Baltimore, Cleveland led Baltimore three games to two, and the Orioles needed a victory to even matters up and force a Game Seven. Baltimore manager Davey Johnson was taking no chances; he went with his ace, Mike Mussina. The Williamsport, Pennsylvania, native went 15-8 with a 3.20 ERA in the regular season, and was 2-0 with a 1.93 ERA in the Division Series as Baltimore ousted the Seattle Mariners in four games.
Mussina went up against Cleveland right-hander Orel Hershiser in Game Three and received a no-decision in the Orioles' extra-inning 2-1 defeat. Mussina had been great, surrendering one earned run and three hits and striking out 15 in seven innings of work, but received no support from the Orioles bats. Now, on three days' rest, all eyes in the Charm City shot hopeful glances at the big right-hander to come through one more time. When he was asked if he was tired, Mussina responded, "No … not really. I don't feel tired and I'm not worried about it. There'll be time to be tired in November."1
Cleveland manager Mike Hargrove gave the ball to Charles Nagy for Game Six. The right-handed hurler posted a 15-11 record with a 4.28 ERA in 1997. Nagy led the Indians in wins, strikeouts (149), and innings pitched (227). But he was pounded in Game Three of the LDS by the Yankees. Nagy surrendered four earned runs in 3⅔ innings as New York trounced Cleveland, 6-1. Nagy started Game Two of the LCS, but got a no-decision in the Indians' 5-4 win. It was not the greatest of performances; he gave up four runs in 5⅔ innings before the Tribe mounted a comeback.
The weather report forecast a high of 61 degrees and a chance of rain for the 4:15 P.M. game.2 As the crowd of 49,000 filed into the ballpark, they were ready to get behind their Orioles. Readers of the Baltimore Sun couldn't help but notice the articles that were written about how supportive and loud the Indians fans were at Jacobs Field for the middle games of the series. The Orioles fans were being implored to get behind their team: "Turn off your cellphones. Get off your derrieres. Watch the game for a change — and maybe even stay until it's over."3
Before the game, Cleveland suffered a setback to its starting lineup. Second baseman Bip Roberts was hit on the right thumb during batting practice by a ball off the bat of Tony Fernandez. "I reached out but it got all hand, no glove," said Roberts. "It hit my thumb. That's never happened to me. Why did it happen today?"4
The two pitchers battled, and reached the same result in much different ways. Mussina mastered the Indians lineup, much as he did in Game Three. He set down the first 12 Indians batters he faced before giving up a leadoff double to David Justice in the top of the fifth inning. But Mussina came right back at the Indians and retired the side in order, keeping Justice marooned on the basepaths.
By comparison, Nagy was pitching in and out of trouble in the early innings. Baltimore's leadoff batter got on base in the first, second, third, and fourth innings but could not score. Baltimore baserunners could reach only as far as third base before Nagy worked out of the jams.
In the bottom of the seventh inning, Baltimore may have had its best chance yet. Mike Bordick and Brady Anderson led off with singles. Roberto Alomar stepped to the plate. Sensing that Alomar might lay down a bunt, Hargrove put on the "wheel play." In this defensive formation, the third baseman (Matt Williams) and first baseman (Jim Thome) charge the ball with the pitcher, the shortstop (Omar Vizquel) rushes to cover third base, and the second baseman (Fernandez) covers first. Alomar did indeed lay down a bunt. Williams fielded it, spun, and threw side-arm to Vizquel to get Bordick. "We practice that play about a million times in spring training," said Williams. "It's second nature. After six weeks of spring training, doing it every day, it's stamped pretty good on your brain."5
Nagy then retired Geronimo Berroa, and the Orioles, on a 5-4-3 double play to keep the game scoreless through seven.
The Orioles were knocking on the door in the bottom of the eighth inning. With one away, Rafael Palmeiro was hit by a pitch and was removed from the game for pinch-runner Jeffrey Hammonds. Hammonds stole second base and Cal Ripken Jr. walked. Hargrove went to his bullpen and brought in left-hander Paul Assenmacher. B.J. Surhoff was the batter, and he hit into a force play. Ripken was erased at second base on the play. Hargrove brought in Michael Jackson, and the righty followed suit, inducing Chris Hoiles to ground into a force play as well.
Mussina was lifted after eight innings. He had given up one hit, fanned 10, and walked two. Southpaw Randy Myers entered the game in the top of the ninth. It may have been no coincidence that Cleveland mounted its best threat with Mussina in the clubhouse. With one down, Fernandez singled to left field and Manny Ramirez walked. But Myers bore down and struck out Justice and Williams to douse any threat.
As nighttime fell over Baltimore, the temperature began to drop. But it was about to get much colder for Orioles fans in the top of the 11th inning. With two out, Fernandez faced Armando Benitez. The fireballing Dominican had erased the first two Cleveland batters. But Fernandez smashed Benitez's 2-and-0 offering high and far over the right-field wall. And just like that, Cleveland led 1-0. In 38 career postseason games, it was the first round-tripper for Fernandez.
Jose Mesa came on to try to save the game for Cleveland in the bottom of the frame. After two quick outs, Anderson singled to right field. But Mesa struck out Alomar for the third out to clinch the pennant for the Indians, their second in three years.
Brian Anderson got the win for Cleveland, with Mesa getting the save. Four Cleveland relievers were each credited with a win in the series. Nagy went 7⅓ innings, struck out four, and walked three. The Orioles stranded 11 baserunners against him.
In the six-game series, Cleveland batted .193 and struck out 62 times. Yet, they found a way to capture the franchise's fifth pennant.
"I think there's a lot to be said in this game that sometimes success and failure can be determined by something very small," said Mussina. "Like a solo home run. Or a squeeze bunt. Those are very small things in the big picture. But they can end up being magnified in games like this."6
"I don't believe in destiny," said Fernandez. "I don't believe destiny put me in the game instead of Bip. I believe God put me in that game for a reason. I'm a strong guy. When I hit it, I knew it was out."7
The Indians faced the Florida Marlins in the World Series in 1997, The Marlins prevailed in seven games, winning the first world championship in franchise history.
Sources
The author accessed Baseball-Reference.com (baseball-reference.com/boxes/BAL/BAL199710150.shtml) for box scores, play-by-play information, and other data, as well as Retrosheet.org (retrosheet.org/boxesetc/1997/B10150BAL1997.htm).
Notes
1 Don Markus, "Nagy Eyes Change, Mussina More of the Same," Baltimore Sun, October 15, 1997: 5D.
2 Weather Report, Baltimore Sun, October 15, 1997: 24B.
3 Ken Rosenthal, "Hey O's Fans: Get Off Phone and Get Loud," Baltimore Sun, October 15, 1997: 1D.
4 Bud Shaw, "A Line Drive and Fate Put Fernandez at Plate," Cleveland Plain Dealer, October 16, 1997: 3S.
5 Dennis Manoloff, "Wheel Moved to Perfection," Cleveland Plain Dealer, October 16, 1997: 4S.
6 Ken Rosenthal, "Mussina Gives His All, but Can't Do It All," Baltimore Sun, October 16, 1997: 4D.
7 Paul Hoynes, "Tony Terrific Fernandez's Homer Gives Tribe AL Pennant," Cleveland Plain Dealer, October 16, 1997: 1S
Additional Stats
Cleveland Indians 1
Baltimore Orioles 0
11 innings
Game 6, ALCS
---
Camden Yards
Baltimore, MD
Box Score + PBP:
Corrections? Additions?
If you can help us improve this game story, contact us.
Tags
https://sabr.org/sites/default/files/FernandezTony-1997.jpg
600
800
admin
/wp-content/uploads/2020/02/sabr_logo.png
admin
2018-10-02 11:47:20
2020-04-17 13:34:01
October 15, 1997: Tony Fernandez extra-inning home run wins pennant for the Tribe