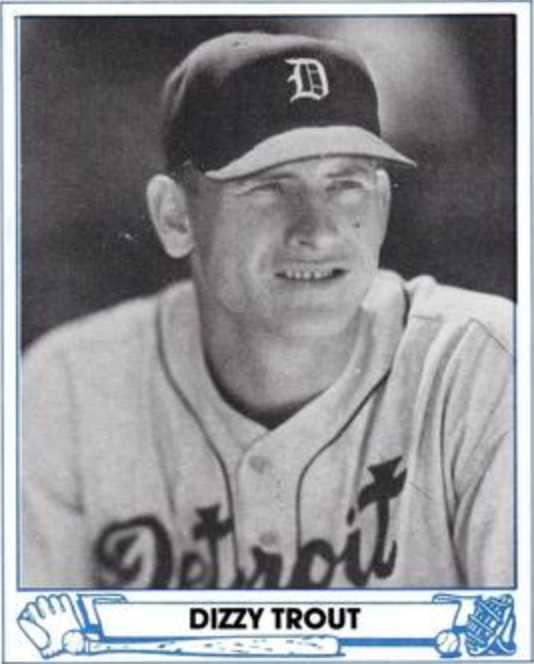 October 6, 1945: Goat, Trout leave Cubs cursed and 'Dizzy' in Game 4
---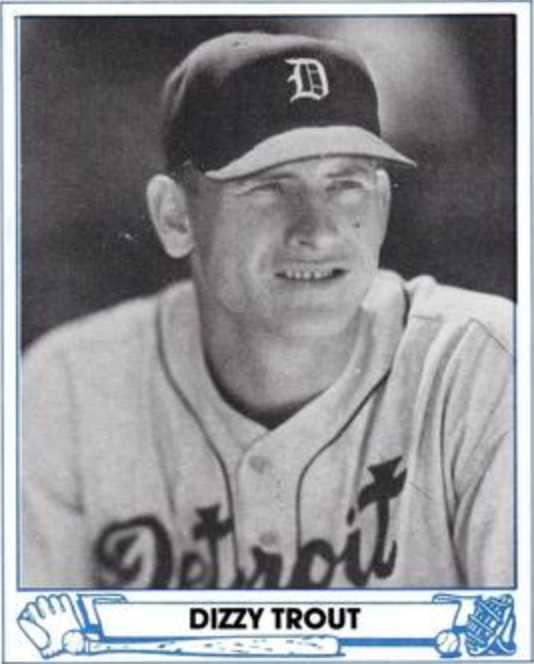 For Dizzy Trout, the 30-year-old right-hander, no victory had meant so much.
Sure, he had posted 98 wins in his seven seasons with the Detroit Tigers, including 20 in 1943 and 27 the following year. But on October 6, 1945, in Game Four of the 1945 World Series against the Chicago Cubs, Trout shined like never before.
What made it so special, however, was beating the team that had rejected him 11 years earlier.
Back then, Trout was just a raw, gangly teenager from Indiana, fresh off a Chicago-bound freight train. With dreams of starring in the majors, he headed to the North Side of Chicago, to Wrigley Field, seeking a tryout. The garrulous Trout finagled his way into pitching batting practice. Afterward, when he appealed to the management for some meal money (after all, he had walked four miles to get to the park), all he received in return was a big, blank stare. Bent but not broken, Trout packed his grip and headed back to Indiana, to semipro ball, determined to make the Cubs rue their loss one day.
At least, that is how Trout himself told the story.
"And that ain't all," he added to anyone who would listen. "When the Indianapolis club sold me to Detroit, the Cubs were red hot after me to buy me then."1
Revenge is a dish best served cold, as Trout would agree. With calculated precision, he coolly mowed down the Cubs through nine innings this October afternoon, silencing the 42,923 at Wrigley Field, hundreds of whom had begun lining up along Sheffield Avenue the night before. This was the first appearance in the Series for Trout, an 18-game-winner in 1945. Tigers skipper Steve O'Neill had been holding the pitcher in reserve due to his persistent cold, sore throat, and aching back.
Trout showed no ill effects from whatever may have been ailing him. All told, Chicago managed only five measly hits in their 4-1 defeat, which evened the World Series at two victories apiece. Spotting his fastball well throughout the gloomy, damp day, Trout walked one and fanned six. He would have tossed a shutout were the Tigers not guilty of some fielding hijinks in the sixth inning. With the Cubs trailing 4-0, Don Johnson led off the frame with a triple. Peanuts Lowrey hit a grounder to Jimmy Outlaw at third. Johnson, already halfway to home plate, looked like a goner. But Outlaw, eyeing a double play, threw a strong peg to first baseman Rudy York to get Lowrey. Then, with both Outlaw and Johnson scrambling back toward the third-base bag, York's reverse throw sailed high and wide and bounced off Outlaw's outstretched glove into the box seats, and Johnson bolted home for an unearned run. His shutout gone, the unfazed Trout got two lazy fly balls to quell the mini-rally.
The Bengals did all their damage in the fourth inning off starter Ray Prim. Silent Ray, a 38-year-old journeyman, would likely not have had a job in 1945 were it not for the depleted wartime rosters. But he fashioned himself a very nice year, indeed, leading the National League in earned-run average at 2.40 and picking up 13 wins. His big appearance on the grand stage began well enough, as he retired the first 10 men to face him. But in the fourth, a one-out walk to Eddie Mayo and consecutive hits by Doc Cramer, Hank Greenberg, and Roy Cullenbine sent him to an early shower. Paul Derringer was called upon to stop the bleeding, but by the time the inning was over, Detroit had put up a four-spot.
Prim felt his stuff was as good as it had been all summer. "Detroit simply was dropping them in spots where there were no fielders," he rationalized.2
Trout, meanwhile, got stronger as the game progressed. He needed only five pitches to dispatch Phil Cavarretta, Andy Pafko, and Swish Nicholson in the ninth inning.
Before the contest had even begun, certain goings-on ensured that the afternoon would be destined to enter Cubs lore. There are differing versions of the story, and one is free to believe what one chooses, either completely or in part. October 6, 1945, saw the birth of the Curse of the Billy Goat. For it was on that day that one William Sianis, owner of the Billy Goat Tavern, brought his pet goat to Wrigley Field to take in the game. The goat, named Murphy, exuded a fragrance that did not mix well with the typical ballpark aromas of hot dogs, cigars, and beer, at least to the noses of the patrons surrounding him. Citing assaulted nostrils, Wrigley Field security asked Sianis to remove his goat from the premises. (No doubt Andy Frain's female usherettes used their newfangled walkie-talkies to summon the uniformed heavies.)
Although Sianis took exception to the request to scram, he got up and left in a huff, with Murphy in tow. On his way out, Sianis, so the story goes, uttered a curse on the Cubs, declaring something to the effect that they would never win again. Nobody knows for sure if he was referring to that day's game specifically, the 1945 Series more broadly, or the rest of the history of humankind in general. Spoiler alert: The Cubs wound up losing the Series, a result that had little to do with hexes and goats and more to do with the Tigers' superior pitching. For the next seven decades, however, the Curse of the Billy Goat became, for superstitious types, an excuse for the Cubs' general bad luck and futility, until the organization finally won a World Series again in 2016, goats be damned.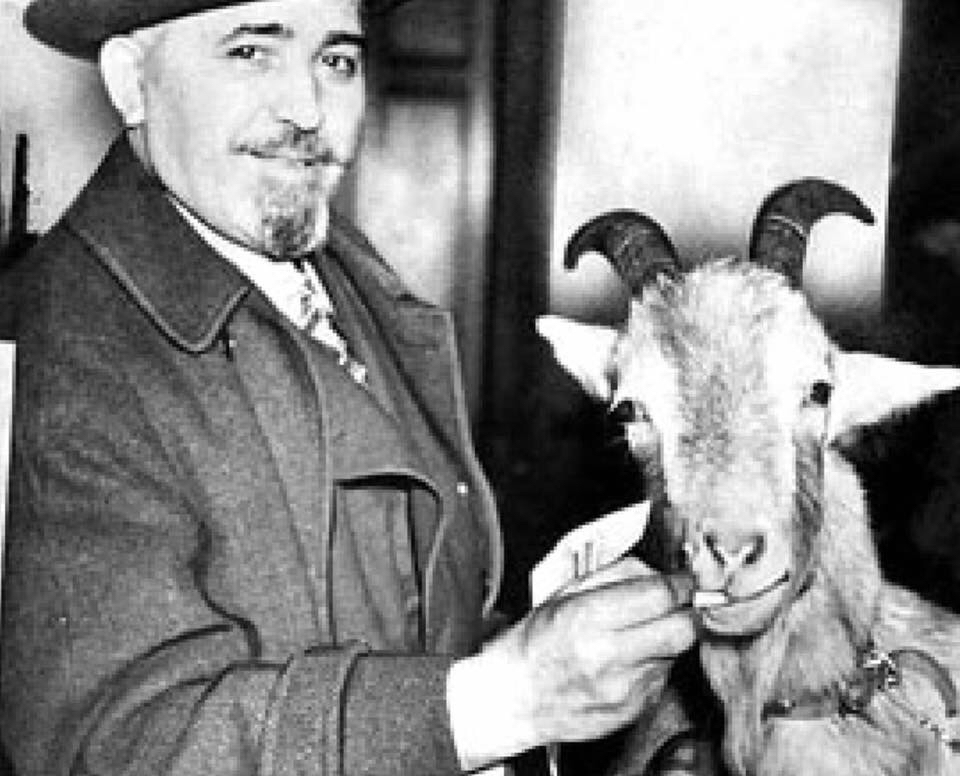 This article appears in "Wrigley Field: The Friendly Confines at Clark and Addison" (SABR, 2019), edited by Gregory H. Wolf. To read more stories from this book online, click here.
Sources
In addition to the sources cited in the Notes, the author also consulted Baseball-Reference.com, Retrosheet.org, and SABR.org.
https://www.baseball-reference.com/boxes/CHN/CHN194510060.shtml
https://www.retrosheet.org/boxesetc/1945/B10060CHN1945.htm
Notes
1 "Trout Recalls Time the Cubs Rejected Him," Chicago Tribune, October 7, 1945.
2 Arch Ward, "In the Wake of the News," Chicago Tribune, October 7, 1945.
Additional Stats
Detroit Tigers 4
Chicago Cubs 1
Game 4, WS
---
Wrigley Field
Chicago, IL
Box Score + PBP:
Corrections? Additions?
If you can help us improve this game story, contact us.
Tags
https://sabr.org/sites/default/files/TroutDizzy.jpg
600
800
admin
/wp-content/uploads/2020/02/sabr_logo.png
admin
2019-12-03 12:14:05
2020-04-17 13:33:55
October 6, 1945: Goat, Trout leave Cubs cursed and 'Dizzy' in Game 4