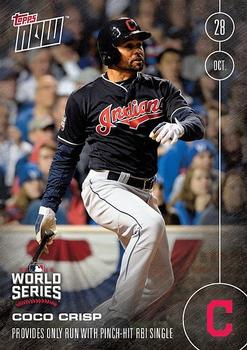 October 28, 2016: Cubs fall to Indians in first World Series game at Wrigley Field since 1945
---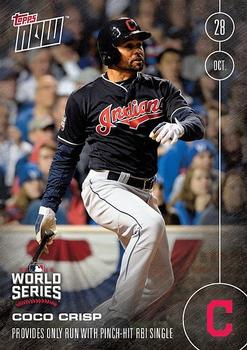 After the Cubs had split the first two games of the 2016 World Series in Cleveland, they returned home to the friendly confines of Wrigley Field for what would be the first fall classic game at the venerable stadium since October 10, 1945. On that date, Chicago's North Siders had lost the seventh game of the World Series to the Detroit Tigers, 9-3. During Game Four of that 1945 Series, the Curse of the Billy Goat had originated when a fan named William Sianis, who owned the Billy Goat Tavern, was asked to leave because his pet goat's odor was offensive to other spectators. Legend has it that Sianis vowed that the Cubs would never win another World Series because they had insulted his goat.
Since that time, the Cubs had become America's "lovable losers," as they indeed continually found ways to snatch defeat from the jaws of victory. Included among the squads that had suffered the ignominies of defeat, due more likely to their own untimely ineptitude than any curse, were the 1969 team, which had a nine-game mid-August lead in the NL East but ended up finishing second, eight games behind New York's "Miracle Mets"; the 1984 squad, which squandered a 2-0 NLCS lead against the San Diego Padres; the 2003 club, which allowed the Steve Bartman foul-ball incident to rattle them so much that they lost both that game and Game Seven of the NLCS against the Florida Marlins; and, most recently, the 2015 team, which suffered an NLCS sweep at the hands of the New York Mets in the franchise's latest attempt to return to baseball's Promised Land.
The 2016 Cubs, however, had appeared to overcome every curse and past foible when they defeated the Los Angeles Dodgers in the NLCS to earn a shot at the team's first title in 108 years. Given the team's championship drought, the excitement for the first World Series game at Wrigley Field in 71 years was palpable for their fans, and tickets for the event "were approaching the cost of a college tuition payment."1
Frank Colletti was one fan who did not have to pay for a ticket, thanks to his nephew Ned Colletti Jr., an executive with the Los Angeles Dodgers who had grown up in Chicago as a Cubs fan. Ned Jr. fulfilled a promise his father and two other brothers had made to Frank on October 6, 1945, as they left him behind to attend Game Five of the World Series. Frank, who was now 82 years old, recalled, "He [Ned Sr.] said, 'We promise to take you to the next one, but the next one never came.'"2 This time around, Frank Colletti took his place among the 41,703 fans in attendance, a group that included such notables as Cubs Hall of Famers Billy Williams and Ryne Sandberg, actor Bill Murray, and musician Billy Corgan.
After Williams threw out the ceremonial first pitch, the action began as the Cubs took the field with Kyle Hendricks — who led the NL with a 2.13 ERA in the regular season — on the mound to face the Indians. Hendricks struck out leadoff batter Carlos Santana but then surrendered back-to-back singles to Jason Kipnis and Francisco Lindor to find himself in an early jam. Hendricks extricated himself from the situation by picking off Lindor at first base and then striking out Mike Napoli.
If Hendricks was hyped up for the occasion, his mound opponent, Josh Tomlin, was even more emotional in light of the fact that his parents were at the game. Tomlin was especially thankful that his father, Jerry, was able to attend since he had become partially paralyzed in August due to a condition that had caused knotting of the blood vessels near his spinal cord. After the game, Tomlin acknowledged the importance of his father's presence, saying, "I had to find him in the stands. … I could look at him and find that comfort there and settle back down. I used it a couple of times."3
It hardly seemed as though Tomlin required a calming presence at any point as he dueled with Hendricks. Tomlin allowed a single to Ben Zobrist in the second and walked Kris Bryant in the fourth, but that was the only traffic the Cubs had on the basepaths through the first four innings. Hendricks had found himself in a first-and-third, two-out situation in the top of the fourth, but he again had emerged unscathed by striking out Roberto Perez for the third out.
Although both pitchers put up zeroes for the first four frames, neither would make it through the fifth inning due to their managers' penchants for going to their bullpens early in an attempt to find the best matchup for every situation. In the top of the fifth, Hendricks allowed a leadoff single to Tyler Naquin, who then advanced to second on Tomlin's sacrifice bunt. After Hendricks walked Santana and hit Kipnis with a pitch, Cubs skipper Joe Maddon replaced him with reliever Justin Grimm. Maddon's quick hook paid dividends when Grimm induced a double-play grounder from Lindor to end Cleveland's scoring threat.
Jorge Soler led off the bottom half of the inning with a single against Tomlin and advanced to second on Javier Baez's grounder back to the Indians' pitcher, whose only play was at first base. Tomlin induced another groundout from Addison Russell that kept Soler at second. In spite of the fact that he had thrown only 58 pitches and was hurling a shutout, Indians manager Terry Francona pulled him from the game in favor of ace reliever Andrew Miller. Hendricks' and Tomlin's early exits "mark[ed] the first time in World Series history both starters were removed before the sixth in a scoreless game."4 Francona's move worked as well as Maddon's had: Miller got pinch-hitter Miguel Montero, who was batting for Grimm, to line out to right fielder Lonnie Chisenhall for the final out of the fifth and then struck out the side in the sixth inning.
Carl Edwards Jr. took over on the hill for the Cubs in the top of the sixth and set the Indians down in order, but he ran into trouble in the next frame. Perez led off the seventh inning with a single to right field and was then replaced by pinch-runner Michael Martinez. Naquin laid down a sacrifice bunt that moved Martinez to second base, and Martinez scooted quickly to third when Edwards unleashed a wild pitch with Rajai Davis at the plate. Davis walked to put Indians runners on first and third once again, and Coco Crisp came up to pinch-hit for Miller. Crisp lined a base hit to right field that knocked in Martinez and knocked Edwards out of the game. Mike Montgomery entered the fray for the Cubs and induced a Kipnis grounder to second base that limited the damage to only one run. As it turned out, it would be the only run scored in the game.
The Cubs had a chance to tie the game against Cleveland's third pitcher, Bryan Shaw, as soon as the bottom of the seventh when Soler banged a two-out triple past Chisenhall in right field. The Chicago Tribune bemoaned the perception that "Soler seemed to forget he was playing in a World Series, watching the ball before jogging down the line until Chisenhall missed it, only then turning on the burners."5 The implication was clear: Had Soler hustled out of the box, he might have tied the game on an inside-the-park home run. For his part, Soler had thought his hit would go foul and said he did not think he could have scored anyway even if he had run hard immediately.6 Soler was stranded at third when Baez grounded out to the shortstop, Lindor.
Shaw held Chicago in check in the eighth, and Cody Allen took the mound in the ninth inning to close out the Indians' victory. The Cubs, however, did not intend to go quietly. Anthony Rizzo led off with a single and then gave way to pinch-runner Chris Coghlan. Zobrist struck out, and Wilson Contreras grounded out to third; however, Coghlan was able to advance to second base on Contreras's grounder. Jason Heyward reached base safely on an error by Napoli at first base on which Coghlan also advanced to third. After Heyward stole second, Wrigley was rocking at the prospect of a walk-off victory. It was not meant to be, however, as Baez struck out to end the game.
When asked about the game's ending, Rizzo said, "That's the way it is. We knew it was not going to be easy. … We've just got to come back and do what we do."7 While Rizzo seemed unfazed, Cubs fans were likely worried that the Curse of the Billy Goat might rear its ugly head once more and that their team would do what it had always done since 1945.
This article appears in "Wrigley Field: The Friendly Confines at Clark and Addison" (SABR, 2019), edited by Gregory H. Wolf. To read more stories from this book online, click here.
Sources
In addition to the sources listed in the Notes, the author also consulted Baseball-Reference.com for play-by-play details of the game.
https://www.baseball-reference.com/boxes/CHN/CHN201610280.shtml
https://www.retrosheet.org/boxesetc/2016/B10280CHN2016.htm
Notes
1 Billy Witz, "Indians' Pitchers Roar to Life, and the Cubs' Bats Fall Silent," nytimes.com/2016/10/29/sports/baseball/cleveland-indians-beat-chicago-cubs-world-series-game-3.html, accessed April 1, 2017.
2 David Waldstein, "Cubs Fan Gets His Series Ticket, 71 Years After He Was Promised One," New York Times, October 31, 2016: D2.
3 Colleen Kane, "Tomlin Lights Out at Wrigley," Chicago Tribune, October 29, 2016: 2, 7.
4 Mark Gonzales, "Zeroing Out: Cubs Shut Out for 2nd Time in Series, Now Trail Indians 2-1," Chicago Tribune, October 29, 2016: 2, 3.
5 Paul Sullivan, "In End, Picture Not So Perfect," Chicago Tribune, October 29, 2016: 2, 5.
6 Ibid.
7 Ibid.
Additional Stats
Cleveland Indians 1
Chicago Cubs 0
Game 3, WS
---
Wrigley Field
Chicago, IL
Box Score + PBP:
Corrections? Additions?
If you can help us improve this game story, contact us.
Tags
https://sabr.org/sites/default/files/CrispCoco-2016.jpg
600
800
admin
/wp-content/uploads/2020/02/sabr_logo.png
admin
2020-01-09 14:17:57
2020-04-17 13:33:54
October 28, 2016: Cubs fall to Indians in first World Series game at Wrigley Field since 1945