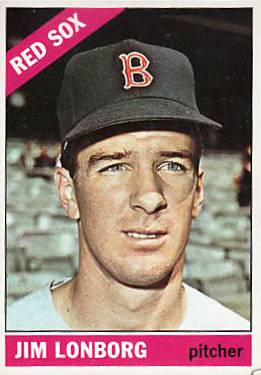 October 5, 1967: Simply Lonborg: Red Sox ace shuts down Cardinals in Game 2
---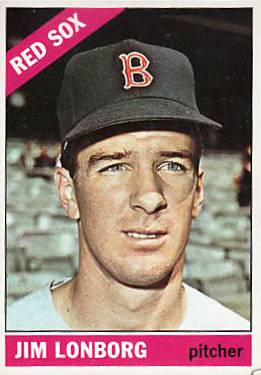 The St. Louis Cardinals' lineup remained the same, going with the regulars that won them Game One of the 1967 World Series.
Boston Red Sox manager Dick Williams made both positional and tactical moves, replacing slumping Ken Harrelson with Jose Tartabull in right field, adding speed to the lineup. He moved George Scott — the only Boston batter to get two hits off Bob Gibson in Game One — to the cleanup spot, providing greater protection in back of Carl Yastrzemski.
"[Lou] Brock was a threat to "steal the World Series." Williams said, "We pitched him four different ways, and couldn't get him out."1 Williams replaced catcher Russ Gibson with veteran Elston Howard, who caught for the Yankees in the 1964 World Series against these Cards. "I've got to stop that Brock from stealing," declared Howard, "and I've got my ideas how."2 When asked about a different pitching plan for Brock, Williams responded saying, "There's a few things we're going to do.But I'm not going to tell you beforehand."3 To most fans the answer was clear and simple: Jim Lonborg.
The starting pitchers matched right-handers: Cy Young candidate Lonborg against St. Louis rookie Dick Hughes. His 16-6 regular-season record led the Cardinals in wins.
Lonborg buzzed the game's first pitch high and inside to leadoff batter Brock: "it bore straight and true for the right ear of Lou Brock," wrote Red Smith.4 Lonborg then disposed of Brock on his soft liner to short.
Statement made for Game Two, tone set for the Series.
The game was scoreless through three, with Lonborg pitching hitless ball, and with Hughes equally effective; Yastrzemski walked in the first, and Rico Petrocelli singled in the second.
Jerry Adair's brilliant play near second in the top of the fourth denied Brock's second attempt for a base hit.
Yaz led off the bottom of the fourth. Looking for a Hughes fastball on an 0 –1 count, Yaz sat back, got one, and drilled it into the right-field seats for a home run, staking the Sox to a 1-0 lead. "I felt so good about that fat 1-0 lead that when I got into the dugout, I said to Lonborg, 'Go get 'em, big guy. That's all you'll need.'"5
Petrocelli made a nice play behind second base on a smash by Cards shortstop Dal Maxvill, helping Lonborg hold the Cards hitless through six innings. In the bottom of the inning, he knocked in the second Sox run on a sacrifice fly, with George Scott scoring an unearned run.
In the seventh, Fenway's lights came on as clouds darkened.Rain began with Brock's at-bat in the seventh; he grounded again to Adair at second. Lonborg remained perfect, having retired his 19th consecutive batter.
Curt Flood followed. After fouling off two pitches on a full count, he walked on a pitch that just missed the strike zone, low and away, becoming the first St. Louis base runner of the day, ending Lonborg's attempt at a perfect game. Petrocelli ended the inning with a great play on Orlando Cepeda. The no-hitter was still a possibility.
In the Sox half of the seventh, Jose Tartabull walked, followed by Dalton Jones' hit past third baseman Mike Shannon. Cardinals manager Red Schoendienst summoned southpaw Joe Hoerner to face the left-hand hitting Yastrzemski. On a 2-2 count, Yaz stroked a long three-run home run that soared into the bleachers beyond the Red Sox bullpen in right-center field.
He'd done precisely what he predicted to the Red Sox photographer the day before — hit two homers in the game.6
In the eighth, Lonborg continued his quest for World Series glory, getting Tim McCarver and Shannon on groundouts. With two outs, Cards second baseman Julian Javier — a .257 lifetime hitter coming off a career year — stepped in. On the first pitch, Javier lined a high slider that Lonborg later described as the "only bad pitch I made all day" into the left-field corner for a double, spoiling Lonborg's no-hit bid.7 "All of a sudden I hung a slider … I wanted the pitch back. I knew it was a hit when I heard the ball hit the bat."8
The crowd initially moaned, but quickly responded with an extended standing ovation. Lonborg's effort to reach baseball immortality by pitching a World Series no-hitter fell just four batters short.
Had he himself jinxed it? There's no way to ever know. Breaking the old superstition of never mentioning a no-hitter in progress, Lonborg said afterwards, "I mentioned it in the dugout, but nobody else did. I tried to break the tension myself with small talk, but nobody would speak to me."9 He did say he'd gone to trainer Buddy LeRoux before working in the seventh inning, reporting that he was developing a blister.
Pinch-hitter Bobby Tolan was up next; Lonborg got him to ground out, second to first. In the top of the ninth, another pinch-hitter, Dave Ricketts, popped up to shortstop. Brock grounded out, 4-3, and Curt Flood field out to Reggie Smith in center field.
With great defensive support in the game from Petrocelli and Adair, Lonborg finished off the Cardinals to preserve his historic one-hitter. Don Larsen, who pitched a perfect game for the Yankees in the 1956 World Series had watched the game on TV from his home in San Diego. He praised Lonborg's effort: "He did a fine job…You can't come much closer."10
They'd held Brock hitless. Behind Lonborg's masterful one-hitter and Yastrzemski's two homers and his four runs batted in, the "Beantown Bombers" had tied the Series, winning by a score of 5-0.
Both teams left for St. Louis, each with one win, thanks in both cases to their dominant starting pitching and to their excellent left fielders.
This article appears in "The 1967 Impossible Dream Red Sox: Pandemonium on the Field" (SABR, 2017), edited by Bill Nowlin and Dan Desrochers. To read more stories from this book, click here.
Sources
In addition to the sources mentioned in the Notes, box scores for this game can be found on baseball-reference.com, and retrosheet.org at:
https://www.baseball-reference.com/boxes/BOS/BOS196710050.shtml
http://www.retrosheet.org/boxesetc/1967/B10050BOS1967.htm
Notes
Additional Stats
Boston Red Sox 5
St. Louis Cardinals 0
Game 2, WS
---
Fenway Park
Boston, MA
Box Score + PBP:
Corrections? Additions?
If you can help us improve this game story, contact us.
Tags
http://bioproj.sabr.org/bp_ftp/images2/LonborgJim.jpg
600
800
admin
/wp-content/uploads/2020/02/sabr_logo.png
admin
2017-09-19 13:03:28
2020-04-17 13:34:05
October 5, 1967: Simply Lonborg: Red Sox ace shuts down Cardinals in Game 2