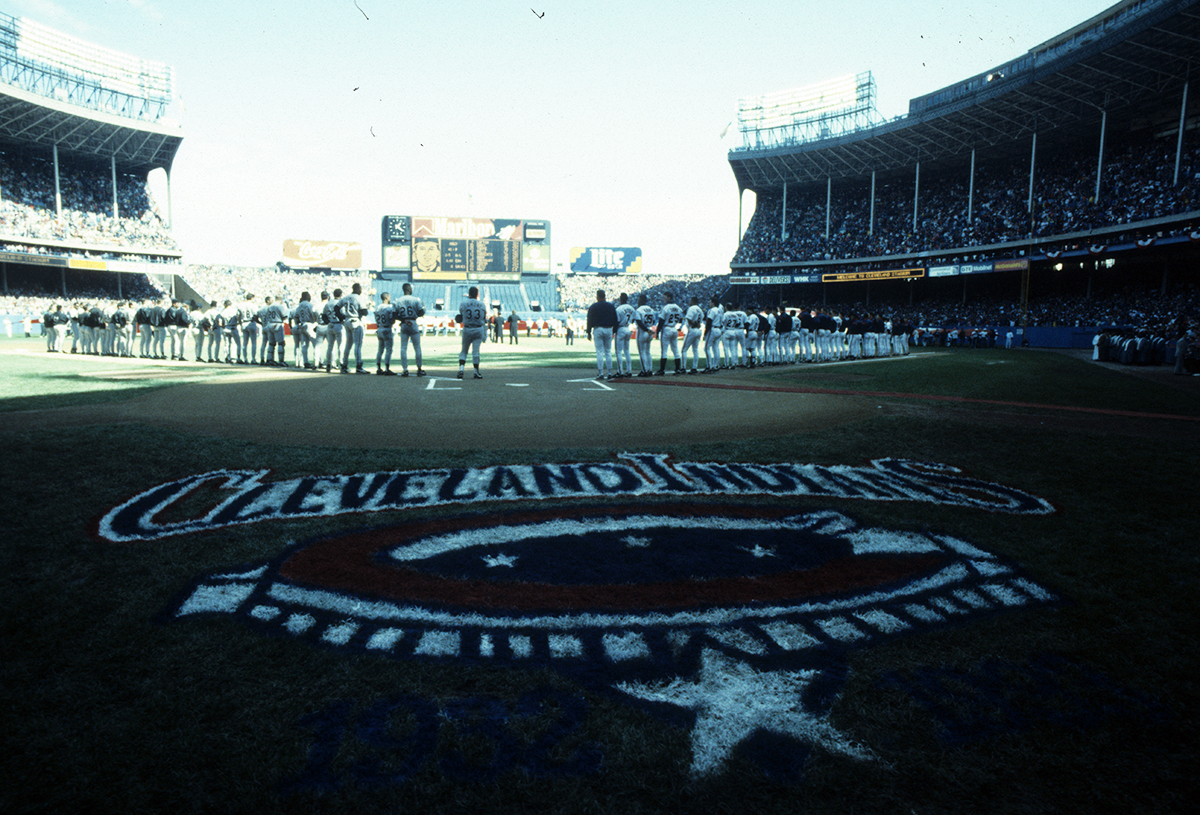 October 3, 1993: Indians bid farewell to Cleveland Stadium
---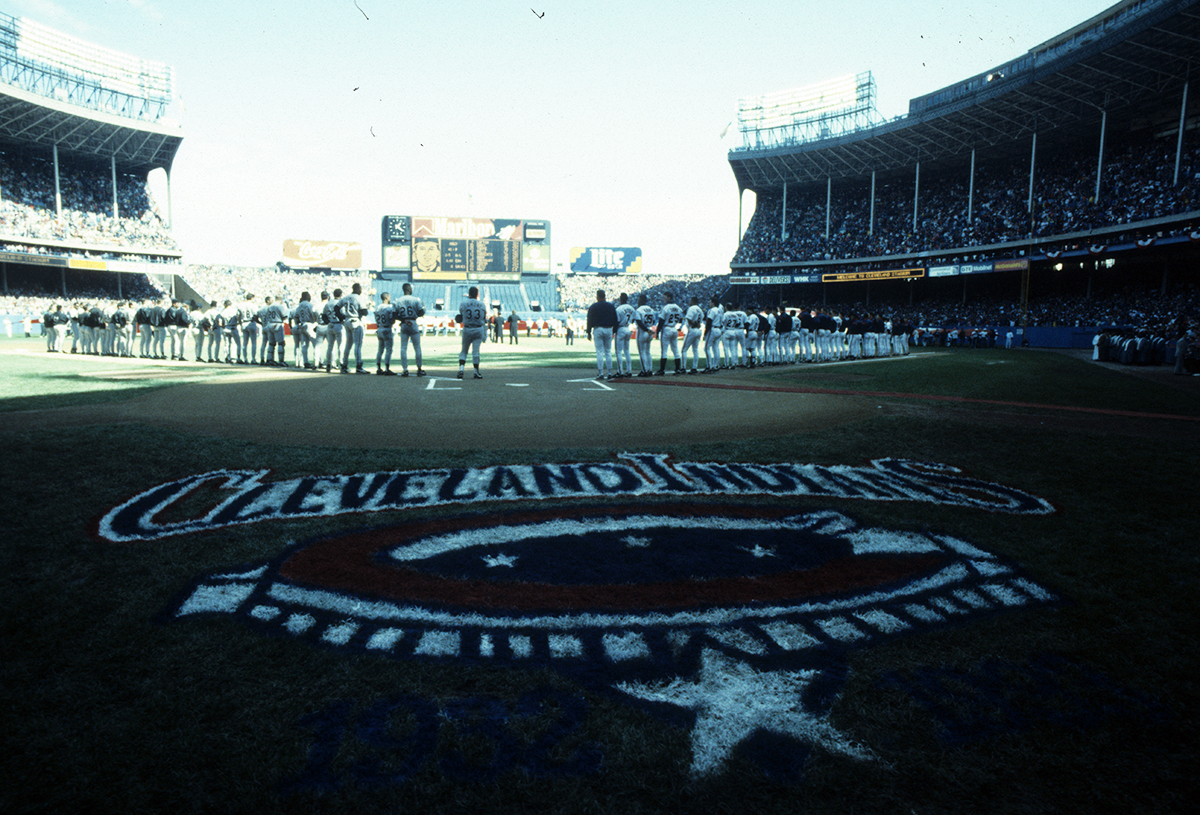 On October 3, 1993, the Cleveland Indians were playing their 4,197th and last game at Cleveland Stadium. The Chicago White Sox were the last team on the season's schedule as a beautiful sunny, 60-degree day greeted the sold-out crowd.
In 1994 the club was to move to a brand-new open-air, baseball-only ballpark. They would no longer be second-class citizens in a stadium more suitable for football. It was an emotional time for many fans who grew up watching the Tribe in the old ballpark. Sometimes it's hard to say goodbye to an old friend, even an old friend who has many faults or is unappealing.
One person who had no trouble saying adios to Cleveland Stadium was White Sox broadcaster Ken Harrelson. The Hawk played for the Indians from 1969 to 1971. "This is without question the worst stadium in major-league baseball," Harrelson said. "This place is terrible. It's dark, it's dank, and it's old. It's like a mausoleum."
"There will be a renaissance in Cleveland baseball with the new stadium," he added. "With their current management, there is no question they are an upward curve. I'm as happy as anyone for the people of Cleveland."1
The White Sox were the champions of the American League West, boasting a 93-68 record and gearing up for Toronto, their ALCS opponent. Chicago last made the postseason in 1983. The Indians had not been in contention since 1959, when they finished in second place, to the White Sox of course.
About the only drama on the diamond was the league RBI race. Chicago's Frank Thomas and Cleveland's Albert Belle were tied for the lead with 126. But Thomas had not driven in a run since September 19, when he hurt his right forearm. "He and I are good friends," Thomas said of Belle. "But he knows he won it by default."2
The whole weekend had a carnival atmosphere. On Friday evening, the last night game was played at the lakefront stadium and the fans were treated to a fireworks extravaganza after the game. Chicago, behind Alex Fernandez, beat the Indians, 4-2. The only bit of good news for the Tribe was that Carlos Baerga got his 200th hit of the season, a bunt single in the eighth inning. It was the second year in a row that Baerga topped 200 hits. Belle drove in both of Cleveland's runs. Thomas did not play.
The White Sox won Saturday's game by the same 4-2 score, in 10 innings. Belle increased his RBI total to 129 with a solo home run. Thomas again sat out to nurse his forearm.
Also on Saturday those in attendance watched a three-inning exhibition billed as the "Heroes of Baseball." The old-timer's game featured stars from the Indians past pitted against a team of National League stars. Bob Feller, Al Rosen, Bobby Avila, Minnie Minoso, Duane Kuiper, Herb Score, Luis Tiant, and Ray Fosse were among those who suited up for the Tribe. Steve Garvey, Bob Gibson, Lou Brock, Cesar Cedeno, and George Foster were among the stars in the opposing dugout. The senior circuit prevailed, 2-1.
The pitching matchup for Sunday's game, the regular-season finale, was Chicago's Jason Bere (11-5, 3.65 ERA) and Cleveland's Charles Nagy (2-5, 6.31 ERA). Bere was a rookie right-hander who made 23 starts for Chicago and was currently on a six-game win streak. Nagy had been injured much of the year with a sore shoulder. He had arthroscopic surgery on June 29 and had been pitching in the Florida Instructional League.
Thomas was back in the White Sox lineup, as the designated hitter, batting third in the order. His presence was felt immediately. Nagy walked Ellis Burks to start the game. After Joey Cora flied out for the first out of the inning, Burks took second on a wild pitch by Nagy. Thomas swatted his 36th double to right field to plate Burks, giving the White Sox a 1-0 lead.
Chicago extended the lead to 3-0 in the second inning. Ron Karkovice led off with a double to left field and took third base on a sacrifice by Ozzie Guillen. Burks walked again to put runners at the corners. Cora reached and Karkovice scored on an error by Indians second baseman Jeff Treadway. With runners on first and second, Thomas came to the plate, but forced Cora at second base. "After Thomas got the first RBI, I was worried about him hitting a home run that would tie us," said Belle. "I breathed a sigh of relief when he made an out in the second inning."3
Robin Ventura's base hit to right field knocked in Burks for the second run in the inning.
Meanwhile, Bere was having little trouble with the Indians. Even though Cleveland was getting men on base, Bere was able to pitch out of any potential trouble.
Chicago held its 3-0 advantage until the top of the sixth, when Thomas singled home a run to make the score 4-0. That RBI put him within one of tying Belle for the league lead.
Thomas came to bat in the top of the eighth with a man on first. Cleveland reliever Jerry DiPoto walked Thomas on five pitches, thus securing the RBI title for Belle. At the end of the inning, Thomas threw his batting helmet in the dugout and it hit a rail by the camera bay. "I apologized to the cameraman," said Thomas. "I was just so upset he walked me. I was very disappointed with that at-bat. In that situation, with the score 4-0, you have to pitch to a guy."4
"Winning the RBI title is a big accomplishment," said Belle. "That means more to me than a home-run title."5
White Sox manager Gene Lamont went to his bullpen in the bottom of the eighth inning. Bere pitched seven innings of shutout ball, scattered six hits, walked two, and struck out two. He was in line for his seventh consecutive win and his 13th victory of the season. He was replaced by seven-year veteran Tim Belcher.
Belcher and Jose DeLeon each pitched a scoreless inning as Chicago completed the three-game sweep with the 4-0 win. In the ALCS they were ousted in six games by the eventual World Series champion Toronto Blue Jays. Cleveland finished in sixth place in the AL East with a 76-86 record.
After the game, Bob Hope, who was a minority owner of the Indians in the 1950s, sang "Thanks for the Memories." Stadium organist Jeff Cavallo played "Auld Lang Syne."
Some of the fans left the ballpark early after the White Sox took a commanding lead. Some were filtering out during the postgame festivities. As emotional as the weekend was for some, as they reminisced about the old ballpark, most could not hold in their excitement about the new one set to open in 1994. As it turned out, Harrelson was swami-like in his prediction: Cleveland won the AL pennant in 1995.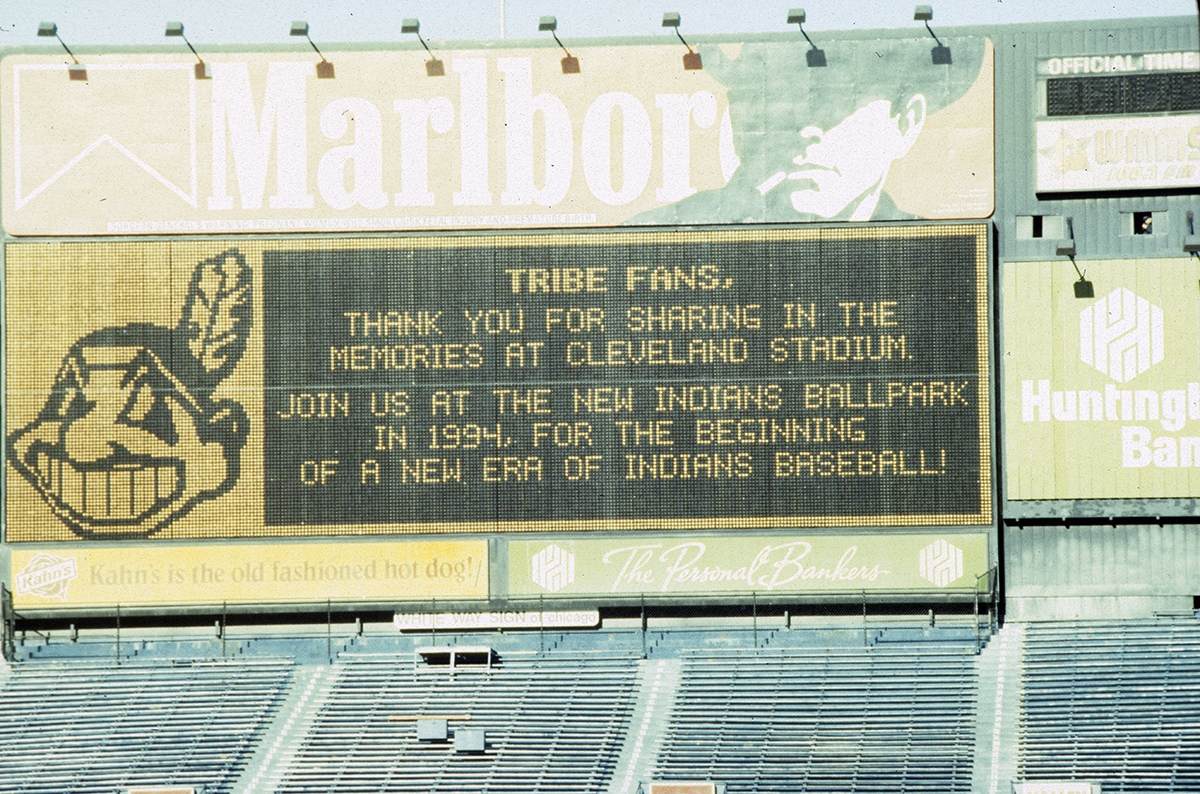 Sources
The author accessed Baseball-Reference.com for box scores/play-by-play information and other data, as well as Retrosheet.
baseball-reference.com/boxes/CLE/CLE199310030.shtml
retrosheet.org/boxesetc/1993/B10030CLE1993.htm
Photo credits
Courtesy of Gregory Drezdzon / Cleveland Indians.

Notes
1 Burt Graeff, "For Harrelson, Stadium Is Worst," Cleveland Plain Dealer, October 2, 1993: 8D.
2 Paul Hoynes, "Thomas Says RBI Title Won by Default," Cleveland Plain Dealer, October 2, 1993: 14D.
3 Bob Dolgan, "Wild Finish: Belle Wins RBI Crown by One as Thomas Walks in Last At-Bat," Cleveland Plain Dealer, October 4, 1993: 11E.
4 Ibid.
5 Ibid.
Additional Stats
Chicago White Sox 4
Cleveland Indians 0
---
Cleveland Stadium
Cleveland, OH
Box Score + PBP:
Corrections? Additions?
If you can help us improve this game story, contact us.
Tags
https://sabr.org/sites/default/files/1993-10-03-Indians-farewell-Cleveland-Stadium-006.jpg
600
800
admin
/wp-content/uploads/2020/02/sabr_logo.png
admin
2019-02-04 16:58:42
2020-04-17 10:23:40
October 3, 1993: Indians bid farewell to Cleveland Stadium