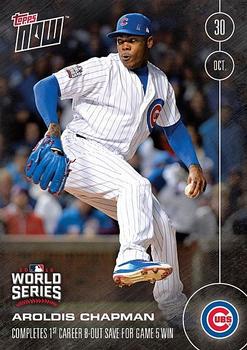 October 30, 2016: Fly the W! Cubs' win sets World Series comeback in motion
---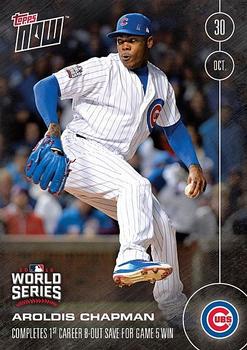 Although Chicago was gloomy in the immediate aftermath of the Cubs' Game Four loss that put them in a 3-to-1 World Series hole against the Cleveland Indians, the faithful quickly regrouped to cheer on the hometown nine for one last time at Wrigley Field in 2016. Cubs partisans among the 47,711 fans in attendance used everything imaginable — "'Goat Busters' costumes, blue and red body paint, signs with inspirational messages like 'Believe' and 'It's Not Over'" — in an attempt to bolster their spirits and to will the Cubs to victory.1 Their morale may have sagged again as soon as they saw that Cubs manager Joe Maddon was fielding his best defensive lineup in spite of the team's struggles on offense against Cleveland. All Maddon had to say about his gambit was, "I love counterintuitive. I love it, man."2 After a game that was "an exercise in patience and pleading for the crowd," Cubs fans, if they still could not love it themselves, could at least appreciate it for one night.3
Lefty starter Jon Lester took the hill for the Cubs in Game Five. Although he had suffered the loss in Game One against the Indians, he was a two-time World Series champion with the Boston Red Sox who was a good candidate to handle the intense pressure of this elimination game. Lester indeed was pumped and set down Rajai Davis, Jason Kipnis, and Francisco Lindor on swinging strikes in the top of the first inning. Cleveland starter Trevor Bauer made it five consecutive strikeouts to start the game when he caught both Dexter Fowler and Kris Bryant looking at called third strikes. Anthony Rizzo finally put a ball in play, but his contact resulted in a mere fly ball to left field.
After Lester induced popouts from Mike Napoli and Carlos Santana to start the second inning, Jose Ramirez belted a line-drive homer to give Cleveland a 1-0 lead. Lester retired Brandon Guyer to avoid further trouble, and then he set the Indians down in order in the third and fourth frames. Nonetheless, in light of the Cubs' offensive struggles — an Addison Russell single in the second was their only hit off Bauer through three innings — it looked as though a one-run lead might be insurmountable.
If any Chicago fans were beginning to despair, Bryant's home run to lead off the bottom of the fourth inning temporarily allayed their fears by tying the game. Now, the Cubs mounted what was, for them in this Series, a veritable offensive explosion as Rizzo doubled and advanced to third on Ben Zobrist's single to right field. Russell came to bat, hit a dribbler up the first-base line that resulted in his second hit of the night, and drove in Rizzo with the go-ahead run. Bauer struck out Jason Heyward for the first out of the inning, but the Cubs were not yet finished.
Javier Baez, who had entered the night batting an anemic .118 through the first four games of the Series, "laid down a bunt that was so perfect, it rated an 11" up the first-base side to load the bases.4 Veteran catcher David Ross, who had announced that he was retiring and had received a standing ovation in his first at-bat, now stepped to the plate with the intention of giving the crowd something more to cheer. Although Ross did not hit a storybook grand slam, his fly ball to left field brought home Zobrist for a 3-1 Cubs lead. Lester struck out to end the inning, and then he went back to the mound to try to maintain Chicago's advantage.
Santana belted a double to center field against Lester to lead off the fifth inning and advanced to third on Ramirez's grounder to short, but he was stranded there when Guyer struck out and Perez grounded out. In the bottom of the inning, Mike Clevinger relieved Bauer for Cleveland and provided the Cubs with a shot at adding an insurance run. Bryant drew a one-out walk and, after Rizzo lined out to center field for the second out, stole second base and advanced to third on catcher Perez's errant throw to the bag. Zobrist then walked to put runners on the corners, but Russell lined out to right field to keep the score 3-1.
Lester ran into trouble in the top of the sixth, which turned out to be his last inning of the night. Davis hit a one-out single and stole second base. Lester struck out Kipnis for the second time, but Lindor smashed a line-drive single to center field that plated Davis and drew the Indians within one run of the Cubs. Lindor tried to follow in Davis's footsteps with an attempted steal of second, but Baez snared Ross's throw and applied the tag to Lindor for the third out.
Bryan Shaw entered the game as Cleveland's third pitcher in the bottom of the sixth and promptly struck out Heyward, Baez, and Miguel Montero — who was pinch-hitting for Ross — in order. Ross, who was now finished for the night, later reflected on his final homestand, saying, "I'll look up in the stands a lot just because there aren't too many times you get to be in front of 40,000 to 50,000 people and they're all cheering for a team. I'm just trying to take those pictures in my brain and hold on to those nice things."5 After the uneventful end to the sixth inning, those 40,000-plus people were about to have reason to be nervous again as they feared frightful things.
Carl Edwards was the next moundsman for the Cubs, be he did not last long. Napoli greeted him with a single to lead off the seventh inning and advanced to second when one of Edwards' pitches got past new Cubs catcher Wilson Contreras. Santana flied out to left field, which prevented Napoli from advancing to third, and Maddon lifted Edwards in favor of closer Aroldis Chapman. Sending Chapman to the hill with only one out in the seventh once again demonstrated Maddon's love for all things counterintuitive.
Chapman threw his 100-plus-mph heat past Ramirez for the second out, but then he hit Guyer with a pitch to give the Indians two baserunners. However, Chapman escaped a potential calamity when he induced a Perez grounder to Baez at second base to end Cleveland's half of the inning.
Shaw retired Contreras to lead off the Cubs' seventh, but he then was replaced by Cody Allen in another of the many managerial pitching moves — this time by Indians manager Terry Francona — that were beginning to earn this Fall Classic a reputation as "The Bullpen Series."6 Allen hit Fowler with a pitch, though this was likely not in retaliation for Guyer getting plunked since Cleveland was trailing in the game. Fowler stole second to move into scoring position and, after a Bryant strikeout, Rizzo was intentionally walked to create the possibility of a force out at third base as well. The move worked out for the Indians as Zobrist popped up to the shortstop, Lindor.
After Yan Gomes struck out to start the eighth inning, Davis singled and then did his utmost to put the Indians into a tie with the Cubs. With Kipnis batting, Davis stole second base; then, after Kipnis fouled out to left field, Davis stole third while Lindor was at the plate. Davis did not, however, try to steal home, though perhaps he regretted not making such an attempt after Lindor struck out and left him stuck at third.
The tables turned in the bottom of the inning as Heyward duplicated Davis's feat. Following a one-out single, Heyward stole second base; after Baez struck out, he stole third while Chapman flailed at Allen's pitches. Allen struck out the side when Chapman went down swinging, but that made no difference to Maddon: He had obviously left Chapman in the game to fulfill his role as closer, though asking for an eight-out save was a risky proposition.
In the end, Maddon's counterintuitiveness and Chapman's fastballs prevailed. Napoli grounded out to short, Santana flied out to right field, and, fittingly, Ramirez struck out swinging to end the game. According to Chapman's catcher, there was never any doubt about what the outcome would be. Contreras asserted, "He's big and strong. Do you really think eight outs is a problem for him? No. It seems easy. He executed everything I called."7
Chicago fans let out a collective sigh of relief and began to party as though it were 1908. Although the Cubs were still down 3 to 2 and needed to win two games at Cleveland to claim their first championship in more than a century, hope had been restored. In the words of one Cubs fan, "We pulled it off with the Dodgers [in the NLCS]. We can pull it off against the Indians, too."8
Such faith was rewarded when the Cubs won Game Seven on November 2 to become the 2016 World Series champions.
This article appears in "Wrigley Field: The Friendly Confines at Clark and Addison" (SABR, 2019), edited by Gregory H. Wolf. To read more stories from this book online, click here.
Sources
In addition to the sources listed below, the author also consulted Baseball-Reference.com for play-by-play details of the game.
https://www.baseball-reference.com/boxes/CHN/CHN201610300.shtml
https://www.retrosheet.org/boxesetc/2016/B10300CHN2016.htm
Notes
1 Tony Briscoe, Patrick O'Connell, and Marwa Eltagouri, "Faith Restored, Cubs Fans Rejoice," Chicago Tribune, October 31, 2016: 1-9.
2 Billy Witz, "Cubs Aren't History as Chicago Denies Indians a Title in Game 5," nytimes.com/2016/10/31/sports/baseball/world-series-chicago-cubs-cleveland-indians.html, accessed April 11, 2017.
3 Ibid.
4 Teddy Greenstein, "Whiffs, Then victory Scent," Chicago Tribune, October 31, 2016: 3-12.
5 Chris Kuc, "Ross Revels in Wrigley Finale," Chicago Tribune, October 31, 2016: 3-12.
6 Tyler Kepner, "The Bullpen Series," nytimes.com/2016/11/01/sports/baseball/world-series-relievers-starters-tyler-kepner.html, accessed April 11, 2017.
7 Ibid.
8 Briscoe, O'Connell, and Eltagouri.
Additional Stats
Chicago Cubs 3
Cleveland Indians 2
Game 5, WS

---
Wrigley Field
Chicago, IL
Box Score + PBP:
Corrections? Additions?
If you can help us improve this game story, contact us.
Tags
https://sabr.org/sites/default/files/ChapmanAroldis-2016.jpg
600
800
admin
/wp-content/uploads/2020/02/sabr_logo.png
admin
2020-01-09 14:33:23
2020-04-17 13:33:54
October 30, 2016: Fly the W! Cubs' win sets World Series comeback in motion