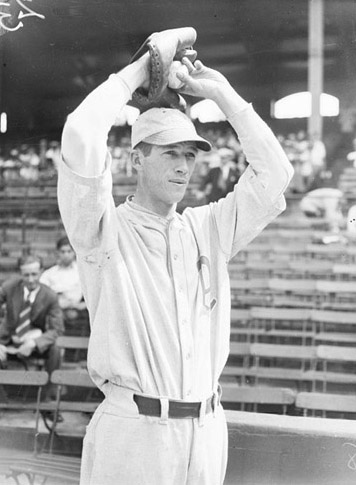 October 9, 1931: A's Lefty Grove stymies Redbirds again in Game 6
---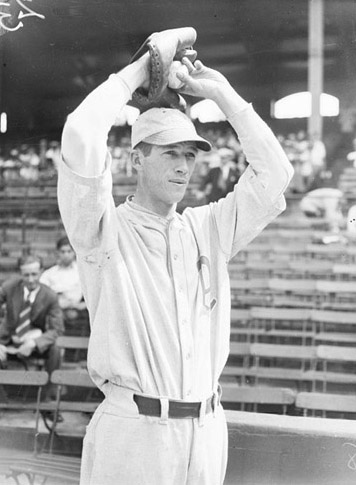 The day before Game Six of the 1931 World Series, more than 500 baseball fans crowded into the Union Station Midway to wait for the St. Louis Cardinals' special train to arrive.1 The gathering was celebratory in manner as their team returned home sporting a three-games-to-two advantage over the favored Philadelphia Athletics.
An arrival message board at the station publicized a statement related to the captivating Mound City center fielder by displaying "Pepper Martin and Red Birds, 12:45 P.M." on the marquee.2 Pepper Martin, who had transitioned from untested rookie to national phenomenon in less than a week, hurried with his wife from the team's rear car to the front end to try to exit without notice. But the crowd was there and surged forward with a roar. Martin grinned, blushed, and obliged a local photographer's request for some camera shots.3
"Everybody in St. Louis wonders what you really look like, 'Pep.' Come over here and pose for a good picture," said the cameraman. "All right," said Pep. "I'll pose. Let 'er go."4 Martin, dressed in a brown suit and a tan sombrero cocked on the back of his head in approved Oklahoma style, finally made it out of a 20th Street side door to secure a taxi for the ride to their hotel.5 Police struggled almost frantically to get the Martins and outfielder Chick Hafey into the taxicab and then keep boys and even men from climbing all over the cab.6
Later that evening, Martin returned to the hotel lobby carrying two huge bundles and was asked by teammate Jimmie Wilson what he had under his arms. "Two gallons of ice cream," replied Martin. "What's the idea?" asked another player. "Oh, ever since I was a kid I dreamed of being a big league star — making lots of money and buying as much ice cream as I could eat — and now I have done it," concluded Martin.7
Martin's .667 batting average and his running the basepaths with abandon had produced four steals with five runs scored, while his overall hustle afforded him the unique moniker of "The Wild Horse of the Osage." Upon learning that there was a new home plate installed at Sportsman's Park due to the previous "dish" being dug up by a souvenir hunter after Game Two, a scribe jokingly remarked that Martin would have been accused of stealing it had that happened in Philadelphia.8
With all of the positive ink applied to Martin, some consternation from Cardinals team officials percolated when a wire story appeared about first baseman Jim Bottomley. E. T. Bales, sports editor of the Chattanooga News, repeated in his column an unfounded report "from two authoritative sources" that Bottomley had been sold to the Chicago Cubs for the 1932 season.9 Branch Rickey of the Cardinals and William Veeck of the Cubs denied the report.10 Bales responded, "Of course they can't let it get out now while Bottomley is playing in the World Series for the Cardinals."11
Gabby Street altered his lineup before Game Five by shifting Martin to cleanup with the struggling Bottomley batting sixth, and his decision produced positive results as the two men combined for five hits. Street conveyed confidence, "If we'd had any luck in the first game, the series would be over right now. But what's the difference, it's taking just a little longer."12 Connie Mack was concerned about his Philadelphia team on both sides of the baseball. He was worried about the inability of his players to hit consistently against the Cardinals' hurlers, and the inability of his pitchers to stop the hitting of Martin.13 After five games, the A's were batting just .217 to the .257 mark posted by the Redbirds.
For Game Six, it would be the same mound matchup as Game One with Lefty Grove for the Athletics going against the Cardinals' Paul Derringer. Grove was 1-1 and had been tagged for 23 hits, but just four of those safeties had gone for extra bases. In 17 innings, he had given up six runs, struck out nine and walked just one. Derringer was 0-1 in two appearances covering eight frames, and had allowed six runs on 11 hits, fanned 10, and permitted three walks. Jake Flowers would be at third base for St. Louis as the ankle problem affecting Sparky Adams would keep him out for the remainder of the series.14
A crowd of 39,401 jammed into Sportsman's Park anticipating that the Redbirds would clinch the championship in six games as the A's had done versus St. Louis in 1930. John Heydler, president of the National League, was all smiles as he stated, "This certainly looks like our year. The Cardinals have played great baseball against a great club."15 Pepper Martin was so busy signing scorecards that he missed most of fielding practice, but he received a great ovation as he ran to his outfield position. Once he got there two men dashed from the stands and across the field to present the Cardinals ace with a rifle. Teammate Wally Roettger trotted over, not to help Martin, but to inspect the gift.16
Exceptional baseball weather was present as Derringer warmed up to begin the contest. Max Bishop took a called third strike on a 2-2 count to begin the game and protested mildly to veteran plate arbiter Dick Nallin, who was umpiring in his fourth World Series.17 Derringer took the possible clincher to heart as he put up four scoreless innings, giving up just one hit, and striking out three. Meanwhile, Grove matched zeroes with Derringer while allowing two singles and fanning a pair. Martin, who was 5-for-8 (.625) versus Grove, was retired on a pop foul to first and a line drive to center. This had to hearten those pulling for the A's because Martin's fame was growing so fast that the daily sports question had changed from "Who won the game?" to "What did Martin do?"18
It all fell apart for Derringer in a flash. On a Jimmie Foxx grounder to open the fifth, Flowers' throw pulled Bottomley off first for an error. A bunt sent Foxx to second base before Jimmy Dykes drew a walk. Foxx broke in the "new" home plate when he scored on a single to center by Dib Williams. After Grove fanned, Derringer became too careful with the top of the A's order and then lost his composure. Bishop walked, and another free pass on a disputed full-count pitch to Mule Haas forced Dykes home. Mickey Cochrane's hard grounder went off the glove of second baseman Frankie Frisch for another tally. Derringer's stint ended after he walked Al Simmons to plate the fourth run. Syl Johnson relieved a seething Derringer, and retired the 10th batter of the inning, Foxx, on a pop fly to shortstop.19 All of the runs were unearned, but it was little solace with the score now reading Philadelphia 4, St. Louis 0.
Grove permitted a single to Hafey to open the Redbirds' fifth, but then retired the next three batters. The Cardinals finally tallied in the sixth when Flowers, who had doubled, scored after Frisch lined a two-out single past Foxx into right field.20 Martin, looking to extend the inning, popped out to second baseman Bishop in short right. In the seventh, Street went with right-hander Jim Lindsey, who had been effective in Game Four. But on this afternoon Lindsey gave up four runs (two earned) on three singles, a hit batsman, another bases-loaded walk, and a dropped fly ball by Hafey, which concluded the carnage, let in two runs and yielded an 8-1 Philadelphia advantage.
The Cardinals' faithful saw little that mattered during the final three innings. Cochrane was charged with the first Philadelphia error of the series when he mishandled a third strike and allowed a batter to reach first to start the ninth. One out later, Martin walked. But Grove worked out of the jam and earned his second complete-game win in the series with a sparkling five-hit, seven-strikeout performance that took one hour and 57 minutes. The pair of fielding miscues by Flowers and Hafey factored in six of the Athletics' eight runs.
Derringer was still steaming afterwards about the perceived mid-game missed strike that plated the Athletics' second run. "The ball I pitched to Haas with a 3-2 call in the fifth inning was a perfect strike, but Umpire Nallin called it a ball." 21 Derringer thundered. "I don't mind being beaten, but I hate to be robbed — and by an American League umpire."22 While Street affirmed his hurler's scrutiny of Nallin's judgement, Martin, who was held hitless for the first time in this Fall Classic, noted, "The umpires are human, like everybody else, and make mistakes, but they're trying to do their best."23 Martin also praised Derringer, "He's a great pitcher. I played with him last year at Rochester, and I ought to know. The breaks just went against him, that's all."24
Martin predicted that the Cardinals would win Game Seven.25
Connie Mack stopped long enough to offer his assessment, "I said when we came back we would keep the championship in the American League and today's game certainly did not change my thought on the matter."26
This article appears in "Sportsman's Park in St. Louis: Home of the Browns and Cardinals at Grand and Dodier" (SABR, 2017), edited by Gregory H. Wolf. Click here to read more articles from this book online.
Sources
In addition to the sources noted in this game account, the author also accessed Retrosheet.org, Baseball-Reference.com, SABR.org, newspapers.com, and The Sporting News archive via Paper of Record.
Notes
1 "Street Names Paul Derringer To Pitch Tomorrow," St. Louis Post-Dispatch, October 8, 1931: 1B.
2 Walter W. Smith, "Pepper's' Big Show Arrives Here," St. Louis Star-Times, October 8, 1931: 19.
3 Ibid.
4 'Photo Caption', St. Louis Star-Times, October 8, 1931: 19.
5 Smith, "Pepper's' Big Show Arrives Here."
6 "Street Names Paul Derringer To Pitch Tomorrow": 3B.
7 Stan Baumgartner, "Through The Series Sieve As Connie Cut The Cards," Philadelphia Inquirer, October 10, 1931: 16.
8 "Gossip of Sixth Game," The Sporting News, October 15, 1931: 6.
9 Author's Note-The report by E. T. Bales proved untrue as Bottomley remained with the Cardinals for the 1932 season. He was subsequently traded to the Cincinnati Reds on December 17, 1932.
10 "Reported Sale of Bottomley Denied by Branch Rickey," St. Louis Star-Times, October 8, 1931: 19.
11 'United Press', "Bottomley Sold, Report," Pittsburgh Press, October 8, 1931: 29.
12 "Worried," The Pittsburgh Press, October 8, 1931: 29.
13 "Happy," The Pittsburgh Press, October 8, 1931: 29.
14 Herman Wecke, "Earnshaw Likely to be Mack's Pitcher; High to Play Third," St. Louis Post-Dispatch, October 8, 1931: 1B.
15 Ibid.
16 Wecke, "Grimes and Earnshaw to Pitch Tomorrow; Mound Duel Likely," St. Louis Post-Dispatch, October 9, 1931: 1C-2C.
17 "Grimes and Earnshaw."
18 "Introducing The World Series Hero," Pittsburgh Press, October 8, 1931: 29.
19 J. Roy Stockton, "Cards Lose 8-1; Deciding Game Tomorrow," St. Louis Post-Dispatch, October 9, 1931: 1C.
20 Ibid.
21 "Grimes and Earnshaw."
22 Baumgartner, "Derringer Bitter At Umpire Nallin," Philadelphia Inquirer, October 10, 1931: 16.
23 Pepper Martin, "'Think I'll Do It,' Martin Confides As He Visions Victory," Philadelphia Inquirer, October 10, 1931: 1.
24 Ibid.
25 Ibid.
26 "Derringer Bitter."
Additional Stats
Philadelphia Athletics 8
St. Louis Cardinals 1
Game 6, WS
---
Sportsman's Park
St. Louis, Mo
Box Score + PBP:
Corrections? Additions?
If you can help us improve this game story, contact us.
Tags
https://sabr.org/sites/default/files/images/GroveLefty-CDN-s068546.jpg
600
800
admin
/wp-content/uploads/2020/02/sabr_logo.png
admin
2018-11-07 12:35:26
2020-04-17 13:34:00
October 9, 1931: A's Lefty Grove stymies Redbirds again in Game 6