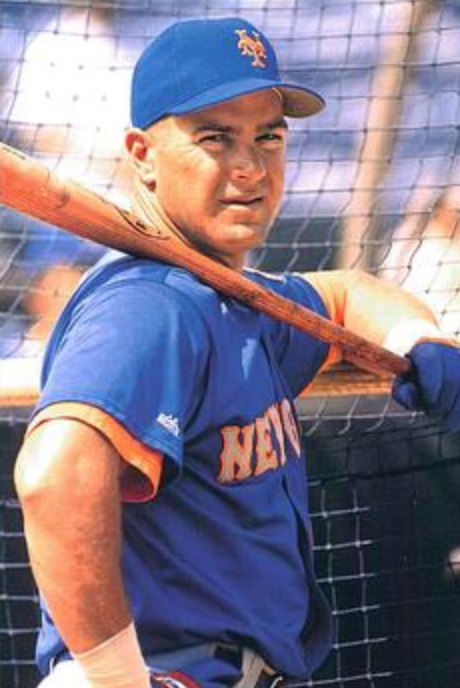 October 9, 1999: Journeyman Todd Pratt slams Mets into NLCS
---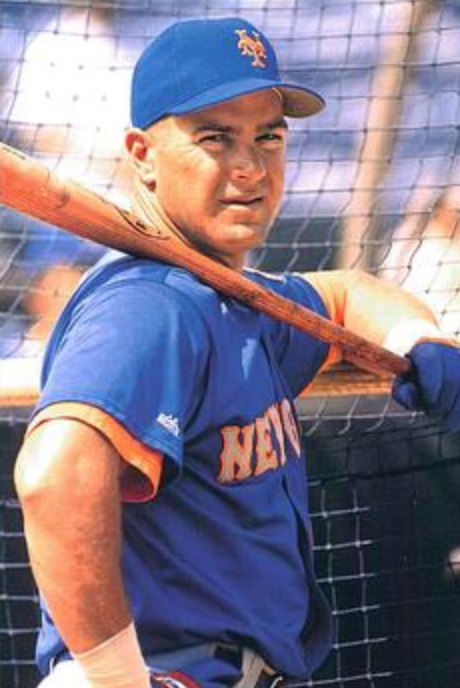 On January 26, 1997, the New England Patriots and the Green Bay Packers played in Super Bowl XXXI in front of a jam-packed Louisiana Superdome. At a South Florida Domino's Pizza, a full crew was processing about a thousand orders in a three-hour period to football fans anxious to see the two best football teams in the NFL battle for supremacy. The shift manager for that evening was a former major-league baseball player named Todd Pratt. In his former life, Pratt played four seasons in the big leagues, hitting just nine home runs in total. After being released by the Seattle Mariners, Pratt went unsigned. He would step away from the game he loved to work as an instructor at Bucky Dent's baseball school.
While working as an instructor, Pratt met a local entrepreneur who persuaded him that teaching baseball wasn't a feasible means of income. "So I spent a summer there and the guy who used to feed the kids there was a young entrepreneur, and owned 20 Domino's in South Florida. Actually 20/20 Pizza was his business. And he was asking me what I was going to do with my life and I said I don't know what I'm going to do yet. He told me, well, you can't be doing this, you've got to get serious about something and he said why don't you come work for me," Pratt said.1 To a reasonable person, going from playing major-league baseball to managing a Domino's Pizza was an incredible fall from grace. But Todd Pratt never saw it that way.
"If I had to go back to it, I could," Pratt said. "There's nothing wrong with managing a pizza parlor."2
On October 9, 1999, Todd Pratt found himself in another high-pressure situation — only this time he was back doing what he loved: playing major-league baseball.
The 1999 New York Mets finished the regular season by losing eight of their last 12 games. During that stretch they went 1-8 against the Atlanta Braves and Philadelphia Phillies. The Mets finished with a 96-66 record, good enough to tie with the Cincinnati Reds for the NL wild-card. On Monday, October 4, the day after the season ended, the Mets and Reds played a tiebreaker at Cincinnati's Cinergy Field to determine the wild-card winner. The Mets, behind a two-hit shutout from left-handed pitcher Al Leiter, clinched the wild card with a 5-0 victory.
In their second season of existence, the Arizona Diamondbacks made a dramatic leap from their inaugural campaign. They signed left-handed ace Randy Johnson out of free agency and, true to form, he paid off on their investment. Johnson led all National League pitchers with a 2.48 ERA and 364 strikeouts while walking only 70. Johnson's incredible season led him to the first of his four consecutive Cy Young Awards. The Diamondbacks went from 65 wins in 1998 to 100 in 1999. They ran way with the NL West title by 14 games.
The Mets and the Diamondbacks battled in the National League Division Series, with the winner to advance to the National League Championship Series. The first two games, in Phoenix, were split. New York won the first game, beating the Diamondbacks and Randy Johnson, 8-4. In the second game, Todd Stottlemyre's solid pitching and Matt Williams's bat engineered the Diamondbacks to a 7-1 victory to even the series. During the offday between Games Two and Three, Mets All-Star catcher Mike Piazza received a cortisone shot to alleviate the pain from a sore left thumb that had been bothering him since late September. Instead of relief, Piazza woke up in horror to find his thumb swollen in a grotesque manner. Doctors told Piazza it would take 48 to 72 hours for the swelling to go down.
The prospect of not having their best bat in the lineup was a tough pill for the Mets to swallow. But they managed to make their way through a tough final stretch to earn their first postseason trip since 1988. For Mets backup catcher Todd Pratt, the road back to the majors was an arduous journey. He had to make the dramatic jump from understudy to caretaker of the Mets pitching staff for the rest of the series.
The series shifted to New York for Game Three, which the Mets won with ease, 9-2. They were one game away from winning their first postseason series since the 1986 World Series. For the upstart Diamondbacks, a win in Game Four and the series would back to Arizona for a deciding Game Five with the best pitcher in the National League, Randy Johnson, ready to go.
Something had to give.
Game Four of the NLDS took place on Saturday, October 9, 1999, in front of a crowd of 56,177 at Shea Stadium. The weather was perfect for a Saturday afternoon, 65 degrees and not a cloud in the sky. The Mets sent out Al Leiter, while the Diamondbacks answered with fellow left-hander Brian Anderson. For 3½ innings the two starters were locked in a scoreless pitchers' duel. In the bottom of the fourth, Mets second baseman Edgardo Alfonzo hit a home run off Johnson to give New York a 1-0 edge. With a no-hitter going into the top of the fifth inning, Leiter got Diamondbacks third baseman Matt Williams to fly out to left. Leiter's no-hitter was broken up by first baseman Greg Colbrunn, who tied the game on a home run to left. In the bottom of the sixth, Mets leadoff hitter Rickey Henderson led off with a single. With one out, first baseman John Olerud singled to left and Henderson moved to third. Benny Agbayani singled to right off Brian Anderson to score Henderson and give the Mets the lead once again at 2-1.
In the top of the eighth, Mets manager Bobby Valentine replaced Henderson in left with Melvin Mora as a defensive substitution. With two outs, Leiter walked Turner Ward and gave up a single to shortstop Tony Womack. Armando Benitez relieved Leiter with the Mets an inning away from heading to the NLCS, but Jay Bell's double to left scored both Ward and Womack, and the Diamondbacks were now in the driver's seat with a 3-2 lead. In the bottom of the eighth, Diamondbacks manager Buck Showalter made a defensive switch of his own by moving Tony Womack from shortstop to right field.
The move backfired as Womack dropped a deep drive by Olerud that put runners in scoring position at second and third. Roger Cedeno's fly ball drove in Alfonzo with the tying run. The drama in the eighth didn't cease. Mets third-base coach Cookie Rojas was ejected for shoving left-field foul-line umpire Charlie Williams. Rojas believed that a line drive by Todd Pratt was fair but the replays showed that it was foul by barely an inch. The emotion was reaching a fever pitch. The thoughts of facing Randy Johnson were dancing in the heads of Mets players. The Arizona Diamondbacks were looking to climb the next ladder in their quest to win the World Series.
With the tight contest reaching the bottom of the 10th inning, Pratt, who was 0-for-7 so far in the NLDS, slugged a 1-and-0 pitch from Diamondbacks closer Matt Mantei over the center-field fence, securing a 4-3 Mets victory over Arizona that catapulted them into the National League Championship Series. The crowd of 56,177 at Shea Stadium went into a fit of euphoria while Mets players were basking in the glory after being considered left for dead toward the end of the regular season.
"We have something special going," Mets manager Bobby Valentine said. "It's a special group of guys. It's going to take a good effort to stop us. The next team is going to play against some ghosts because they said we were dead. I don't know if that team has ever played against ghosts."3
Diamondbacks skipper Showalter was struggling to find the words to describe the backbreaking end to a fantastic year. "Unless you've been through … the words to describe this. … My vocabulary is not that good. You win 101 games, whatever, and then you're a spectator."4
On a beautiful Saturday afternoon in New York City, Pratt made the most of his second act and propelled himself into baseball lore. And while his teammates thought of him as the hero of the day, Pratt was all too modest. "I am going to kiss my wife, give my son a high-five, and then probably I will be back on my computer playing computer games," he said. "Hey, I could have easily been the goat today."5
This article was published in "Met-rospectives: A Collection of the Greatest Games in New York Mets History" (SABR, 2018), edited by Brian Wright and Bill Nowlin. To read more articles from this book at the SABR Games Project, click here.

Sources
In addition to the sources cited in the Notes, the author consulted Baseball-reference.com and retrosheet.org.
https://www.baseball-reference.com/boxes/NYN/NYN199910090.shtml
https://www.retrosheet.org/boxesetc/1999/B10090NYN1999.htm
Notes
1 Matthew Brownstein, "MMO Exclusive: Former Mets Catcher Todd Pratt," MetsMerizedOnline.com, April 25, 2017.
2 George Vescey, "Todd Pratt Can Stand the Heat," New York Times, October 12, 1999.
3 William Gildea, "Mets Look a Little Amazin' in Series Win," Washington Post, October 10, 1999.
4 Ibid.
5 Wallace Matthews, "The Journeyman Arrives; No-Name Pratt Now NY Hero," New York Post, October 10, 1999.
Additional Stats
New York Mets 4
Arizona Diamondbacks 3
10 innings
Game 4, NLDS
---
Shea Stadium
New York, NY
Box Score + PBP:
Corrections? Additions?
If you can help us improve this game story, contact us.
Tags
https://sabr.org/sites/default/files/Todd%20Pratt.png
600
800
admin
/wp-content/uploads/2020/02/sabr_logo.png
admin
2019-10-17 13:16:45
2020-04-17 13:33:56
October 9, 1999: Journeyman Todd Pratt slams Mets into NLCS