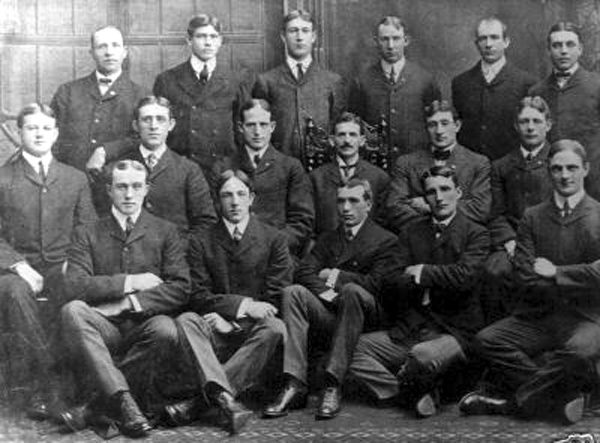 October 4, 1902: Pittsburgh Pirates finish exceptional season by winning record 103rd game
---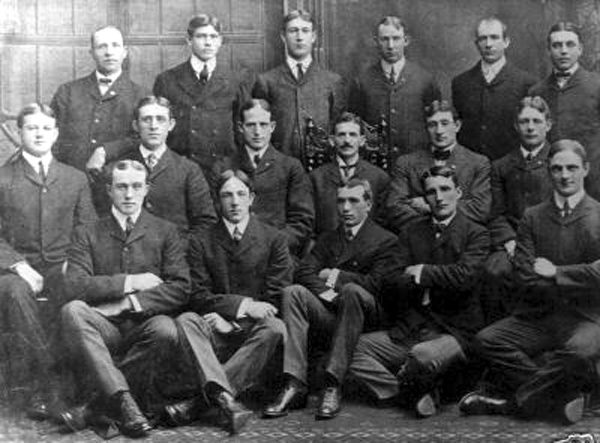 The 1902 Pittsburgh Pirates were one of the greatest teams in baseball history; during the season's last weekend, they were on the verge of completing the season with an exclamation point. In the midst of a three-year reign atop the National League, the Pirates handily won the 1901 NL pennant with a 90-49 record, the first time Pittsburgh won a league title and attained 90 wins.1 Led by Hall of Fame outfielder-manager Fred Clarke, Hall of Fame shortstop Honus Wagner, and 20-game winners Jack Chesbro and Deacon Phillippe, the Bucs finished 7½ games in front of the second-place Philadelphia Phillies.
The 1902 Pirates started the season with mostly the same key personnel from the previous season: first baseman Kitty Bransfield, second baseman Claude Ritchey, third baseman Tommy Leach, and outfielders Ginger Beaumont and Lefty Davis. The most significant changes included returning catcher Harry Smith, who jumped from Pittsburgh to the American League's Philadelphia Athletics the previous year, and Wid Conroy, who was originally slated to be Wagner's backup at shortstop but started the season there, with Wagner moving to the outfield.2
The early 1900s were especially tumultuous for professional baseball, as Ban Johnson's American League played its inaugural season during 1901 and numerous players were jumping leagues for better opportunities and higher salaries.3 During the first three years of the AL's existence, over 100 players joined the AL4 with Johnson constantly fighting for new talent;5 by 1903, many believed the American League was the superior league.6 However, Pittsburgh owner Barney Dreyfuss successfully retained his top stars through 1902, while most NL teams lost significant players.7 During 1901-1902, the Pirates lost only four players: third baseman Jimmy Williams (to Baltimore), shortstop Fred "Bones" Ely (to Philadelphia), Smith (who returned), and catcher Jack O'Connor (left following 1902 season). Other teams faced greater losses, ranging from Philadelphia and St. Louis (highest with 16 players jumping) to Cincinnati (second fewest with eight players jumping).8
In addition, Dreyfuss helped stabilize NL ownership before the 1902 season, and thereby prevented Pittsburgh itself jumping from the National League to the American League.9 He also helped eliminate the possibility of an AL entry based in Pittsburgh for 1902, although efforts undermining the NL Pirates continued after the season ended.10 The Pirates entered the 1902 season in good shape, with manager Clarke "highly pleased with the outlook, and if the weather is good from now on for another week, he says his boys would be in condition second to none in the league."11 The Pirates started fast, winning their first five games and ending April with an 8-2 record, up 1½ games on the Chicago Cubs. After compiling a 22-4 record during May and 11-6 record during June, the Pirates never looked back.  
Conversely, the 1902 Reds were looking to improve upon the previous season's last-place finish, as their 52-87 record was 38 games behind Pittsburg. Although seven Reds switched leagues before the 1901 season, only outfielder Dick Harley left before the 1902 season started. In addition, four star players, pitcher Noodles Hahn, outfielder Sam Crawford, first baseman Jake Beckley, and pitcher Bill Phillips, remained with the club.12 The Reds dropped their first three games and struggled through May and June before improving during the second half. During September, Cincinnati assembled a 15-12 record and climbed to a more respectable fourth place, flirting with a .500 finish. 
Four-year veteran Phillippe started Pittsburg's final 1902 game. He attained 20 wins and amassed at least 270 innings during each of his first three seasons, and was pitching for his 20th win facing Cincinnati. Phillippe was one of the many players traded from the Louisville Colonels to Pittsburgh after the 1899 season. He spent the rest of his 13-year career in Pittsburgh, and was voted the greatest right-handed pitcher in Pirates history in 1969.13 A 6-foot right-hander possessing a fastball and curveball, Phillippe had legendary control; his career record 1.25 walks per nine innings is the lowest ratio once the modern 60-foot 6-inch pitching distance was established in 1893.14
His mound opponent that afternoon was Beckley, better known as a Hall of Fame first baseman than a starting pitcher. Beckley's career spanned 20 seasons with five different teams, including seven-plus years with the Pirates and a single year (1890) with the Players League Pittsburgh Burghers during their only year of existence. After nearly 2,000 games played at first base, Beckley was making his lone career pitching appearance as part of Cincinnati manager Joe Kelley's protest over sloppy weather conditions. Rookie reliever Rube Vickers served as Beckley's catcher; newspaper reports describing the game didn't sugarcoat the Reds' behavior, noting, "Beckley's weak throwing arm is notorious in baseball circles, but Jake proved a better pitcher than Vickers did a catcher."15
Although Pittsburgh already clinched the NL pennant, they were tied with the 1892 and 1898 Boston Beaneaters with 102 wins in a single season. The Pirates' winning percentage was higher because they played in fewer games, but Dreyfuss and his players wanted to break the single-season wins record. A heavy storm rained upon Pittsburgh that morning, but the Reds were informed that the game would be played if the storm passed and the field drained. During the early afternoon, the Reds learned the game was going forward, but they arrived late and Kelley generated a laughable lineup.
During the opening frame, Kelley, who was also hitting third and playing third base, emphasized his unhappiness by walking to the plate while smoking a cigarette. Umpire Hank O'Day threatened Kelley with expulsion before he complied with the umpire's request to extinguish the cigarette.16 With the Reds barely trying, the Pirates scored three runs in the first inning. In the second inning, the Reds' Harry Steinfeldt reached on an error and scored on a Vickers single. The Pirates responded with four more runs in the bottom half and now built a 7-1 lead. At that point, a furious Dreyfuss announced that the 1,200 patrons attending the game would receive ticket refunds, and the Reds would be paid nothing for the game.17
The Pirates added a run in the fourth inning, which the Reds countered an inning later when Beckley doubled home outfielder Mike Donlin. In the fifth inning, Kelley acquiesced slightly when he inserted outfielder Cy Seymour, who was playing third base that afternoon, as a relief pitcher. Seymour, who pitched years earlier for the New York Giants and won 25 games in 1898, was effective for two innings before allowing three runs on two walks and two hits in the eighth inning.18 The game ended on a double play; with one out and Donlin on second base, Kelley lined out to Jimmy Sebring, who doubled off Donlin. Phillippe pitched a complete game, allowing two runs on nine hits and two walks while striking out five. Six different Bucs had at least two base hits, with Bransfield going 3-for-5 with a double and triple. Pittsburgh trounced Cincinnati 11-2 to win its 103rd game.
Pittsburgh won its second consecutive NL pennant, 27½ games ahead of the Brooklyn Superbas. The Pirates had a dominant 56-15 home record, a .789 winning percentage. Their superior team offense led the NL with 5.45 runs per game, a full run ahead of second-best Cincinnati; 1,410 hits; 189 doubles; 95 triples; .286 batting average; and .374 slugging percentage. Individually, Beaumont paced the NL with a .357 batting average; Wagner led the NL with 105 runs, 30 doubles, 91 RBIs, and a .463 slugging percentage; and Tommy Leach hit six home runs for the league lead.
The top four run scorers were all from Pittsburgh: Wagner, Clarke (103), Beaumont (100), and Leach (97). The pitching staff had the second-lowest team ERA (2.30), but allowed the fewest runs per game (3.10). In addition, the Pirates pitchers compiled the highest team strikeout total (564), issued the fewest walks (250), and allowed the fewest home runs (4). The staff included three 20-game winners: Jack Chesbro (28-6, 2.17 ERA over 286⅓ innings), Jesse Tannehill (20-6, 1.95 ERA over 231 innings), and Phillippe (20-9, 2.05 ERA over 272 innings). Their success carried over into the following year, when they won their third consecutive NL pennant and appeared in the first modern World Series.
This article appears in "Moments of Joy and Heartbreak: 66 Significant Episodes in the History of the Pittsburgh Pirates" (SABR, 2018), edited by Jorge Iber and Bill Nowlin.

Sources
Besides the sources cited in the Notes, the author consulted Baseball-Almanac.com, Baseball-Reference.com, Retrosheet.org, and the following:
Thorn, John, and Pete Palmer, et al. Total Baseball: The Official Encyclopedia of Major League Baseball (New York: Viking Press, 2004).
Notes
1 Jim Trdinich and Dan Hart, 2016 Pittsburgh Pirates Media Guide (Pittsburgh: Pittsburgh Pirates, 2016), 264.
2 Sam Bernstein, "Wid Conroy," SABR Biography Project, sabr.org/bioproj/person/9202a5e3.
3 "War That Crippled National League," New York Times, December 7, 1913: 36.
4 Geoffrey C. Ward and Ken Burns, Baseball: An Illustrated History (New York: Alfred A. Knopf, 1994), 65.
5 "American to Fight," Washington Times, May 2, 1902: 4.
6 Tom Simon, ed., Deadball Stars of the National League (Washington: Brassey's, Inc., 2004), 15. See also John S. Bowman and Joel Zoss, The National League (Rocky Hill, Connecticut: Great Pond Publishing, 1992), 26.
7 Deadball Stars of the National League, 141.
8 "War That Crippled National League."
9 Ronald T. Waldo, The 1902 Pittsburgh Pirates: Treachery and Triumph (Jefferson, North Carolina: McFarland, 2015), 62-67.
10 "Dreyfuss Has a Talk with Spalding in Chicago – No American League for the Pittsburg Pirates," Pittsburg Daily Post, January 19, 1902: 12; "Another Park for Johnson," Pittsburg Press, October 19, 1902: 18.
11 "Champions Begin Their Spring Training," Pittsburg Daily Post, April 2, 1902: 6.
12  Cincinnati had three managers during the 1902 season: Bid McPhee (27-37), Frank Bancroft (9-7), and Joe Kelley (34-26).
13 Mark Armour, "Charles Phillippe, Pittsburgh," Deadball Stars of the National League, 159.
14 Ibid.
15 "Reds Made Farce Out of Finish," Pittsburg Press, October 5, 1902: 18.
16 Ibid.
17 "The Champion Pirates Finish the Season of 1902 by Breaking the World's Record of Games Won," Pittsburg Daily Post, October 5, 1902: 2.
18 "Reds Made Farce Out of Finish."
Additional Stats
Pittsburgh Pirates 11
Cincinnati Reds 2 
---
Exposition Park III
Pittsburgh, PA
Box Score + PBP:
Corrections? Additions?
If you can help us improve this game story, contact us.
Tags
https://sabr.org/sites/default/files/1902_Pittsburgh_Pirates.jpg
600
800
admin
/wp-content/uploads/2020/02/sabr_logo.png
admin
2019-02-13 10:48:34
2020-11-23 12:03:56
October 4, 1902: Pittsburgh Pirates finish exceptional season by winning record 103rd game