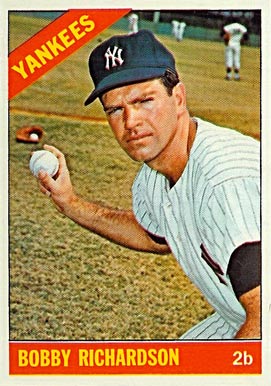 October 8, 1961: Bobby Richardson collects three more hits in Yankees' Game 4 shutout
---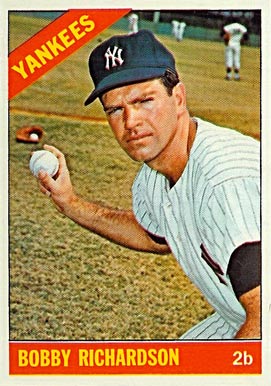 "There is nothing to compare with it," said Bobby Richardson after going 3-for-5 in Game Four of the 1961 World Series. "The World Series certainly is not another group of ballgames. I actually enjoy it. The excitement and the little tensions you feel before and after the games are beyond comparison."1
The Cincinnati Reds were not a postseason fixture and their ballpark was small by major-league standards, but here they were up against the New York Yankees and their most recent iteration of Murderers' Row in the 1961 World Series.
More than 62,000 attended each of the first two games of the Series, played at mammoth Yankee Stadium. Little more than half as many, 32,589 to be exact, came through the turnstiles at Crosley field on October 8 to cheer on the Reds as they tried to even the Series, which the Yankees led, two games to one. The teams had split the first two games in New York and the Yankees had won Game Three when the World Series returned to Cincinnati for the first time since the Reds won the pennant in 1940.
As bands strolled through the park on a warm and sunlit afternoon, a couple of fans made their way to a somewhat unconventional vantage point. Construction was going on beyond the center-field fence and the pair climbed to the top of a crane and sat in the elevated scoop normally used to move dirt.2
To throw out the ceremonial first pitch, Cincinnati called on Bill McKechnie, who had managed the Reds to consecutive World Series appearances in 1939 and 1940.
The big bad, corporate-like Yankees had the Chairman of the Board, Edward Charles "Whitey" Ford, on the mound. The New York ace, who had won the Series opener, 2-0, entered the game having hurled 27 consecutive scoreless innings in World Series play. He was chasing the record of 29⅔ consecutive scoreless innings set by Babe Ruth when he was pitching for the Boston Red Sox in the second decade of the twentieth century. It was a record Ruth had cherished as much as his slugging records.
Ford was opposed by Jim O'Toole, who had been on the short end in Game One. For the first three innings, the game was scoreless. The Yankees broke on top in the fourth inning. After a leadoff walk to Roger Maris, Mickey Mantle, swinging right-handed, hit a ball to the base of the scoreboard in deep left-center field moving Maris to third. It was the hardest-hit ball off O'Toole and would have normally been good for two bases. However, Mantle, running on an injured leg, made it only as far as first base. Mickey left the game at that point and was replaced by Hector Lopez. Mantle did not play in the remainder of the Series. Elston Howard hit into a double play, but Maris scored from third with the only run the Yankees would need.
But the story of the day was the Yankees' second baseman, Bobby Richardson, who was ready to take center stage in the fall classic. The prior season, his spectacular Series, which included 11 hits and 12 RBIs, had gone for naught against the Pirates. But this was a different year. Going into Game Four, he already had five hits in 12 at-bats. In the fifth inning, after Ford walked with two out, he singled the pitcher to second base and Ford then scored on a single by Tony Kubek.
O'Toole came out of the game for pinch-hitter Dick Gernert after pitching five innings, but felt he had pitched well despite yielding two runs. "I had better stuff than the first time I faced them," he said. "They squibbed a few hits and I walked a couple, but I wasn't overwhelmed by them. Why, the single Tony Kubek got, driving in a run in the fifth, was off the end of his bat. And the run in the fourth inning came over on a double play."3
Ford, like Mantle, left the game early. Through five scoreless innings, he had scattered three hits but when he batted in the sixth he fouled a ball off his right foot, bruising his toe. He was also nursing a sore right ankle, the result of having stepped in a hole on the pitcher's mound while delivering a pitch earlier in the game. After the Reds' Elio Chacon singled to lead off the sixth inning, Jim Coates relieved Ford. Ford said, "I wasn't going out to pitch in the sixth at all. But we decided to give it a try. It was no go, though. Landing on that foot when I let the ball go hurt like blazes, and I was glad to leave when Ralph (Houk) came out to check me after Chacon's hit."4 Having pitched three straight World Series shutouts, Ford broke Ruth's record in the third inning and extended it to 32 innings before leaving the game.
When Yankees trainer Gus Mauch came out to tend to Ford after Chacon's hit, he also tended to left fielder Yogi Berra. Berra had taken a spill diving for ball, falling on his face and suffering a cut above his right eye.
Coates allowed only one hit over the final four innings, a ninth-inning single by Wally Post, but O'Toole's replacement ran into difficulties. Jim Brosnan was unable to contain the Yankees in his two innings on the mound. In the sixth inning, he yielded a one-out double to Howard and gave an intentional walk to Berra. Moose Skowron beat out a roller to load the bases. Clete Boyer, the Yankees' slick-fielding third baseman, rifled a double that plated Howard and Berra. After the game, Boyer lamented, "It's nice to hear someone mentioning my hitting for a change."5 On the next play, Reds first baseman Gordy Coleman pulled off an unassisted double play. With runners on second and third, Ford grounded to Coleman, who stepped on first and chased down Skowron between third and home as the Yankees first baseman tried to score on the play, and wound up doing the "cha-cha-cha."6
The Yankees scored three more runs off Brosnan in the seventh inning. Richardson led off the inning with a single, his third hit of the game. He advanced to second on the play when Reds center fielder Vada Pinson had difficulty fielding the ball. With one out, Maris received an intentional pass. That strategy was negated when Brosnan threw a wild pitch and the runners advanced to second and third. Lopez singled them home and went to second on the throw home. With two outs, Berra was walked intentionally, bringing up Skowron. He singled up the middle, his third hit of the game, scoring Lopez with the seventh and final run of the game for New York.
Meanwhile, the Reds were frustrated. Not one of their runners got past second base while the Yankees were building their lead. The Reds' biggest bat, that of Frank Robinson, was silenced as the Yankees pitchers did not confront him. Only once did he put the ball into play, grounding out in the second inning. He was hit by Ford in the fourth inning and by Coates in the sixth inning. In his final at-bat, in the ninth inning, he was walked by Coates.
Although the Yankees would be without Mantle for the next game of the Series, his value to the team was as much measured by his presence in the clubhouse as it was by his play on the field. As Elston Howard said, "Mickey's got more guts than any dozen ballplayers I ever saw. He won't tell you, but I'm telling you. That hole he's got in his leg is big enough to stuff a goose egg in, and there he is out there bearing down and putting out like there was nothing wrong with him."7
For the Reds, now one loss away from elimination, their situation was desperate. Manager Fred Hutchinson said, "Let's put it this way. We've got to win tomorrow, and when a team's got to do something and it's got to do it within a prescribed time, I don't think that's good position to be in. We simply haven't been hitting. It's hard to win without hitting."8
Whitey Ford was credited with his ninth World Series win, breaking his own all-time record.
This article was published in "Cincinnati's Crosley Field: A Gem in the Queen City" (SABR, 2018), edited by Gregory H. Wolf. To read more articles from this book at the SABR Games Project, click here.
Sources
In addition to Baseball-Reference.com and the sources cited in the Notes, the author used:
Ashford, Ed. "Ford, Coates Blank Reds, 7-0; Yankees Take 3-1 Lead," Lexington (Kentucky) Herald, October 9, 1961: 6.
Cannon, Jimmy. "The Savage Doubt," New York Journal American, October 9, 1961: 28.
Drebinger, John. "Yanks Beat Reds a Third Time, 7-0; Ford Sets Record, New York Times, October 9, 1961: 1.
Hand, Jack (Associated Press). "Ford, Coates Stop Redlegs," Greensboro (North Carolina) Daily News, October 9, 1961: B2.
https://www.baseball-reference.com/boxes/CIN/CIN196110080.shtml
https://www.retrosheet.org/boxesetc/1961/B10080CIN1961.htm
Notes
1 Til Ferdenzi, "Richardson Sets Bat Pace: Classic Spurs Bobby to Peak Performance," New York Journal American, October 9, 1961: 28.
2 "Reds' Small Park is Tidy and Homey," New York Times, October 9, 1961: 46.
3 Louis Effrat, "Hutchinson Hints at Changes in Reds Lineup," New York Times, October 9, 1961: 46.
4 Joseph M. Sheehan, "Ford Breaks a Ruthian Pitching Mark and Says Maybe He'll Take Up Hitting," New York Times, October 9, 1961: 45.
5 Ibid.
6 Ibid.
7 Ferdenzi, "Mantle Has More Guts Than 12 Players, New York Journal American, October 9, 1961: 28.
8 Effrat, "Hutchinson Hints at Changes."
Additional Stats
New York Yankees 7
Cincinnati Reds 0
Game 4, WS
---
Crosley Field
Cincinnati, OH
Box Score + PBP:
Corrections? Additions?
If you can help us improve this game story, contact us.
Tags
https://sabr.org/sites/default/files/RichardsonBobby.jpg
600
800
admin
/wp-content/uploads/2020/02/sabr_logo.png
admin
2019-10-07 14:30:54
2020-04-17 13:33:57
October 8, 1961: Bobby Richardson collects three more hits in Yankees' Game 4 shutout