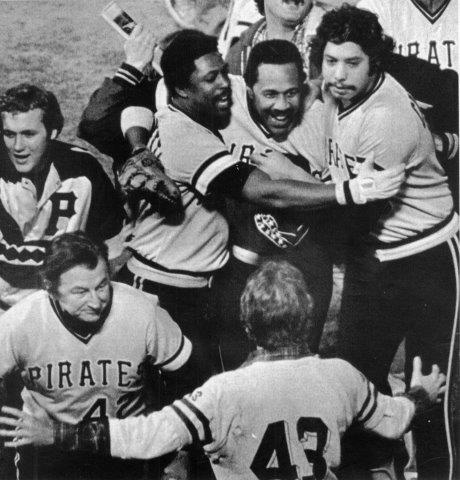 October 17, 1979: 'Pops' Stargell named MVP as Pirates complete World Series comeback
---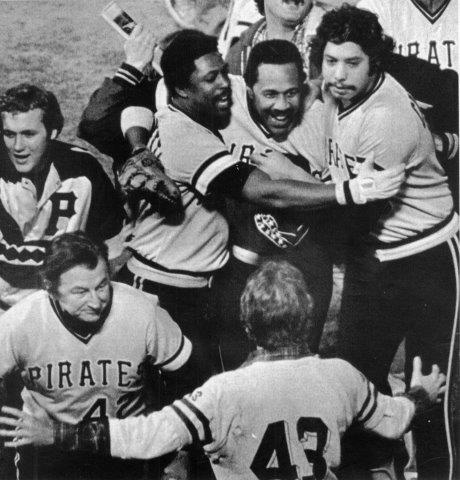 As the Pittsburgh Pirates and Baltimore Orioles prepared to meet in the winner-take-all Game Seven of the 76th World Series, there arose a commotion over a column written by Baltimore Sun sports editor John Steadman. The Pittsburgh media provided the Pirates and their fans with the gist of Steadman's opinion, which was that the Bucs calling their team a family was "a cheap grandstand play, a sickening put-on, a bad pun. The Orioles haven't been gagging themselves to keep from ridiculing 'The Family' reference, but it must be amusing."1
The Orioles probably wished that Steadman had not given the Bucs such "bulletin-board material" to provide extra motivation, especially after Game Seven when the only gagging the Orioles would be accused of doing was choking away what had seemed to be a certain Series victory after Game Four. Such an outlook, however, would sell "The Family's" efforts short as "(i)n truth, the Pirates won the world championship more than the Orioles lost it, beating Baltimore's best pitchers and holding its hitters to only two runs in the final three games."2
The atmosphere was electric as 53,733 fans packed Memorial Stadium one more time on a pleasant 65-degree evening. One of the fans in attendance was incumbent President Jimmy Carter, who threw out the ceremonial first pitch to Orioles catcher Rick Dempsey. Carter was the first president to attend a World Series game since Dwight Eisenhower visited Brooklyn's Ebbets Field during the 1956 World Series between the Dodgers and New York Yankees.3
Once the game was under way, it appeared as though Baltimore's Scott McGregor and Pittsburgh's Jim Bibby were going to duplicate the previous game's pitching duel. Neither team mounted any threat in the first two innings, but second baseman Rich Dauer hit a line-drive home run to left field to lead off the bottom of the third that put the Orioles up 1-0. It was the only run Bibby and the Bucs relievers who followed him — Don Robinson, Grant Jackson and Kent Tekulve — would allow in Game Seven.
The Pirates began to take over the game in the sixth inning. Bill Robinson hit a one-out, bad-hop grounder that was just out of shortstop Kiko Garcia's reach for a single. Willie Stargell batted next and delivered a two-run home run to right-center, giving the Pirates a lead they never relinquished. Stargell's ball was also just out of reach, this time of Orioles right fielder Ken Singleton, who briefly hung on the outfield wall as he watched the ball land in the Pirates' bullpen. In a twist of fate, exactly eight years to the day after he had scored the winning run in Game Seven of the 1971 World Series against the Orioles, Stargell scored the winning run in Game Seven of the 1979 Series against the same team.4
The Pirates were in danger of surrendering their 2-1 lead in the bottom of the eighth inning when Jackson gave up one-out walks to pinch-hitter Lee May and Al Bumbry. After the second walk, Tekulve entered the game and retired pinch-hitter Terry Crowley on a groundball to second base that allowed both runners to move up. Singleton was intentionally walked to load the bases, after which Eddie Murray hit a fly ball to deep right field. Dave Parker stumbled but made an over-the-shoulder catch of Murray's ball to end the inning, a play about which Tekulve later said, "I thought, 'I hope his legs don't fail him now,' but he's made those plays all year and somehow I knew he'd get it."5
After Phil Garner doubled to lead off the ninth inning, Orioles manager Earl Weaver "paraded a record five pitchers to the mound in a futile bid to stem the inevitable."6 Mike Flanagan replaced Tim Stoddard with one out and gave up a single to Omar Moreno that scored Garner. Weaver then brought in Don Stanhouse, who surrendered a base hit to left-center by Tim Foli that advanced Moreno to third. Tippy Martinez took the mound next and loaded the bases by hitting Parker with a pitch. Finally, Dennis Martinez, the fifth Orioles pitcher of the inning, hit Bill Robinson with a pitch that brought Moreno home with the Pirates' final run of the game. It did not take an astute spectator to sense the desperation behind Weaver's procession of relievers, all of whom were ineffective and — as a group — gave up the last two runs that resulted in the final 4-1 score.
In the bottom of the ninth, Tekulve struck out Gary Roenicke and Doug DeCinces before getting pinch-hitter Pat Kelly to fly to Moreno in center field for the final out. For their efforts, Jackson got the win, Tekulve got his third save of the Series, and the Pirates got their fifth world championship. As Tekulve said, "(I)t's ours and nobody can take it away."7
The Pirates had pounded out 81 hits against the Orioles over the course of the seven-game Series and had compiled a team batting average of .323, which was a record for a winning team in the World Series and second only to the 1960 New York Yankees' .338.; The 81 hits were also second only to the same 1960 Yankees squad's 91 hits.8
Five Pirates accumulated double-digit hit totals: Willie Stargell (.400) and Phil Garner (.500) led the way with 12 each, Omar Moreno (.333) tallied 11, and Dave Parker (.345) and Tim Foli (.333) had 10 apiece. Foli also set a record for the most at-bats (30) without a strikeout.9 Bill Madlock batted .375 while rapping out nine hits and drawing five walks and, in Game Five, became one of three Pirates batters — along with Parker (Game One) and Stargell (Game Seven) — to tie the Series record of four hits in one game. The Orioles' inability to stop the Pirates in the top of the ninth inning of Game Seven was simply a microcosm of the entire World Series, especially those games in which the Pirates bunched their hits together to score more runs.
Stargell's performance stood out above all, and he was the unanimous choice of the nine-man committee as the Most Valuable Player of the World Series.10 In addition to batting .400 with 7 RBIs, Stargell set a World Series record with seven extra-base hits — four doubles and three home runs (the Pirates' only home runs in the seven games) — and tied Reggie Jackson's 1977 record of 25 total bases.11 The award made Stargell the first player player to win the regular-season, League Championship Series, and World Series MVPs in the same season. For that matter, the Pirates made a clean sweep of all MVP awards in 1979 as Parker had been voted MVP of the All-Star Game that summer.
President Carter visited the jubilant Pirates' locker room after the game to offer his congratulations and watched the team accept the championship trophy. Manager Chuck Tanner could not remember what Carter said to him because he was so excited, while a jovial Stargell joked, "I wanted to ask him if he had any peanuts on him. But there were too many Secret Service men around, and I was afraid to ask."12
Stargell turned serious for a moment when he was asked about Steadman's column that had denigrated the Pirates' use of the word "family" to describe their team. "Pops" Stargell, the Bucs' inspirational father figure, said, "I thought that was unfair. That man didn't live with us all year. He didn't understand that we depend on closeness, that we are a family. No words can express what we've done. We've overcome. We've worked hard. We've scratched and clawed. We took that song 'We Are Family' and identified with it. We weren't trying to be sassy or fancy. We're just a ballclub that is a family in our clubhouse. And that's why we won the World Series, that's why we came from behind."13 Stargell's response was a fitting summary of the 1979 Pittsburgh Pirates.
This article appeared in "When Pops Led the Family: The 1979 Pitttsburgh Pirates" (SABR, 2016), edited by Bill Nowlin and Gregory H. Wolf. To read more game stories from this book at the SABR Games Project, click here.
Sources
https://www.baseball-reference.com/boxes/BAL/BAL197910170.shtml
http://www.retrosheet.org/boxesetc/1979/B10170BAL1979.htm
Notes
1 Pat Livingston, "Stand-Up Pirates Set Down Birds," Pittsburgh Press, October 18, 1979.
2 Ron Fimrite, "Rising From the Ashes," Sports Illustrated, October 29, 1979: 61-64.
3 Murray Chass, "Pirates Capture World Series With 4-1 Triumph," New York Times, October 18, 1979.
4 Lowell Reidenbaugh, "Stargell's Bat? Just Plain Poison!," The Sporting News November 3, 1979: 43-44.
5 Dan Donovan, "Whew, It's Over! Bucs Are Champs," Pittsburgh Press, October 18, 1979.
6 Reidenbaugh, "Stargell's Bat? Just Plain Poison!"
7 Donovan, "Whew, It's Over! Bucs Are Champs."
8 "World Series Notes: Garner Won the Hard Fight," Pittsburgh Press, October 18, 1979.
9 Lowell Reidenbaugh, "Room at Top Just for Bucs," The Sporting News, November 3, 1979: 40.
10 Reidenbaugh, "Stargell's Bat? Just Plain Poison!"
11 "World Series Notes: Garner Won the Hard Fight."
12 Ibid.
13 Dave Anderson, "Pops Hit One for 'The Family,'" New York Times, October 18, 1979.
Additional Stats
Pittsburgh Pirates 4
Baltimore Orioles 1
Game 7, WS
---
Memorial Stadium
Baltimore, MD
Box Score + PBP:
Corrections? Additions?
If you can help us improve this game story, contact us.
Tags
https://sabr.org/sites/default/files/1979%20WS%20No%20ACC_Celebration%20Stargell_NBL.jpg
600
800
admin
/wp-content/uploads/2020/02/sabr_logo.png
admin
2018-05-02 14:10:11
2020-04-17 13:34:02
October 17, 1979: 'Pops' Stargell named MVP as Pirates complete World Series comeback