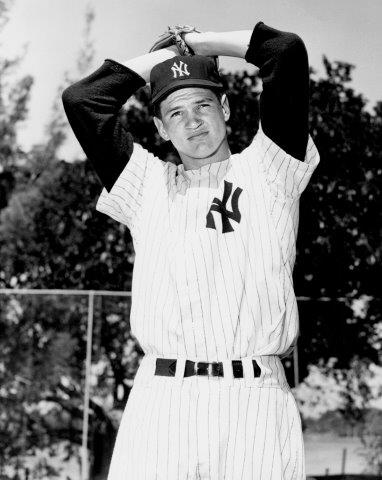 October 9, 1961: Yankees blast Reds to capture 19th World Series championship
---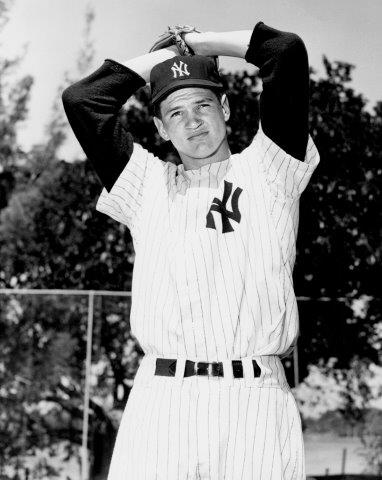 As the 49-year-old midtown Cincinnati ballpark hosted Game Five of what proved to be its final postseason, it sported a new paint job, applied after the end of the 1961 regular season. Crosley Field was all dressed up in its gaudiest colors in years. The outside of the ballpark had a gleaming coat of white paint and the outfield a darker green. The runway for players to the dressing rooms was set in bright red.1 With a game-time temperature of 75 degrees, no rain, and no wind, many in the Queen City crowd were dressed in short sleeves.2 The city's one licensed ticket broker was selling the $7.20 box seats for $60 but was disappointed with his low inventory as season-ticket holders used their tickets rather than making them available to him.
The Yankees led the Series three games to one and oddsmakers made them 3-to-2 favorites to end the Series in Game Five.3 Nonetheless, both teams were feeling pressure. Not only were the Reds facing season-ending elimination, they wanted to avoid being the first team since the 1949 Brooklyn Dodgers to lose three World Series games on their home field. For his part, Yankees manager Ralph Houk had to combat injuries to key players. Mickey Mantle and Yogi Berra were hurt. Whitey Ford, who had shut out the Reds the day before, was through because of a foot problem.
With their injuries, the Yankees had a new look to their outfield alignment. Roger Maris moved from his normal right field to center. John Blanchard took over in right and Hector Lopez played left. The moves weakened a stout Yankees bench. Said Blanchard after the game of his manager's moves, "Houk was one of the big reasons we won that fifth game. He started me in Game Two against Joey Jay. It was a tough day to hit, a lot of shadows, and I stunk. I was 0-for-4 and I figured, well, so much for ever starting another game in the World Series. But we came to that fifth game, Jay was pitching again and Ralph played me. Not only that, but he batted me cleanup. I said, 'Jeez, this guy believes in me.'"4
Reds manager Fred Hutchinson was happy to be sending his 21-game winner and Game Two Series victor Joey Jay to the mound to face Yankees' 16-game winner Ralph Terry. Jay, the first Little Leaguer to play in the major leagues, had been a member of the 1958 Milwaukee Braves who had led these same Yankees three games to one in the World Series and ended up losing when the Yankees came back to win three in a row. It didn't take long for both managers to have a change of heart.
Jay recorded just two outs in the first inning, and was removed after allowing four runs on four hits, one of them a two-run home run by Blanchard.
Fireballing 21-year-old Jim Maloney, who replaced Jay, also registered only two outs while surrendering four hits and two more runs, including Lopez's RBI triple followed by Clete Boyer's run-scoring double. Hutchinson was genuinely prepared to use the "Johnny Wholestaff" strategy in this elimination game.
Right-hander Ken Johnson became the third Reds pitcher, entering the game with one out in the second inning, and retired the two batters he faced. By the end of the game, Hutch's Reds had used eight pitchers and 21 players in all, both World Series single-game records.
With the Reds down 6-0, Hutchinson sent pinch-hitter Gus Bell to the plate for Johnson in the bottom of the second inning. The Reds' top left-handed reliever, Bill Henry, entered in the top of the third and held the Yankees scoreless. In the bottom of the inning, Reds fans were encouraged by Frank Robinson's three-run home run, which made the score 6-3. (Robinson, later to be named the National League MVP, finished the World Series just 3-for-15.) Like his Reds counterparts, Terry was not at his best either, exiting the game after Robinson's home run after working 2⅓ innings. He was replaced by left-hander Bud Daley.
The momentum quickly reverted to New York: The Yankees scored five times in the fourth. A three-run homer by Hector Lopez chased Henry to the showers in favor of righty Sherman Jones. In the fifth inning left fielder Wally Post answered for the Reds with a two-run shot off Daley to make the score 11-5. (Both runs were unearned because Daley muffed a grounder.)
The Yankees' offensive onslaught continued as they scored two more in the sixth off knuckleballer Bob Purkey, despite not connecting for a hit. Two errors and two walks were the culprits. The Yankees led 13-5.
Daley shut down the Reds in the final three frames, surrendering only a double by Robinson. In 6⅔ innings Daley yielded five hits and just the two unearned runs. Daley, a 12-17 pitcher during the season, picked up the Series-clinching victory.
Smoking a big cigar after the game, Houk accepted congratulations. "I'm really happy for the ballclub and the players," he said. We got the hits when we needed them … got them out when we had to."5
Houk said, "This may sound strange, I was more worried going into (this) game than at any time during the season. I felt we had to win that game, or we could be in a lot of trouble."
"Mickey ripped up his leg too much, and he was finished for the year. Whitey's foot problem meant he couldn't pitch anymore. Yogi dove for a ball and bruised his shoulder. He was also out. … With all the guys getting hurt I thought I had real reason for concern."6
The reporters were disappointed if they expected a postgame interview by the M&M Boys, Mantle and Maris. Mantle didn't even wait for the last out in the Yankees' clinching victory. He pulled off his uniform at the start of the ninth and was on his way to the airport to catch a plane for Dallas when the game and Series ended.7 Maris quickly packed his gear and whipped out of the dressing room, even while reporters and photographers were filing into the packed clubhouse. "I'm in a hurry, boys," Maris shouted. "No pictures today, I'm going home to see my kids. Parties don't mean anything to me. I'll have a party in my own home."8
Noise of the celebration was coming from the Yankees dressing room as reporters spoke to Hutchinson.
"We got the hell kicked out of us today and we lost," Hutchinson said, "but this team, as it is now constituted, is strong enough to win the pennant again next year."9 But Hutchinson would spend the next three years battling lung cancer, a battle he would lose after the 1964 season. It would be nine years, four managers, and a new ballpark before the Reds returned to the World Series. The Yankees returned to the fall classic the following year.
This article was published in "Cincinnati's Crosley Field: A Gem in the Queen City" (SABR, 2018), edited by Gregory H. Wolf. To read more articles from this book at the SABR Games Project, click here.
Sources
In addition to the sources cited in the Notes, the author also consulted:
Cincinnati Reds Yearbook Second Edition (Cincinnati: S. Rosenthal Printing Company, 1961).
Baseball-Reference.com.
https://www.baseball-reference.com/boxes/CIN/CIN196110090.shtml
https://www.retrosheet.org/boxesetc/1961/B10090CIN1961.htm
Notes
1 Associated Press, Springfield (Ohio) News, October 8, 1961.
2 NBC, 1961 World Series Film Game Five, distributed by Rare Sportsfilms, Naperville, Illinois, 2004.
3 Associated Press, Springfield (Ohio) News, October 9, 1961.
4 Ibid.
5 Associated Press, Springfield (Ohio) News, October 10, 1961.
6 Tony Kubek and Terry Pluto, Sixty-One: The Team, The Record, The Men (New York: Macmillan, 1987), 138.
7 Ibid.
8 Ibid.
9 Robert Sullivan, Springfield (Ohio) News, October 10, 1961:1.
Additional Stats
New York Yankees 13
Cincinnati Reds 5
Game 5, WS
---
Crosley Field
Cincinnati, OH
Box Score + PBP:
Corrections? Additions?
If you can help us improve this game story, contact us.
Tags
https://sabr.org/sites/default/files/TerryRalph-NBHOF.jpg
600
800
admin
/wp-content/uploads/2020/02/sabr_logo.png
admin
2019-10-07 14:33:13
2020-04-17 13:33:56
October 9, 1961: Yankees blast Reds to capture 19th World Series championship