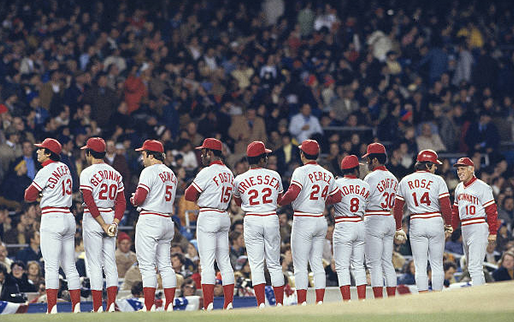 October 21, 1976: Big Red Machine sweeps Yankees for second straight World Series championship
---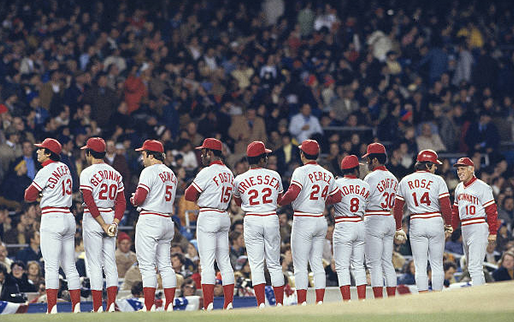 The 1976 Cincinnati Reds were on the cusp of accomplishing a first in franchise history. The Big Red Machine, as they had come to be known, were one win away from sweeping the New York Yankees and for the first time win back-to-back World Series.
The Reds had won a thrilling seven-game Series over Boston in 1975 in a Series that many say was the best fall classic ever. Not many would be making the same assessment about the 1976 World Series.
After a suspenseful-filled LCS against Kansas City, the Yankees won their first pennant since 1964. Bedlam reigned at Yankee Stadium after Chris Chambliss sent a pitch from Royals reliever Mark Littell over the right-field wall to send the Yankees to the World Series. Fans flooded the field, making Chambliss's trip around the bases seem more like a pinball game as he bounced off fans in all directions. After snatching victory from the Royals, New York looked more like a club just glad that they got to the Series, instead of a viable opponent to Cincinnati.
In the National League, the Reds swept Philadelphia in three straight games to claim the NL flag. But there was still drama. In Game Three the Phillies were leading 6-4 and looking to stave off elimination heading into the bottom of the ninth inning. But reliever Ron Reed gave up back-to-back home runs to the Reds' George Foster and Johnny Bench to knot the game at 6-6. Then the Reds loaded the bases off Philadelphia relievers Gene Garber and Tom Underwood, and a single by Ken Griffey sent home the winning run for the Reds. It was Cincinnati's fourth pennant of the decade.
The Reds, who were listed as 8-5 favorites by the oddsmakers, took the first two games of the World Series at Riverfront Stadium, and then toppled the Yankees in Game Three at Yankee Stadium, 6-2. "I'd like to sweep so this team can be rated with the great teams where it belongs," said Reds manager Sparky Anderson.1 But New York skipper Billy Martin was conceding nothing. "I think we can come back," he said. "My guys ain't no quitters and neither am I. They will have to beat us."2
The pitching matchup for Game Four was Gary Nolan (15-9, 3.46 ERA) for the Reds and Ed Figueroa (19-10, 3.02 ERA) for New York. Each was making his first appearance in this World Series, although Nolan had made six starts for Cincinnati in three prior fall classics.
New York struck first in the bottom of the first inning. With two out, Thurman Munson singled to right field. He came home on a double to left-center by Chambliss for the 1-0 lead. It was the first time the Yankees had scored first in the Series.
New York held on to that slim advantage until the top of the fourth inning. Joe Morgan led off that inning with a walk. After Tony Perez lined out to center field, Morgan stole second. He came home on a single by Foster. Bench followed with a two-run home run off the foul-pole screen in left field.
New York got a run back in the home half of the fifth inning. Mickey Rivers led off with a single to right field. After Roy White flied out to right field, Rivers stole second base. He scored on a single by Munson to right field. Rivers' steal was the first theft against Bench in 25 postseason games. The last time it had happened was on October 15, 1972, in Game Two of the World Series. Oakland's Matty Alou did the honors.
However, the Yankees would get no closer than the 3-2 score. Martin was ejected in the bottom of the eighth inning by first-base umpire Bruce Froemming for tossing a baseball toward home-plate umpire Bill Deegan. "We have a riot situation here and Martin knew it," said Froemming. "It's a touchy situation and to have Martin start something at this point is something we can't tolerate. I told him if he stayed any longer, he could cause a riot, and when I said that, he left."3
The game, and the Series were put out of the Yankees' reach in the top of the ninth. Figueroa walked Perez to lead off the inning. Perez advanced to second on a wild pitch. It wouldn't have mattered, because Dan Driessen walked. Yankees coach Yogi Berra, who had taken over for Martin as manager, replaced Figueroa with Dick Tidrow. The veteran righty got Foster to fly out to center, But Bench stepped into the box and smashed a home run into the left-field seats and the Reds lead jumped to a 6-2 lead.
Cincinnati wasn't done: Back-to-back doubles by Cesar Geronimo and Dave Concepcion plated the Reds' seventh and final run.
The Reds completed their back-to-back journey in the Bronx, much to the dismay of most of the 56,700 fans at Yankee Stadium. Johnny Bench, who batted .533 (8-for-15) with four runs, two home runs and six RBIs, was named the Series' Most Valuable Player. "What a relief it is for me to do something for that team after I didn't do much all year," said Bench, who batted .234 in the regular season with 16 home runs and 74 RBIs. 4
"I used to say, 'It's not whether you win or lose, but how you play the game,'" said Morgan. "But I'm too old for that right now. Any way you win is all right with me. Last year (against Boston) was more interesting, but it wasn't more fun."5
Nolan went 6⅔ innings for the win. He struck out one, walked one, and gave up two earned runs. Will McEnaney pitched 2⅓ innings for the save. Figueroa took the loss. He went eight innings, surrendered five earned runs, walked five, and struck out two.
The Reds' streak ended at two the next season, when the Los Angeles Dodgers knocked them off their perch in the NL West. The Dodgers went up against the Yankees in the World Series in 1977 and 1978. New York won its own back-to-back championships, defeating LA in both seasons.
Sources
The author accessed Baseball-Reference.com for box scores/play-by-play information and other data, and retrosheet.org.
baseball-reference.com/boxes/NYA/NYA197610210.shtml.
retrosheet.org/boxesetc/1976/B10210NYA1976.htm.
Notes
1 Bob Hertzel, "Sweep-Hungry Reds Whip NY," Cincinnati Enquirer, October 20, 1976: A-1.
2 Ibid.
3 Murray Chass, "Reds Triumph, 7-2, and Complete 4-Game Series Sweep of Yankees," New York Times, October 22, 1976: A19.
4 Ibid.
5 Tom Callahan, "Not Too Easy to Take," Cincinnati Enquirer, October 22, 1976: D-1.
Additional Stats
Cincinnati Reds 7
New York Yankees 2
Game 4, WS
---
Yankee Stadium
New York, NY
Box Score + PBP:
Corrections? Additions?
If you can help us improve this game story, contact us.
Tags
https://sabr.org/sites/default/files/1976-Cincinnati-Reds-G4-WS-Getty.png
600
800
admin
/wp-content/uploads/2020/02/sabr_logo.png
admin
2019-05-22 12:54:44
2020-04-17 13:33:58
October 21, 1976: Big Red Machine sweeps Yankees for second straight World Series championship