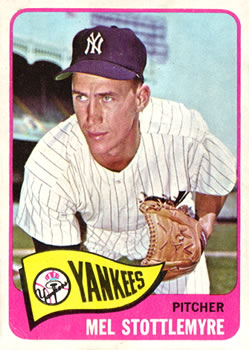 October 8, 1964: Rookie Mel Stottlemyre goes the distance as Yankees win Game 2
---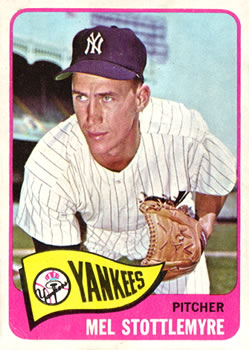 The New York Yankees had entered the 1964 World Series as favorites to extend their record number of championships to 21, but they had blown a Game One lead and found themselves in an early hole. Though it was true that this Yankees squad carried no "superman aura, either by their manner or in the thinking of the opposition, they remain[ed] a symbol of glamour."1 The Bronx Bombers had dominated the major leagues for so long that it seemed to be their birthright to be champions. Still, the difference between the current Yankees and the juggernauts of the 1930s and 1950s came to the fore as this 1964 squad resorted to sending a rookie, Mel Stottlemyre, to the mound to try to even the Series at one game apiece on a cloudy, blustery afternoon.
Stottlemyre was 13 years younger than the venerable Whitey Ford, who had started Game One for New York. He was also the antithesis of St. Louis's Game One pitching hero, Barney Schultz, who had embarked upon his professional career in 1944, when Stottlemyre was 2 years old, and had struggled to make it to the major leagues. Stottlemyre, on the other hand, was a hotshot rookie who had compiled a 13-3 record, including 10 consecutive victories at one point, with the Triple-A Richmond Virginians of the International League before being called up by the Yankees on August 11.2 After arriving in New York, he went 9-3 with a 2.06 ERA to help the Yankees capture the American League pennant. Now, in his first postseason start, Stottlemyre found himself pitted against Bob Gibson, the Cardinals' fiery ace.
Gibson opened the game by walking shortstop Phil Linz, but then showed Stottlemyre and the Yanks what they would be up against as he struck out Bobby Richardson, Roger Maris, and Mickey Mantle in succession. Stottlemyre was not intimidated, however, and was determined not to be outdone. He set the Cardinals down in order and registered two strikeouts of his own, catching both Curt Flood and Bill White looking at called third strikes.
In the top of the second, Gibson set New York down in order while adding Elston Howard and Tom Tresh to his list of early strikeout victims. Stottlemyre kept pace by retiring the side on three groundball outs in the bottom of the frame.
Linz registered the first hit for either side when he hit a two-out single in the top of the third. He advanced to third base on Richardson's double but was stranded there when Maris grounded out to shortstop Dick Groat.
Just as Stottlemyre had followed Gibson's lead in setting batters down over the first two innings, he now followed suit by allowing the Cardinals' first hits of the game. Mike Shannon and Dal Maxvill led off with back-to-back singles, and both advanced one base on Gibson's sacrifice bunt. Shannon scored on Flood's grounder to shortstop to give St. Louis a 1-0 lead. It was all the Cardinals would get for the moment as Stottlemyre induced a Lou Brock comeback grounder to end any further threat.
The Yankees struck back in the top of the fourth. After Howard lined a one-out double, Joe Pepitone hit a short fly ball to shallow left field. Brock missed a shoestring catch, and the ball rolled away for a double, but Howard was unsure whether the ball would be caught and had to hold up at third base. Gibson walked Tresh intentionally to load the bases, and Clete Boyer drove in Howard with a sacrifice fly that tied the score at 1-1 before Gibson struck out Stottlemyre for the third out.
In the top of sixth, a controversial call cost Gibson the second Yankees' run of the contest. After Mantle drew a leadoff walk, Howard smashed a liner toward right-center field but was robbed by second baseman Maxvill, who made a diving catch for the first out. The controversy ensued as the next batter, Pepitone, was at the plate. Gibson threw an inside curveball on a 1-and-2 count, and home-plate umpire Bill McKinley ruled that the close pitch hit Pepitone on the right thigh. As boos rained down on McKinley, Cardinals manager Johnny Keane argued that the ball had hit Pepitone's bat. Several Cardinals players "pointed out that Pepitone made no move to go to first, a normal reaction, until McKinley waved him there."3
Groat had run in from shortstop to pull an irate Gibson out of the fray; though he may have prevented Gibson from being ejected, he did not settle him down. Once play resumed, Tresh lined Gibson's first pitch into center field, and Mantle scored to give the Yankees a 2-1 lead. Gibson retired Clete Boyer and Stottlemyre to end the inning, but the Yankees were not about to relinquish the advantage they had gained.
Stottlemyre quickly set the Cardinals down in order in the bottom of the sixth, and Gibson ran into further troubles in the top of the seventh. Linz led off with a single and advanced all the way to third base when Gibson uncorked a wild pitch with Richardson at the plate. Richardson drove in Linz with a broken-bat single, advanced to third on Maris's base hit, and scored on Mantle's grounder to second base. New York now held a 4-1 lead.
The Cardinals were unable to mount much of a threat against the Yanks' rookie hurler throughout the game, but it was not for lack of trying. In the bottom of the eighth, Carl Warwick pinch-hit for Maxvill and led off the inning with a single. Bob Skinner, pinch-hitting for Gibson, smashed a ground-rule double to left field to put runners at second and third with no outs, but Stottlemyre buckled down. Warwick scored on Brock's one-out grounder to make it a 4-2 game, but it was the only run the Cardinals could muster after a promising start to their half of the inning.
Although four runs would have sufficed for the Yankees on this day, they added four more as the Cardinals' relief pitching corps came undone in the top of the ninth. Schultz took the mound for the Redbirds, but his Game One magic abandoned him. He surrendered a leadoff home run to Linz, who had hit only five homers in 368 at-bats during the regular season, and then was replaced by Gordie Richardson after giving up a one-out single to Maris.
Mantle greeted Richardson with a double that drove in Maris and extended the Yankees' lead to 6-2. Richardson intentionally walked Howard but then allowed a Pepitone single that plated Mantle. Tresh followed with a sacrifice fly that scored Howard for New York's eighth run. After an intentional walk of Boyer, Roger Craig replaced Richardson and struck out Stottlemyre to end the Cardinals' misery.
In the bottom of the ninth, a tiring Stottlemyre gave up a leadoff triple to Groat, who scored when Tim McCarver followed with a single to center field. The Yankees had a large enough lead, 8-3, that manager Yogi Berra allowed his rookie pitcher to finish what he had started. After Shannon hit into a double play, Stottlemyre punctuated his first — and what turned out to be his only — World Series victory with a strikeout of pinch-hitter Charlie James.
The Cardinals, though still unhappy about the Pepitone hit-by-pitch call, were impressed by Stottlemyre's composure. Third baseman Ken Boyer said, "He never wavered. The few times he was in a jam, he just worked a little harder and kept hitting the corners. He was great."4 Keane, alluding to Stottlemyre's repertoire, added, "We knew his sinker ball was excellent, but we may have underestimated his fastball, which was live."5
As for Stottlemyre himself, he conceded that he was most successful on days when he could keep the ball low and induce a lot of groundouts. This had been one of those days as "only nine of the 35 batters he faced had managed to hit the ball into the air."6 Thanks to Stottlemyre's pitching prowess, the Yankees had tied the 1964 World Series, 1-1. The fact that the next three games would take place in New York shifted the Series back in the Yankees' favor, which was exactly the way things had been — with the exception of the early 1940s war years — for almost four decades.
This article appears in "Sportsman's Park in St. Louis: Home of the Browns and Cardinals at Grand and Dodier" (SABR, 2017), edited by Gregory H. Wolf. Click here to read more articles from this book online.
Sources
In addition to the sources listed below, the author also consulted Baseball-Reference.com.
Notes
1 Leonard Koppett, "Talk of the Series," New York Times, October 9, 1964.
2 "Stottlemyre Reaches High Point of Short Career by Keeping Pitches Low," New York Times, October 9, 1964.
3 "Stottlemyre Stifles Cards, Gives Bombers a Big Lift," The Sporting News, October 24, 1964: 24.
4 "Second Game" The Sporting News, October 24, 1964: 25.
5 Ibid.
6 "Stottlemyre Reaches High Point of Short Career by Keeping Pitches Low."
Additional Stats
New York Yankees 8
St. Louis Cardinals 3
Game 2, WS
---
Busch Stadium
St. Louis, MO
Box Score + PBP:
Corrections? Additions?
If you can help us improve this game story, contact us.
Tags
https://sabr.org/sites/default/files/StottlemyreMel.jpg
600
800
admin
/wp-content/uploads/2020/02/sabr_logo.png
admin
2018-11-28 14:54:40
2020-04-17 13:33:59
October 8, 1964: Rookie Mel Stottlemyre goes the distance as Yankees win Game 2