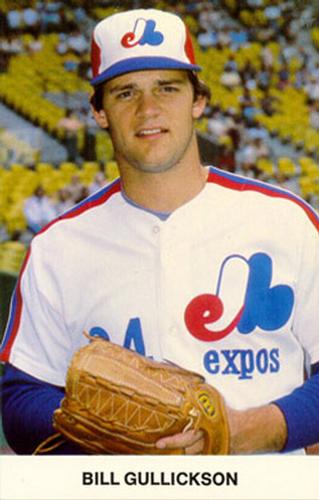 September 10, 1980: Expos' Bill Gullickson whiffs rookie-record 18 batters
---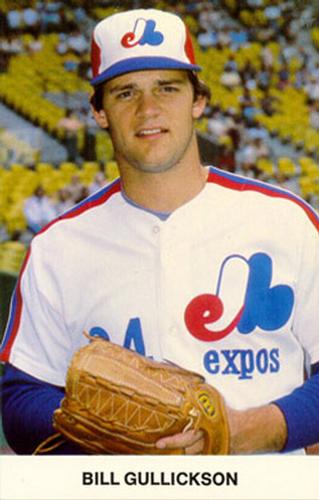 "I'm not a strikeout pitcher," said rookie right-hander Bill Gullickson of the Montreal Expos after he whiffed 18 Chicago Cubs in a dominant complete-game victory, 4-2, to establish a new record for most strikeouts by a rookie (since broken by the Cubs' Kerry Wood in 1998).1 "He was just awesome," said his batterymate, Gary Carter, who did not mince words. "With that performance, he's up there with the Koufaxes and the Drysdales and any other strikeout pitcher."2
As the Expos headed to Stade Olympique on September 10, 1980, to play the first game of a two-game series with the Cubs, skipper Dick Williams was determined to avoid another late-season meltdown. The previous September, the Expos were in first place, a half-game in front of the Pittsburgh Pirates, on September 24, only to lose four of their last five games and finish in second place in the NL East despite a team-record 95 wins. After a slow start in 1980 (21-20), the Expos worked their way into the pennant race.Winners of six of their past eight games, they were in first place (75-63), a half-game in front of the Philadelphia Phillies. The Cubs, by contrast, were a club in disarray. Manager Joey Amalfitano, who had replaced Preston Gomez in midseason, led a weak-hitting club that was in last place (54-83), 20½ games behind the Expos.
One of the reasons for Montreal's success was its pitching staff. Longtime ace Steve Rogers was joined by 23-year-old righty Scott Sanderson and Gullickson to form one of baseball's best starting trios. Gullickson was a sturdy 6-foot-3, 200-pounder whom the Expos chose second overall in the 1977 amateur draft. He proved his big-league readiness by going 6-2 with a stingy 1.91 ERA with the Triple-A Denver Bears in the American Association in 1980, earning his call-up in mid-May. After some initial rough outings, Gullickson entered his historic game against the Cubs as one of the hottest pitchers in the league. In his previous start he had tossed a sparkling three-hit shutout against the San Francisco Giants (the Expos' first of three consecutive shutouts against the Giants at Candlestick Park) to record his sixth win in his last seven starts, while striking out 50 in 56 innings and posting an impressive 2.09 ERA. He relied on breaking pitches, changing speeds, and good control for his success. "His fastball hits 84 mph on a good day — nothing more than a batting-practice pitcher unless he cuts or sinks it," read one scouting report. "Keeping hitters off balance is the key for Gullickson."3
Given the pennant race, the Expos drew a sparse crowd of 17,874 to Olympic Stadium on an autumnal Wednesday evening, about 10,000 fewer than the night before when Rogers blanked the New York Mets on five hits to win his 100th big-league game. Gullickson came out strong, breezing through the first three innings, striking out six. That number could have been higher save for a controversial call in the first inning. Bill Buckner appeared to have swung on a "sweeping curve" in the dirt.4 The wily veteran, however, took off for first claiming that he was hit by the pitch. After the umpires conferred, third-base ump Bill Williams ruled inexplicably that Buckner had neither swung nor was hit. Buckner went back to the plate, and popped up. "It was a lot of play acting," fumed Carter after the game.5 Chicago starter Rick Reuschel, a durable nine-year veteran who had amassed an impressive 125-111 record despite playing for awful Cubs teams in the 1970s, yielded only a single in the first three frames.
In the fourth inning the Cubs tallied the game's first run. Buckner, easily the Cubs' best hitter, who went on to capture the NL batting crown in 1980 with a .324 average, smashed a double to deep center that drove in third baseman Lenny Randle, on first via a single. Buckner scampered to third on a wild pitch before Gullickson escaped the jam by punching out the next two batters. In the fifth Gullickson struck out the side for the second time in three innings to bring his strikeout total to 11.
Carter and first baseman Warren Cromartie led off the fifth inning with back-to-back homers to give the Expos a 2-1 lead. It did not last long. In the sixth, shortstop Ivan de Jesus drew the first of Gullickson's two free passes, stole second, and scored on Buckner's single to right to tie the game. Gullickson ended the frame with yet another strikeout, his 14th of the game, which matched Bill Stoneman's team mark for most in a nine-inning game.
In danger of squandering Gullickson's gem, the Expos took a 3-2 lead in the sixth on centerfielder Andre Dawson's one-out single to drive in right fielder Rowland Office, subbing for the injured Ellis Valentine. Carter and Cromartie walked to load the bases, but third baseman Larry Parrish hit into an inning-ending double play. Montreal tacked on another run off eventual loser Reuschel in the next frame when shortstop Chris Speier scored on second baseman Rodney Scott's single.
Fans "roar[ed] approval after every whiff," reported Expos beat writer Ian MacDonald.6 Gullickson whiffed his 15th and 16th batters in the seventh to establish a new team record, breaking Mike Wegener's mark of 15 set in an 11-inning outing in 1969. Fans realized that Gullickson had a chance to tie the big-league record of 19 strikeouts in a nine-inning game held by Steve Carlton, Nolan Ryan, and Tom Seaver. "I was trying to keep the strikeout record out of my mind," said Gullickson after the game. "I was aware of what the crowd was doing and it was wonderful but I was trying to concentrate on the game."7
"What impressed me the most was that even after 15 strikeouts, he wasn't trying for more," said pitching coach Galen Cisco.8 After not recording a strikeout in the eighth inning, Gullickson yielded a double to his nemesis Buckner to start the ninth. The Expos bullpen remained silent as Williams had decided it was Gullickson's game to win or lose. Unfazed by a man in scoring position, the rookie whiffed centerfielder Jerry Martin, induced Larry Biittner to ground out to first, and on his 133rd pitch of the evening struck out left fielder Jim Tracy to end the game in 2 hours and 30 minutes.
Gullickson's teammates mobbed him on the mound. "The big thing was he was getting ahead in the count all the time," said an obviously ecstatic Carter after the game. "He had excellent control and he had an excellent slider, and that's what most of the guys were striking out on."9With 18 strikeouts, Gullickson tied Bob Feller and Ron Guidry for the second-highest total in a nine-inning game. "We struck out guys on bad pitches because he was always ahead in the count," exclaimed Carter, who had inherited Johnny Bench's mantle as arguably the best backstop in baseball.10 The umpire's blown call in the first inning was a point of contention after the game. "[Gullickson] stands just one controversial call away from being at the top of baseball's all-time strikeout record," noted the Montreal Gazette.11 Gullickson, who was not used to pitching so late in the season as a minor leaguer, revealed after the game that he felt fatigued during his pregame preparation. "When I warmed up tonight," he said, "my arm felt tight and I didn't feel like I had the stuff."12
Gullickson's record-setting four-hitter helped the Expos maintain a precarious half-game lead over the Phillies. But it was another heartbreaking finish for Montreal, which lost the division crown on the last weekend of the season. Gullickson concluded the campaign with an impressive 10-5 record and 3.00 ERA in 141 innings and was runner-up to reliever Steve Howe of the Los Angeles Dodgers for the Rookie of the Year Award.
In his rookie season, Gullickson discovered that he suffered from Type 1 diabetes. "I decided that I'm not going to let this (diabetes) ruin what I have worked for," said Gullickson not long after his epic performance.13 Though the disease could have ended his career, he persevered and learned to control it by staying in excellent physical shape and monitoring his injections.14 He went on to win 162 games and log 2,560 innings in his 14-year big-league career, but never came close to having another game like the one he had against the Cubs in September 1980. Gullickson was right — he wasn't a strikeout pitcher. In 390 big-league starts, he reached double figures only seven times.
This article appeared in "Au jeu/Play Ball: The 50 Greatest Games in the History of the Montreal Expos" (SABR, 2016), edited by Norm King. To read more articles from this book, click here.
Sources
In addition to the sources listed in the notes, the author consulted:
BaseballReference.com.
Retrosheet.org.
SABR.org.
http://www.baseball-reference.com/boxes/MON/MON198009100.shtml
http://www.retrosheet.org/boxesetc/1980/B09100MON1980.htm
Notes
Additional Stats
Montreal Expos 4
Chicago Cubs 2
---
Olympic Stadium
Montreal, QC
Box Score + PBP:
Corrections? Additions?
If you can help us improve this game story, contact us.
Tags
https://sabr.org/sites/default/files/GullicksonBill.jpg
600
800
admin
/wp-content/uploads/2020/02/sabr_logo.png
admin
2017-10-03 12:44:52
2020-04-17 10:25:43
September 10, 1980: Expos' Bill Gullickson whiffs rookie-record 18 batters