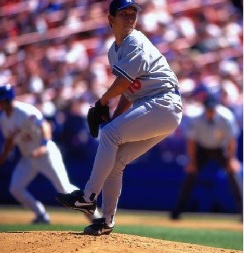 September 17, 1996: Hideo Nomo no-hits Colorado Rockies at hitter-friendly Coors Field
---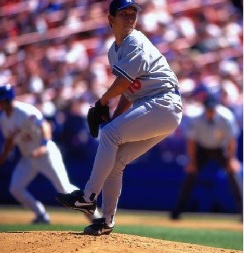 On a typical workday in Tokyo, rush-hour traffic is notorious for being among the busiest on the planet.1 One can only imagine what it was like on Wednesday, September 18, 1996, at 4:30 P.M. (Tokyo time) when word began to spread about the possibility of a no hitto no ran (the Japanese words for "no-hitter").2
Approximately 5,795 miles (9,326 km) east of Tokyo in Denver, Colorado, Japan's favorite son and Dodgers pitching sensation Hideo Nomo was about to take a 9-0 lead and a no-hitter into the ninth inning against the Rockies. At 5 P.M. large monitors in busy intersections aired the game, causing commuters to stop in their tracks and tune in to watch Nomo make history.3
Prior to this date there were 241 major-league no-hitters, but number 242 was the first one thrown by a Japanese-born pitcher.4 So it was only fitting that Nomo's historic performance was broadcast on NHK television to millions of fans in Japan by Masanori Murakami, the first Japanese-born player in major-league history.5 At the time, however, viewers did not know that Nomo's no-hitter occurred in a game that almost didn't happen.
Shortly before the projected 7:05 P.M. start time in Denver, Coors Field was hit with heavy rain and thunderstorms. After a two-hour rain delay, sprinkles continued to fall but umpire crew chief Bill Hohn and his crew decided that conditions were good enough to play.6
The official attendance was 50,066, but only about 30,000 fans endured the rain delay and 46-degree temperature to see the 9:05 P.M. start. The damp weather not only affected actual attendance, it influenced on-field performance as well. Because the light rain made the mound slippery, Nomo had to abandon his full windup and pitch from the stretch, even with no runners on base.7
As for the hitters, the humidity in the air deadened hard-hit balls that might have normally sailed over the outfield fences at Coors Field. After the game, Dodgers catcher Mike Piazza observed, "It was a little muggy and the ball didn't carry as well as it usually does here."8
Entering the game, the 28-year-old Nomo had a 15-10 record and a 3.29 ERA, and had pitched 207⅔ innings in 30 games. The Dodgers held a half-game lead over the San Diego Padres for first place in the National League West.
Nomo was 3-0 against Colorado in his career, but the mile-high altitude had never been kind to him. Vin Scully observed, "With Nomo it is a case of where he is pitching. … See what he does at Dodger Stadium and then at Coors Field."9 (See Table 1 below.)
Table 1: Rocked in Colorado: Nomo vs. Rockies, 1995-96
| Date | Location | Score | Result for Nomo |
| --- | --- | --- | --- |
| 05/07/1995 | Coors Field | 10-12 | No decision |
| 06/29/1995 | Dodger Stadium | 3-0 | Win |
| 04/30/1996 | Dodger Stadium | 7-4 | Win |
| 06/30/1996 | Coors Field | 15-16 | No decision |
| 07/05/1996 | Dodger Stadium | 8-1 | Win |
| 09/17/1996 | Coors Field | 9-0 | Win (no-hitter) |
Nomo wasn't the only pitcher to struggle in Denver. In fact, great pitching was a rarity in the Mile High City. Prior to Nomo's no-hitter, only three major-league pitchers had thrown a complete-game shutout at Coors Field: Pat Rapp (Florida Marlins, 1995, one-hitter), Tom Glavine (Atlanta Braves, 1995, six-hitter), and Mark Thompson (Colorado Rockies, 1996, seven-hitter vs. Florida).
Nomo's past performance against Colorado at Coors Field wasn't the only Dodgers cause for concern. The Rockies were an offensive powerhouse in 1996. By the end of the season they would lead the NL in home runs (221) and stolen bases (201). Their lineup included three 40-home-run hitters: Andres Galarraga (47), Ellis Burks (40), and Vinny Castilla (40). Dante Bichette and Eric Young were also among the top offensive performers in the NL.
Burks led the league in runs scored (142), slugging percentage (.639), and total bases (392), and finished third in the National League MVP vote. Before the Dodgers series, he was coming off a stellar Player-of-the-Week performance, hitting .643. He was hot, and given that Rockies had previously scored 28 runs in two games Nomo started at Coors Field, no doubt Burks and the other Rockies hitters were eager to face the Japanese righty again.
The matchup on the mound featured two pitchers who won silver medals in the Olympics for their respective countries, Bill Swift with Team USA in 1984, and Nomo with Team Japan in 1988.10 Swift started strong for the Rockies, retiring the first three Dodgers hitters on two groundouts and a strikeout. Nomo, on the other hand, got off to a rough start.
Rockies leadoff hitter Young hit a fly ball to deep center field for the first out. Nomo walked Quinton McCracken, who stole second and advanced to third on a fly to deep right field by Burks. In the dugout, Dodgers manager Bill Russell and pitching coach Dave Wallace had reason for concern; Nomo had thrown 10 wild pitches already this season as a result of his nasty forkball. With two outs and the Rockies' possible first run just 90 feet away, Nomo buckled down and struck out Bichette with a 2-and-2 forkball to end the threat. The first inning seem to set the tone for Nomo's pitching for the rest of the evening. Mixing fastballs and sinking split-fingers for strikes, and strategically placing balls out of the zone, he kept hitters off balance, eventually walking four over nine innings.
In fact, only three times did the Rockies threaten to end Nomo's no-hit bid with sharply-hit balls. In the fourth inning Galarraga came close when he hit a fielder's-choice grounder to shortstop Greg Gagne. In the seventh Galarraga hit a hard line drive to Raul Mondesi, and Castilla hit a high fly to Wayne Kirby in center field. On any other night those fly balls might have left the ballpark in Denver.
In the top of the ninth the world tuned in to watch Nomo make history. Murakami called the play-by-play for NHK Television in Japan. Vin Scully narrated the moment for fans in America via ESPN. All the while, none of his Dodgers teammates would talk to Nomo in the dugout. He sat quietly, alone on the bench as his teammates batted. With his right hand kept warm wrapped in a towel, he silently high-fived teammate Chad Curtis after Curtis scored in the top of the ninth, and fist-bumped Tim Wallach to celebrate a two-run home run that put the Dodgers up 9-0.
The Dodgers batters were merciless on Rockies pitching in the ninth, which forced Nomo to bat. The Rockies fans gave him a standing ovation as he removed his jacket and stepped into the batter's box. With two outs and two runners on, and the prospect of securing a no-hitter just moments away, Nomo struck out swinging.
For Nomo, his final inning mirrored the efficiency with which Swift started the game. Leadoff hitter Young grounded out to Delino DeShields at second base. McCracken did the same. With Nomo one out away from making history, Burks, the Rockies' hottest hitter, stepped into the box. With a 2-and-2 count, Nomo's signature forkball fooled the slugger, who swung and missed.
It seemed that the magnitude of what Nomo achieved was appreciated by everyone. Except Nomo. "You may not believe me, but I'm glad we picked up the win at this time rather than I accomplished a no-hitter," he said through his translator. "We're battling for the division title, so this is a big win."11
Both managers were impressed with Nomo's achievement. Dodgers manager Russell said, "That was huge, especially to do it in Colorado. With the hitters they have over there and for Nomo to throw a no-hitter … is a tremendous effort." Rockies manager Don Baylor agreed: "In this ballpark, that was an incredible feat." 12
"(Nomo) probably doesn't realize how unbelievable that accomplishment is," said teammate Eric Karros. "People in Japan probably don't know Coors Field, but I'm betting it won't be done again."13 Karros was correct in his prediction. As of the 2016 season, no other pitcher had thrown a no-hitter in Coors Field.
In fact, prior to Rapp's one-hitter in 1995, the last time a pitcher came close to a no-hitter in Denver was in 1957, when Ryne Duren pitched seven innings of no-hit ball for the Denver Bears, the Triple-A affiliate of the New York Yankees. Duren finished the game with a one-hitter.14
Almost 20 years later, Jack Moore of Vice Sports suggested that Nomo's no-no — as the first and only ever no-hitter at Coors Field, and against one of the best hitting teams of all time — is arguably "the greatest regular-season pitching performance in baseball history."15
This article was published in SABR's "No-Hitters" (2017), edited by Bill Nowlin. To read more Games Project stories from this book, click here.
Sources
In addition to the sources cited in the Notes, the author relied on Baseball-Reference.com.
Notes
1 Japan-guide.com, "2016 Survey: How Many Times Have You Visited Japan?" https://japan-guide.com/e/e2020.html, accessed November 27, 2016.
2 Dexter Thomas, translator, provided Japanese words for "perfect game" and "no-hitter," via email exchange, December 26, 2016. See also Samuel E. Martin, Reference Grammar of Japanese (Honolulu: University of Hawai'i Press, 2003), 380.
3 Video: MLB Classics, "9/17/96: Nomo's No-No," https://youtube.com/watch?v=Bv2_wo2l72A, accessed November 27, 2016.
4 No-hitters.com, "No-Hitter List | Baseball No-Hitters at NoNoHitters.Com," https://nonohitters.com/no-hitters, accessed November 27, 2016.
5 Video: MLB Classics, "9/17/96: Nomo's No-No."
6 Ibid.
7 Jack Moore, "Throwback Thursday: Hideo Nomo Defies the Odds for a Coors Field No-No," VICE Sports, September 17, 2015.
8 Associated Press, "Dodgers' Nomo Pulled No-Hitter Right Out of Thin Air at Coors Field," Spokesman.com, September 19, 1996.
9 Video: MLB Classics, "9/17/96: Nomo's No-No."
10 In both the 1984 and 1988 Summer Olympic Games, baseball was a demonstration sport. Medals were awarded, but the medals were not "official" and did not count in the respective nations' medal totals.
11 "Dodgers' Nomo Pulled No-Hitter Right Out of Thin Air at Coors Field."
12 Ibid.
13 Ibid.
14 Bob Kravitz, "Nomo's No-Hitter in Coors Field Is Nothing Short of Incredible," St. Louis Post-Dispatch, September 19, 1996.
15 Jack Moore, "Vice Sports – Throwback Thursday: Hideo Nomo Defies The Odds For A Coors Field No-No," September 17, 2015, https://sports.vice.com/en_us/article/throwback-thursday-hideo-nomo-defies-the-odds-for-a-coors-field-no-no, accessed December 30, 2016.
Additional Stats
Los Angeles Dodgers 9
Colorado Rockies 0
---
Coors Field
Denver, CO
Box Score + PBP:
Corrections? Additions?
If you can help us improve this game story, contact us.
Tags
https://sabr.org/sites/default/files/NomoHideo.jpg
600
800
admin
/wp-content/uploads/2020/02/sabr_logo.png
admin
2018-10-23 14:06:32
2020-09-17 01:57:24
September 17, 1996: Hideo Nomo no-hits Colorado Rockies at hitter-friendly Coors Field