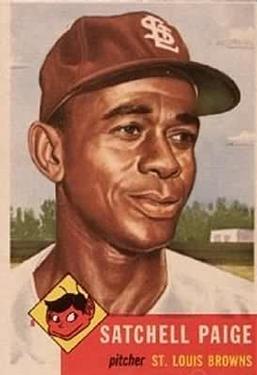 September 22, 1953: Satchel Paige, Don Larsen lead St. Louis Browns to their final win
---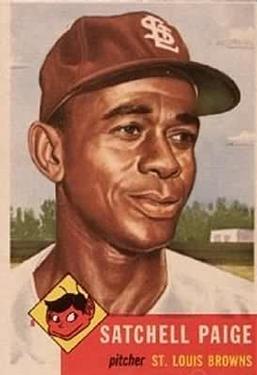 Satchel Paige and Don Larsen earned baseball immortality in dramatically different ways. Paige became a legend for his longevity, retiring major-league hitters into middle age. Larsen, in contrast, earned eternal fame based on one shining afternoon of perfection in Game Five of the 1956 World Series.
The two legends share one less-remembered claim to baseball immortality. On Saturday, September 22, 1953, they combined to pitch the final win in the 52-year history of the St. Louis Browns, leading the lame-duck ballclub over the Detroit Tigers 7-3 at Briggs Stadium in Detroit.
Unlike some other clubs that have changed cities, the Browns were clear and obvious bets to leave St. Louis after the 1953 season. There was no formal announcement during the year, but the move could be foretold by Bill Veeck's unsuccessful attempts to relocate the team to Baltimore; by Gussie Busch's deep-pocketed ownership of the rival Cardinals;1 and by the Browns' pathetic attendance, which dipped to an average of just 3,860 per game in the team's final season at Busch Stadium, formerly Sportsman's Park.2
The Tigers and Browns both came into the September 22 game under .400 and more than 40 games out of first place.3 However, these four storylines lent extra interest to that night's game:
September 22 was believed at the time to be Paige's birthday, so the Browns were giving the old pitcher a birthday start. By his own account, he was 46, though news stories acknowledged the uncertainty of his actual age. (Paige's birthday is now commonly listed as July 7, 1906.)4
To oppose Paige, Tigers manager Fred Hutchinson gave the start to 18-year-old rookie Bob Miller — making the game a matchup of the league's oldest and youngest pitchers.5 It was Miller's only start of the year in 13 appearances.6
Hutchinson also started two other teenage bonus players, second baseman Reno Bertoia and center fielder Al Kaline. It was Bertoia's first major-league appearance and his only game of the year. For Kaline, a future Hall of Famer, it was his 28th big-league game but only his third start.7 and
Sloppy fielding gave the Browns a quick lead in the top of the first. With one out, Browns first baseman Ed Mickelson reached base on an error by shortstop Harvey Kuenn. Jim Dyck grounded to third baseman Fred Hatfield, who threw to second to force Mickelson. But Bertoia's relay to first went awry, allowing Dyck to reach second. Don Lenhardt then singled to center to drive in Dyck. Bertoia, who suffered a spike wound requiring three stitches, struck out in the bottom of the inning and was replaced by Johnny Pesky.9
The Tigers evened the game off Paige in the bottom of the first. Detroit's second batter, Hatfield, hit a solo homer to tie the game at 1-1. After that, the "birthday boy" — who entered the game with a 2-9 record — regained the unhittable form of his younger days. Through the end of the seventh inning, Paige threw hitless ball and allowed only one additional baserunner. Swift drew a leadoff walk in the top of the sixth, and was quickly doubled up on a groundball by pinch-hitter Pat Mullin.
Detroit's Miller pitched credibly through four innings, giving up a solo homer to Johnny Groth in the fourth to make the score 2-1, St. Louis. But things came apart for Miller in the top of the fifth, when a one-out walk to Billy Hunter and back-to-back doubles by Mickelson and Dyck made it 4-1. Dyck advanced to third on a single and scored on a force play to bring St. Louis's lead to 5-1. Browns catcher Les Moss then ripped a line-drive single that grazed Miller's head, leaving the young pitcher dazed. Tigers trainer Jack Homel sent the teenager to Henry Ford Hospital for observation. Dick Marlowe came on to finish the inning by getting Johnny Lipon to fly out.10
The game stayed at 5-1 until the bottom of the eighth, when Detroit's Bud Souchock, Kaline, and Jerry Priddy greeted Paige with consecutive singles to make it 5-2. Kaline's hit was the sixth of his career.11 Rookie Larsen then replaced Paige and faced pinch-hitters Jim Delsing and Ray Boone. Delsing struck out, while Boone singled in another run. But Larsen shut the door on the Tigers' rally by getting Kuenn to fly to right and Hatfield to ground out to first.
The Browns bounced back in the top of the ninth against pitcher Dick Weik, a former Washington prospect with chronic control problems.12 Second baseman Bobby Young and Larsen singled; Hunter bunted them to third and second. An intentional walk to Dick Kryhoski loaded the bases. Pinch-hitter Dick Kokos grounded to Priddy at first, who threw home for the force. With two now out, the Tigers had a chance to escape the inning. But sloppy Detroit play again boosted the Browns: Tigers catcher Matt Batts allowed a passed ball that let Young score, and Weik walked two more batters to force in another run. Veteran pitcher Ray Scarborough came on and struck out Moss, holding the score to 7-3.
The Tigers — specifically Pesky, Bob Nieman, and Souchock — went down in order against Larsen in the bottom of the ninth. It was the Browns' 54th win of the year. By modern scorekeeping standards, it was also rookie Larsen's second save of the year, though that statistical category would not be recognized by Major League Baseball until 1969. Some of the same papers that carried the game story and box score of the Browns' win also carried an Associated Press story predicting the team's imminent move to either Toronto or Montreal, saying that opposition from the Senators, A's, and Yankees would block a relocation to Baltimore.13
The Browns went on to lose their final three games at home against the White Sox on September 25 through 27. Shortly after the season's close, the sale of the franchise to a Baltimore ownership syndicate was confirmed. Despite the rumors, Canada had to wait until 1969 to get a major-league team.
Even though Paige had pitched "the best game of his major league life" until the eighth inning, it was the last of his 28 major-league wins, and effectively the end of his big-league career.14 Paige initially announced his intention to stay with Veeck and the Browns no matter where they moved in 1954.15 But when it became clear that the team's future in Baltimore would not include Veeck, Paige announced his retirement, saying he had not been treated well in previous visits to Baltimore.16 Paige continued to barnstorm, but made only one additional major-league appearance, a three-inning publicity stunt with the Kansas City A's 12 years later.
September 22, 1953, marked more positive news for some of the Tigers, even if they lost the game. In addition to Bertoia's big-league debut and one of Kaline's earliest starts, it was the day manager Hutchinson received a contract for 1954. And, The Sporting News noted, the crowd of 20,072 brought attendance at Briggs Stadium to 884,658 for the season — "a vast increase over midseason expectations" and an indicator of a profitable year.17 The Tigers, at least, would enter the 1954 season on solid ground.
Sources
In addition to the specific sources cited in the Notes, I used the Baseball-Reference.com and Retrosheet.org websites for general player, team, and season data and the box scores for this game:
baseball-reference.com/boxes/DET/DET195309220.shtml
retrosheet.org/boxesetc/1953/B09220DET1953.htm
Notes
1 Regarding Veeck's first, unsuccessful 1953 attempt to move to Baltimore and Busch's relative financial strength, see Warren Corbett, "Bill Veeck," SABR's BioProject essay: sabr.org/bioproj/person/7b0b5f10.
2 1953 American League Attendance and Team Age entry: baseball-reference.com/leagues/AL/1953-misc.shtml.
3 Standings up to and including this date entry for September 21, 1953: baseball-reference.com/boxes/?month=9&day=21&year=1953.
4 Larry Tye, "Satchel Paige," SABR's BioProject essay: sabr.org/bioproj/person/c33afddd.
5 Watson Spoelstra, "Hutch, With New Hitch as Pilot, Plans to Speed Tiger Turnover," The Sporting News, September 30, 1953: 29.
6 "1953 Regular Season Pitching Log for Bob Miller," retrosheet.org/boxesetc/1953/Kmillb1020011953.htm.
7 1953 day-by-day game logs for Reno Bertoia and Al Kaline, Retrosheet.org.
8 Spoelstra; See also American League game roundups and box scores, The Sporting News, September 30, 1953: 24.
9 Spoelstra.
10 Spoelstra; See also American League game roundups and box scores, The Sporting News, September 30, 1953: 24.
11 Career and 1953 batting logs for Al Kaline. Kaline went on to accumulate 3,001 additional hits, for a career total of 3,007. Retrosheet. org.
12 Career statistics for Dick Weik. Weik averaged more than one walk per inning for his career and walked almost twice as many hitters as he struck out. retrosheet.org/boxesetc/W/Pweikd101.htm.
13 Associated Press, "St. Louis Browns Reportedly Will Be Shifted to Toronto or Montreal Next Year," Youngstown (Ohio) Vindicator, September 23, 1953: 19.
14 Associated Press, "Paige Tames Tigers 7-3," Youngstown Vindicator, September 23, 1953: 20. Regarding Paige's career, see his entry at Retrosheet: retrosheet.org/boxesetc/P/Ppaigs101.htm.
15 Ray Gillespie, "Where Veeck Goes, Satch Will Follow," The Sporting News, September 30, 1953: 35.
16 "With Veeck, His 'Sponsor,' Gone, Ol' Satch May Retire," The Sporting News, November 18, 1953: 26.
17 Spoelstra.
Additional Stats
St. Louis Browns 7
Detroit Tigers 3
---
Briggs Stadium
Detroit, MI
Box Score + PBP:
Corrections? Additions?
If you can help us improve this game story, contact us.
Tags
https://sabr.org/sites/default/files/Paige-Satchel-STL-Browns.jpg
600
800
admin
/wp-content/uploads/2020/02/sabr_logo.png
admin
2020-05-26 14:40:52
2020-06-03 15:58:24
September 22, 1953: Satchel Paige, Don Larsen lead St. Louis Browns to their final win