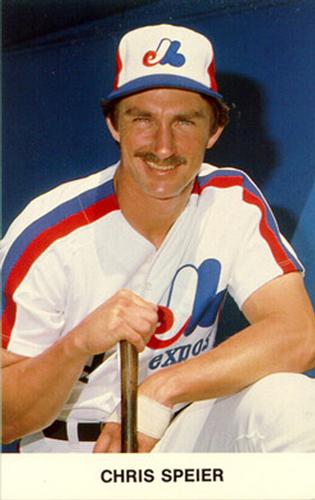 September 22, 1982: Chris Speier goes crazy with eight RBIs for Expos
---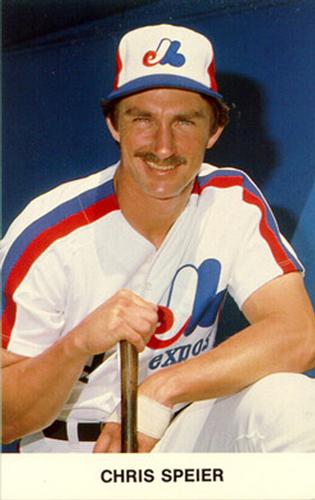 Montreal Expos manager Jim Fanning returned to the dugout on September 22, 1982, after missing five games with severe migraines. But it was Expos shortstop Chris Speier who gave the visiting Philadelphia Phillies headaches that night, driving in eight runs in an 11-4 Expos win.
Expectations for the Expos ran high at the beginning of the 1982 season, but their chances of winning the National League East were fading as late September rolled around. On September 22, with 12 games to go, they were in third place, 6½ games behind the National League East-leading St. Louis Cardinals. Their opponents, the Phillies, were in second place, 4½ games back.
In addition to Speier, the Expos lineup contained two future Hall of Famers, center fielder Andre Dawson and catcher Gary Carter, as well as basestealing threat Tim Raines. The Phillies, two years removed from their first-ever World Series championship, listed future Cooperstown inductee Mike Schmidt and all-time hits leader Pete Rose on their roster. Two pitchers with similar records faced each other: Bill Gullickson (11-12, 3.54 ERA) for the Expos and Dick Ruthven (11-10, 3.51) for the Phillies.
Speier's enchanted evening began in the bottom of the second inning. Gary Carter and Tim Wallach singled, then Warren Cromartie walked to load the bases. Speier, hitting .262 at game time, stepped to the plate and sent a bases-clearing triple to the center-field wall, giving the Expos a 3-0 lead. Speier remained at third as Ruthven retired the next three batters.
Montreal continued its offensive output in the third. Al Oliver and Carter both singled with one out and moved up on a grounder by Wallach. Ruthven walked Cromartie for the second time, this time intentionally, to load the bases and bring up Speier. Again the shortstop came through, this time driving in two runs with a single to center to make the score Speier 5, Phillies 0. Philadelphia manager Pat Corrales decided Ruthven was done for the night, and brought in reliever Ed Farmer, who ended the inning by striking out Doug Flynn.
Gullickson retired the first 10 batters he faced but lost his perfect game, no-hitter, and shutout in the fourth. With one out, Pete Rose walked (perfect game gone) and Gary "Sarge" Matthews tripled to center (goodbye, no-hitter), plating Rose (farewell, shutout). Gullickson settled down to get the next two batters.
Speier's teammates showed they could score some runs without his help. They tallied a run in the bottom of the fourth when Tim Raines singled to center with one out, stole second, and advanced to third on catcher Ozzie Virgil's errant throw. Andre Dawson knocked in Raines with a sacrifice fly to center field for a 6-1 Montreal lead. Carter led off the fifth with his 29th home run of the season, making it a 7-1 game for the Expos.1
Philadelphia finally broke the code on Gullickson in the seventh inning, roughing him up for three runs. John Vukovich started off with a single to center and Virgil walked with one out. Ivan de Jesus tripled to center, knocking in both runners. Pinch-hitter Greg Gross scored de Jesus on a grounder to first.
Southpaw pitcher Tug McGraw entered the game for Philadelphia in the bottom of the seventh. With one out, Wallach and Cromartie singled. With Speier coming up, Corrales played the percentages and brought in righty Porfi Altamirano. Speier greeted Altamirano with a three-run home run, scoring both Wallach and Cromartie. The homer made the score 10-4 and gave Speier eight RBIs for the night. "I didn't think the ball was going out," Speier said of his homer.2
After the home run, the crowd of 18,123 showed their approval with an extended standing ovation that became more intense until Speier acknowledged it from the dugout, a first in his career. "I've made a couple of defensive plays that brought a standing ovation, but never anything like that before," he said.3
The Expos put one more on the board in the bottom of the eighth. Jay Baller, in the second outing of his career, became the Phillies' sixth pitcher of the game. Joel Youngblood, in the game for Oliver, reached first on a one-out error by de Jesus. Carter moved Youngblood to second on a single to left, his fourth hit of the game. After Wallach struck out, Cromartie drove in Youngblood with a single to right field. Speier stepped to the plate with two on and a chance to add to his RBI total. However, he hit into a fielder's choice to end the inning with the score 11-4.
The Phillies came up short in the ninth as Gullickson again set them down in order to end the game. The Expos' slim hopes to win the National League East remained alive, with 11 games remaining in the season, but they didn't gain any ground on the Cardinals, who beat Pittsburgh 2-1.4
After his three-hit, eight-RBI outburst, Speier's batting average stood at .265 with 60 RBIs, including 22 in September.5 He remarked, "I don't think I did that even in Little League. I'm not big on statistics, but offensively, it's probably the best game I've ever had."6
"My pitchers served him up three easy pitches right across the plate," Phillies skipper Corrales said.7
Speier's eight RBIs established a team record as well as being the most allowed by the Phillies in a game.8Speier said that he had "started picking up some bad habits," but Billy DeMars, Montreal's hitting coach, "has straightened me out and he's worked with me all year long."9
This would be the high-water mark of Speier's season. He went 4-for-32 (.125) in the last 10 games he played that season, his final year as an everyday player.
The Cardinals won the division, the National League pennant, and eventually the World Series in 1982. Speier blamed the Expos' shortcomings on inconsistency. "That's the way we've been, we're so inconsistent," he said. "That's probably the reason we're in the situation we're in now. If we had played consistent baseball, I don't think we'd be where we are. You can't win divisions by being inconsistent. I don't think you can figure out why we've been inconsistent. If you could come up with a reason, there would be a lot of people willing to spend an awful lot of money to get it. It's one of those intangibles; you can't put your finger on it."10
For one day, Chris Speier was "tangible" and you could put your finger on his eight RBIs in one game.
This article appeared in "Au jeu/Play Ball: The 50 Greatest Games in the History of the Montreal Expos" (SABR, 2016), edited by Norm King. To read more articles from this book, click here.
Sources
In addition to the sources mentioned in the Notes, box scores for this game can be seen on baseball-reference.com, and retrosheet.org at:
http://www.baseball-reference.com/boxes/MON/MON198209220.shtml
http://www.retrosheet.org/boxesetc/1982/B09220MON1982.htm
Notes
Additional Stats
Montreal Expos 11
Philadelphia Phillies 4
---
Olympic Stadium
Montreal, QC
Box Score + PBP:
Corrections? Additions?
If you can help us improve this game story, contact us.
Tags
https://sabr.org/sites/default/files/SpeierChris-Expos.jpg
600
800
admin
/wp-content/uploads/2020/02/sabr_logo.png
admin
2017-10-10 14:33:06
2020-04-17 10:25:42
September 22, 1982: Chris Speier goes crazy with eight RBIs for Expos