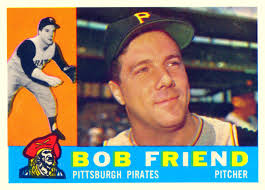 September 24, 1955: Bob Friend clinches NL ERA title for last-place Pirates
---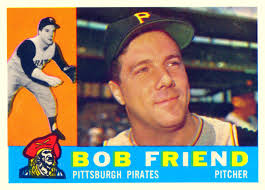 The Pittsburgh Pirates suffered through a miserable 1955 season, and entered the final weekend hosting the NL-leading Brooklyn Dodgers. Back in April, Pittsburgh GM Branch Rickey was optimistic heading into the season opener, citing outfield and pitching improvements, with third base as his major concern: "This 1955 club will be the best Pittsburgh has had in many years. The Pirates will be a happy surprise to our people sooner or later."1 Fred Haney, Pittsburgh's manager, cautiously noted, "I won't hazard a guess as to where this year's Pirates will finish in the National League for the simple reason that I don't know how much the other seven clubs have improved." He also optimistically commented on his pitching staff, "Pitching wise we have a championship staff in the making."2 Pittsburgh's season opened with a 6-1 loss to Brooklyn at Ebbets Field. Although Pirates starter Max Surkont started with five scoreless innings, he allowed a sixth-inning run before the Dodgers erupted for five runs in the seventh inning. The Dodgers' Carl Erskine pitched a complete game, allowing one run on seven hits in front of 6,999 fans on a cold and rainy afternoon.3
The season opener established the season's tone; Pittsburgh finished April with a 3-11 record. The Pirates pieced together a six-game winning streak from the second game of a May 1 doubleheader through May 6, but an 11-game losing streak from May 11 through 22 erased those gains. After the second game on May 22, the Pirates were only one game away from tying their modern-day record of 12 consecutive losses, established in 1939.4 During their losing streak, they fell to last place and remained there all season. The team struggled with losing records in June and July, but played above .500 baseball in August, managing a 14-12 record for the month. However, the Pirates' offensive production and defensive efficiency lagged throughout the season.
Conversely, the Brooklyn Dodgers were a strong and balanced team, led by future Hall of Famers Duke Snider and Roy Campanella with All-Stars Don Newcombe and Gil Hodges. The Dodgers won at least 90 games for the fourth straight season in 1954; during those years, they lost two World Series to the New York Yankees and narrowly lost the NL pennant to the New York Giants in the other two seasons. The Dodgers were eager to begin the 1955 season by atoning for two late-September losses against Pittsburgh the previous year which helped the Giants take the pennant.5 Expectations were high among baseball insiders that the NL pennant would be a Dodgers-Giants battle once again in 1955. The Dodgers gained sole possession of first place on April 16 and never looked back; the Giants made an early-season push but ultimately finished third.
The Pirates won the September 24 twi-night doubleheader opener from Brooklyn, 4-3, when Gene Freese homered off reliever Don Bessent in the eighth inning. Pittsburgh led early after Dale Long delivered a three-run blast in the first inning, but the Dodgers rallied with two runs in the fifth and the tying run an inning later. Dick Hall pitched the complete game for his sixth win of the season.
Bob Friend took the mound for his 20th start, and 44th overall appearance, for the nightcap. The 24-year-old Friend was enjoying his breakout year, reaching double digits in wins, and had already established career highs in innings pitched and strikeouts. During the previous offseason, Friend altered his windup to deliver a more effective curveball, and his results improved.6 Frequently used as a swingman, he started four times in his six September appearances and was riding a four-game winning streak. Friend's batterymate that evening was Jerry Lynch, who was catching for the second time as a major leaguer since Rickey started converting him from an outfielder into a catcher; his first appearance came in the opener of the doubleheader.7
Dodgers manager Walter Alston named right-hander Billy Loes as his starter. Loes was starting his 19th game of the season, on eight days' rest. A five-year veteran, the 25-year-old Loes had pitched at least 120 innings with 10 wins for the fourth straight season in 1955. He defeated the Pirates twice that season, giving up one run over seven innings on July 3 and going the distance on July 7. During the latter win, Loes struck out rookie Roberto Clemente with the tying run on third base to end the game.8 However, Loes and Dodgers pitchers Karl Spooner, Johnny Podres, and Erskine were dealing with various arm injuries during the season's second half.9
Brooklyn's Jim Gilliam led off the game by grounding out to short. Sandy Amoros singled, and Snider followed with another single, advancing Amoros to third. Cleanup hitter George Shuba grounded out to first, and Amoros crossed the plate for the game's first run while Snider moved to second base. Hodges then grounded out to shortstop, ending the threat. In the bottom of the first, the ball didn't leave the infield as Pittsburgh batters grounded out twice and struck out looking. In the second inning, Brooklyn's Rube Walker singled to right field, but was removed on a subsequent double play. Don Zimmer singled, but Loes struck out to end the inning. In Pittsburgh's half, Long, who returned to the majors following a three-year absence, looked at strike three for the first out. After John Powers walked, both Frank Thomas and Johnny O'Brien flied out. In the third inning, Brooklyn managed a lone walk among three infield groundouts, while Pittsburgh was sent down in order.
Hodges singled to start the fourth, but Walker hit into a 1-6-3 double play. Don Hoak struck out, and Friend managed to quell any potential threats. Before the Pittsburgh half started, rookie Sandy Koufax replaced Loes, who had allowed only one hit through three innings. Koufax walked Freese and Lynch, the first two batters he faced. Long grounded out to Koufax, with both runners advancing a base. Clemente pinch-hit for Powers, and reached on a Hodges error as Freese scored and Lynch moved to third. With Thomas hitting next, Lynch scored on a wild pitvh by Koufax. After Koufax's third walk, Alston summoned reliever Ed Roebuck from the bullpen. Roebuck induced two groundouts and prevented further damage. Over the next two innings, the Dodgers threatened with runners on first and second, but couldn't push a run across. In the Pittsburgh fifth, Roebuck allowed a lone baserunner via walk who was stranded at second base.
With the Pirates maintaining a 2-1 advantage, Long began the sixth by tripling to center field. After Clemente poppeflied out to second, Thomas singled Long home and O'Brien followed suit by tripling Thomas home for a pair of insurance runs, increasing Pittsburgh's lead to 4-1. Friend induced three infield groundouts in the Brooklyn seventh, including one by Pee Wee Reese, who pinch hit for Roebuck. In the bottom of the frame, new reliever Clem Labine allowed an O'Brien leadoff infield single and walked Freese. Lynch hit into a fielder's choice, advancing O'Brien to third. The right-handed Labine issued Brooklyn's sixth walk, which loaded the bases. Clemente also hit into a fielder's choice, and O'Brien scored; a throwing error by shortstop Zimmer resulted in Lynch scoring. Thomas grounded out to third, ending the frame with Pittsburgh leading 6-1.
Friend continued his strong performance, striking out two hitters and prompting a fly out in the eighth. Labine matched Friend by setting down the side on two groundouts and a line out. In the ninth, Walker reached first on a throwing error by O'Brien to start the inning. Hoak flied out to right, Zimmer flied out to center, then Friend caught Campanella looking to end the game and earn the complete-game victory.
Friend completed the season with a 14-9 record and 2.83 ERA over 200⅓ innings, winning the NL ERA title. He topped 200 innings for the first time, a milestone he reached for the next 10 seasons. The Cy Young Award was instituted the following year; however, Friend did finish with 6.0 Wins Above Replacement, also first in the NL that season. Friend's ERA achievement was especially noteworthy; he was the first pitcher since official ERA statistics were reported in 1912 to have the league's lowest ERA while pitching for a last-place team.10 He also led Pittsburgh in wins, appearances (44), and strikeouts (98). Pittsburgh finished with a 60-94 record, 38½ games behind the Dodgers. The Pirates struggled all season with their offense, and their bench players didn't provide much support, as evidenced by their collective .217 batting average covering 20 players.11 An early offseason report noted that Pittsburgh's only trade bait was in its pitching, some of whom should be traded for outfielders with power and additional catching.12 Manager Fred Haney was fired after the season, and Branch Rickey retired in October.13 Meanwhile, the Dodgers captivated the baseball world when they won their only World Series while based in Brooklyn by defeating the Yankees in seven games.
This article appears in "Moments of Joy and Heartbreak: 66 Significant Episodes in the History of the Pittsburgh Pirates" (SABR, 2018), edited by Jorge Iber and Bill Nowlin. To read more stories from this book at the SABR Games Project, click here.

Sources
Besides the sources cited in the Notes, the author consulted Baseball-Almanac.com, Baseball-Reference.com, Retrosheet.org, and the following:
Bob Friend on SABR Bioproject: https://sabr.org/bioproj/person/c90d66d9.
O'Brien, Jim. We Had 'Em All The Way: Bob Prince and His Pittsburgh Pirates (Pittsburgh: Jim O'Brien Publishing, 1998).
Golenbock, Peter. Bums: An Oral History of the Brooklyn Dodgers (New York: Putnam Books, 1984).
Notes
1 Branch Rickey, "Bucs Best in Years — Rickey," Pittsburgh Post-Gazette, April 14, 1955: 14.
2 Fred Haney, "Bucs Improved; How About Rivals? — Haney," Pittsburgh Post-Gazette, April 14, 1955: 16.
3 Jack Hernon, "Pirates Off and Losing as Dodgers Win, 6-1," Pittsburgh Post-Gazette, April 14, 1955: 20.
4 Jack Hernon, "Buc Streak Soars to 11 as They Lose 5-2, 5-3," Pittsburgh Post-Gazette, April 23, 1955: 18.
5 Owen Fitzgerald and Sid Frigant, "Giants Crush Flock in Flag-Clincher, 7-1," Brooklyn Daily Eagle, September 21, 1954: 1.
6 Rick Cushing, 1960 Pittsburgh Pirates: Day by Day: A Special Season, An Extraordinary World Series (Pittsburgh: Dorrance Publishing, 2010), 363.
7 Jack Hernon, "Lynch Slated to Catch Against Bums Tonight," Pittsburgh Post-Gazette, September 24, 1955: 12.
8 Jack Hernon, "Buc Rally in 9th Fails as Dodgers Win, 4-3," Pittsburgh Post-Gazette, July 8, 1955: 18.
9 Roscoe McGowen, "Sore Arms Forced Use of Hurlers From Farms," The Sporting News, September 28, 1955: 9.
10 Jack Hernon, "Buccos' Friend First ERA King on Cellar Team," The Sporting News, October 5, 1955: 9.
11 Jack Hernon, "Bucs Pinched for Punching Sub Swingers," The Sporting News, October 12, 1955: 10.
12 "Major Needs for '56 in a Nutshell," The Sporting News, September 28, 1955: 6.
13 Jack Hernon, "Buc Pilot Haney Fired by Rickey," Pittsburgh Post-Gazette, September 26, 1955: 1; Jack Hernon, "New Pirate GM Talks About Plans," Pittsburgh Post-Gazette, October 26, 1955: 1; Jack Hernon, "Brown 'On Own' as Pirates New G.M.," The Sporting News, November 2, 1955: 5.
Additional Stats
Pittsburgh Pirates 6
Brooklyn Dodgers 1
Game 2, DH
---
Forbes Field
Pittsburgh, PA
Box Score + PBP:
Corrections? Additions?
If you can help us improve this game story, contact us.
Tags
https://sabr.org/sites/default/files/images/FriendBob.jpg
600
800
admin
/wp-content/uploads/2020/02/sabr_logo.png
admin
2019-02-05 12:30:59
2020-04-17 10:23:40
September 24, 1955: Bob Friend clinches NL ERA title for last-place Pirates