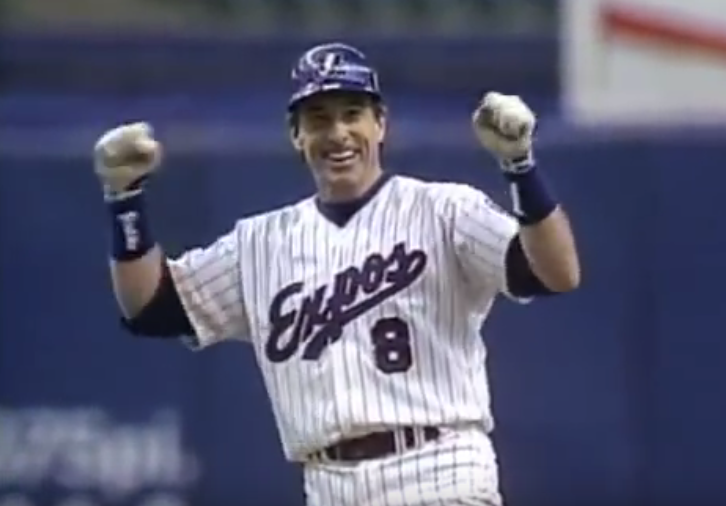 September 27, 1992: The Kid goes out in style: Gary Carter's final hit
---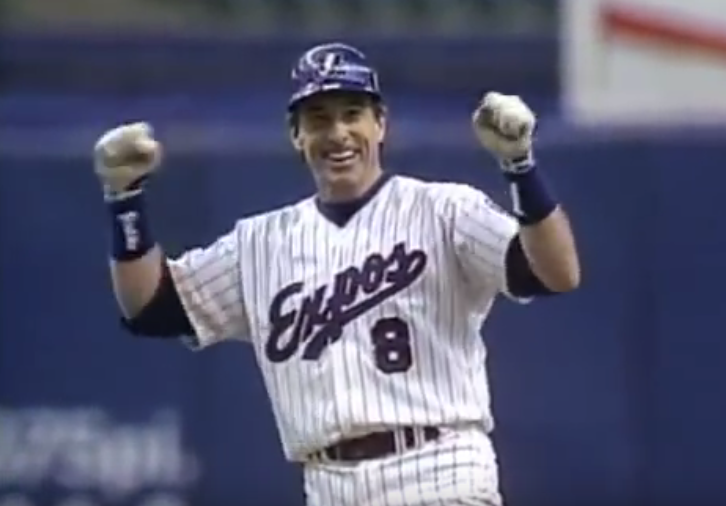 With due respect to Ted Williams, for Montreal fans there was only one Kid. And if any player ever bled the colors of a franchise, it was The Kid, Gary Carter, who became the face of the Expos and led it through sometimes faltering steps from being an expansion novelty to a contender in the late 1970s and early 1980s. Even after mutual disappointments led to his being traded to the Mets after the 1984 season, he came back to the team and city he loved and not only retired as an Expo, but did so with a dramatic game-winning hit and an exit that was too corny for Hollywood but wonderful nonetheless.
The Expos claimed Carter off waivers from Los Angeles on November 15, 1991. He played in 95 games for Montreal in 1992, batting .218, with 5 home runs and 29 RBIs. He had announced his retirement due to bad knees at a tearful news conference on September 25, two days before his last game. "As the 38-year-old Carter announced that he would call it quits at the end of this season, his 18th major league campaign, in a career that began and will end with the Expos, a cloud replaced his trademark smile and he broke into sobs," wrote Robert McG. Thomas Jr. in the New York Times.1
The sobbing stemmed, in part, from the fact that the relationship between Carter and the city transcended that of a player and a town. It's one thing for an American player to move to Baltimore or Philadelphia. It's different for an American player to become a landed immigrant in Canada, especially when it's a California dude who chooses to put up with Canadian winters. There's also the cultural element that made Montreal unique among major-league cities. Most Expos players headed south once the season was over, but Carter endeared himself to Montreal's French baseball fans by willingly learning some français and calling Montreal home.
The 1992 season was transformative for the Expos. After a mediocre 17-20 start, the team fired manager Tom Runnells and replaced him with Felipe Alou, who righted the ship and had the Expos playing very good baseball by September. They had an 85-70 record going into the game against the Chicago Cubs, who were 75-80 when they met in Montreal on September 27. The team's play and the chance to say goodbye to No. 8 brought 41,802 fans to Olympic Stadium that day. It was veteran Mike Morgan for the Cubs against Expos rookie Kent Bottenfield. Both pitchers had last gone to the mound on September 22. Morgan was having a fine season with a 15-7 record with a 2.65 ERA. He went five innings in his previous start, giving up five earned runs to the Mets in a game the Cubs lost 8-7. Morgan received a no-decision. Bottenfield, conversely, was making only his third major-league start and was still seeking his first big-league win. He went only four innings against the Phillies in his previous outing, giving up five runs, four earned, and taking the loss in a 5-2 Expos defeat to go 0-2.
Ah, the heck with it; let's get right down to the big moment. Morgan and Bottenfield had a good old-fashioned pitching duel going on for six innings. Neither was ever in serious trouble. Ryne Sandberg was the only baserunner to reach third base, which he did in the fourth inning, but former Expo Andre Dawson popped out to end the inning. The Cubs had two runners on in the sixth, but could not cash in. Morgan, meanwhile, was toying with the Expos; he was like some guy's first girlfriend because he wouldn't allow anybody to get to second base.
Mel Rojas replaced Bottenfield in the seventh, and he also allowed two baserunners, but Chicago again came up empty. The bottom of the inning started off like all the others for Morgan when he got two quick outs. He then walked Larry Walker, which brought Carter to the plate and the fans to their feet.
Now, Carter rubbed some people the wrong way during his career with his unbridled enthusiasm and "golly-gee willikers" persona. But that personality was genuine, and it hid a dogged determination to win regardless of the situation. For example, in the famous 10th inning of Game Six of the 1986 World Series, with two out and nobody on, it was Carter's seemingly inconsequential single to left that started the Mets' game-winning rally culminated by Bill Buckner booting Mookie Wilson's grounder.
This game wasn't the World Series, but Carter knew it was the last at-bat of his career, and damned if he wasn't going to make the most of it. The count went to–what else?–0-and-2, and with the fans going nuts, Carter drove an outside pitch to right-center field over Dawson's head for a double. Walker scored from first for the go-ahead run, but that seemed almost incidental. Carter stood at second with a Kid-like grin on his face, pumping his fist in the air and reveling in the moment.
"Holy Cow! What an emotional moment here in Montreal," roared legendary Cubs broadcaster Harry Caray above the din. "Enjoy it all, pal. You've earned it."2
"Maybe this will be a Hollywood ending for Gary Carter," added fellow broadcaster Steve Stone.3
Alou sent Tim Laker out to run for Carter, allowing him to jog to the dugout to the deafening applause of the fans. He hugged each of his teammates in the dugout, then came out for a curtain call, blowing kisses to the fans as they roared their final thank yous and goodbyes.4
The rest of the game was anticlimactic. After Rojas pitched the seventh (he got the win to make his record 7-1), Jeff Fassero pitched two-thirds of an inning, then closer John Wetteland came on for 1⅓ innings to earn his 36th save of the season. But all of these numbers and statistics were insignificant in light of Carter's farewell performance.
"You couldn't write a Hollywood script for Gary Carter and let it come out like today was," said Cubs manager Jim Lefebvre. "The fans' reaction when he stood on second sent chills up and down my spine. Not too many players end their careers the way he did." 5
Carter spoke briefly to the crowd after the game ended, then circled the field with his wife, Sandy, in a final au revoir to the fans. He also received gifts from the Expos as tokens of the team's appreciation.
"I wasn't going to go out on the field," said Carter's widow Sandy. "He was waving me down, so I walked down just to the tunnel to give him a big hug; he pulled me on the field and said, 'you've been in this career as much as me and I want you down here with me.' It was really his moment but, yes, we shared it together."6
The Expos went on a six-game road trip after this game, but Carter didn't play in any of them on the recommendation of Expos broadcaster Dave Van Horne.
"I saw Dave around six months ago," said Carter's widow Sandy in July 2015. "I said, 'you know Dave, Gary never forgot…that you're the one who told him not to have any more at-bats because [he] could not top that last at-bat in [his] whole career."7
No one realized it at the time, but Carter's hit was symbolic, almost mystical, in many ways. The 1992 season had started in disarray, righted itself when Felipe Alou took the reins as manager, and gave fans a taste of things to come. Carter's game-winning hit, especially over Dawson's head, was a metaphorical passing of the torch from the "Team of the '80s" to the burgeoning powerhouse of the early 1990s.
This article appeared in "Au jeu/Play Ball: The 50 Greatest Games in the History of the Montreal Expos" (SABR, 2016), edited by Norm King. To read more articles from this book, click here.

Sources
In addition to the sources listed in the notes, the author consulted:
Baseball-reference.com.
Hardballtimes.com.
Kuenster, John. At Home and Away: 33 Years of Baseball Essays (Jefferson, North Carolina: McFarland & Company, 2003).
Los Angeles Times.
Box scores for this game can be found on baseball-reference.com, and retrosheet.org at:
http://www.retrosheet.org/boxesetc/1992/B09270MON1992.htm
Notes
Additional Stats
Montreal Expos 1
Chicago Cubs 0
---
Olympic Stadium
Montreal, QC
Box Score + PBP:
Corrections? Additions?
If you can help us improve this game story, contact us.
Tags
https://sabr.org/sites/default/files/CarterGary-1992.png
600
800
admin
/wp-content/uploads/2020/02/sabr_logo.png
admin
2017-10-11 16:35:49
2020-04-17 10:25:42
September 27, 1992: The Kid goes out in style: Gary Carter's final hit