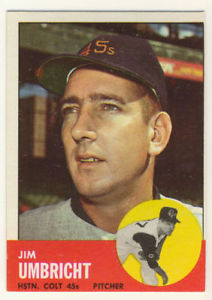 September 29, 1963: Fleeting fame and enduring memories for Houston's John Paciorek, Jim Umbricht
---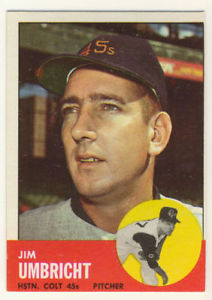 William Shakespeare's Macbeth, pondering his fate prior to his inevitable demise, proclaims, "Out, out, brief candle! Life's but a walking shadow, a poor player that struts and frets his hour upon the stage and then is heard no more."1 As the Houston Colt .45s hosted their 1962 expansion brethren, the New York Mets, at Colt Stadium in the 1963 finale on September 29, no one in the meager crowd of 3,899 could have known that two of the home team's players would turn out to be real-life tragic heroes. Outfielder John Paciorek made his major-league debut and registered a perfect 3-for-3 batting line that also included two walks, three RBIs, and four runs scored. He appeared destined for stardom, but a back injury led to his decline and he never played in another major-league game. Veteran reliever Jim Umbricht pitched two-thirds of an inning at just the right time to earn the win. He, too, never appeared in the majors again, as he died of melanoma a mere five days before Houston's 1964 Opening Day.
The Colt .45s had won 64 games in their inaugural season, and had exceeded that total by only one as they entered the September 29, 1963 game. Thus, the team had decided to go with a youth movement toward the end of the season and had started an all-rookie lineup just two days earlier. Manager Harry Craft almost repeated that feat, but he deviated slightly by starting veteran Bob Aspromonte at third base. Craft inserted 18-year-old Paciorek, a surprise call-up who had spent the season at Class A Modesto (California League), in right field. Houston had signed the Detroit area native in 1962, and general manager Paul Richards expected great things, saying, "This kid is a real pleasure to watch. He could become one of the really great power hitters and all-around players in baseball."2
Paciorek suffered a midseason back injury that prevented him from dominating California League pitchers as Houston had hoped he would. He ended up batting only .219 in 78 games with 9 homers and 49 RBIs. Paciorek was in Houston to have his back examined when, as he related years later, "They [team management] asked me, 'Would you like to play tomorrow?' … There was no way I was going to miss that game." But he added, "If I'd have thought about it I'd have questioned whether I could do it because of my back."3
What Paciorek accomplished with an aching back on this day was amazing. After a scoreless first inning, Paciorek, who was batting seventh, stepped to the plate against Mets starter Larry Bearnarth for the first time in the bottom of the second. He drew a two-out walk to join Aspromonte, who also had walked on the bases for the Colt .45s. Catcher John Bateman smacked a two-run triple, and Paciorek scored his first major-league run.
The Mets recouped one run in the third when Bearnarth tripled and scored on Ed Kranepool's single. In the top of the fourth, they had Houston starter Chris Zachary on the ropes. Tim Harkness led off the inning with a single and advanced to second on Jim Hickman's hit. After Joe Hicks popped out, Choo-Choo Coleman lashed the Mets' third single of the frame. It scored Harkness and tied the game. Not wanting things to get out of hand, Craft dispatched the four-year veteran Umbricht to the mound in relief of the rookie Zachary. Coleman stole second base, but Umbricht set Al Moran down on strikes. Bearnarth, doing everything he could to earn the victory for his team and himself, struck again with a two-run single that gave the Mets a 4-2 lead, with both runs being charged to Zachary. Umbricht retired Kranepool and then watched as his teammates took over the game.
Although it was neither a lengthy nor a flawless appearance, the fact that Umbricht was pitching at all in 1963 was miraculous. During spring training he had pain in a mole on the back of his right leg that turned out to be caused by a tumor. He was diagnosed with "black mole" cancer, so called because it usually starts as a black mole on an arm or leg. The cancer had already spread to his groin, and Umbricht underwent surgery on March 7. The tumor was removed and, in what was a rare procedure at the time, a "profusion" was performed in which his leg "[w]as tied off with a tourniquet. Tubing was inserted in the leg … [and it] was washed five hours with drugs … in an effort to kill any cancer cells that might have been lurking in the leg and start a cancer in another part of the body."4
Umbricht rejoined the Colt .45s two months later even though he still had 100 stitches in his body.5 With the victory he earned in this final game, he pitched to a 4-3 record with a 2.61 ERA over 76 innings in 1963. His surgery was not a complete success; the cancer reappeared in midseason, this time in his chest, "but Umbricht and Colt officials kept the development a closely guarded secret."6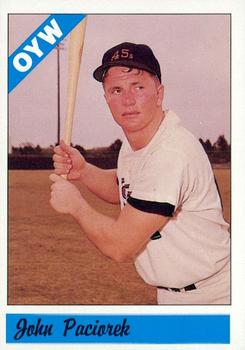 Houston sent 10 men to the plate in the bottom of the fourth and battered both Bearnarth and Ed Bauta, who took the hill after the first five batters reached base. Paciorek was the fourth batter in that procession, and he got his first hit, a two-run single that tied the game once more. Al Spangler kept things going by greeting Bauta with the Colts' sixth consecutive hit. It loaded the bases, and Paciorek scored his second run on pinch-hitter Pete Runnels' sacrifice fly. Jim Wynn knocked in another run with a two-out single, and Houston had a 7-4 lead.
Paciorek's second hit of the day came in the bottom of the fifth, when Houston again sent 10 men to bat. Paciorek's one-out single drove in Aspromonte, who had tripled, and he advanced to second when Bauta walked Bateman. That base on balls marked the end of Bauta's day, and Tracy Stallard had the task of trying to quash the Colts' rally, but Bob Lillis knocked in Paciorek with a single. Stallard retired pitcher Turk Farrell, who had entered the contest in the top of the fifth, but then he lost track of the strike zone and issued consecutive two-out walks to Joe Morgan, Wynn, and Rusty Staub. After the dust of Colts crossing home plate had cleared, Houston was in front by 11-4.
Paciorek drew his second walk of the game, courtesy of Grover Powell, in the sixth, moved to second on a wild pitch and scored his fourth run on another single by Lillis to increase the lead to 12-4. The Colts scored a 13th and final run, their single-game high for the season, in the seventh. Paciorek added a single off Powell to his batting line in the eighth to finish "a perfect day."7 The New York Times extolled the fact that Paciorek "[d]oesn't yet know what it is like to make an out in the big leagues."8
As it turned out, Paciorek never made a major-league out since he never played in another major-league game. He underwent back surgery in July 1964 and never regained full strength. He labored in Houston's minor-league system through 1967 and spent the next two seasons with Cleveland Indians affiliates before retiring from the game. In regard to having the greatest one-game career of any major-league player, Paciorek has said, "It's kind of a dubious honor. But I guess I'm immortalized. I did something no one else has ever done."9
As for Umbricht, he was honored as the most courageous athlete of 1963, but his cancer soon spread rapidly.10 On March 16, 1964, he entered a hospital, and 23 days later he died. The Colt .45s made Umbricht's number 32 the franchise's first jersey number to be retired, not for his pitching accomplishments but because, as Aspromonte asserted, of what he did off the field.11 Umbricht was cremated and his ashes were spread over the construction site of Houston's Astrodome.
At the end of his ruminations on life, Macbeth declares, "It is a tale told by an idiot, full of sound and fury, signifying nothing."12 That conclusion holds true neither for Paciorek, who demonstrated great perseverance in an attempt to return to the majors after his one day of glory, nor for Umbricht, who showed incredible courage in the face of cancer. Their careers may have been brief, but they were nonetheless significant and worthy of remembrance.
Sources
baseball-reference.com/boxes/HOU/HOU196309290.shtml
retrosheet.org/boxesetc/1963/B09290HOU1963.htm
Notes
1 William Shakespeare, Macbeth, Act V, scene v, poetryfoundation.org/poems/56964/speech-tomorrow-and-tomorrow-and-tomorrow, accessed July 20, 2018.
2 "They're Just Wild About Our Boy Paciorek," Detroit Free Press, November 10, 1962: 15.
3 Steven K. Wagner, Perfect: The Rise and Fall of John Paciorek, Baseball's Greatest One-Game Wonder (Halcottsville, New York: Breakaway Books, 2014), 63.
4 "Rare Surgery Saves Jim Umbricht's Leg," Delaware County Daily Times (Chester, Pennsylvania), May 2, 1963: 28.
5 "Jim Umbricht," astrosdaily.com/players/Umbricht_Jim.html, accessed July 20, 2018.
6 "Cancer Claims Jim Umbricht," Delaware County Daily Times April 9, 1964: 25.
7 " 'Dream' Start for John," Detroit Free Press, September 30, 1963: 35.
8 "Mets Lose by 13-4 to Colts' Rookies," New York Times, September 30, 1963: 48.
9 Wagner, 184.
10 Bill Vanderschmidt, "Came Back to Pitch — and Win: Colts' Umbricht Honored for Cancer Fight," Rochester Democrat and Chronicle, December 11, 1963: 40.
11 Wagner, 148.
12 Shakespeare, Macbeth, Act V, scene v.
Additional Stats
Houston Colt .45's 13
New York Mets 4
---
Colt Stadium
Houston, TX
Box Score + PBP:
Corrections? Additions?
If you can help us improve this game story, contact us.
Tags
https://sabr.org/sites/default/files/images/UmbrichtJim-Topps.jpg
600
800
admin
/wp-content/uploads/2020/02/sabr_logo.png
admin
2018-09-06 18:58:26
2020-04-17 10:24:41
September 29, 1963: Fleeting fame and enduring memories for Houston's John Paciorek, Jim Umbricht