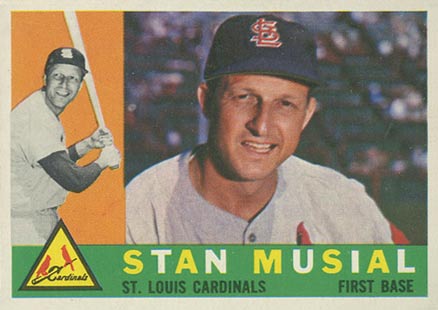 September 29, 1963: Stan Musial says goodbye in final game
---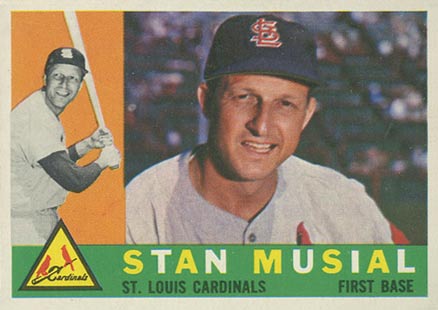 There was symmetry to the first weeks of Stan Musial's career in September 1941 and the last weeks 22 autumns later: Both saw the St. Louis Cardinals chasing the Dodgers for the pennant. Both saw them fall short but in each case, despite having the nucleus in place that would help them win the World Series the following season.
Even Musial's first and last games echoed one another: In both, Musial had two hits and drove in crucial runs in contests that ended in identical 3-2 Cardinal walk-off wins.
In between lay one of the finest baseball careers ever. By the time he played the last of his 3,026 games, Musial had been an All-Star in all but his first full season, 1942. He had collected a then-league-record 3,630 hits. Although his 475 home runs seem modest today, when he retired they ranked second in the National League, behind only Mel Ott's 511. All in all, when he retired as a player Musial held 17 major-league and 29 National League records.1
By the time Musial made the formal announcement that he was retiring, he had been considering it for quite a while. He had publicly floated the idea in 1958, when he signed the National League's first $100,000 contract, saying that he saw himself playing "one or two more years."2 In the offseason after 1962 — when Musial had something of a career second wind, hitting .330 after three consecutive uncharacteristic seasons of sub-.300 averages — he actually found himself in the middle of a controversy about the subject.
That fall, Cardinals owner August A. Busch Jr. hired legendary baseball executive Branch Rickey as a senior consultant to general manager Bing Devine.3 Almost immediately, Rickey — someone used to pulling the strings and not merely suggesting which strings someone else should pull — ended up in a power struggle with Devine that created "[a] schism … so deep that both seriously considered quitting."4 One of Rickey's most drastic declarations was that Musial should retire to make way for younger players but Busch was quick to quash the notion: "Since when do you ask a .330 hitter to retire…?"5
Early in 1963 it became evident that Rickey may have been correct: By mid-May, Musial was hitting .215. By the All-Star break, his average was up to .279 but despite the mild offensive surge, he began to recognize this would be his final season. Selected for the National League squad as a reserve, he later said, "I knew, in my heart, that this would be my last All-Star appearance."6
Musial made his official announcement at the team's annual picnic at Busch's estate, Grant's Farm, on August 12, saying, "I figured on quitting, no matter what kind of year I had. … After all, I'll be 43 next season and I feel I've had more than my share from baseball."7
For a while it seemed to energize the team: Six games behind the Dodgers the day of the picnic, they went 27-8 over the next five weeks, pulling within one. However, a late September 1-8 stretch pushed the team seven back by the time of Musial's finale on September 29.
His departure was marked with tribute after tribute: Nationally, ABC aired a special that evening celebrating his career.8 In St. Louis, the Post-Dispatch ran a five-page photographic feature in its Sunday magazine supplement; radio station KMOX, which broadcast Cardinals games, did an hour-long program about Musial before the game, while two St. Louis television channels also ran features about him.9
In the ballpark, before a standing-room-only crowd, a pregame ceremony included a jazz band and speeches by team officials, media figures, the presidents of the National and American Leagues, and Commissioner Ford Frick, who famously declared of Musial, "Here stands baseball's happy warrior, here stands baseball's perfect knight."10 After the speeches, Musial toured the ballpark in a convertible while fans tossed confetti.11
The game itself carried little weight. Win or lose, the Cardinals were assured of second place, as they stood five games in front of third-place San Francisco; their opponents, the Cincinnati Reds, came in 13 games behind the Dodgers, tied with Philadelphia for fourth place. On the mound were future Hall of Famer Bob Gibson, 18-9 as the day began, and Jim Maloney, 23-7, whose 254 strikeouts stood second to eventual Cy Young Award winner Sandy Koufax's 306.
Both pitchers were sharp early and the game remained scoreless through five. To that point Gibson had six strikeouts and no walks, while the only hit he had surrendered was a leadoff single by rookie Pete Rose. Maloney struck out eight Cardinals through five innings, giving up two walks and a single by Musial in the fourth that just eluded Rose at second base.12
The Cards finally broke through in what turned out to be an emotional sixth inning. Curt Flood led off with a double. After Dick Groat struck out, Musial came to the plate for what would be his final at-bat. He fouled off the first pitch, took two balls, and then lined a curveball past first baseman Gordy Coleman, who dove for the ball but couldn't snag it. Musial's single drove in Flood, giving St. Louis a 1-0 lead.13
The crowd's cheers shifted to boos as manager Johnny Keane sent Gary Kolb to pinch-run for Musial. Before the game Keane had promised Musial would play most of it so he would "go out on a good note, not a popup," and an RBI single was that note.14 To a resounding ovation, Musial jogged off the field for the last time as a player and went to the clubhouse to wait for the final out. There, he slipped off his iconic number-6 jersey for the last time as a player and hung it up, pausing for a moment to touch his name above the number, and said, "If I do say so myself, pal, you're all right."15
In a way, it was as if no one else wanted it to end. The Cards added a second run in the sixth on singles by Ken Boyer and Bill White.
The lead held in the seventh and eighth innings, though the Reds put two runners on in both innings, and the Cardinals mustered an eighth-inning single by Boyer against Jim O'Toole, who was on the mound after Bob Skinner pinch-hit for Maloney in the top of that inning. In the top of the ninth, however, Gibson finally broke. After retiring the first two hitters, he gave up consecutive singles to Coleman and Don Pavletich, threw a wild pitch, and then gave up a game-tying single to Leo Cardenas.
The Cardinals tried to win it in regulation against Al Worthington, loading the bases on two walks and a single with one out, but Flood grounded to Rose, who forced the runner at home, and then Dal Maxvill, who had replaced Groat at short, flied out to send the game into extra innings.
The Reds threatened in the top of the 10th. Rose doubled leading off and went to third on a sacrifice. After an intentional walk, Ron Taylor, who relieved Gibson after nine, struck out Frank Robinson for a huge second out. Coleman drew a walk but Taylor retired Pavletich to leave the bases full. While the Cardinals were going down quietly from the 10th through the 13th, the Reds threatened again in the 14th, when Cardenas singled and Ernie Broglio, who relieved Taylor in the 12th, threw two wild pitches, putting a runner on third with one out. Cincinnati could not push him across, though, as Joey Jay (the fifth Reds pitcher of the day) struck out and, after Rose walked, Tommy Harper popped out to first.
The game ended in the bottom of the inning. Jerry Buchek singled. Broglio tried but failed to advance him on a bunt, and Buchek was out at second. Flood singled, moving Broglio to second, and then the notoriously light-hitting Maxvill doubled, bringing Broglio in for the victory.
Not surprisingly, Musial was the "Star of the Game" on broadcaster Harry Caray's postgame show on KMOX radio.16 There, the conversation centered on Musial's reflection on his career; among other things, he pointed to Warren Spahn as the best pitcher he had faced and Willie Mays as the best all-around player he had seen before giving way to an emotional admission: "This has been a terrific way to end my career, on a victorious note. Several times I came close to tears before the game, but I thought I had some reason.17
A half-hour later, Musial drove away from the ballpark. A St. Louis Post-Dispatch reporter wrote that kids with programs chased after him, yelling, "One more! One more!"18
But there weren't any more. Musial was finished.
This article appears in "Sportsman's Park in St. Louis: Home of the Browns and Cardinals at Grand and Dodier" (SABR, 2017), edited by Gregory H. Wolf. Click here to read more articles from this book online.
Sources

In addition to the sources cited in the Notes, the author also consulted the New York Times, Baseball-Reference.com, and Retrosheet.org.
Notes
1 "Musial's Record," St. Louis Post-Dispatch, September 30, 1963: 6B.
2 Bob Broeg, "Stan at $100,000 on First Hike in 6 Years," The Sporting News, February 5, 1958: 3.
3 Bob Broeg, "Rickey, 80, Hired by Redbirds as Player Personnel Consultant," St. Louis Post-Dispatch, October 29, 1962: 5C.
4 Bob Burnes, "B.R.'s Return Ruffles Redbird Feathers," The Sporting News, November 17, 1962: 7.
5 Bob Broeg, "Rickey's Proposal to Retire Musial Stirs Discord," St. Louis Post-Dispatch, November 6, 1962: 4C.
6 Stan Musial and Bob Broeg, Stan Musial: The "Man's" Own Story as Told to Bob Broeg (Garden City, New York: Doubleday & Company, 1964), 236.
7 Neal Russo, "Even in Auld Lang Syne, The Man Hits Grand Slam," The Sporting News, August 24, 1963: 7.
8 Don Page, "Dodger Banjo Parade vs. the Yankee Ballet," Los Angeles Times, September 28, 1963: 33.
9 Neal Russo, "The Last Stan Like the First: A Hero in a Cardinal Victory," St. Louis Post-Dispatch, September 30, 1963: 4B.
10 Ibid.
11 Ibid.
12 Ed Wilks, "Day Was Long for Stan, Not Long Enough for Fans," St. Louis Post-Dispatch, September 30, 1963: 4B.
13 Ibid.
14 Russo, "The Last Stan."
15 Lowell Reidenbaugh, "'A Day I Will Always Remember,'" The Sporting News, October 12, 1963: 19.
16 Ibid.
17 Ibid.
18 Wilks.
Additional Stats
St. Louis Cardinals 3
Cincinnati Reds 2
---
Busch Stadium
St. Louis, MO
Box Score + PBP:
Corrections? Additions?
If you can help us improve this game story, contact us.
Tags
https://sabr.org/sites/default/files/images/MusialStan-1960Topps.jpg
600
800
admin
/wp-content/uploads/2020/02/sabr_logo.png
admin
2018-11-28 14:10:16
2020-04-17 10:23:44
September 29, 1963: Stan Musial says goodbye in final game