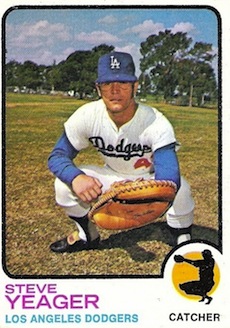 September 6, 1976: Dodgers' Steve Yeager suffers near-fatal on-field accident
---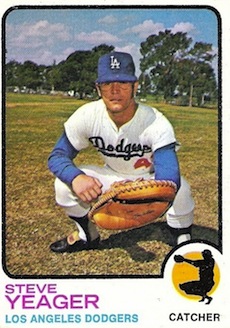 A crowd of 31,010 gathered at San Diego Stadium on September 6, 1976, for a Labor Day game between the Los Angeles Dodgers and the hometown Padres. Although the stakes were low, since neither team was playoff-bound, the pitching matchup between Don Sutton and the Padres' Randy Jones promised to be a good one as both hurlers were top candidates for the NL Cy Young Award. A holiday and a pitching duel certainly made for a good combination, which may account for the game being nationally televised. In the top of the seventh inning, however, pleasure turned to horror for all spectators when Dodgers catcher Steve Yeager was impaled by a broken bat and nearly lost his life.
The mound matchup was everything it had been cracked up to be as neither team managed to get a man on base until the bottom of the third inning. At that point, Padres catcher Fred Kendall hit a one-out double to put the first digit other than zero on any part of the scoreboard. His teammates could not follow suit, though, and left him stranded at second.
The Dodgers had their first baserunner in the top of the fourth when Davey Lopes worked a leadoff walk, but he was immediately erased from the basepaths when Bill Buckner hit a double-play grounder to shortstop Enzo Hernandez. The first chink in Jones's armor appeared when Steve Garvey knocked one of his offerings over the wall for a leadoff home run in the top of the fifth inning. Ron Cey followed Garvey's blast with a base hit, but he was forced out at second via a double-play grounder off Lee Lacy's bat. Sutton, meanwhile, continued to cruise through San Diego's lineup.
Garvey's homer aside, Jones had not experienced much trouble from the Dodgers' hitters either, and he retired Yeager and Sutton in the top of the sixth before San Diego's defense undermined his efforts. Lopes singled and, with Buckner at bat, stole second. Buckner and Reggie Smith both reached base safely on consecutive errors by the Friars' second baseman, Tito Fuentes, with Lopes scoring on the second miscue. Garvey, seizing the opportunity, lined a double to left field that drove in Buckner for a 3-0 Dodgers lead. Jones then issued an intentional walk to Cey to load the bases and set up a force at any base. Lacy obliged San Diego by grounding out to first baseman Mike Ivie to end Los Angeles' rally.
After Sutton set San Diego down in order once more, the fateful seventh inning rolled around. Yeager was in the on-deck circle as Bill Russell, the inning's leadoff hitter, smacked a grounder to third base that broke his bat. Russell was left holding the handle of his bat as the barrel flew toward Yeager and its sharp edge impaled him on the left side of his neck. He had not had any time to react, or to protect himself, and he "went down as if struck by a bullet."1
Yeager was not immediately aware of exactly what had happened to him. Dodgers manager Walter Alston said he heard his catcher yell, "My shoulder's broken."2 Teammates and Dodgers trainer Bill Buhler rushed onto the field to assist Yeager. Garvey brought a towel to cover the bleeding wound, the sight of which, he said, "was sickening."3 Buhler removed a splinter off the bat as he treated the wound, but nine other splinters still remained in the three-inch-deep wound.
Yeager, who remained conscious throughout the ordeal, was taken from the field on a stretcher, and the Padres' team physician, Dr. Paul Bauer, accompanied him to nearby Daniel Sharps Hospital to perform surgery on the wound. At the hospital, x-rays showed no broken bones, but Bauer had to make a four-inch lateral incision to remove the splinters that were still embedded in Yeager's neck. A Dodgers' team spokesman, who gave an update on Yeager's condition after the surgery, reported, "He's very fortunate. The wound just missed the nerve column that controls feeling in the hands and arms. It was also close to his windpipe and close to a major artery."4 Yeager remained in the hospital for a few days, but, "[A]mazingly, he was back playing with the team just three weeks later."5
In spite of the shock everyone had received, the game still had to be played to its conclusion. Dusty Baker pinch-hit for Yeager, and he and Sutton were quickly retired to end the top half of the seventh. Sergio Robles replaced Yeager behind the plate in the bottom of the inning.
Sutton and Jones continued to pitch efficiently, but each one tired in the ninth and surrendered a run. Garvey led off the top of the frame with a triple and scored on Cey's sacrifice fly. The first baseman with the Popeye-on-spinach forearms was the star of the game, going 3-for-4 at the plate with a double, triple, homer, two runs scored, and two RBIs. Sutton, the winner of the mound duel, had his shutout spoiled when Merv Rettenmund, pinch-hitting for Jones, led off the bottom of the ninth with a homer that made the final score 4-1.
The Los Angeles Times believed that Sutton, who was now 18-9 for the season, had a good chance to "wrest the National League's Cy Young Award from Jones (20-12) who seemed to have it locked up only a few weeks ago." The newspaper noted that Sutton had won 11 of his last 12 decisions as Jones had been in the process of losing nine of his last 13. Jones finished the 1976 season with a 22-14 record and a 2.74 ERA in 315⅓ innings and won the Cy Young Award, while Sutton finished 21-10 with a 3.06 ERA over 267⅔ innings and finished third in voting for the Cy Young. It was the only 20-win season of Sutton's 23-year Hall of Fame career.
As for Yeager, he seemed to take his accident in stride better than anyone. He later joked, "They knew I was OK the next morning when I asked for bacon and eggs for breakfast instead of a liquid breakfast."6 In spite of his good humor, his career was in jeopardy since another blow to his neck could prove to be fatal. Buhler, who was "known throughout the baseball world for 44 years as "Dr. Fix-It" and who served as an athletic trainer for the Dodgers' franchise from 1951 to 1995, worked with Yeager to create a throat guard that hung from the bottom of the catcher's mask to provide protection against foul balls to the neck.7 The throat guard became an "essential part of catchers' and umpires' equipment."8
Yeager played nine more seasons with the Dodgers and one final season with the Seattle Mariners in 1986. He shared the World Series MVP award with Dodgers teammates Cey and Pedro Guerrero after Los Angeles defeated the arch-rival New York Yankees in six games in the 1981 fall classic. Though 1981 provided the zenith of Yeager's playing career, he has stated, "My whole life has been a highlight. As far as baseball? I was one of 650 major-league baseball players in the whole world. That's pretty good."9
Although the tale of Yeager and the bat should be enough for one man in a lifetime, there is, as radio broadcaster Paul Harvey used to say, "The rest of the story." In 2007, Yeager was a coach for the Class A Inland Empire 66ers. On May 4, while driving home from a game, he was involved in a serious accident when another vehicle hit the freeway's center divider, went airborne, and crashed onto the top of his car. Yeager required between 250 and 300 stitches to sew up his wounds on this occasion. In regard to his two bizarre accidents, he observed, "I'm like a cat. I might have used a few lives up, but I'm here. … I could have been killed in both situations. I'm still here, I'm still kicking. I'm still doing what I love to do."10
Sources
In addition to the sources listed in the notes below, additional newspaper accounts were used to reconstruct the broken-bat incident involving Yeager and the treatment that was performed afterward. These sources include:
Lubbock Avalanche-Journal
Philadelphia Daily News
The Sporting News
The author also accessed Baseball-Reference.com and Retrosheet.org for box scores and play-by-play information.
baseball-reference.com/boxes/SDN/SDN197609060.shtml
retrosheet.org/boxesetc/1976/B09060SDN1976.htm
Notes
1 Ross Newhan, "Bat Punctures Neck of Dodgers' Yeager: Catcher Undergoes Surgery After Freak Mishap in 4-1 Win," Los Angeles Times, September 7, 1976: III-1.
2 Ibid.
3 Ibid.
4 "9 Splinters Removed From Yeager's Neck," St. Louis Post-Dispatch, September 7, 1976: 3B.
5 Michael Fallon, "Steve Yeager," sabr.org/bioproj/person/69e2594b, accessed May 23, 2018.
6 John Nadel, "Steve Yeager Survives a Second Freak Accident," Asbury Park (New Jersey) Press, July 13, 2007: Plus Fifty-5.
7 Inside Athletics, "Bill Buhler," valpoathletics.com/athletics/hofmembers/HoFInductees/9865/bill-buhler/, accessed May 23, 2018.
8 Ibid.
9 Ron Kantowski, "Q + A Steve Yeager," lasvegassun.com/news/2006/apr/06/qa-steve-yeager/, accessed May 23, 2018.
10 Nadel, "Steve Yeager survives a second freak accident."
Additional Stats
Los Angeles Dodgers 4
San Diego Padres 1
---
San Diego Stadium
San Diego, CA
Box Score + PBP:
Corrections? Additions?
If you can help us improve this game story, contact us.
Tags
https://sabr.org/sites/default/files/images/YeagerSteve.jpg
600
800
admin
/wp-content/uploads/2020/02/sabr_logo.png
admin
2018-07-12 22:03:59
2020-04-17 10:24:45
September 6, 1976: Dodgers' Steve Yeager suffers near-fatal on-field accident