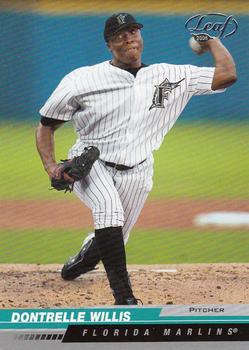 September 7, 2005: Dontrelle Willis becomes first Marlins pitcher to win 20 games
---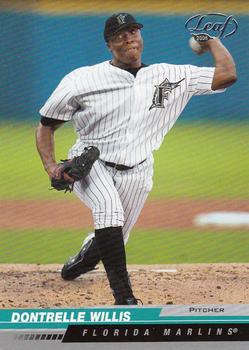 The Washington Nationals had seen their season go south after a 50-31 start propelled them to first place in the NL East, where they remained as late as July 25. About to send John Halama, a reclamation project, to face 23-year-old Dontrelle Willis on a Wednesday night, the Nats were five games over .500 at 72-67.
The Florida Marlins came in at 73-65. Both teams were clinging to hopes of overtaking the Houston Astros for the NL wild card. (Neither did.) Willis, having his best season in the majors, was looking for his 20th victory.1 The All-Star lefty had won his last four starts with an earned-run average well under 2.00 in that span.
Because of injuries and ill-advised transactions (the team was still under MLB control with a limited budget after moving from Montreal), Washington had just three healthy starters. A rookie had been called up from Double A to start in Tuesday's loss to the Marlins. The lefty Halama had been released by the Boston Red Sox and picked up by the Nats in early August. He had started and lost twice for Washington before this game.
A crowd of 25,702 was on hand at aging Robert F. Kennedy Stadium, which had been the home of the expansion Senators through 1971 before undergoing a quick rehabilitation for the relocated Expos. The Nationals went on to draw 2.7 million fans in their first year in the District.
The Marlins, two seasons removed from winning the World Series, had two big bats, Carlos Delgado and Miguel Cabrera, in their lineup, as well as the resurgent Juan Encarnación and the reliable Jeff Conine. Speedster Juan Pierre was in the middle of 10 straight years of 30 or more stolen bases. (He finished 2005 with 57.)
The Nationals, on the other hand, had the league's most anemic offense. Jose Guillen and Nick Johnson were the team's most consistent hitters, but Johnson wasn't in the lineup against Willis. Guillen blamed RFK's deep outfield gaps for holding down his power numbers.
With shortstop Cristian Guzmán's batting average at .197, Nationals manager Frank Robinson decided to start September call-up Ryan Zimmerman at short, two days after saying he wouldn't.2 The 20-year-old Zimmerman had been Washington's first pick in the June draft and was in the majors after half a season in the minors. He had pinch-hit and struck out in his big-league debut, on September 1, and had been a defensive replacement at third in his second game, on September 4. In that game, he got his first big-league hit, a double, in a loss to the Phillies.
Now he found himself in the starting lineup for the first time in what turned out to be his only game in the majors at shortstop for the player who soon became the face of the franchise as a Gold Glove third baseman.
In the top of the first, Robinson quickly grew frustrated with Halama. After retiring Luis Castillo leading off, Halama yielded a single to Conine on a 3-and-2 pitch, and walked Cabrera on four pitches before striking out Delgado on another 3-and-2 pitch. After Encarnacion doubled to deep center, driving in Conine, Robinson wasted no time heading to the mound.
"I wasn't going to sit there and wait till he gave the game away in the first inning," the Hall of Famer said. He pulled Halama after 24 pitches, 13 of them balls. "You're going to pitch for me, you're going to throw strikes."3 The veteran left-hander said he was surprised to be taken out "but he makes the decisions. I do what I'm told."4 Travis Hughes came out of the bullpen to get the third out and hold the Marlins to a run.
Willis retired the Nats in order in the first, but the Marlins had an anxious moment when Dontrelle fielded Guillen's comebacker. "Willis came off the mound awkwardly," the Associated Press reported, "and felt his knee pop."5
"It kind of stung for a little bit," Willis said about limping off the field.6 He seemed fine as he retired the first two batters in the second before Zimmerman smashed an 0-and-1 pitch into the gap and over the fence for a ground-rule double. A Carlos Baerga groundout left Zimmerman stranded.
Hughes, who hit one batter and walked another in a scoreless second, couldn't escape the third. After Cabrera walked, Delgado hammered a 2-and-0 pitch deep into the right-field stands for his 28th homer. Encarnacion's groundball single spelled the end of the day for Hughes. Jason Bergmann got two groundball force outs at second before Pierre stole his 47th base. A fly out ended the inning with the Marlins up 3-0.
In the fourth, it was Bergmann's turn to take it on the chin. Willis led off with a double on a grounder into the right-field corner. Castillo bunted him to third. Bergmann hit Conine with a pitch. Cabrera's fly-ball single to right scored Willis and sent Conine to third, knocking out Bergmann. Delgado hit a sacrifice fly to the deep right-center off lefty Joey Eischen, scoring Conine and putting the Marlins up 5-0.
Eischen, who had come in on a double switch, retired the first two batters in the fifth before Willis lined a singled to right.7 Eischen's 2-and-1 pitch hit Castillo. Conine grounded a single up the middle, scoring Willis and making it 6-0.
On the mound, Willis was cruising. A two-out walk to Marlon Byrd in the third was all Washington could muster until Baerga's one-out single in the fifth. A double-play grounder got Dontrelle out of the inning on eight pitches.
Right-hander Gary Majewski took the mound for Washington in the sixth but fared no better than his predecessors. Pierre lined a double to deep right after Paul Lo Duca's one-out single. Damion Easley lined a single to right, scoring LoDuca. Easley was forced at second on a grounder by Willis, who beat the relay to first as Pierre scored the Marlins' eighth run.
Rick Short, who had taken over at second base in the Eischen double-switch, led off the sixth with his first major-league home run, a fly to deep left. The 32-year-old rookie hit one more during his month in the majors after 11 minor-league seasons. After a foul out, Kenny Kelly, a midseason waiver pickup, pinch-hit and lined a double to center. It was his only hit as a National and his last in the majors.
A groundout moved Kelly to third. Willis walked Preston Wilson on a 3-and-2 pitch and then walked rookie Tony Blanco on four pitches. Over 90 pitches at that point and apparently tiring, Willis retired Zimmerman on a 2-and-2 pitch that produced a force-out grounder to third. Dontrelle's day ended after 97 pitches, having yielded four hits and a run. He was lifted for a pinch-hitter in the seventh. "He didn't even have his good stuff today," the Nationals' Byrd said.8
The 8-1 lead put Willis in position to join his childhood idol, Dave Stewart, who in 1990 was the last African-American pitcher to win 20 games. Willis grew up in Oakland, where Stewart starred for the Athletics. "I remember … being a little boy and watching him, and everything he meant, not only to the team but to the city," Willis said in the clubhouse.9
The Marlins kept pounding the Nats' bullpen. Cabrera led off the seventh with a groundball single to left off Hector Carrasco. With one out, Encarnacion reached on an error by Zimmerman. Lo Duca brought in both runners with a line-drive double to deep right, pushing the Marlins' lead to 10-1.
Marlins relievers Randy Messenger and Ron Villone shut down the Nationals the rest of the way, but the Marlins hitters weren't done. Veteran lefty Mike Stanton took over for Carrasco in the ninth. Three singles loaded the bases for pinch-hitter Josh Willingham. His line single to center scored another run before Zimmerman's second error allowed the 12th run to score.
"I wish I'd done a little better," Zimmerman said of his performance.10 Aside from the two errors, which led to unearned runs, he had left the bases loaded in the sixth.11
The Marlins pounded the seven Nationals pitchers for 17 hits. Seven Marlins walked and three were hit by pitches.
When the game ended, Florida closer Todd Jones poured a celebratory beer on Dontrelle's head. "I'm dumbfounded right now," Willis said of becoming the Marlins' first 20-game winner. "Very ecstatic just because of how my teammates felt for me today. I'm kind of breath-taken."12
"You feel so happy when a guy reaches that plateau," Marlins Manager Jack McKeon said. "The fire and energy he brings to the club is something special."13
Sources
baseball-reference.com/boxes/WAS/WAS200509070.shtml
retrosheet.org/boxesetc/2005/B09070WAS2005.htm
Notes
1 Willis finished 22-10 and second in the Cy Young Award voting for the 83-79 Marlins. Despite an 81-81 record, the Nationals finished last in the NL East.
2 Barry Svrluga, "Nats Pummeled by Marlins," Washington Post, September 8, 2005: E1.
3 Svrluga.
4 Svrluga.
5 Howard Fendrich (Associated Press), "Marlins' Willis Gains 20th Victory," Portales (New Mexico) News Tribune, September 8, 2005: 8.
6 Fendrich.
7 The hit was the 20th of the season for Willis, matching his 20 wins.
8 Svrluga.
9 Fendrich.
10 Svrluga.
11 Zimmerman finished second to Hanley Ramirez of the Marlins for NL Rookie-of-the-Year in 2006.
12 Howard Fendrich, "Marlins' Willis Earns 20th Win," Walla Walla (Washington) Union Bulletin, September 8, 2005: B3.
Additional Stats
Florida Marlins 12
Washington Nationals 1
---
RFK Stadium
Washington, DC
Box Score + PBP:
Corrections? Additions?
If you can help us improve this game story, contact us.
Tags
/sites/default/files/Willis-Dontrelle-2005.jpg
600
800
admin
/wp-content/uploads/2020/02/sabr_logo.png
admin
2020-05-19 17:42:30
2020-05-28 15:31:18
September 7, 2005: Dontrelle Willis becomes first Marlins pitcher to win 20 games