1919 White Sox: Introduction
This article was written by Jacob Pomrenke
This article was published in 1919 Chicago White Sox essays
---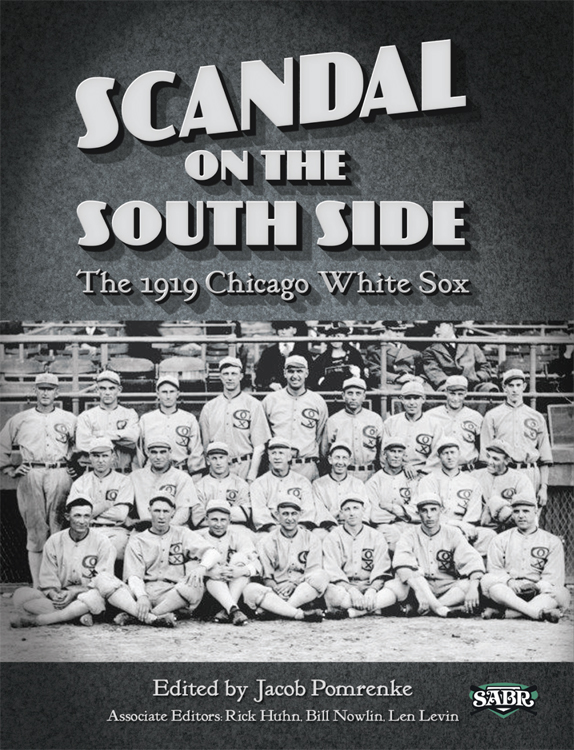 On the western edge of Canada's Yukon Territory, at the confluence of the Yukon and Klondike Rivers just across the border from Alaska, is an old mining town called Dawson City, population 1,300. At the turn of the twentieth century, Dawson City became the bustling center of the Klondike Gold Rush and drew the likes of writer Jack London and others searching for fame and fortune. But the golden dream quickly died for thousands of prospectors, and the town returned to its sleepy roots, the end of the line for the Klondike Highway and any travelers who happened to be heading north on it.
Dawson City also happened to be the end of the line for hundreds of silent films that were shown to residents in the town's recreation hall during the 1910s and '20s. These films were sometimes full-length features, but many were newsreels of current events, comedy shorts, or human-interest stories shown before the main event. The nitrate film reels were too expensive — and too dangerous, since they were highly explosive — to ship back south when folks in Dawson City were finished watching them, so it was easier to dispose of them. Instead of dumping the tin canisters in the Yukon River, the most common disposal method at the time, town leaders decided to bury them under an abandoned swimming pool that was used as an ice-hockey rink.
The films remained there, preserved pristinely in the permafrost, for a half-century until 1978, when construction workers razed the ice rink and discovered the buried treasure underneath. The find made international headlines. It took many years before the highly flammable reels could be safely moved across the country, transferred to modern formats, and made available to researchers. Some of them still have never been seen.
In January 2014 a Chicago filmmaker, Bill Morrison, visiting the Library and Archives Canada found one of these old Dawson City film reels with the curious label "1919 World Series." What he discovered was remarkable: never-before-seen newsreel footage featuring nearly five minutes of game action from that notorious World Series in which Shoeless Joe Jackson, Buck Weaver, Eddie Cicotte, and other members of the Chicago White Sox were banned for intentionally throwing games to the Cincinnati Reds — an event that has gone down in history as the Black Sox Scandal.
This rare newsreel, which was originally filmed by the British Canadian Pathé News service, is not the first footage ever seen from the 1919 World Series. But it's by far the most extensive and highest quality of film available from that fateful fall classic. The film shows some of the most disputed and discussed plays from Games One and Three, along with aerial views of Redland (later Crosley) Field in Cincinnati, and candid shots of players from both teams.
And now we can watch it on YouTube, over and over again.
The Dawson City film is one of many exciting discoveries related to the 1919 World Series and the Black Sox Scandal that have come to light in recent years. As Gene Carney — the late founding chairman of SABR's Black Sox Scandal Research Committee, whose members produced the book you're about to read — liked to say, "The Black Sox Scandal is a cold case, not a closed case." Thanks to these amazing finds, we're learning more and more about the 1919 World Series all the time.
In his classic history of the 1919 World Series, Eight Men Out, Eliot Asinof told a dramatic story of undereducated and underpaid ballplayers, disgruntled by their low pay and poor treatment by White Sox management, who fell prey to the wiles of double-crossing big-city gamblers offering them bribes to lose the World Series. Asinof's story does contain elements of truth: Eight White Sox players, including Shoeless Joe Jackson, perhaps the greatest pure hitter of his generation, did throw the World Series. And they did receive bribes of $5,000 or more to do the deed that got them kicked out of baseball.
But the devil is in the details, and it's in those details where much of the popular narrative about the Black Sox Scandal falls apart under close scrutiny — specifically, any notion that the banished players were undereducated or underpaid, or that they were unwittingly seduced by gamblers, or that the Big Fix brought about a loss of innocence in baseball that nearly destroyed, in F. Scott Fitzgerald's famous phrase, "the faith of fifty million" fans until Babe Ruth came along to rescue the national pastime with his prodigious home runs. All of that is simply untrue.
We can say this with some certainty now because we have access to so much new information that Eliot Asinof and many other writers never had. In the late 1950s, when Asinof began his research for what turned into Eight Men Out, he searched high and low for the transcripts and testimony from the Black Sox grand-jury proceedings and criminal trial. He never found them. We know where to find a copy of them now: at the Chicago History Museum, which in 2007 acquired a "treasure trove" of documents related to the scandal that included hundreds of legal files that had eluded researchers for decades before.
We also have accurate salary information about major-league players in 1919 for the first time, thanks to a massive collection of organizational contract cards acquired in 2002 by the National Baseball Hall of Fame Library in Cooperstown, New York. We have access to hundreds of articles about gamblers and underworld figures involved in the scandal who were almost impossible to track down before.
Some of this information was both uncovered and included by the late Gene Carney in his seminal 2006 book Burying the Black Sox: How Baseball's Cover-Up of the 1919 World Series Fix Almost Succeeded. He broke new ground on the story of Shoeless Joe Jackson's civil lawsuit against the White Sox after his suspension from baseball and he cast serious doubt on what baseball officials knew about the World Series fix, when they knew it, and what they did about it. Carney's tremendous generosity in sharing his research also helped inspire another generation of Black Sox sleuths to pick up the cold — not closed — case after he died in 2009. Additional insight into the case was provided by author and retired prosecutor William F. Lamb in Black Sox in the Courtroom: The Grand Jury, Criminal Trial and Civil Litigation, published in 2013. (Lamb is a contributing author to this book.)
All of these new pieces fit somewhere in the big Black Sox puzzle, providing definitive answers to some old mysteries and raising other questions in their place. The book you're reading now, published by the Society for American Baseball Research, will integrate all of that new information about the scandal for the first time.
However, the Black Sox Scandal isn't the only story worth telling about the 1919 Chicago White Sox. The team included three future Hall of Famers (Red Faber, Ray Schalk, and Eddie Collins), a 20-year-old spitballer who would go on to win 300 games in the minor leagues (Frank Shellenback), a rookie manager (Kid Gleason) who had a colorful playing career as a pitcher and second baseman for two decades, and even a batboy (Eddie Bennett) who later became a celebrity with the "Murderers' Row" New York Yankees in the 1920s.
All of their stories are included in this book, too, which has full-life biographies of each of the 31 players who made an appearance for the White Sox in 1919, plus team executives like owner Charles Comiskey, Harry Grabiner, and Tip O'Neill. We've also included a comprehensive recap of the White Sox' pennant-winning season, which culminated in Shoeless Joe Jackson's dramatic walk-off single to clinch the American League championship in September at Comiskey Park. The year 1919 was a notorious one in Chicago, and baseball fans in the Windy City could not escape the real world during that hot, violent postwar summer of race riots, the anti-communist "Red Scare," and the lingering flu epidemic, all of which had an effect on the White Sox's season. Those stories are also in this book.
In addition, we'll also clear up some of the misconceptions about the 1919 White Sox team that have been passed down through history. After reading this book, you'll know the real story behind Charles Comiskey's reputation as a greedy miser who forced his players to play in dirty, unlaundered uniforms. You'll learn about the $10,000 bonus allegedly promised to star pitcher Eddie Cicotte if he won 30 games that season. You'll learn new details about the complicated Black Sox legal proceedings, their "disappearing" confessions, and the reasons behind their acquittal in a Chicago courtroom. And you'll learn how uneducated and underpaid the White Sox really were, as compared to other players around the American League.
This book isn't a rewriting of Eight Men Out, but it is the complete story of everyone associated with the 1919 Chicago White Sox, told in full for the first time. We'll help bring you up to date on what we collectively know about the Black Sox Scandal and the infamous team at the center of it all. We won't take sides on whether certain players were guilty or whether they were punished fairly. We just present the best available information to you — and as you can tell by now, there's a lot of new information out there. With this book, we hope to challenge your assumptions and help you gain a better understanding of what historians Harold Seymour and Dorothy Seymour called "baseball's darkest hour" — the fixing of the 1919 World Series by key members of the Chicago White Sox.
JACOB POMRENKE is SABR's Director of Editorial Content, chair of the Black Sox Scandal Research Committee, and editor of "Scandal on the South Side: The 1919 Chicago White Sox" (2015).

https://sabr.org/wp-content/uploads/2020/03/research-collection4_350x300.jpg
300
350
admin
/wp-content/uploads/2020/02/sabr_logo.png
admin
2018-09-28 20:16:19
2021-03-29 17:08:54
1919 White Sox: Introduction