1933-1962: The Business Meetings of Negro League Baseball
This article was written by Doron Goldman
This article was published in From Rube to Robinson: SABR's Best Articles on Black Baseball
---
Editor's note: This article, originally published in  "Baseball's Business: The Winter Meetings, 1958-2016" (SABR, 2017), was honored as a 2018 McFarland-SABR Baseball Research Award winner.
Negro League baseball magnates meet at the Hotel Teresa on June 20, 1946, in New York City. The owners had all attended the Joe Louis boxing bout the night before. The meeting was to plan the second-half schedule for the 1946 season. Left to right: Syd Pollock (Indianapolis Clowns), Tom Wilson (Baltimore Elite Giants), Tom Baird (Kansas city Monarchs), W.S. Martin (Memphis Red Sox), J.B. Martin (NAL President and Chicago American Giants), Ernest Wright (Cleveland Buckeyes), Fay Young (Chicago Defender writer), Wilbur Hayes (Buckeyes), and Tom Hayes Jr. (Birmingham Black Barons). (National Baseball Hall of Fame Library)
By Doron Goldman
Although the first organized and sustainable Negro League, the original Negro National League (NNL), founded by Rube Foster in 1920, did not survive the Great Depression, it was the forerunner of several other Negro Leagues. In the 1920s, the Eastern Colored League (ECL) was formed as a counterpart to the NNL. It lasted from 1923 through the early part of 1928, then was succeeded by the American Negro League (ANL) for one year in 1929. The first NNL, largely based in the Midwest, continued its operations into the 1930s, but was replaced in 1932 by another short-lived organized league called the East-West League. Like the ANL, the East-West League survived only one year.
In 1933, several events of marked importance occurred: Franklin Delano Roosevelt started his 12-year presidency, Adolf Hitler became chancellor of Germany — and the second NNL began operations. This incarnation of the NNL was a hybrid of Eastern and Western clubs, including the developing twin powerhouse Pittsburgh franchises the Pittsburgh Crawfords and the Homestead Grays, along with Midwestern mainstay the Chicago American Giants (at that time referred to as Cole's American Giants as Robert Cole took over ownership in 1931), the team that Rube Foster pitched for and owned while he started the original NNL.1 Though this NNL began operations during the depths of the Great Depression, it managed to survive the 1930s, thrive during the wartime '40's, and then begin to struggle as soon as Jackie Robinson signed a contract with the Brooklyn Dodgers in 1945 to begin playing with the Montreal Royals in 1946.
It is important to note here that the second NNL started right after "the most harrowing four months" of the Depression, when the US economy had hit rock-bottom.2 According to historian David Kennedy, African-Americans during the Depression represented one-fifth of the people on federal relief, approximately twice their population percentage at the time.3 That the 1933 NNL was able to get off the ground during these difficult times for all Americans (but especially for the black population) is a testament to the determination of the owners who were committed to re-establishing organized black baseball at a level at least comparable to the original Negro National League.
As referred to by the Negro Leagues Baseball Museum, the "Golden Years" of Negro League Baseball that began in 1933 with the re-established NNL and was augmented by a second competing Negro League, the Negro American League (NAL), starting in 1937, began to slowly close as the NNL ended operations after the 1948 season.4 The NAL, however, survived, with yearly fluctuations in the number of teams it fielded, through the 1950s. Many commentators consider 1960 to be the last year of the NAL's operations, but others point to limited activity among NAL teams through 1962.
This article is not meant as a complete history of the 30 seasons of Negro League competition through 1962; although references to the on-field performance of the NNL and NAL during this period will be made, along with the star players who populated the legendary teams in each league, the primary focus will be an examination of the often contentious business dealings of team owners within the NNL and NAL as well as the internecine conflicts between the two leagues for their 12-year coexistence. Although what follows will include yearly reports of winter and, when available, in-season meetings of the NNL, NAL, and joint meetings of the two leagues, it will also group the analysis into four distinct periods:
(Click on a link above to scroll down to that section of the article.)
The primary source material for this article is the black press; however, as referenced by several reporters and columnists who were frustrated by Negro League owner practices, the owners could be secretive about their boardroom discussions; this meant that sometimes the press reported that a meeting was upcoming along with the planned agenda but then did not cover the meeting afterward. Over time, though, this began to change, especially as those involved wrote their own columns describing conflicts between owners in self-serving ways.5 It is those columns, as well as several excellent secondary sources that have delved into Negro League operations and the correspondence and meeting minutes found in Newark Eagles owner Effa Manley's files that form the basis of this chronicle.
PART 1: BIRTH AND GROWTH (1933-1940)
Pre-1933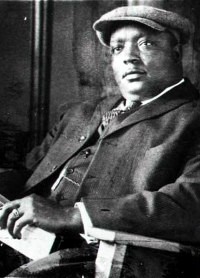 Even though Rube Foster, the founder of the first NNL in 1920, had ceased to be involved in its operations by late in the 1926 season due to his own mental breakdown, the league managed to survive — barely — through 1931.6 It did not take long, however, for "Eastern and Western cities east of Chicago" to plan a meeting in Cleveland for January 20 and 21 of 1932. The cities to be included in this meeting were New York, Newark, Philadelphia, Baltimore, Washington, Pittsburgh, Cleveland, and Detroit. A "Cuban team representative" was also expected, while Kansas City's Monarchs were there to join the league as an associate member.7 As an associate member, Kansas City would pay a smaller franchise fee and be included in league scheduling, but would not be counted in league standings and therefore could not play in any postseason games.8 The resulting league, named the East-West League, operated through mid-1932, when it also foundered despite the best efforts of team owners like Cumberland Posey of the Homestead Grays, J.L. Wilkinson of the Kansas City Monarchs, and Syd Pollock of the Cuban House of David.
In addition to the short-lived E-W League, 1932 saw a previously minor-league Negro Southern League (NSL) achieving short-lived major-league status. Though incarnations of the NSL existed prior to 1932, they were exclusively constituted by Southern teams; in 1932, in addition to the Monroe, Louisiana, Monarchs, Louisville Black Caps, Nashville Elite Giants, and teams in Houston, Birmingham, and Pittsburgh, the last of which was an associate member that quit before the end of the season, the league included former NNL teams like the Chicago American Giants, the Indianapolis ABCs, and the Cleveland Cubs. Unlike the E-W League, the 1932 NSL struggled through a fragmented second half to a conclusion culminating in a "World Series" between NSL champion Monroe and E-W League member Pittsburgh Crawfords.9 The loose, ragged nature of league competition in black baseball in 1932 raised a very simple question: What league or leagues, if any, would there be in 1933?
1933
The remnants of the aborted E-W League and the non-Southern 1932 NSL teams met in the first months of 1933 to see if the NNL could be revived. For one thing, as pointed out by Chicago Defender writer Ben Diamond, those Northern teams that played in the NSL in 1932 learned a lesson — that it was futile to "cram inter-sectional games down the throats of 'up North fandom.'" Those fans, Diamond suggested, felt that the South "comprises minor league territory and you cannot make them see it differently."10 Instead, by the end of 1932 there had already been two meetings including the Northern NSL teams, other E-W League teams, former NSL team representatives, and only one Southern team (albeit one that was reportedly considering moving North), the Nashville Elite Giants.11
And faithful reporter and former player and soon-to-be NNL manager of the Columbus Blue Birds William "Dizzy" Dismukes let it be known in the year-end edition of the Pittsburgh Courier that an organizing meeting of the new league, the first meeting of 1933, would be held in Chicago on January 10, 1933.12 Dismukes had some strong opinions about what ailed the prior Negro Leagues, and what was needed going forward. For one thing, he believed that the new league should pick among its owners a single league president or a three-man commission, as hiring an outsider he deemed to be unaffordable. This viewpoint foreshadowed a repeated battle between changing ownership factions who favored an insider as league head and other factions who favored a theoretically unbiased outsider non-owner as the league's chief executive.
Dismukes had other opinions — that there should be no salary limit on an owner's payroll, that a 5 percent pool from league receipts should be awarded to the new league's 1933 pennant winner since there would not be two strong leagues to play a season-ending World Series, and that player averages should be reported twice a month, among other things.13 Dismukes would get his say as he was chosen to be the secretary of the new NNL along with the league's statistician — he would be the one to report league averages — although he would eventually step down from this position to manage the short-lived Columbus team.14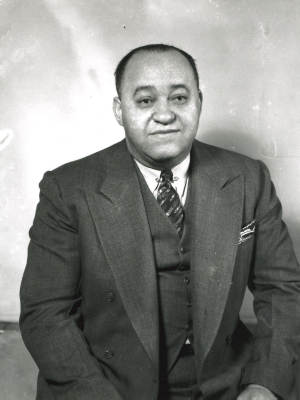 Meanwhile, William A. "Gus" Greenlee, owner of the Pittsburgh Crawfords, was chosen as the temporary chairman of the new incarnation of the NNL at the organizing meeting in Chicago.15 Greenlee had funded his operations — two hotels, the Crawford Grille restaurant, and his baseball team — through the illegal numbers lottery.16 But there was another side to the story — Greenlee was seen by the Pittsburgh black community as a benefactor, not a racketeer. There were countless stories of the help he gave poor black citizens, including operating a soup kitchen during the Great Depression.17 According to Negro Leagues historian Jim Overmyer, the funding derived from "numbers bankers" who enabled the "launching [of] a league in the teeth of the Depression. As Rufus Jackson's widow told an interviewer in Pittsburgh in the 1960s, "Well, of course they were involved — they were the only ones with any money."18 Rufus Jackson later was recruited by Greenlee's "very bitter baseball rival" Cum Posey to fund the operations of his Homestead Grays, while other numbers operators like Alex Pompez and Abe Manley later became owners of the New York Cubans and Newark Eagles, respectively.19
It is fair to conclude that Branch Rickey's later characterization of Negro League baseball as a racket, in order to justify his signing of Jackie Robinson without compensation to his Negro League team, the Kansas City Monarchs, was based in part on the illegality of the numbers operations engaged in by owners like Greenlee and Pompez. Rickey, however, was willing to partner with Greenlee in the development of the United States League (USL) when it suited his purposes, as Rickey's involvement in that league provided a subterfuge for his scouting of black players for Brooklyn. In the end, as Overmyer pointed out, the illegality of numbers games at that time was by state statute — whereas today, state governments make money through the lottery, a modern version of the numbers lottery.20
In the February 11, 1933, edition of the Courier, columnist W. Rollo Wilson reported that chairman Greenlee had recently met in Philadelphia with Eastern owners including teams from Philadelphia, New York, Baltimore, Washington, Harrisburg, and Newark to form an Eastern division of the new league who would play primarily within their division with some lesser number of games to be played against the "West division," culminating in a "world's title" match at season's end.21 Several of these teams, including Philadelphia, Baltimore, New York, Newark, and Washington, were represented by proxy at a February 15 league meeting held in Indianapolis, with one more meeting scheduled prior to the league's commencement for schedule-making.
The Eastern division of the 1933 NNL never materialized; according to author Neil Lanctot, Greenlee "abandoned a tentative plan for a separate eastern league after encountering resistance and a general lack of enthusiasm."22 Already, tensions between ownership factions were evident, as can be seen by contrasting reportage from "Eastern" (in this case, Pittsburgh) and Western (Chicago) sources. Rollo Wilson's Courier column of March 4, 1933, praised Greenlee as having the makings of a good president. Wilson suggested that Greenlee was anointed permanent chair of the NNL due to his hard work as the temporary head, spreading the word in various cities of the new league's advent. Wilson extolled Greenlee for the building of Greenlee Park in 1932 and for the force of his vision and willingness to spend to achieve it.23
Meanwhile, in a more oblique piece, Al Monroe of the Chicago Defender, in his "Speaking of Sports" column of February 25, 1933, questioned why the East was put in "direct control of the league even though its idea was conceived and its first meeting arranged by and in the West."24 While conceding that the East had more experienced hands for running the ship of the NNL, Monroe also cast a wary eye backward to the failed E-W League operations of 1932 and saw a "mark of similarity" in the 1933 setup. If, Monroe said, the leadership did what they promised, success would ensue but the West had valuable resources ("players and managers") that must also be employed if this league would echo the success of Chicagoan Rube Foster's first NNL. Monroe therefore felt that the newly constituted NNL should be led but not dominated by Pittsburgh's Gus Greenlee and Homestead's Cum Posey.25
But enough of the machinations of power; let's talk business. At the Indianapolis meeting on February 15, all the league officials and some of the member teams were finalized. It was announced that Cleveland would not be able to field a team due to its inability to find a ballpark in which to play its home games. Meanwhile, Detroit's owner John Roesink was picked as a league member with Negro League great Bingo DeMoss to manage the team. Columbus, Ohio, was also given membership, and Cincinnati was voted an associate membership "to take care of the jumps from the East to the West."26
The unnamed columnist who wrote the Defender's other February 25, 1933, column on the Indianapolis meeting of February 15 also reported (and editorialized) that "there was plenty talk of trades but little was actually done."27 Although trades did occur at various Negro League meetings during the 1933-to-1962 period, it was more often the case that talk occurred without moves being made. In this case, new NNL president and Crawfords owner Greenlee could have pulled off a bombshell — he reportedly offered none other than Satchel Paige to the Nashville Elite Giants for pitcher Jim Willis but Nashville owner Tom Wilson "balked at the thought of sending this favorite of Nashville fans elsewhere."28 As it turned out, both Paige and Willis were picked for the inaugural East-West All-Star Game that summer of 1933 although neither pitched in the game. For Paige it was the first of numerous All-Star berths, culminating in his appearance in the penultimate East-West Game on August 20, 1961; for Willis, it was his only time to be picked for the team. Clearly, Paige was in the early stages of establishing his stardom, while Jim Willis had reached his peak. For Greenlee, this was evidence supporting the baseball bromide that "the best trades are often the ones you don't complete."
As we shall see, more team maneuverings in and out of the fledging league were to come, presaging a 30-year history of such offseason — and inseason, at times — franchise additions and deletions. But at this formative NNL meeting, league officials Dismukes, James Taylor, and Robert Cole, owner of the Chicago American Giants, were chosen as secretary, vice chairman, and treasurer, respectively. Now permanent chairman Greenlee was still angling for an Eastern division; he reportedly met with several Eastern owners for a two-hour conference in the days prior to a final preseason "Negro National Association" meeting in Detroit on Saturday, March 11.29 According to Rollo Wilson, the uncertainty of Sunday baseball in Pennsylvania meant that schedules would not be finalized until early April but meanwhile, Greenlee was talking with Ed Bolden, John Dykes, Otto Briggs, and other Eastern club owners as well as the Baltimore Black Sox and Ben Taylor's Baltimore Stars and the New York Black Yankees.30
The Chicago Defender's March 18, 1933, column reported on the March 11 meeting, omitting any mention of the Eastern teams, instead recounting that club owners from teams in Indianapolis, Chicago, Detroit, Pittsburgh (both Crawfords and Grays), Columbus, and Nashville were present and a tentative final schedule for the league's initial weeks was announced, as well as that of the various Southern spring-training sites and some players and managers on each team. Notably, future Hall of Famers Willie Wells, Turkey Stearnes, and Mule Suttles were announced as having signed with the Chicago American Giants; speedster James "Cool Papa" Bell was retained by Gus Greenlee: and "Gentleman Dave" Malarcher, Bingo DeMoss, and possibly Clint Thomas were reportedly going to manage Chicago, Detroit, and Columbus respectively.31
According to Neil Lanctot's seminal history of Negro League Baseball as a business institution, "a bizarre series of franchise shifts occurred soon after the outset of the season in May."32 What it boiled down to, according to Lanctot and the black press, was that the original Detroit franchise's unpopular white owner, John Roesink, withdrew before the season's commencement, but after one game with weak attendance in Indianapolis, the ABCs of that city moved to Detroit but were largely replaced there by the Chicago American Giants, who, having been forced out of Schorling Park in Chicago, relocated to play at Perry Field, home of the (white) minor-league Indianapolis Indians, after playing a few games at Mills Field in Chicago that were unsuccessful financially. However, the now Indianapolis-based team still wore Chicago American Giants uniforms.33 And, to add to the confusion, in late May a seventh team, the Baltimore Black Sox, was added to the league.
There was clearly a need for a midseason meeting to sort out who was still viable to play the second half of the season. The meeting was held on June 23 at Greenlee Field in Pittsburgh. As reported in the July 8, 1933, edition of the Norfolk Journal and Guide, six of the seven teams were represented at the meeting, the glaring exception being the Homestead Grays. Neither Grays owner Cum Posey nor any other representatives of the team appeared to defend themselves against changes "involving violation of Section 7 and Section 28 of the Constitution."34 Apparently, the membership (absent the Grays) voted unanimously to expel the Grays because they allegedly "acquired" Binder and Williams from Detroit without Detroit's permission. This was not the only charge raised at this meeting but it was the most important and most divisive. There were other player disputes between Baltimore and Nashville and between Columbus and nonleague team, the Kansas City Monarchs. And, as befits a fledgling league still figuring out how to operate, "methods of reporting and collecting fees, advertising changes and cancellation of games preceded the work of the schedule makers."35
The Grays were now banned from the league's second half but the argument about who caused the rift between the league and Posey and indeed whether Posey withdrew from the league prior to being suspended was waged in the black press for weeks to come.
More importantly, the black press and Greenlee were involved in a major development for the future of Negro League Baseball — the creation of an annual All-Star game which became the signature event of Negro League Baseball. What is undisputed is that the East-West Game did not originate at a meeting of NNL owners. The story of how the game originated is disputed; bitter rivals Posey and Greenlee each placed themselves in prominent roles in its conception, but it is generally acknowledged that sportswriter Roy Sparrow of the Pittsburgh Sun-Telegraph was the "driving force behind the game" and Bill Nunn of the Courier was instrumental in its realization; alternatively, some sources report that black Cleveland sportswriter Dave Hawkins claimed to have inspired Greenlee and Cole by staging a game in League Park, home of the Cleveland Indians, between Eastern power Pittsburgh Crawfords and Western power Chicago American Giants.36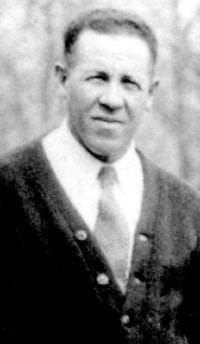 On the eve of the 10th East-West Game, Cum Posey, in his regular Courier column called "Posey's Points," recounted his version of the story — that he had invited sportswriters Sparrow and Nunn to a meeting at Pittsburgh's Loendi club to discuss an idea of Sparrow's that "two All-Star Colored Teams feature the Annual Milk Fund Day at Yankee Stadium, New York City." According to Posey, in the discussion "we suggested that the Milk Fund idea be forgotten and a game be staged at Yankee Stadium between the star players of the North versus the Star players of the South."37 Supposedly, when Greenlee heard of this from Sparrow and Nunn, he changed both the venue and the name by enlisting Robert Cole of the Chicago American Giants to establish the game in Chicago's Comiskey Park as an East-West game, with Nunn and Sparrow helping to promote it. According to historian Lanctot, Greenlee then paid for an exorbitant ($2,500) rental of Comiskey Park which was essential in making the event happen.38
What is particularly remarkable in Posey's 1942 column is his parenthetical statement that Greenlee "was a very bitter baseball rival of everything and persons connected with the Homestead Grays" as he explained why Greenlee purportedly changed the game's name and venue.39 Was the Posey of 1942 also remembering nine years later that Greenlee as NNL chairman banned the Grays from participating in the second half of the 1933 NNL around the same time of the conception of the East-West Game? In a July 8, 1933, letter published in the Courier, Posey claimed that rather than being expelled from the NNL, the Grays had withdrawn from the league because President Greenlee restricted league teams to getting 35 percent of gross receipts for league games, with 5 percent going to the league, when Posey had never accepted less than 40 percent.40
In a column headlined "Cum Posey's Pointed Paragraphs" appearing in the Courier a month after the just-mentioned letter, Posey expanded his charges against the league, now stating, "[W]e came out of the Negro National Association because it was not a fair league and was handled to a great extent under the sinister influence of the booking agent of the East. All we need at the head of an association of colored baseball clubs is a man with courage enough to fight for what is due the owners of colored clubs."41 Posey was now contending that booking agents Nat Strong and Ed Gottlieb were strong-arming his team and others by insisting on 5 percent of the receipts of any league game between Eastern and Western clubs (Gottlieb) and blocking games from being played at Yankee Stadium (Strong). Posey obliquely alleged that these actions not only benefited Gus Greenlee's Pittsburgh Crawfords but also by extension the Columbus Blue Birds and Baltimore Black Sox, who stopped playing league contests and booked games independently in the second half of 1933.42
So what really happened at the league's June 23 business meeting at Greenlee Field? One firsthand account by a participant in that meeting was reported. After Dizzy Dismukes relinquished the NNL secretary's job to manage Columbus, John L. Clark took that position. Admittedly not an objective observer, as he was a Crawfords official as well, Clark nonetheless provided a detailed description of how and why the league expelled Posey while meeting at "Greenlee's Gardens." Clark charged that Posey's "case" was a subterfuge for his intention to a) appropriate players directly rather than legitimately acquire them from other league clubs and b) cancel league contests without notice.43 It is a minor point, but still worth mentioning, that Clark explains why the meeting was held at Greenlee Field, arguably enemy territory for Posey, rather than a more neutral site. According to Clark, the meeting was originally scheduled for 10 A.M. at Center Avenue YMCA but was changed to 1:30 P.M. at the offices at Greenlee Field because several league members were not able to reach the city for the earlier scheduled time and location. In addition, Clark carefully documented that the meeting was not a "special session to pass decision of an unfaithful member" — rather, it was called primarily to draft a schedule for the season's second half and before charges were telegraphed by Greenlee to Posey on June 21 that Posey had taken players Binder and Williams without permission from or compensation given to Detroit. Clark further states that Posey had been requested to attend, but after five other items of business were taken care of, Posey's actions were deliberated without his presence. It was then contended by Chicago at the meeting that Posey had canceled upcoming scheduled league games with them on June 24-26 at Greenlee Field and that his actions were eroding the goodwill of the public.
In Clark's account, after a unanimous vote to expel the Grays at the June 23, 1933, meeting, Posey did appear but failed to satisfactorily explain his actions and evaded direct questions. Clark editorialized that Posey was against league play largely because he did not control the league. But Clark did present the argument that Posey left for financial reasons, with league-mandated player and salary limits having "a great deal to do with Posey's kidnapping of Binder and Williams."44
Whether one chooses to believe Posey's version or that of Clark (or a little of both), any observer, contemporary or in retrospect, should realize that a pattern had been established. Not only would Posey and Greenlee largely remain at loggerheads, but fierce battles, with accusations of league violations and decisions to expel teams and/or for teams to declare that they were abandoning the league schedule, would be common throughout the 30 seasons of Negro League play starting in 1933 and ending in 1962. Although there were certainly such issues (and many others) in the prior incarnation of the NNL, league President Rube Foster was such a powerful and revered figure that his rulings tended to be respected and followed. There are many reminiscences in the black press about the "halcyon days" of the 1920s and the founding fathers of league play, indicating that many scribes found the ongoing ownership battles in the successor leagues to be tiresome, divisive, and destructive not only to league operations and league success, but also to the larger cause of promoting black athletics with an eye toward eventual integration into white major league operations.45
In the final analysis, the 1933 NNL season was a limited success. Only three teams — Nashville, Chicago/Indianapolis, and Pittsburgh — completed the entire season. The first East-West All-Star Game was played with the West prevailing, 11-7, but seven of the 14 who played for the East were from the Pittsburgh Crawfords, and seven of the nine West players were from the Chicago American Giants. Attendance for the game has been variously reported as 19,568 and about 12,000, a pretty good turnout for the times and for a league limping along to the end of its inaugural season, but far less than several future East-West Games.46
Not only did the Homestead Grays, Columbus Blue Birds, Detroit Stars, and Baltimore Black Sox abandon (or in the case of the Grays, were also suspended from) league play, but top teams like the Kansas City Monarchs, the Philadelphia Stars, the New York Black Yankees, the Newark Browns, and the New York Cubans never joined the league. Additionally, there was a short-time member of the 1933 NNL, mostly in the season's second half, called the Akron Black Tyrites, who were 2-9 in league play.47 Chicago protested a game played against Baltimore and when the protest was upheld, they won the league's first half by one game.48 The second half was apparently a muddle — down to only three teams, Chicago was eliminated as a second-half contender as a compromise resulting from confusing and competing claims by Nashville and Pittsburgh regarding games each wanted counted in their favor as forfeits by disbanding teams. According to the September 27 edition of the New York Amsterdam News, Nashville and Pittsburgh were to play a five-game series, and the winner of that series would play Chicago for the 1933 league championship. This author has found no mention of any of those preliminary or championship games being played.
There was hope, though, for 1934. Even in Cum Posey's "Pointed Paragraphs" of August 12 in which he lambasted the NNL's white booking agents while he indicated that a stronger league leader than Greenlee was needed, Posey stated, "Colored baseball in 1934 will start on the upturn."49 And Rollo Wilson, while noting that in his opinion the booking agents were against league baseball, seemed to believe that in 1934 the NNL would succeed where it failed in 1933 with a new alignment, including Eastern teams in New York and Philadelphia. "Next year," Wilson said, "always brings something new and better to some few…."50 Which "few" would they be?
1934
At the end of 1933, it was hardly clear whether the wind was blowing in the direction of an established NNL that would continue operations in 1934 and beyond, or back toward an array of independent clubs like the Monarchs, Grays, and Philadelphia Stars and loose confederations like the NSL existing in an uncertain black baseball universe. After all, recent history involved aborted one-year leagues — the ANL and the E-W League did not survive beyond 1929 and 1932 respectively. Given the way the 1933 NNL season petered out, with only three of seven clubs finishing the season and no apparent postseason playoffs, what indications were there of a sustained NNL?
On the one hand, you had a successful start of an all-star franchise in the inaugural East-West Game; on the other hand, the Pittsburgh Courier reported that the Nashville Elite Giants, Chicago American Giants, and Pittsburgh Crawfords had very little communication between them during early winter of 1933-34.51 According to the Courier, it was believed that the NSL would operate in 1934 but it was unclear whether that three-team NNL nucleus could join with other Eastern clubs and/or Western clubs to form a circuit, while it was doubtful that all three regions would form a complete confederation. The "moguls" behind all the clubs were operating in secrecy, but it was at least known that a January 13, 1934, meeting in Pittsburgh was planned. The invitation list constituted 12 teams from the East, West, and South which did not even include the Homestead Grays and representatives of Dayton, Columbus, Indianapolis, and Akron.52
The turnout was limited to Cum Posey, who was not formally invited but received an oral notification from Chairman and fierce rival Greenlee, and apparently, Greenlee himself and Prentice Byrd of the Cleveland Red Sox attending.53 The 1933 league secretary (and Crawfords employee) John Clark called this meeting discouraging, as the lack of turnout indicated a desire by most potential league members to wait and see what developed.54 Posey, on the other hand, seemed to think that the league had potential if Philadelphia, Baltimore, and Newark, who had their own parks and who had owners with experience in Ed Bolden (Philadelphia), Joe Cambria (Baltimore), and Harry Passon (Bacharach Giants, formerly of Atlantic City but now playing in Philadelphia), could be included in the league. Otherwise, Posey planned for the Grays to continue the independent status they assumed when they were expelled in the second half of the 1933 season.55
Most importantly, however, Greenlee declared at the January meeting that there would be a subsequent league meeting on February 10 in Philadelphia. At the February meeting, six clubs attained full membership in a planned 1934 league — the three-team nucleus of 1933, the Cleveland Red Sox, Ed Bolden's Philadelphia Stars, and the Newark Dodgers. Bolden objected to there being another Philadelphia team in the league (Passon's Bacharachs), believing that he could not succeed with intracity league competition, and his wishes were granted. He did not succeed, however, in convincing the other owners that a good-faith financial deposit (also called a franchise fee or forfeit) was unneeded. Meanwhile, neither the Grays nor Cambria's Baltimore Black Sox were admitted to the league, in the latter case because he did not attend this meeting.56
Although little of substance was accomplished at the February 10 meeting, two important steps were taken — 1) a third league meeting was announced for March in Philadelphia at which a schedule of playing dates was to be decided upon; and 2) 1933 Chairman Greenlee requested that Rollo Wilson operate as chair when the new league members were voted on.57
On March 10 and 11, the newly reconstituted league did in fact meet and chose Courier writer Wilson to be the commissioner of the NNL, although Greenlee was still voted chairman of the board, with Tom Wilson, owner of the Elite Giants, as vice chairman, John Clark as secretary, and Robert Cole as treasurer. According to sportswriter Randy Dixon, the choice of Wilson to head the league deserved high praise, as Dixon believed that Rollo had stellar credentials: "His long experience as a critic and follower of colored baseball, his keen insight of the game, and his wide acquaintanceship and contacts makes him ideally suited to the position."58 Author Neil Lanctot indicated that it was commonly viewed that Wilson, who was an experienced operative from prior Negro Leagues and who was seen as impartial, could successfully arbitrate league disputes and counteract perceived bias in Gus Greenlee's 1933 league operation.59
— New York Amsterdam News, March 17, 1934
And disputes there were — immediately, Wilson became the judge of conflicts between the Homestead Grays (who were made associate members at the March meeting) and the Pittsburgh Crawfords over outfielder Vic Harris and catcher-infielder Leroy Morney, while pitcher Ted Trent was claimed by Chicago and the New York Black Yankees (who were still being debated as potential associate members). Meanwhile, at the meeting a schedule was adopted, with the season to be split into halves — the first half to be played from May 12 through July 4, and the second half ending September 9, to be followed by a playoff between the winners of each half-season. And the Negro Southern League, represented by Nashville owner Tom Wilson at this meeting, agreed to be a farm system for the NNL as NNL clubs could buy NSL players "on a trial basis" with the player chosen returning to the NSL club if he did not succeed in the higher league.
The final preseason meeting of 1934 was held in Pittsburgh on April 14. Along with routine business (booking issues, forfeit fees, authority for disbursements granted to league Secretary Clark), the few members present witnessed "representative" Nat Strong withdraw the application of the New York Black Yankees for membership and rejected Baltimore's application as they again did not appear at the meeting.60
But Cumberland Posey was not satisfied with his team's associate status. He still chafed about not being officially invited to the initial 1934 meeting, and he also was greatly dissatisfied with the league's decision not to offer Harry Passon's Bacharach Giants league membership.61 League secretary Clark used his Courier column to answer Posey's "points" pointedly and at times, sarcastically. Clark simply said that Posey was left off the initial invitation list because of his actions giving rise to his team's expulsion in mid-1933 and that his other claims to players and criticisms of league choices on membership and on other matters did not merit equal consideration with opinions of full league members. Perhaps the league's biggest mistake, Clark sarcastically opined, was not picking Posey to be league commissioner, as "everybody has been 'picking' on the Homesteader ever since."62
Was it true, as Clark claimed, that Posey wanted that "his every claim should be honored, his views accepted without modification"?63 Not according to Posey. In his view, the well-intentioned commissioner Wilson was being undermined by the power-hungry league secretary Clark, who, he believed, had no right to decide matters like disputed playing dates between clubs or even whether an associate member like the Grays had as much right to consideration as did a full member. Meanwhile, his rival Greenlee was being "strong-armed" by Nat Strong, white booking agent and part-owner behind the scenes; African-American James Semler was the public franchise representative of the New York Black Yankees.64 The result, according to Posey, was a league without monthly financial reports and an independent commissioner who could not stop the Crawfords from operating the league in their own best interests. 65
Despite all the vitriol, the league finished its first half without losing any members. And, in a midseason meeting held in Philadelphia on June 28 and 29, right before the first half ended, the league expanded, adding the Bacharach Giants and Baltimore Sox as full members for the league's second half. Commissioner Wilson, in his June 30, 1934 Pittsburgh Courier column, indicated that the main order of business at this meeting was to settle on a second-half schedule but that "certain warring owners" would need to peacefully settle their disputes.66 Settlement of the main battle, between Posey and Greenlee, was not going to come easily. During the meeting, Posey's "money man [and numbers man]" Rufus "Sonnyman" Jackson, turned down an opportunity for full membership for the Grays that was ostensibly offered by the other teams. Secretary Clark, in his July 14 Courier column stated that Commissioner Wilson put membership discussions ahead of the "regular order of business" to bring about harmony and to "perpetuate organized policies in Negro baseball."
In the end, according to Clark, Jackson turned down membership while his co-owner Posey's agenda — which, of course, included removing columnist Clark from his league secretary position — was turned down flat by the league.67 Nevertheless, both the Atlanta Daily World and the Chicago Defender gave mostly positive reports of this meeting and the status of the league. The World characterized the meetings as "for the most part, amicable with the owners disposed to give and take."68 Meanwhile, the Defender opined that "although the league machinery has not operated smoothly, it is a distinct improvement over performances of 1933."69 Arguably, Posey's repeat performance was no worse and perhaps less disruptive to league operations than that of 1933; and adding rather than subtracting teams constituted distinct progress.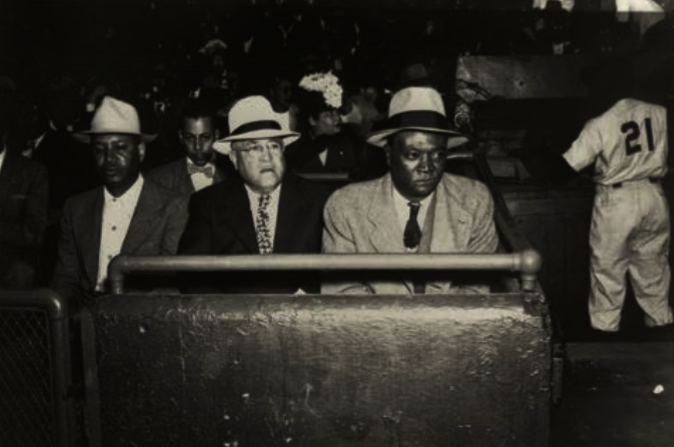 Pittsburgh racketeer Rufus "Sonnyman" Jackson (at right) provided Grays' owner Cum Posey with the money he needed to lure many of the Negro Leagues' best players to Homestead in the 1930s and 1940s. (Noir-Tech Research, Inc.)
The second half of the 1934 season had its fair share of successes, failures, and ultimately, disputes. The second East-West Game followed up successfully from the first one in 1933 with over 25,000 fans, up considerably from the attendance at the inaugural event, seeing East defeat West by a 1-0 score.70 The league also staged a four-team doubleheader at Yankee Stadium on September 9 before over 20,000 fans, with the Chicago American Giants defeating the New York Black Yankees 4-3 in the first contest and Satchel Paige dueling Stuart "Slim" Jones to a 1-1 tie in the second game.71 The American Giants, first-half pennant winner, played the second-half pennant-winning Philadelphia Stars for the league championship. The seven-game series, which ended with the Stars winning 2-0 in Game Seven to take the Series four games to three, was marred by a series of protests, with Chicago saying that Hall of Famer Jud "Boojum" Wilson should have been ejected from Game Six for striking umpire Bert Gholston, and both teams protesting Game Seven.72
Nevertheless, columnist Ed Harris of the Philadelphia Tribune generally praised the league for its two "spectacles of sufficient proportion" (the Yankee Stadium doubleheader and the East-West Game) while noting that the league's biggest challenge was that it needed to book nonleague games to maintain its profitability, thereby undermining the integrity of the league schedule.73 And columnist Romeo Dougherty of the New York Amsterdam News praised Greenlee for his successes in staging games in New York while suggesting that the best future path for the league would be to add two New York teams and form an Eastern association with Greenlee as president and have a Western association based in Chicago, with the league champions playing each other at the season's end for a national championship. The ambivalent fortunes of the league are captured well by Dougherty's statement near the end of his column that he was "looking forward with anxiety (emphasis added) to the meeting of the National Negro Baseball League in January.74
Before that January 1935 meeting, however, the league had one final abortive session in 1934. In it, only league treasurer and Chicago owner Robert Cole, Chairman Greenlee, and Posey and Jackson of ineligible-to-vote associate member Homestead appeared. The meeting was supposed to resolve the Game Seven protest as well as have members pay off their league obligations. When 5 o'clock came and went without any other members appearing, Greenlee expressed the opinion that league business could be conducted, including bill payments. Treasurer Cole refused to "sign a single check until all members were present — adding that there were several matters that he wanted to be clear on." Clearly, Cole was dissatisfied about the failure of his league to rule on his team's protest — and eventually, the protests by both teams were thrown out and the Stars were awarded the 1934 league championship.75
1935
Although 1934 was a successful year compared with 1933, NNL Commissioner (but not for long) Rollo Wilson admitted that "few, if any clubs made any money" while Chairman Greenlee cautioned that "in spite of the success of 1934, we have not arrived."76
One potentially lucrative opportunity beckoned. Although the NNL played two successful doubleheaders at Yankee Stadium in September of 1934, the second one interrupting the league championship series, they did not have any New York area teams represented in the 1934 NNL.77 According to Neil Lanctot, NNL Chairman Greenlee realized that the Eastern market provided better moneymaking opportunities than did the Midwestern ones, in large part because of the sizable black population in the Washington-New York corridor.78 In addition, the Atlanta Daily World, in reporting on the upcoming initial 1935 meeting of the NNL on January 12, stated simply that Eastern clubs were reluctant to play in the West because "they almost lost their shirts when they made Western trips last year."79
But there was a potential roadblock in Nat Strong, the white powerhouse in the world of black and semipro baseball in New York City. Strong ran a booking agency which had a virtual monopoly on the New York baseball booking business, charging 5 to 10 percent of the gate receipts to book games in venues like Yankee Stadium and Ebbets Field while offering minimal ($500-$600) flat guarantees to black teams that played Sunday night games at Brooklyn's Dexter Park.80 Though it was clear that Strong would oppose it, the NNL nonetheless voted in November 1934 to add the Brooklyn Eagles to the 1935 NNL mix. The Eagles, owned by Abe and Effa Manley, were to play at Ebbets Field, thereby competing directly with games that Strong would book at Dexter Park.81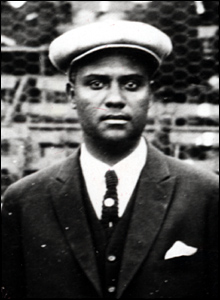 Suddenly and unexpectedly, that potential problem disappeared, and an even greater opportunity to expand into the New York market became viable because Nat Strong died of a heart attack on January 10. When the NNL met in New York shortly after Strong's death, the league voted to admit not only the Eagles but also the New York Cubans, owned by Cuban-American Harlem racketeer Alejandro "Alex" Pompez. The league was now a robust eight-team assemblage; in addition to the Eagles and the Cubans, the Homestead Grays were bumped up from associate to full membership, and Nashville, Pittsburgh, Philadelphia, Chicago, and Newark fielded teams as well.82
The January 12 meeting could be characterized as celebratory, even though the proceedings were "chilled a bit through the death of Nat Strong.83 While the league members voted unanimously to include the Cubans, they also dropped the Baltimore and Cleveland teams from the roster. Pompez then spoke, "declaring himself ready to spend $35,000 to make New York baseball-conscious as far as Negro baseball is concerned," with plans for enlarging and improving Dyckman Oval in Upper Manhattan as the Cubans' home venue. In addition to perfunctory league business such as Secretary Clark's 1934 report and scheduling and player salary discussions, there was a radio broadcast Saturday afternoon and a dinner for over 100 people at Harlem's Small's Paradise on Saturday night, with a concluding session for player transactions Sunday afternoon.84
— Atlanta Daily World, January 23, 1935
The league got down to business in a three-day confab held in Philadelphia from March 8 to 10. The league's managers chose eight umpires out of 24 applicants for the 1935 season, including the umpires who worked the protested games of the 1934 league championship. They also submitted their player lists, with only a couple of players being claimed by more than one club, meaning that player disputes were at a minimum. As usual, a great deal of time and energy was devoted to scheduling, characterized by Cum Posey in his March 16, 1935, Courier column as "a matter of give and take all the way with a desire shown by all the members to aid the new clubs in their home cities."85
The bombshell revelation of this meeting, however, occurred on Sunday night when it was revealed that 1934 Commissioner Rollo Wilson was voted down for the 1935 post; instead Ferdinand Q. Morton — the first black person chosen to be a New York City Civil Service commissioner — was chosen to succeed Wilson.86 The choice was not unanimous, as Greenlee and Philadelphia Stars owner Ed Bolden still supported Wilson — but Robert Cole, still bitter about the controversial resolution of the 1934 league championship protests in favor of the Stars, and frequent Wilson (and Greenlee) critic Cum Posey joined the two New York teams in supporting Morton.87 All the other 1934 league officials, including Chairman Greenlee, were re-elected.
Also at this meeting, it was finally resolved that the 1935 lineup of teams would not include the Bacharach Giants (who had attended the January 12 meeting) and would therefore have eight teams, as the "surprise of the meeting was the inability of the Bacharach Giants of Philadelphia to post the necessary forfeit."88 All the other teams posted the necessary $500 forfeit, or franchise fee, a perhaps small but yet significant indicator of a newly established financial stability for the league.89
And then it all unraveled. This author has found no mention in the black press or in several secondary sources of any formal league meetings during the 1935 season, although presumably some contact between owners happened as traditionally the schedule for the league's second half would have been arranged during the season. But, according to Ed Bolden, the league was in conflict. Bolden was quoted in the Amsterdam News of August 31 as follows: "There is too much politics in the league and we are dissatisfied with the way its business has been conducted. … We intend to have a show-down at the fall meeting and rip things wide open."90 Unfortunately for Bolden, the league did not hold any fall meeting, even though Cum Posey pleaded for a meeting "so things could be ironed out."91 Posey and the other owners clamored for the return of their $500 forfeits while various league owners, including Gus Greenlee and new owners Pompez of the Cubans and the Manleys of the Eagles experienced financial problems, in whole or in part due to poor league attendance."92 The Cubans were successful on the field, winning the league's second-half pennant but losing to first-half winner Pittsburgh in an exciting seven-game championship series.93 Yet despite the successful postseason series, the future of the second NNL seemed to hang in the balance.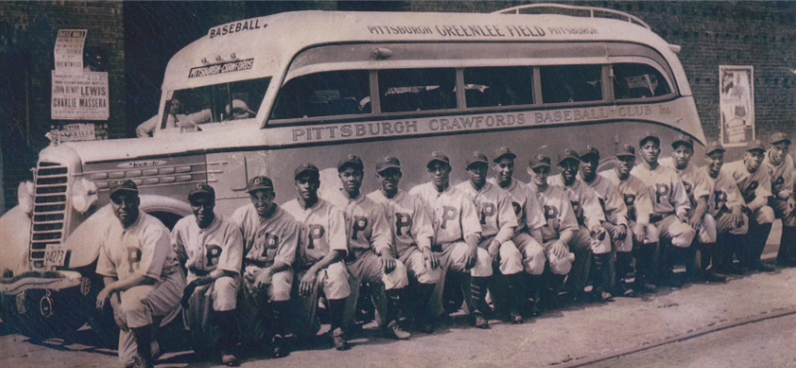 The 1936 Pittsburgh Crawfords traveled in style thanks to owner Gus Greenlee. (Courtesy of the National Baseball Hall of Fame Library)
1936
In the early days of 1936, Commissioner Morton called for a league meeting on January 10. Chairman Greenlee, however, was not planning to attend this meeting, and in the end it was not held. Since the nonmeeting followed the disarray and dissension of most of 1935, a fair characterization of the status of the league would be "in limbo" at best. Greenlee did finally call for a meeting that was held in Philadelphia on January 26 and 27. According to Courtney Smith's article covering the Philadelphia Tribune's reportage on the Philadelphia Stars from 1933-1938, Tribune writer Ed Harris was one of seven writers who attended but were barred from this meeting. In a January 16, 1936, Tribune article, Harris expressed surprise that the NNL moguls did not realize that canceling league meetings as they did on January 10 undermined the league's legitimacy. Now Harris expressed a belief that ownership's blocking of press coverage of league operations left the fans lacking information about the league and was a foolish way to alienate the fan base.94
Since media could not therefore provide an unfiltered report of the meeting, the fans got a measure of the current league plans that was part conjecture, part observation of the comings and goings of prominent individuals, and part leaked information along with some apparently announced league determinations. Conjecture – there is rampant displeasure with the current slate of league officers, including the commissioner: "[A] clean sweep in the personnel officers is forecast." Observation – Greenlee left the meeting early, at the end of the first day, and then switched places with Secretary Clark, who missed day one. Commissioner Morton stayed away on Saturday "but gave them a very limited amount of his time on Sunday." Leaked information – unofficial word that Greenlee offered his resignation as chairman to Commissioner Morton while "varied opinions on the financial health of the body leaked out to the pressmen." Apparent announcements – Newark Dodgers owner Charles Tyler sold his team to heretofore Brooklyn Eagles owner Abe Manley, while Manley's Brooklyn Eagles were "thrown back into the lap of the parent body" and New York Black Yankees owner James Semler applied formally for membership but the league deferred a vote until a planned March 7 meeting. Conclusion? "Members of the Negro National League deferred until March 7 many important matters which intrigue the diamond fans of the country."95
Echoing Harris, this was no way to engage the willing but often impoverished black fan base. So Candy Jim Taylor, manager of the Nashville (soon to be Washington) Elite Giants, spoke out. In a February 15, 1936, Defender column Candy Jim criticized the magnates: "[A]fter waiting all winter to call the meeting there was little done to get the clubs together and to get the fans interested."96 Taylor felt that many leaders of black baseball from its earlier days were missed — some like former manager C.I. Taylor, his older brother, and Rube Foster, had since passed away, but others like J.L. Wilkinson, owner of the independent Kansas City Monarchs, and St. Louis Stars owners Dick Kent, L.A. Brown, and G.B. Key, he thought should be invited to a general baseball conference. Finally, Candy Jim raised a sore point that would continue to be harped on throughout the history of Negro League operations: he suggested that the NNL pick a non-owner of a club, perhaps a sportswriter, as league president, pay him a salary and expect him to use his connections to publicize the game.97 But why should the wise ownership of NNL franchises follow such eminently good advice?
— Chicago Defender, February 15, 1936
Instead, the Defender reported in its February 29, 1936, edition that Chairman Greenlee would reconsider his resignation and remain NNL president.98 But they were wrong. At the March 7-8 meeting, Greenlee did indeed resign as president and "Chief" Ed Bolden was chosen to replace him. Commissioner Morton was retained for another year. But Abe Manley was chosen as vice president, with former VP Tom Wilson shifting to treasurer, replacing Robert Cole, who had remained league treasurer in 1935 even though he sold his interest in Chicago in mid-1935. Since new American Giants owner Horace Hall kept them independent in 1936, it clearly made no sense for Cole, no longer even affiliated with a team no longer in the league, to remain as treasurer — after all, officials outside of team employees were rarely involved in league operations! John Clark continued as league secretary.
Other decisions made at the March 7-8 parley included rejecting the Black Yankees' membership application, a determination to play another split-season schedule with a seven-game championship playoff between the winners of each half, and allowing Nashville to shift its operations to Washington and play at Griffith Stadium, the home park of the Washington Senators, while the now renamed and shifted Brooklyn Eagles would play in Newark's Ruppert Stadium as the Pittsburgh Crawfords and the Homestead Grays would play at Forbes Field, home of the National League Pirates.99
On June 18, 1936, the NNL held a midseason meeting in New York. The meeting followed private ones held between the now (Nat) Strong-less but still strong and independent Black Yankees, represented by African-American owner James Semler and white owner/booking agent William Leuschner (former partner of Nat Strong), and Commissioner Morton, in which the Yankees were persuaded to drop damage suits against Eagles owner Abe Manley and New York Cubans owner Alex Pompez for using players under contract to the Yankees. In the subsequent league meeting, the Yankees, "stormy petrels of Negro baseball," were finally made a full member of the league.100 This meant that, for the second half of the 1936 schedule, the league would have seven teams, with the Yankees joining the Nashville/Washington Elite Giants, Pittsburgh Crawfords, Homestead Grays, Philadelphia Stars, Newark Eagles, and New York Cubans in league competition.101
While mundane league business was also conducted at the June 18 meeting, including continuing the Worth baseball as the official NNL baseball, coming to terms with league umpires, and acknowledging a Homestead Grays protest of a May 24 game in Newark, the real league action was elsewhere. Though Greenlee was out as league chairman, Cum Posey was still at odds with him and league Secretary Clark. Posey refused to play his home games at Greenlee Field, resulting in no Grays-Crawfords contests during the league's first half. Meanwhile, a ruling that each league team had to play the others five times per half led to a dispute over the winner of the first-half pennant. In the end, the Elite Giants were declared first-half winner over the Philadelphia Stars but a "convoluted controversy" over rescheduling two Stars-Elites games was unsatisfactorily handled by Commissioner Morton.102
While the first-half controversy raged on, the Crawfords claimed the league's second-half crown. But the planned league championship series was canceled after the playing of only one game. A suggestion that the series be finished in the spring of 1937 was dismissed; meanwhile, Chairman Bolden expressed the opinion that "it is not mandatory that the two champions complete a World Series if it does not pay financially."103 Not only does this statement of Bolden's indicate that the league's disordered and disputed affairs affected fan interest, he preceded it in his Defender column by an even more disturbing statement: "[I]t is news to me that the Negro World Series has been abandoned."104 Did Bolden really not know what was going on in the league over which he presided?
1937
At the start of 1937, the NNL was in trouble. Philadelphia Tribune writer Ed Harris, a particularly strident league critic, had assessed the league thusly: "The league as a league is a flop. It seems that some of the teams in the group are in it the way some people are married — simply because it sounds nice."105 And the marriage was fractious — according to Posey, the seven members of the league as 1936 ended were arrayed as follows: three pulling one way and four pulling opposite."106
In addition, they would soon have Western competition. In early October of 1936, a "Negro Western League" had an organizing meeting in Indianapolis, with attendees choosing Major Robert R. Jackson as league head, Kansas City Monarchs owner J.L. Wilkinson as treasurer, and Chicago Defender sports editor Al Monroe as secretary. Eight cities were awarded league membership at this meeting: Kansas City, Chicago, Indianapolis, Memphis, Birmingham, St. Louis, Cincinnati, and Detroit.107
A second meeting was held in Chicago in early December where the league officials were formally installed, a scheduling committee was formed, and statements were made indicating that players who had gone East to play for 1936 NNL teams would be returned to their rightful Western owners in time to prepare for the coming 1937 inaugural "Negro National League."108 Was the Defender simply mistaken in labeling this new venture as a new "NNL," or were they expecting the 1936 NNL to cease operations — or were they harkening back to the original Western-based NNL of the 1920s by calling this new league the NNL and perhaps planning to refer to whatever Eastern association that continued in 1937 as the Negro National Association?
Despite its sagging fortunes, the NNL (Eastern variety) did hold a meeting on January 4, 1937, in Philadelphia. It was reported in one source that the NNL clubs were considering adding yet another New York club to the league, and were also interested in connecting with the nascent Western league, but neither of those initiatives would occur in 1937.109 Instead, the meeting "produced little action for the Negro National League," reported embattled Secretary Clark.110 Clark was himself taking action by declaring his resignation as league secretary effective at the end of January. Clearly, Posey's criticism of Clark's "double-dealing" (working for the league and the Crawfords simultaneously) had taken its toll, though why a secretary should be more unbiased than the other league officials, many of whom owned or worked for teams, remains puzzling.
Announcements involving the Grays, Crawfords, Cubans, and Black Yankees provided some hope that the most bitter disputes were abating, as the Grays said they would play 1937 games at Greenlee Field and the Black Yanks at Dyckman Oval, the home field of the Cubans. Additional news from the January 4 meeting included the announcement of a minimum ticket price of 35 cents for all league games, and that Commissioner Morton was running unopposed for another term and was simultaneously running for league chairman against Courier business manager Ira Lewis.111
A quick follow-up meeting in New York in late January decided the league officers for 1937. Commissioner Morton stayed on for a third term; instead of Ira Lewis, Leonard Williams, a reputed Pittsburgh underworld figure, was chosen chairman, with Elites owner and 1936 Treasurer Tom Wilson returning to the vice-chair position he held in 1934 and 1935 and Abe Manley, who had been vice chair in 1936, switching with Wilson and becoming treasurer. An important change from prior years (albeit one that was later rescinded) was the decision to play an undivided season from May 15 through September 15 — could this be an attempt to avoid another controversy like the previous year's dispute over the first-half winner? Various player trades were discussed, with some rejected and others still pending. Finally, what the Pittsburgh Courier described as a highlight of the meeting was a unanimous vote by the members to be covered by the Major-Minor agreement of Organized (white) Baseball. Baseball integration was not even a rumor at this point, but acquiring legitimacy by operating under the same structure as white baseball was a desperate hope of the struggling league.112
The NNL held its annual schedule-making meeting in New York in late March, a three-day affair punctuated by a blockbuster trade: The Crawfords sent legendary slugging catcher Josh Gibson and star third baseman Judy Johnson to their rival Homestead Grays for catcher Pepper Bassett, third baseman Henry Spearman, and $2,500, then sold pitcher Harry Kincannon to the Black Yankees for an undisclosed amount.113 Superficially, the first deal was an equal exchange of players at two positions, but the cash element augmenting the meager return of talent for two future Hall of Fame players along with the sale of Kincannon demonstrated that Greenlee was in dire need of funds. Meanwhile, with Leonard Williams having declined the chairman/president position, the league returned the Crawfords owner to his former position.114
During the 1937 season, two major developments threatened the league's viability. First, New York Cubans owner Alex Pompez had to leave the country to avoid arrest for his prior involvements in New York's numbers rackets. While Pompez cooled his heels in Mexico City, he left Roy Sparrow and Frank Forbes in charge of his franchise.115 At the same time, Dominican Republic dictator Rafael Trujillo commenced his raids on prominent Negro League players including luminaries Satchel Paige, Cool Papa Bell, and player-manager Martin Dihigo of the New York Cubans. Eventually, 18 Negro League players, many of them from the Crawfords and the Cubans, departed for the Dominican Republic in 1937, and by April, it was announced in the New York Age that the New York Cubans would not play ball in 1937, leaving the 1937 NNL as a six-team operation.116
The NNL did try to take action to either recover the Dominican jumpers or at least punish them and suspend them from the NNL for their actions, while gaining US government support in sanctioning the Dominican Republic. In its June 19, 1937, issue, the New York Amsterdam News reported that the NNL held a meeting in Philadelphia on May 27 for the purpose of condemning the raid of their players and to strategize about enlisting US government support in their efforts to get these players to return.117 Several NNL officials and Negro American League President R.R. Jackson did indeed meet with a State Department official, leading to a fruitless discussion with an emissary of the Dominican government, and the players did not return to the NNL in 1937.118
Meanwhile, the newly organized Negro American League (as it was now referred to by the Chicago Defender) met in late February of 1937 with its primary purpose being to prepare the league's schedule. The NAL planned a split season and a playoff between winners of its first and second halves. To show that the NAL was for real, league President Jackson "ordered all clubs to post forfeit money to guarantee good faith and to assure the fans that no combats will be canceled at any time."119 At the meeting, the NAL announced that Ted "Double-Duty" Radcliffe had been traded to Cincinnati by Indianapolis and hurler Thomas had been sent by Chicago to Detroit for an "infielder yet to be selected."120 The NAL completed its 1937 season with a five-game series between Chicago and Kansas City to settle a tie in the standings of the league's first half. Kansas City won the playoff, which included a 17-inning tie, in the second game, and the league decided that there was no purpose to having another playoff series, as the Monarchs had won the season's second half.121
Despite the suggestion mentioned at an early 1937 NNL meeting of maintaining contact with the NAL, the two leagues had player disputes and therefore did not develop much of a working relationship in 1937.122 The Monarchs, though, did play a nine-game series against a team of NNL pennant-winning Homestead Grays and second-place (in the season's first half) Newark Eagles players, with the Grays/Eagles taking seven of the nine games.123 As Defender writer Frank "Fay" Young editorialized, "I cannot see where it can be called a World Series."124 NNL President Greenlee chimed in by saying that the games were merely a promotion staged by the owners of the Newark Eagles and Homestead Grays and therefore not sanctioned by the NNL.125 Nevertheless, the series signified the beginnings of interleague competition at the end of the first year of a fledgling two-league black institution.
While the "World Series" was being played, the NNL held a final 1937 meeting in New York on September 27. Former NNL Secretary Clark characterized this meeting as of little moment. Clearly, ownership battles were evident. Clark reported charges being made by Posey and others that Greenlee refused to allow the Dominican contingent of NNL players to return to the NNL and also used some of these players himself in unofficial 1937 games.126 Would Greenlee be allowed to continue to lead the NNL in 1938?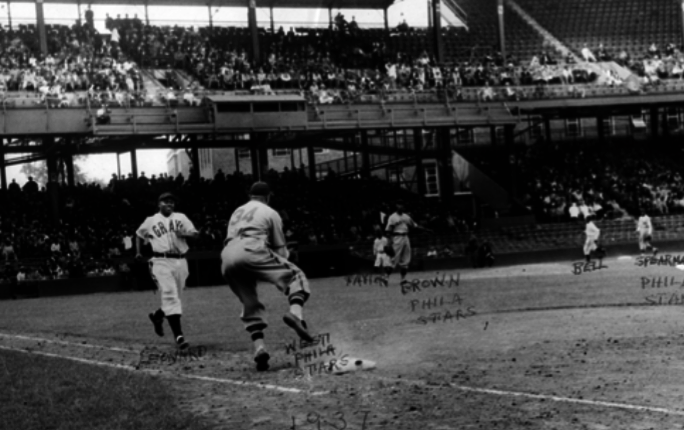 Buck Leonard tries to beat the throw to first base in a 1937 Negro National League game between the Homestead Grays and Philadelphia Stars. (National Baseball Hall of Fame Library)
1938
As the year started, the NNL was on very shaky footing. According to historian Lanctot, "[B]y 1938 numerous African-American sportswriters, owners, players and fans had begun to doubt whether professional black baseball could ever fulfill its potential as a profitable enterprise."127 Not only were the conditions of a continuing depression depressing fan turnout, but the weak financial conditions and limited business acumen of most NNL franchises also contributed toward maintaining a state of constant trouble in the league's attempt to remain viable. Figurehead Commissioner Morton called for the first 1938 NNL meeting to be held in New York in mid-January but, according to the Pittsburgh Courier, no one showed up. At least Greenlee could still get ownership to meet, which they did on January 28 and 29. In anticipation of the gathering, Greenlee maintained that the league, its teams and its players needed to operate in a more disciplined fashion, and salaries, which he claimed to be two-thirds of operating costs for the league's first five years, needed to be reduced.128
— Pittsburgh Courier, January 29, 1938
In the business files of Effa Manley, a document summarizing this January meeting was found. Following up on Greenlee's concerns, the six teams expected to form the 1938 NNL — Effa and Abe Manley's Newark Eagles, the New York Black Yankees, the Pittsburgh Crawfords, the Homestead Grays, the Elite Giants (who were in flux as to their location — which would explain the missing city next to their name), and the Philadelphia Stars were listed underneath a statement that "for the past seven years, Negro League Baseball has operated at a loss."129 The document went on to declare that salaries would have to be cut so that even greater losses would not occur in 1938.130
But this agreement aside, the league was still seen as fundamentally divided: "[T]he Nashville [Elite Giants] Philadelphia, Pittsburgh Crawfords were aligned against Newark, Black Yanks, and Homestead Grays."131 Not only the Defender, but the other leading black newspaper, the Pittsburgh Courier, perceived the ongoing conflict, describing it as "petty quarreling, underhanded moves, factional fights and differences, and failure to meet obligations."132 The NNL responded by electing a three-member board of Greenlee, Abe Manley and Thomas Wilson to head the league, and picked Cum Posey as secretary-treasurer. It was an attempt to bridge the gap between sides by picking two owners from each faction as league officials. In addition, the league declared efforts to reduce expenses other than salaries such as cutting down from six to three traveling umpires and attempting to eliminate the expense of middlemen by clubs doing their own promotions.133
On March 6 and 7, a final preseason NNL meeting was held in Philadelphia. Resolved — the league would consist of seven teams, including a new team in Washington called the Black Senators.134 Postponed — the appointment of a commissioner to preside over both the NNL and the NAL. The NAL had picked a commissioner, their 1937 Chairman R.R. Jackson, at an earlier NAL meeting held in Chicago on Saturday, February 19 and had sent J.B. Martin of the Memphis club to Philadelphia to nominate Jackson to oversee the operations of both leagues.135 After a heated debate, however, there was a deadlock in the NNL vote for commissioner between Jackson and Judge Joseph Rainey of Philadelphia. It had already been made clear that NNL Commissioner Morton was not under consideration for the job. There were many player sales and trades at this meeting, most notably involving pitcher Chet Brewer being sent to Washington from Pittsburgh and Judy Johnson also being obtained by Washington from Homestead — many of the transactions that were announced involving Washington as they were populating their roster. The league set a 16-player limit, and postponed a vote on a Buffalo team entering the league along with the choice of an NNL/NAL commissioner.136 And, most importantly, players on the disbanded (in 1937) 1936 New York Cubans were distributed throughout the league while the rights to players who followed Trujillo's siren song to Santo Domingo in 1937 reverted to their former teams as their suspensions were lifted.137 The players were supposed to pay fines, but they were never enforced, which led to criticism by fans and sportswriters of the league's lack of backbone.138
The Senators did not survive the 1938 season, disbanding in August; as Neil Lanctot described it, "[T]he failure of the Black Senators and yet another incomplete playoff series climaxed a nightmarish season for black professional baseball."139 As in 1937, no official NNL/NAL World Series was held; the Grays won both halves of the 1937 NNL season although the Cubans and Grays both claimed to have won the season's second-half pennant.140 The rumor mill was busy with speculation that Gus Greenlee would be held accountable for NNL failures and in particular for his poor handling of the Dominican jumpers and would be asked to resign.
The NAL met prior to the 1938 season in Chicago in mid-December 1937. They elected Major R.R. Jackson to a second term as league president, and chose J.B. Martin vice president, Defender sportswriter Frank "Fay" Young secretary, and J.R. Wilkinson of Kansas City treasurer. The NAL admitted the Atlanta Black Crackers and Jacksonville Red Caps as associate members at this meeting.141 When they reconvened on February 19, Atlanta had been raised to a full member, joining the Memphis Red Sox, Chicago American Giants, Indianapolis ABCs, Birmingham Black Barons, and the Kansas City Monarchs in a six-team circuit 142 The NAL decided not to include franchises from Detroit, Cincinnati, or St. Louis as their representatives failed to attend this meeting and put up forfeit money. Rather than including "weak clubs" in an eight-team league, the members felt that "six fast clubs" would be better for the fans.143 As far as postseason play was concerned, a two-game playoff was swept by first-half winner Memphis over second-half champion Atlanta.144
A joint NAL/NNL meeting was held on June 22, 1938, but did not solve the commissioner issue as the Eastern clubs, who met separately prior to the joint meeting, were now against electing one. What the leagues did agree on was "a set of rules by which both leagues could operate and respect territorial rights as well as forcing players to respect contracts."145 Would the two leagues respect this agreement in their actions or in the breach?
1939
First, though, the two leagues would have to decide upon whether they planned to continue as two leagues or instead merge into one league with two divisions, one in the East and one in the West, much like the original concept of the second NNL in 1933. On Sunday, December 11, 1938, at Chicago's Appomattox Club, the NAL held its now "regular December meeting" (for the third straight year!) with the principal topic of discussion being the configuration of 1939 Negro League competition.146 Faithful reporter Cum Posey's Courier column noted that the meeting, called to order by NAL President Jackson at "10:30 sharp (Negro National League owners, please take notice)" included re-electing 1938 NAL officers Jackson as well as Vice president J.B. Martin, Secretary Frank (Fay) Young and Treasurer J.L. Wilkinson, and Posey's own conveyance of an NNL proposal to merge into one league composed of the best cities, with regular league games between teams from each 1938 league. Posey reported that Jackson would decide by January 10 about forming one combined league.147
The January 14, 1939, edition of the Chicago Defender reported that Jackson's league would remain intact, specifying that a merger would have involved only four teams from each league and the NAL would not "desert the other four members and make them associate members for 1939."148 The NNL would just have to move ahead and plan its own operations, without being joined by any NAL teams, for the 1939 season — and they would be doing it without Gus Greenlee.
Even before the NNL's February 1939 meeting, the rumblings of Greenlee's departure from the NNL were being felt. In December of 1938, Greenlee sold Greenlee Field. He considered operating elsewhere but financial setbacks, particularly in the boxing arena, leading to alleged unpaid debts and bouncing checks, meant that he ultimately decided to disband his team.149 It was hardly a surprise, then, that Greenlee resigned as league chairman in February, (although he was really a member of a three-man board heading the NNL in 1938) and though the league passed a resolution naming him "honorary chairman," neither Greenlee nor any Pittsburgh Crawfords representative appeared at the meeting.150 In a missive summarizing this meeting written by Cum Posey, he listed the following as team owners: Tom Wilson of the Baltimore Elite Giants, the Eds (Bolden and Gottlieb) of the Philadelphia Stars, Abe Manley of the Newark Eagles, Rufus "Sonnyman" Jackson of the Homestead Grays, Alex Pompez of the returning Cuban Stars, James Semler of the New York Black Yankees, and finally Hank Rigney of Toledo. The absence of any mention of Greenlee in this summary, along with subsequent events, suggests that Gus Greenlee was no longer a factor in the NNL's operations.151
The members also elected Tom Wilson as president, Ed Gottlieb recording secretary, and Posey corresponding secretary, with Abe Manley as treasurer, and Ed Bolden as vice president. Along with various resolutions and discussions involving time between doubleheaders, forfeits, and fines, the most intriguing development was a decision to "inaugurate 'streamline' baseball, that is, no player shall throw the ball around between innings, the pitcher shall be allowed to throw four warm-up pitches between innings."152 Even in 1939, owners were looking for ways to speed up the game! But, just like twenty-first-century initiatives to limit batters stepping into and out of the batter's box, indications are that umpires were inconsistent in enforcing this "streamlined" format as is suggested by a memo written by Posey asking that owners "kindly see that it (streamline baseball) is enforced."153
The NAL also held a February meeting in which it announced its first-half schedule with teams in Chicago, St. Louis, Kansas City, Louisville, Cleveland, and Memphis. Newly elected NNL President Wilson attended and advised the NAL scheduling committee regarding open dates which would enable interleague play.154
By April, the NNL took action to finalize the replacement of the Pittsburgh Crawfords in the 1939 NNL, as Cum Posey traveled to Toledo in mid-April with the great Oscar Charleston to meet with the prospective Toledo owners. As Posey related in a letter to Effa Manley, Toledo wanted assurances that they would have all 1938 Crawfords players on their roster in return for their $250 fee, a demand which was agreed to by President Wilson.155 Unfortunately, Toledo would only play five league games as their failure to get the NNL to fulfill its agreement on providing the Crawford players along with the readmission of the New York Cubans into the NNL ended their NNL membership. Instead, at its June 20 meeting, the NNL unanimously passed a motion to allow Toledo to join the NAL.156
The NNL and NAL clearly had conflicts in 1939. NAL President Jackson and NNL club owner Posey were trading charges that the other league was operating in bad faith by taking players from their respective league's teams. Major Jackson referenced a lack of a commissioner overseeing both leagues as part of the difficulty in resolving player disputes. After the NNL briefly met on June 20, they recessed prior to the convening of a joint NNL/NAL session. The most important outcome of this session was a signed agreement "which protects players under contract and a heavy fine is placed on owners who attempt to steal or entice players under contract with one club to another."157 Specifically, ownership of both leagues agreed to a $50 fine for any club inducing a player to jump his club or league; a second such offense would be fined $100; and "any owner who accepts a player who is the property of another league shall be suspended indefinitely and banned from organized baseball."158 Along with this attempt at interleague cooperation on respecting player contracts, both leagues agreed to an East-West game to be held on August 6 in Chicago and an all-star game in Yankee Stadium on August 27.159
On August 27, presumably in New York, another joint league meeting produced a motion to punish Toledo for using Homestead Grays outfielder Jerry Benjamin.160 Along with other ongoing interleague player conflicts, the discord over Benjamin signified that the commitment to protecting player contracts was a "wobbly agreement [that] would not last past 1939."161 The following day, the NNL met and agreed to two five-game semifinal playoff series between Homestead and Philadelphia and between Newark and Baltimore, the winners to meet in a final playoff.162 In the end, the Homestead Grays defeated the Baltimore Elite Giants 2-0 in the final series while the Monarchs defeated the St. Louis Stars 3-2 in the NAL final playoff series.163
When you consider Cumberland Posey's belief, expressed in a letter to Abe Manley, that the two of them and Ed (presumably Ed Gottlieb) had saved the league when the three men met in Philadelphia in January 1939 and "faced things in a sensible manner," the 1939 season could be characterized as a modest success, considering a full slate of playoff series in each league, attendance of over 33,000 at the annual East-West Game, and a total of over 60,000 fans in attendance for five doubleheaders in Yankee Stadium.164 Nevertheless, as the year came to an end, Newark owner Abe Manley sent his wife and co-owner Effa Manley to speak at a year-end NAL meeting on December 9 and 10, 1939 and convey his belief that "we must have a better understanding, and freindleir (sic) relations between our two leagues. If we hope to command the respect of the baseball loving public…"165
1940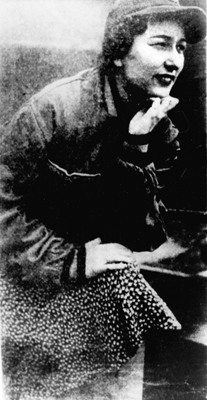 In his thorough examination of the inner workings of Negro League baseball, historian Neil Lanctot opined that "Effa Manley provided a necessary stimulant to the often torpid and stagnant world of black professional baseball."166 There is no doubt that Effa Manley ignited sparks between and among competing factions of the Negro League owners as she sided first with one and then another of the varying (by the year, by the issue) interest groups debating how best to run the Negro Leagues.
While 1939 saw an effort to streamline night baseball, the NAL winter meeting on December 9, 1939 saw Effa Manley leading a "movement to streamline the administration of the industry through a commissioner to oversee both leagues."167 Her solution to both interleague disputes and ineffectual league operating systems began with her putting the name of Judge William Hastie, at that time the dean of Howard Law School and previously the first black federal judge to serve in the U.S. (albeit in the Virgin Islands) before the NAL as a potential commissioner of both leagues, assuring the meeting that Hastie was supported by the Cuban Stars, New York Black Yankees, and Newark Eagles. According to the meeting notes of NNL Secretary Cum Posey (hardly an unbiased observer, as we shall soon see, when the NNL voted on a 1940 president with Posey in opposition to Manley's choice), "the A.N.L. (sic.) did not accept Mr. Hastie on the grounds that this was not ajoint (sic.) meeting."168
What the league generally referred to as the NAL (although ANL is occasionally found in letters like Posey's and in the black press) did do was vote 5 to 2 in favor of Dr. J.B. Martin, owner of the Chicago American Giants, to succeed Major R.R. Jackson after he had served three one-year terms as NAL president. But the NAL still had a place for Jackson, as Posey noted that at the December 9 meeting the league picked the major as NAL commissioner, an action which seemed to suggest that Jackson should be commissioner of both leagues — as well as underscoring that the NAL "wasn't ready to have a hand-picked candidate jammed down their throat."169
Before taking up the commissioner issue at a joint meeting of the two leagues in late February, the NNL held its first meeting of 1940 on February 2 in Philadelphia. In what was described by the Chicago Defender as "the stormiest meeting in the history of the Negro National League — and there have been many stormy ones…,"170 the league owners split down the middle, deadlocking on choosing to either re-elect Tom Wilson as president or pick New York Amsterdam News publisher C.B. Powell as president. Not only were the NNL owners all at loggerheads, but they were being excoriated by members of the black press for, among other items, being kept in the dark about their business proceedings. In the February 3, 1940, edition of the Pittsburgh Courier, columnist Randy Dixon asked a series of scathing, sarcastic questions and offered his own answers about the NNL and its February 2, 1940 meeting, a sample of which follows:
"What is the Negro National League? The Negro National League is much ado about nothing… Does the league accomplish anything at its meetings? No… What, then, does it do at its meetings? That's easy: The formula has been the same, year in and year out. It sees to it that all newspapers are excluded… How does the league accomplish excluding newspapermen?… by bluntly telling them they are neither wanted nor required, and then releasing canned copy from which the newspapermen are expected to erect a story…"171
Dixon was known for being particularly critical of the men who, he often referred to as "mag-nuts."172 In contrast, sportswriter Art Carter, who seemingly reported "just the facts" in his Baltimore Afro-American column of February 10, 1940, about the conflict between Posey and Effa Manley regarding her seeking Wilson's dismissal, was nonetheless accused by Manley of misstating her reasons for her positions and enthusiastically criticizing her even though "you were not there to see what I did, or hear what I said."173 In Manley's letter, she essentially acknowledged limits on access placed on the black press as she stated that Carter was "at no time … in the outer office or the inner office, at the time the press was admitted to listen in on the proceedings."174 The press heard and saw enough, however, to know that Manley 1) headed the effort by the three New York area clubs to oust Wilson, 2) argued that Wilson should be dismissed because he allowed a white booking agent, Philadelphia Stars co-owner Ed Gottlieb, a prohibitive 10 percent of revenues fee while booking games at Yankee stadium instead of him arranging for a black entity to get the booking fees, and after being insulted by Manley, Posey "left the meeting in a huff, vowing that he would never return as long as Mrs. Manley was the Newark Eagles representative and charging that she, as a woman, took advantage of her sex in the deliberations."175 From a twenty-first-century view, we can certainly censure the media, league ownership, and league officials for their obvious sexism, but we can also see that the media was hardly being enabled by secretive owners and operatives to do their job reporting and in some sense publicizing the league.
The February 2 meeting left matters unresolved; accordingly, the NNL scheduled a meeting on February 23 prior to a joint NNL-NAL meeting in Chicago on February 24. In the NNL meeting, the deadlock over the league presidency held; the league therefore decided to go along with the same officers as in 1939, retaining Wilson as president, at the recommendation of New York Cubans owner Alex Pompez.176 Though a decision was made, the NNL was really only "kicking the can down the road" as bickering between the factions would resume at the next annual election of league officers. By then, a pattern of bickering, deadlocking, and ultimately keeping the same oftentimes ineffectual leadership had been well-established, especially in the NNL.
In the February 24 joint meeting, the leagues resolved several NNL/NAL player disputes but also entertained a motion by Posey to elect Major Jackson as commissioner of both leagues, in opposition to the position of the Manleys, but the NNL indicated it was not ready to vote on this and Posey withdrew his motion.177
On June 18 and 19 in New York, a midseason NNL meeting was followed by a rancorous joint night session, as the leagues battled over "that elongated individual, Satchel Paige" and whether he belonged to the Newark Eagles or not.178 While the Manleys held the NAL responsible for Paige not reporting to them, Satchel was pitching for an independent team called the Satchell (sic) Paige All-Stars, who had their games booked by Lee Wilkinson, brother of Monarchs owner J.L. Wilkinson.179 In retaliation, Abe and Effa Manley played infielder Bus Clarkson and pitcher Ernie Carter, who were owned by the now-NAL member Toledo Crawfords. Despite NNL President Wilson having earlier ruled that Clarkson and Carter belonged to the NAL, and NAL President J.B. Martin denying that the two players could be traded to the Eagles before being waived out of the NAL (as Abe Manley claimed that Toledo owner Hank Crawford had authorized them going to Newark), the Manleys later got their way in keeping Clarkson and Carter, although Paige became NAL property. At the meeting, however, "the fur flew" as Memphis owner B.B. Martin "stated that the Negro American League was 'sick and tired of having players taken by the Negro National League clubs and then threatening to break the agreement between the two leagues if the N.A. League did not allow this.'"180
Is it any surprise that a World Series between league pennant winners scheduled for mid-September did not materialize, given the contention between the two leagues? The powerhouse Homestead Grays and the Kansas City Monarchs won league pennants in the NNL and NAL respectively, although second half NAL standings were incomplete while the NNL played a "straight season through to September 9."181 Cum Posey reported that the NNL had a final meeting in New York City on September 3 in which "there was a decided trend toward the idea of one Negro major league." In the same piece, Posey criticized the NAL for choosing an inexperienced owner, J.B. Martin, to succeed Major Jackson as NAL president, noted "internal strife amongst league owners causing irregularities in booking," stated that NNL President Wilson "did a fine job, considering the handicap of starting the season with three antagonistic members, "and concluded that "the 1940 baseball season was not a success, financial or otherwise." 182 One can only conclude that if, as Randy Dixon suggested, "1940 is SHOWDOWN year for National Negro League," the NNL and the NAL, if Posey is to be believed, failed the test.183
PART 2: WAR AND PROSPERITY (1941-1945)
As 1941 began, the institution of Negro League Baseball was at a crossroads. There were now two (somewhat) functional leagues — yet there was little cooperation between leagues, and no postseason play between them. But 1941 was a signal year for Negro League operation, even as America moved ever closer to entering the worldwide conflict between fascism and democracy. Although American democracy operated on dual tracks, the disadvantaged world of black America received a boost from the wartime economy, and more citizens of color with money in their pockets meant more patronage of Negro League baseball. Ironically, the most profitable years for Negro League magnates simultaneously highlighted the rampant injustice of black stars playing a segregated game, while a war to end injustice raged on abroad.
During this period Negro League owners and executives continued to be at loggerheads with each other and often with the black media. Problems with white booking agents, players skipping out on their contracts to pursue lucrative adventures south of the border, and ongoing difficulties establishing effective stewardship of the leagues persisted — but black baseball shined like it never had before — until October 23, 1945, when it all changed with a signed contract and the fortunes of the institution of Negro League baseball changed with it.
1941
The annual winter meeting of the NAL was held on Sunday, December 29, 1940, in Chicago, one week prior to that of the NNL. In describing the conduct of the meeting, the Chicago Defender mentioned that "the entire meeting was harmonious," a believable characterization in that previously a good deal of the conflict had been within the NNL and between the two leagues.184 Principal business actions at this meeting were the re-election of 1940 officers J.B. Martin (president), Horace G. Hall (VP), Fay Young (secretary), and Major Jackson (NAL commissioner), a discussion about making an agreement with the NNL for the coming season including each league swinging through the other's territory, and the dropping of the Cleveland Bears because of poor 1940 attendance.185
The NNL followed with its first 1941 meeting, held in Baltimore on Friday and Saturday, January 3-4. Baltimore Afro-American columnist Art Carter echoed the Defender's NAL meeting depiction by describing the NNL meeting atmosphere as "harmony prevailing on the majority of the important issues at stake."186 The harmony, though, was clearly relative — Carter saw it as a "striking contrast to last year's hectic session" while the Courier vividly characterized the meeting as having "started out in the same manner as a screaming bomb, but ended up as tranquil as the Pacific Ocean."187 Since Carter and the Afro-American were hosts of a sumptuous dinner Friday night, with Carter welcoming guests and NL President Wilson awarding a trophy to the 1940 pennant-winning Homestead Grays, he perhaps viewed the atmosphere a bit more positively than did his Courier counterparts.
The Courier report, though, barely mentioned any club conflicts, recounting a treasurer's report that "showed the league with a clean slate, financially, as all bills were paid" and the agreement of five NNL clubs on lifting a ban against players who jumped their contracts in 1940. Additionally, the clubs defused prior anger at the practices of Ed Gottlieb in booking games at Yankee Stadium by agreeing on a "two percent kickback from the booking agent's fee" to go into the league's coffers.188 Nevertheless, conflict, overt and implicit, still existed within the NNL ownership and between NNL and NAL positions, as a minority of NNL owners opposed the lifting of the contract-jumping-player ban, which meant that no decision on the ban would be reached until the next joint NNL/NAL session, even though NAL prexy J.B. Martin "stated emphatically that his group was against lifting the ban on the recalcitrant players."189
Additionally, the NNL's voting in Posey as a combined secretary-treasurer meant that Abe Manley had been voted out as treasurer, "which pushed Manley out of the so-called inner circle."190 But the NNL re-elected Tom Wilson as president with no reported opposition while developing a robust interleague schedule of 24 out of 74 planned league games, awaiting the NAL's approval at the upcoming joint meeting of the two leagues.191
Philadelphia owner Ed Bolden was also re-elected as NNL VP, but without his presence at the January meeting. Bolden was proposing a new solution to the Negro League commissioner problem — a committee including Pennsylvania Judge Joseph Rainey, Philadelphia Elks official Edward Henry, and Philadelphia attorney Raymond Alexander would survey Negro League baseball, with one of them then becoming commissioner!192 In summation, then, three offered suggestions for Commissioner were: a Philadelphia owner promoting Philadelphia officials to oversee Negro League operations, a New York area owner (Effa Manley) having recently (1940) promoted a New York newspaperman (C.B. Powell) to lead the NNL, and the NAL continuing to promote its (Midwestern) former president to become commissioner of both leagues — do we see a pattern here?
— Chicago Defender, January 18, 1941
Despite Bolden's expectations of a firestorm, the joint meeting in Chicago on February 23 successfully resolved key issues involving returning players, interleague scheduling, and settling on a date for the annual East-West Game. Ten out of 12 owners from both leagues agreed to an amended plan allowing jumping players to return to their original clubs if they paid a $100 fine by May 1. Cum Posey was then able to declare his previous signing of 1940 jumper Josh Gibson to play for the Grays in 1941. Both leagues agreed to add interleague play to their schedules, and to hold the East-West Game on July 27.193 Meanwhile, the NNL held its own meeting in Chicago. In it, Newark officially rejoined the league as they resolved a dispute over payments allegedly withheld from the Grays for a 1940 contest they played in Newark. And Frank Forbes was picked to replace Roy Sparrow as "secretary to the promoter" of those lucrative and controversial Yankee Stadium games.194
Despite steps toward peaceful dispute resolution, there continued to be acrimony between the leagues, according to Cum Posey. In his "Posey's Points" column of March 29, 1941, the Grays owner observed conflict at the recent joint session, suggesting that he expected at one juncture that the joint agreement between the leagues would not be maintained. While the decision by both leagues to end the ban on jumping players preserved the joint agreement, Posey sounded an alarm over the possibility that NAL member Kansas City would play the Ethiopian Clowns, who he believed demeaned Negro League baseball with their clowning and playing to racist stereotypes. Posey suggested that the NNL would abrogate the joint agreement unless NAL president J.B. Martin stopped Kansas City from playing the Clowns. Naturally, the Monarchs went ahead and played two separate series against the Clowns during 1941, albeit without NAL approval.195
But the NAL had its own axe to grind as owner Jim Semler of the New York Black Yankees used Satchel Paige, under contract to play for the Kansas City Monarchs, to pitch his 1941 league opener against the Philadelphia Stars. This occasioned a "hurried meeting" by NAL owners in Chicago on Saturday, May 17, in which they agreed to ask NNL President Wilson to stop Paige from appearing again for the Black Yankees the following Sunday in Cleveland. In response, Wilson promised to suspend any NNL club using Paige or any other NAL player.196 Placated, NAL owners eventually agreed to make Paige available to NNL teams for exhibition games.197
Clearly, another joint meeting, held in late June in New York, was needed to sort out and resolve league differences. As reported by the Pittsburgh Courier, this meeting "went a long way toward correcting some of the flaws in organized Negro baseball."198 The East-West Game, which was ostensibly in doubt over Paige's antics, was confirmed at this meeting, and a related incipient controversy — over Harlem Globetrotters owner and Negro League promoter Abe Saperstein's role in promoting the game, was resolved in favor of retaining Saperstein. This decision accorded with NAL desires, although Cubans owner Pompez expressed his viewpoint that no promoter be employed who ridiculed Negro baseball by booking the Clowns. Rather than voting in opposition, Effa Manley and Ed Gottlieb did not vote, and Saperstein was retained.199
But the trouble did not end there — it rarely did when it came to the magnates of the Negro Leagues as they endlessly hashed out their differences and then oftentimes rehashed them; like many academics, they had titanic, bloody battles over their places in the hierarchy and over what appeared to be rather insignificant amounts of money.
— Cleveland Call and Post, August 16, 1941
In this case, Cum Posey felt the need to continue the battle with Saperstein and the NAL owners even after the June joint meetings had resolved the issue. Posey wrote an open letter on August 8, 1941, to the "Sports Editor" in which he critiqued Saperstein's self-serving and self-aggrandizing practices in earning himself over $2,000 booking NAL games and additional money publicizing the upcoming East-West Game: "There should be no place in Negro or any other kind of baseball for a man like this."200 Despite all this six clubs of Negro Organized Baseball (all from the West) voted to have Saperstein publicize the East-West game on the radio and in the white dailies. His cut of this game was over $1500.00. What Posey wanted was to eliminate outside white operators from making profits on Negro League operations: "we are irrevocably committed to the total obliteration of all opportunitists (sic) out of organized Negro baseball."201
Following Posey's broadside attack on Saperstein and the NAL owners, the NNL held its final meeting in New York City on September 13, 1941. In the main, the NNL meeting was about passing five resolutions affecting the NNL/NAL relationship. The resolutions concerned monetary issues regarding East-West games and a possible Negro World Series and proscriptions against playing any Cuban team other than the New York Cubans and playing league or postseason games against the Ethiopian Clowns. As Cum Posey recorded it and reinforced in his "Posey's Points" column, the NNL planned to dissolve the joint agreement with the NAL if it did not accept these resolutions.202
The key question was whether the NAL would indeed agree to these NNL positions, as columnist Fay Young opined that "for the time being, the West is just about tired of being dictated to by the East."203 And recall that the Negro League commissioner debate itself remained unresolved — as Major Jackson had a figurehead position as the NAL-only commissioner: "he has sort of an honorary position — and the East ignores him because they have never voted for any commissioner."204
Despite the continuing disputes, the leagues had seen dramatic increases in attendance in several league cities in 1941.205 And in a letter from Effa Manley to Cum Posey dated October 13, 1941, she declared that the Newark Eagles had "a gross business of $61,000.00. That is a lot of money anywhere. If we did that much, I am sure the Grays and some others did even more. All this to say the baseball is a really large business, and growing all the time. It is really high time we started to handle it like a big business."206
In 1941 the business of Negro League baseball did not end up including a Negro World Series, as the NAL champion Monarchs, with help from peripatetic Satchel Paige, won both halves of the 1941 NAL season, while first-half NNL pennant winner Homestead defeated the second-half winner Cubans in a playoff series, three games to one.207 As 1941 ended and 1942 dawned, the U.S. weathered a surprise attack on Pearl Harbor and entered World War II — but would the NAL agree to make peace with the NNL at home while war was waged abroad?
1942
The NAL and NNL prepared for year-end meetings as an uncertain landscape for America — and baseball — unfolded. No one really knew what lay ahead as America mobilized for war on two fronts. Before there were any indications from President Roosevelt as to whether professional baseball could operate during wartime, the NAL went ahead as planned with its usual year-end meeting, this time on December 27 and 28, 1941, in Chicago. While Cum Posey was given a special invitation to attend the NAL meeting by NAL prexy J.B. Martin, he declined to attend, as he knew that Tom Wilson would be representing the NNL — and Wilson would be pressing the resolutions passed at the September 1941 NNL meeting to a vote of the NAL clubs, with the joint agreement between the two leagues ostensibly at stake.208
The NAL blinked — and adopted the NNL resolution to ban teams from both leagues playing the Ethiopian Clowns, albeit after much discussion including Wilson presenting the NNL view that "the painting of faces by the Clowns players, their antics on the diamond and their style of play was a detriment to Negro League baseball." They also agreed not to play any assemblage of Cuban players other than the Harlem-based NNL Cuban Stars.209 The NAL admitted Cincinnati to its league while deferring any decision on the St. Louis Stars. The league also considered a plan put forward by William G. Nunn, the managing editor of the Pittsburgh Courier, who had previously been an officer of the NNL. Nunn wanted to start an annual memorial game, to be called the Rube Foster-C.I. Taylor memorial game, the proceeds to be used to establish a home for disabled former Negro League players. The NAL deferred action on Nunn's idea, with J.B. Martin indicating that he thought it worthwhile while Commissioner-without-portfolio Major Jackson expressed his opposition.210
The NNL initially planned to meet in Baltimore on January 3, 1942, but the meeting was postponed several times until it was finally held on February 14 and 15. In a series of letters written by Effa Manley, she expressed the view that there was a need for an earlier meeting due to uncertainties caused by the war but several owners kept delaying the meeting to stop her from persuading the majority to drop Tom Wilson in favor of Judge Joseph Rainey as 1942 NNL president.211 Effa Manley expressed the belief that the NNL was poorly run by Wilson, needing an "efficient Chairman" because "we have never played the same number of games, our admission prices are all different, our umpire situation is pitiful, our contracts are not anything."212
The mid-February kickoff meeting of the NNL's 1942 season was held in Baltimore. In black America, the backdrop to this meeting was the newly instituted Double Victory campaign run by the Pittsburgh Courier based upon a letter the Courier received and published in its January 31, 1942, edition. The letter suggested that black America should respond to the war by seeking a "Double Victory" — simultaneously battling, and ultimately vanquishing, fascism abroad and racism at home. Beginning with the February 7, 1942, edition of the Courier, a Double Victory logo appeared on the masthead, leading to 970 Double Victory items published in the Courier by year-end 1942, as Double Victory clubs, hairdos, pin-up girls of the week, parades, and baseball games all emanated from the Courier's crusade.213
— New York Amsterdam News, February 21, 1942
Cumberland Posey expected that the meeting would be "a lengthy session with everybody raising a rumpus at times" — and he would not be disappointed.214 The meeting was noteworthy in that 1) The 1941 slate of NNL officers — President Wilson, VP Bolden, and Secretary-Treasurer Posey — were re-elected with but one dissenting vote, that of the Newark Eagles; 2) after Effa Manley could not even get her nomination of Judge Rainey for NNL president seconded, she and husband Abe departed the meeting, an action headlined by the New York Amsterdam News thusly: "Manleys Bolt NNL Meeting In a Huff"215; 3) according to Art Carter, upon leaving Effa declared that "we are through. We cannot operate under the present setup and so the league will have to go on without Newark."216; 4) the NNL agreed to put 5 percent of the receipts of the upcoming 10th annual East-West Game in its treasury; 5) The NNL formalized an agreement with the NAL to resume playing a Negro World Series, last played in 1927 when the combatants were representing the first incarnation of the NNL and the Eastern Colored League; 6) NAL cooperation was not without misgivings, with J.B. Martin expressing his league's dissatisfaction with being strong-armed by the NNL: "We are willing to cooperate with you in all matters to the fullest … but we just don't like the way you say things."217; 7) the league formally acknowledged the "colored press" and voted to endorse a publicity plan to be presented at the next NNL meeting in response to speeches by sportswriters Joe Bostic of the New York Amsterdam News and Art Carter of the Baltimore Afro-American complaining of the league failing to acknowledge the role of the black press in supporting organized Negro baseball218; 8) a renewed application by Gus Greenlee to bring a new Pittsburgh Crawfords franchise into the NNL was tabled; and 9) St. Louis Stars owner Allen Johnson stated that he would merge his NAL club with the New York Black Yankees, with J.B. Martin suggesting that fireworks would occur at an upcoming NAL meeting regarding the disposition of St. Louis players who were, in his judgment, still NAL property regardless of Johnson's actions to become a part of an NNL franchise.219
With all that activity, some of it unresolved, the NNL decided to hold a follow-up meeting in Philadelphia on February 28. At the meeting, the Newark Eagles, who had flirted with the possibility of operating independently with the aid and support of Abe Saperstein, declared that they would rejoin the NNL despite losing out on reforming it administratively.220 Effa Manley was nowhere near done decrying the inefficiency of league operations while Gus Greenlee suggested that Abe Manley would have been the best candidate to oppose Tom Wilson, but the status quo would nevertheless be continued and Newark would participate.221
Greenlee would not be allowed to rejoin the league. Not only did he fail to show up at the February 28 meeting, but the players he intended to reclaim now belonged to other clubs.222 At this meeting, there were indications that the Foster-Taylor Memorial Home for indigent players would be supported by the league; however, this researcher could find no other future references to this initiative in the black press. Perhaps the developing war and efforts to support the military with benefit games took the attention of Negro League ownership away from the dire straits of former players.
The NAL had a final meeting before the beginning of its season on May 10; other than setting its season's schedule, the league declared that it would not allow its teams to play the Black Yankees as long as new co-owner Allen Johnson took former St. Louis Stars players for the Yanks and away from the NAL.223 That ban was lifted during the season, but the acrimony surrounding this conflict showed that all was not harmonious between the two circuits.
With President Roosevelt having given the "green light" for professional baseball to be played during wartime, all expectations were of a prosperous one for black baseball: "the league should break all attendance records as every city in which the regular league games are played is booming with war workers anxious to find some form of pleasurable relaxation."224 In fact, many games involving black teams and players drew large crowds, including an attendance of approximately 45,000 fans for the August East-West Game. Other heavily attended games included exhibitions pitting Satchel Paige against military teams, a Yankee Stadium doubleheader involving the Monarchs and three NNL teams, and regular interleague games at Washington's Griffith Stadium between the now Homestead-Washington Grays and the Monarchs.225
Midseason saw June NAL and joint NNL-NAL meetings, where routine scheduling of second-half games and the planning of the East-West Game to be held on August 16 and an Army benefit game two days later were discussed. One significant move made at the joint meeting was the removal of Abe Saperstein from the role of publicity director of the upcoming East-West Game.226 Perhaps this action was in retaliation for Saperstein's decision to form a rival league, the Negro Major League, with mostly Midwestern teams including Syd Pollock's now-Cincinnati Clowns. The new league disbanded in midseason, and the Clowns then played NAL stalwarts Memphis, Birmingham, and Kansas City in August but Saperstein paid the price for the anger of the established leagues at the various actions of "clowning," his attempted takeover of lucrative bookings, as well as creating a rival league — or did he? Even a contemptuous critic like Posey "acknowledged that Saperstein had done a good job booking teams, and pointed out that most of the league owners 'were glad to be booked by Saperstein.'"227
Ultimately, NAL President J.B. Martin felt "elated over the success made by the league" in 1942.228 There were challenges aplenty as gas and rubber rationing made league transportation an issue, and players such as Monte Irvin and Willie Wells abandoned Negro League teams for the more lucrative and relatively less prejudiced Latin American venues. The NAL pennant winner Kansas City Monarchs won the first Negro World Series in 15 years by 4-0 over the perennial champion Grays, the postseason meeting of the two leagues signifying at least somewhat more cooperation between them.229 Yet lurking in the wake of increasing fan attention to Negro League operations was the start of efforts to integrate white baseball, efforts fostered by the war shining a beacon of light on American hypocrisy as evidenced by fighting a war for freedom abroad while oppression of its black citizens continued at home.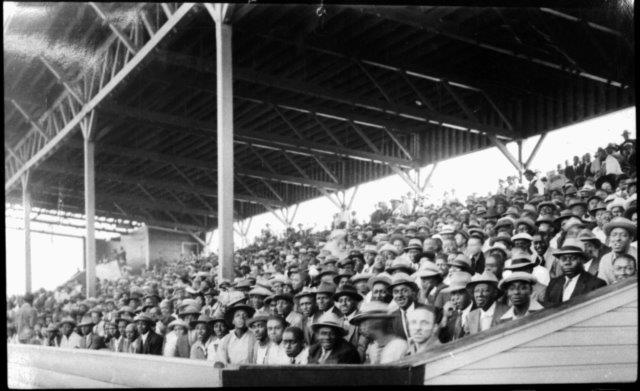 The annual East-West All-Star Game at Comiskey Park in Chicago, Illinois, was the biggest event of the Negro League season. During its heyday, attendance at the game was well in excess of 40,000 spectators. (National Baseball Hall of Fame Library)
1943
As it prepared hopefully for the 1943 season, the Negro American League held its annual winter meeting on December 27, 1942, a two-day meeting for the six teams expected to play in 1943 — the Chicago American Giants, Kansas City Monarchs, Memphis Red Sox, Birmingham Black Barons, Cincinnati Buckeyes, and Jacksonville Redcaps — in which the knotty problem of tire and gasoline rationing would be preeminent in their discussions.230 NAL President Martin, as noted above, was quite sanguine about his now six-year-old league, as he claimed that "while interest in Negro baseball has increased at least 50 per cent, a greater interest is expected in 1943."231 Martin stated confidently that the information from the Office of Defense Transportation (ODT) was propitious for planning their operations for the next year.232 According to author Paul DeBono, that confidence did not extend to the future success of the Negro Leagues if the color line in Organized Baseball fell.233 As 1943 unfolded, however, the NAL, and especially the NNL, would contend with shifting stances by the ODT that first severely restricted public-transit options for both leagues and later, after extensive lobbying efforts by the leagues and other sympathetic entities, partially relaxed these restrictions.
Members of the black press remained extremely critical of league operations despite the recent financial successes. Fay Young likened black baseball to a "rudderless boat" which, he believed, dismayed its fan base by 1) its practice of picking club owners as league presidents, 2) its players capriciously moving between uniforms, and 3) its failure to create one league with East and West divisions.234 If Young was correct about such fan sentiments, the leagues in 1943 were not responsive to these concerns. The first NNL meeting of 1943, held on January 23 in Philadelphia, reaffirmed the status quo as Tom Wilson, Ed Bolden, Cum Posey, and Abe Manley were re-elected as president, vice president, secretary, and treasurer, respectively. The NNL discussed potential player shortages, with one suggested strategy being the use of weekend players working in war production industries. The league picked Effa Manley to direct NNL war relief efforts, intending that each club hold at least one benefit game and jointly, an all-star benefit contest.235
Everything seemingly was in order for a prosperous season, albeit one where war priorities would take precedence. The January 23, 1943, edition of the Pittsburgh Courier reported prematurely that unlimited gas rations for bus travel had been approved for both the Negro and major leagues.236 Surprisingly, ODT's director Joseph Eastman ordered a ban on the use of private buses by baseball teams and other entities effective March 15.237 Both Negro leagues now had a problem on their hands, as the alternative of train transportation with a limited supplemental automobile travel allowance of 360-470 miles per month for athletes was deemed unfeasible by J.B. Martin and the NAL.238
Immediate efforts at negotiating a solution included a meeting arranged by Washington Senators owner Clark Griffith between the ODT and Posey and Martin, attempts by the leagues to operate and acquire limited travel rights, and even a petition drive launched by Kansas City Monarchs owners Tom Baird and J.L. Wilkinson that was supported by then-Senator from Missouri Harry S. Truman. With none of those measures succeeding to persuade ODT to revise its draconian travel order, both leagues had to adapt to the circumstances. The NAL especially had a big problem as "the more compact NNL was capable of functioning within these limitations."239 Each held a meeting in late March which in significant part discussed methods of addressing the travel restrictions. Surprisingly, the NNL chose to postpone the drawing up of their schedule until a subsequent meeting, to be held in Philadelphia on April 10, whereas the more seriously affected NAL nonetheless announced its season's schedule at this meeting, which was held in Chicago, the venue for most of the NAL meetings.240
The NNL's March meeting was held in Washington, D.C., which had become the primary home of the Homestead Grays. The league decided on seven NNL teams competing in 1943, with one team to be owned by former Black Yankees co-owner George Mitchell and whose location had yet to be determined. The NNL's scheduling plans involved sticking to the bigger cities, as well as holding games "in easily accessible places to Virginia and nearby Maryland where defense workers are congregated, in response to the planned travel restrictions."241 Fay Young, in reporting on the NAL meeting, provided the contradictory inputs of an announced schedule and quoted J.B. Martin saying that "the Negro American League will not be able to operate this season."242 Dan Burley, writing for the New York Amsterdam News, weighed in with the pronouncement that "Negro Baseball this summer seems doomed," blaming the "dilly-dallying practices of Negro League owners" who were "sitting back smoking big black cigars" while their major-league counterparts wrung concessions from ODT director Eastman.243
What was really going on in early 1943? Despite the dark pronouncements of black baseball's viability, both leagues were scrambling in their own ways to put together an operating plan dealing with the significant travel restrictions imposed upon them by ODT, while they hoped to get some relief that would enable them to operate substantially as they did in 1942. Some suggested options were 1) they could sell their buses and travel by rail; 2) they could simply "carry on" while attempting to get "special considerations" from Eastman; or 3) they could use trains and commercial buses.244
The NNL held its follow-up meeting and planned to operate within the travel restrictions, even as it joined the NAL in applying for relief. It focused its meeting instead upon its new franchise location and other operating issues. It was decided that the new team, owned by George Mitchell and Allen Johnson, would play its home games in Harrisburg and be called the Harrisburg-St. Louis Stars, succeeding 1942's New Orleans-St. Louis Stars. Still to be figured out was who would control players from last year's Black Yankees since George Mitchell had previously co-owned the Yankees with James Semler — a battle between the Harrisburg-St. Louis and New York contingents was sure to follow.245 Meanwhile, the NNL decided on its first-half schedule, while choosing their umpires (and raising their pay) and passing provisions protecting players who did not receive timely contract payments by declaring them free agents and penalizing the teams that failed to pay players in a timely fashion.246
Despite the challenging conditions, both leagues carried on. According to Neil Lanctot, the NAL succeeded in gaining an allowance of 2,000 miles per month per team by late June because of its acknowledged difficulties in traveling publicly in the South; the NNL was excluded from this arrangement because it did not have significant Southern travel.247 And, as they often did, the two leagues accused each other of stealing players and battled over the entry of the Ethiopian Clowns into the 1943 NAL. Cum Posey was notified by J.B. Martin on May 1 that Posey was in violation of the joint league agreement as his team fielded players under contract to the Memphis Red Sox and Kansas City Monarchs. He responded with a letter released to the black press countercharging that the NAL had repeatedly broken the joint agreement by stealing NNL players, by playing the Clowns, and by not giving to the NNL East-West Game receipts it had earned.248
What ensued was a "five-hour hectic meeting" on June 1 in Philadelphia.249 In the minutes of the meeting, President Wilson opened up the discussion by trying to operate as a peacemaker between the two leagues. He said, "Tampering with players was bad, and would result in tearing down what it took years to build up. … It was [therefore] necessary under existing conditions for everybody to do some sacrificing to help keep baseball going and avoid fights between the two leagues."250 But fight they did, as charges and countercharges flew back and forth between clubs of both leagues. Both NNL President Wilson and NAL President Martin signed an order finding four NNL clubs, the Harrisburg Stars, New York Black Yankees, Washington Homestead Grays, and Philadelphia Stars; and the Cleveland Buckeyes of the NAL — were in violation of the joint agreement and ordering a total of 10 players either returned to their original clubs or exchanged for other players.251 An uneasy peace or at least a truce followed, as the order was largely obeyed and even misgivings by NNL clubs over the presence of the Clowns in the NAL gradually faded.252
As the war's tide began to turn toward the Allied forces, so too did the Negro Leagues prosper. The August 1 East-West Game drew 51,723 fans, the most of any East-West contest.253 On August 2, right after the East-West contest, the two leagues reconvened in Chicago for a joint meeting, rare this late in the season. There were discussions of how to handle the problem of approaching the Mexican government to get cooperation in bringing Negro League players back from Mexico, and NNL President Wilson, at the behest of NAL President Martin, ruled that a Negro League team could not go to another Negro League city to play a game against a different opponent than that city's team without the local team's approval.254 There was also interleague conflict, as third baseman Marvin Carter was playing alternately for the Harrisburg-St. Louis Stars of the NNL and the NAL's Memphis Red Sox. The issue was settled by Stars owner Mitchell saying "he would not play Carter any longer" after Mitchell stated that he had "intended on using Carter in two important games that he had booked." 255 It was not in dispute that Carter belonged to the Memphis Red Sox all along.
Negro League baseball had its best year ever from a financial standpoint in 1943.256 The NAL's Birmingham Black Barons won the league's first half and proceeded to win a five-game playoff against the second-half winner Chicago American Giants before losing a seven-game Negro World Series to the Homestead Grays, a series replete with "irregularities and disputes."257 Despite all the squabbles and strife between and within the two leagues, the year 1943 ended at a high point for the institution of black baseball. But a December 3 meeting — not including Negro League owners, but between a black delegation largely composed of newspaper figures and a delegation of major-league owners and officials — foreshadowed a challenge to Negro League magnates greater than the intense conflicts they had between owners and leagues — the eventual opening of major-league baseball to black ballplayers.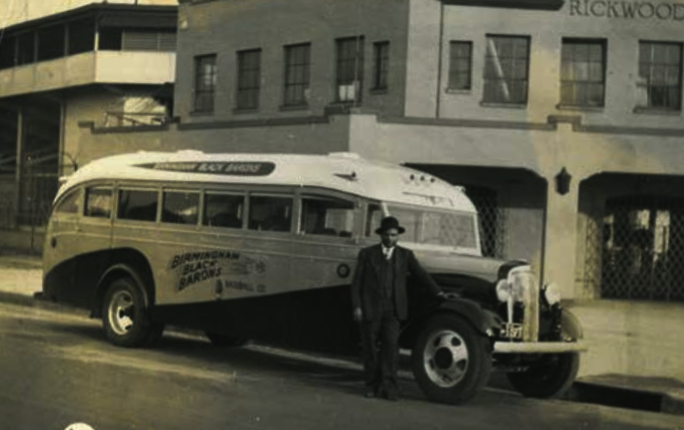 Birmingham Black Barons owner Tom Hayes shows off his team's bus at the entrance to Birmingham's Rickwood Field, where his franchise played its home games. (Courtesy of Memphis Public Library)
1944
As usual, the NAL planned its winter meeting for a date prior to that of the NNL. The NAL owners and officers were mostly interested in 1) reaping favorable publicity for the success of the prior season, which would hopefully carry over into 1944, 2) planning for the coming season, including working out some of the problems that marred last year's Negro World Series, and 3) settling some of its conflicts with its rival and sometimes partner NNL.258 Before the December 19 meeting, however, Pittsburgh Courier sportswriter and trailblazer for baseball integration Wendell Smith weighed in about the larger issue that the Negro League baseball magnates needed to contend with — preparing for the inevitable day when organized white baseball would come calling for their best ballplayers.
In his December 18, 1943, column entitled "Smitty's Sports Spurts," Smith both lauded the Negro League owners for having "attained 'big business' classification" by having their best financial year ever in 1943 and warned them that such success necessitated "sound business tactics" and "a long range program designed to bring them even larger profits in the future." What Smith (and others) saw coming was a time when the major leagues would come calling — and he believed that currently, "the Negro owners are in no position to bargain with major league teams for their players. The Negro owners will have to accept what they are offered." In essence, he foresaw the refusal of Branch Rickey to pay any money for signing the first black player based on Rickey's claim that the Negro Leagues were disorganized and therefore whatever contracts existed need not be recognized. In Smith's judgment, "the business methods of the Negro American and National leagues are not up to par and it wouldn't take much arguing on the part of a major league owner to prove that the two Negro leagues are not organized. And, if the Negro leagues aren't organized, then a major league owner is in no way compelled to recognize the contracts and agreements which ordinarily apply to trades and sales of ball players."259
Smith therefore suggested that the Negro American League would be wise to begin planning for the future at its midwinter meeting, because the current prosperity would not last. He expressed the belief that NAL President J.B. Martin was a good businessman, who would have help from other capable NAL owners, naming Cleveland's Ernest Wright, Birmingham's Abe Saperstein and Tom Hayes, Dr. B.B Martin of Memphis, and Tom Baird of Kansas City as partners in developing a sustainable business model, in today's parlance.260
In this author's estimation, the appearance of Smith's blueprint for Negro baseball's future success and suggestions for preparing a plan for baseball integration was at least partly occasioned by the unprecedented meeting between the black press and major-league baseball on December 3, 1943. Smith believed that the timing of future actions by the major leagues to integrate was as yet uncertain. Nevertheless, it was significant that 44 major-league owners and baseball officials, including Commissioner Kenesaw M. Landis, saw fit to meet with publishers Ira Lewis of the Pittsburgh Courier and John Sengstacke of the Chicago Defender, along with leading sportswriters including Wendell Smith, and even former athlete and current singer/performer Paul Robeson. The meeting suggested that organized white baseball realized that it could no longer ignore the presence of a black baseball world and the potential future interrelationship with its own baseball operations.261
The meeting, held at the Roosevelt Hotel in New York, included passionate speeches by publishers Lewis and Sengstacke plus Paul Robeson decrying the color line and pointing to changing attitudes of the American public on integrated performances in sports and in the entertainment world. Judge Landis repeated his claim that there "has never been, formal or informal, or any understanding, written or unwritten, subterranean or sub-anything, against the hiring of Negroes in the major leagues." Ira Lewis pushed back, insisting that an unwritten understanding among the white baseball establishment to bar black players indeed existed.262
What did this meeting signify, if anything? According to Brian Carroll, whose book on baseball integration traced the process through the actions of the black press, "[T]hough the meeting failed to produce tangible results, it marked the first time integration was included on big league baseball's formal agenda, and Landis's invitations were major league baseball's first issued to men of color."263 Similarly, the New York Amsterdam News, in its January 1, 1944, edition, provided a summary of major 1943 developments that included the following assessment of the meeting: "Nothing definite was accomplished, but it did mark a step forward.264
But how would the Negro League magnates and league officials deal with the potential future implications of this unprecedented contact between representatives of the black press and the white baseball establishment? On the eve of the December 19 NAL meeting, President J.B. Martin provided the NAL response to talk of future integration, stating that "we are not opposed to any movement which would advance Negro players to the major leagues." He went on to say that "we should not be expected to solve this problem. It is solely a major league issue. We cannot force them to admit Negro players, nor will we assume that responsibility."265 Neil Lanctot characterized Martin's response to the issue as "dodging responsibility." Lanctot went on to describe as "evasive" Martin's reaction to suggestions like that of Rollo Wilson that the two league presidents should seek an affiliation with major-league baseball as a precursor to integration."266 What Martin did address was the issue of contractual rights as he made it known that any NAL players desired by major-league owners would only be "released with our permission" — but he added that he did not expect this to happen in 1944.267
Meanwhile, the NNL was doing even less than the NAL in acknowledging any role in promoting the integration of organized white baseball. The New York Amsterdam News reported that NNL President Thomas Wilson informed the newspapers that black players entering the major leagues was "none of its concern" as the NNL could not compromise its access to major-league ballparks by raising the issue. Just like Martin, Wilson announced his league's position in advance of the NNL's winter meeting, which was held in New York on January 5 at the Hotel Theresa.268
What, then, did transpire at the first 1944 winter meetings of the NAL and NNL? The NAL reelected President Martin, Vice President Ernest Wright, owner of the Cleveland Buckeyes, Secretary Robert Simmons, traveling secretary of the Chicago American Giants, and Treasurer Wilkinson, owner of the Kansas City Monarchs.269 The NAL clubs also decided to count all games between league clubs in the league standings and to require each team to play at least 30 games in each half of the coming season to be eligible for the league pennant. They also ruled that any player must be on his team 30 days prior to the season's end to be eligible for any postseason play.270 As to postseason play, the NAL decided unilaterally that the Negro World Series would now be seven games and would be played solely in the home cities of the competing teams.271
From its own vantage point, the NNL apparently was planning to reexamine its joint agreement with the NAL at its 11th annual meeting.272 Since NAL President Martin, along with his brother B.B. of the Memphis Red Sox, Syd Pollock of the Cincinnati (a.k.a. Ethiopian) Clowns, and Winfield Welch of the Birmingham Black Barons were all in attendance, it was open season for revisiting old grievances, as a heated discussion between NNL owners and their NAL counterparts ensued regarding the Memphis Red Sox having played the St. Louis Stars in September 1943 when the NNL had suspended the Stars. Eddie Gottlieb brought up the 1942 issue of Syd Pollock's Ethiopian Clowns (at that time based in Cincinnati) playing against NAL clubs in accusing the NAL of again breaking their joint agreement.273 Would the two leagues ever get along?
George Mitchell, manager of St. Louis, attended the NNL meeting, but was "barred from the closed meeting." Not only Mitchell, but the members of the press were also barred from the meeting as "the assembled magnates took all their squabbles behind closed doors" and had a five-hour meeting, after which they took the newspaper reporters out to dinner and announced that they would send out a release to those same papers.274 Why did the magnates yet again keep their best sources for league publicity out of their meeting? Maybe they were tired of having their dirty laundry aired by the league, but leaving them out in the cold would not stop the negative reportage from coming out. The press speculated that Mitchell would come up with the money to pay off St. Louis's 1943 obligations to the NNL and then join the NAL in 1944, otherwise why would he be "walking the Theresa corridors, his hands locked behind him?" — certainly he was not there to accompany the equally locked out press!275
In more mundane business matters, the NNL re-elected the prior year's league officers, and newly renamed President Wilson formed a committee to contact ODT and attempt to arrange to use their own buses in 1944, a plan that came to fruition sometime before the season opened when ODT offered the same 2,000 miles per month per team travel allowance to the NNL that it gave only to the NAL in 1943.276
When the NAL reconvened in Chicago on March 5 and 6 for its last preseason meeting, media reportage was scarce, as the decisions of NAL owners were mostly routine in nature. The Chicago Defender reported that the Ethiopian Clowns were allowed to shift their home base to Indianapolis from Cincinnati because of a conflict in bookings in Cincinnati — owner Syd Pollock had wanted to play games at the home of the Cincinnati Reds, Crosley Field, but decided not to because they were not allowed by the Reds to use the clubhouse. According to Rebecca Alpert, Pollock instead arranged to play home games at American Association Park in Indianapolis even though the Clowns still played a few games in Cincinnati.277 Otherwise, the NAL finalized its league schedule but did not finalize the naming of a league statistician.278
In contrast, the NNL's final preseason meeting in New York on March 2 and 3 contained "much debate and discussion" — with an undercurrent of contention between, yet again, different factions of NNL owners. Although most of the meeting was taken up with scheduling, a significant decision was made regarding the hiring of a statistician, as the league rejected Wendell Smith's offer to be its statistical agent and hired the Al Munro Elias agency instead.279 By virtue of this choice, the NNL rejected the recommendation of Effa Manley, who had encouraged Smith to present his offer to the NNL owners, and simultaneously angered vocal elements of the black press. Back in December, Smith had offered to compile statistics for both leagues for $5,000 or one league for $3,000.280 Effa Manley believed that getting the fans superior information would mean a great deal to black baseball, but acknowledged resistance to hiring Smith.281 Smith had made enemies among NNL league owners, Cum Posey in particular, resulting in the choice of Elias, which had substantial experience but also was offering a lower price of $425 for the season.282
In particular, Dan Burley, employing the nom de plume of Don Deleighbur, contended that the hiring of white agency Elias and snubbing of black reporter Smith was another example of "complete anti-Negroism" by the NNL, along with its "favoring of the Jim Crow Policy of the major leagues" by refusing to push for baseball integration. Burley/Deleighbur went on to suggest that the hiring of Elias instead of Smith constituted an "affront to Smith's ability" but also a rejection of the Negro press overall, who had given black baseball "thousands of dollars in free space on sports pages throughout the land."283 Supporting Burley, Bob Williams, sports editor of the Cleveland Call and Post, said that the rejection of Smith was a reflection of the "'selfish interests' in Negro baseball in 1944,'" a failure to acknowledge that "the Negro Press has stuck its neck out for Negro baseball" by choosing not to reciprocate for the valuable space given to it in the black newspapers and instead "pass up the opportunity in order to save a few paltry dollars." For Williams, the decision on Smith, along with inaction on supporting integration of black players into major-league baseball, led to "Negro Sports writers raising a question this year: HAVE THE NEGRO LEAGUES BROKEN FAITH WITH THE NEGRO PRESS?"284
In his Cleveland Call and Post column dated March 25, Williams did acknowledge that "INTEGRATION WOULD DISINTEGRATE THE NEGRO baseball leagues."285 In reply to Dan Burley's broadside, Posey picked up on Williams's concession, stating that the desire of the black press to foster integration led to its essentially "offering a whole Negro enterprise to white business men" which" would automatically put organized Negro baseball out of business." In Posey's view, he and the other NNL owners were facing "racial antagonism" from members of the black press in part because they were not enthusiastically participating in the push toward integration of baseball championed especially by Wendell Smith and also by many other black sportswriters. The end of Posey's letter to the press, which appeared side-by-side with Williams's Sport Rambler column of March 25 in the Cleveland Call and Post, stated thusly: "There is enough race antagonism rampant without members of our race constantly seeking self angrandisement (sic). In sports through race pressure."286
Despite the underlying and ever-present tensions between owners, between leagues, and between the leagues and the black press, the March 11, 1944, Pittsburgh Courier's headline for its column on the final NNL preseason meeting was "National League Set for Season." Trades were discussed, and one was completed: Pitcher Percy "Pete" Forrest was traded by the New York Black Yankees to Newark for pitcher Freddie Hopgood and outfielder Ed Stone.287 According to gadfly Dan Burley, the NNL had one final meeting just prior to the start of the NNL season on May 21, a Philadelphia confab in which the clubs voted unanimously to take over all St. Louis Stars players as Stars owner George Mitchell had not paid off his debt to the league. NNL President Wilson reportedly wired NAL President Martin asking him to require NAL clubs to release Stars players so they could report to the NNL clubs claiming them.288 Of course, the two leagues continued to battle over these players.
As the war in Europe reached its "D-Day," the two leagues operated quite successfully in 1944. Attendance was brisk for the fourth straight year and at year's end, sportswriter Alvin Moses characterized the 1944 Negro League season as a "banner year financially."289 The NNL held a scheduling meeting on June 19 in Philadelphia, where it was decided not to offer Gus Greenlee an associate membership for his revived Pittsburgh Crawfords. Since the Homestead Grays were now playing mostly in Washington, Greenlee requested to play at Forbes Field in Pittsburgh when the Grays were not there. Greenlee's intent was to "build Sunday baseball" and he felt that he was owed an opportunity to rejoin the league because of "my record of past contributions to Negro baseball."290 While the Afro-American reported simply that Greenlee was denied an associate membership, Cum Posey later stated that Greenlee was offered an associate membership, but not in Pittsburgh. Posey insisted that league precedent supported President Wilson's ruling that a team could not play home games in a city where another team (his Homestead Grays) had their home grounds unless that team consented. 291
Rebuffed, Greenlee would not go away quietly. He announced the signing of several players from each league during the weekend of the annual East-West Game, and met secretly with the All-Stars of both leagues, encouraging them to strike for a larger profit share. And Greenlee announced his plans to form a rival league in 1945.292 Clearly, Gus Greenlee would be a force to be reckoned with in 1945 — and nobody yet knew that Branch Rickey would be a partner in Greenlee's new league, mostly as a subterfuge for approaching Negro League players to sign with the Brooklyn Dodgers.
At the June 19 meeting, the NNL also decided to refuse to allow Abe Saperstein, now part owner of the NAL's Birmingham Black Barons, to promote its games, which included the upcoming East-West contest. According to Neil Lanctot, the NNL and NAL had drafted a new joint agreement in early 1944 limiting a promoter to 10 percent of the net receipts for a game he promoted; Cum Posey charged that Saperstein had taken more than 40 percent in some instances.293 Finally, Posey reported that he surveyed all the NNL owners at this meeting and they unanimously agreed that Negro League baseball needed a "commissioner to straighten out matters between the two leagues and rule organized Negro baseball.294 Posey stated that the NNL was in accord with the Negro press on the need for a commissioner; he was in this instance agreeing with Wendell Smith, who had written to Effa Manley earlier in 1944 that the only way to get the owners to follow rules and regulations was to elect a commissioner. Would the leagues finally listen to Smith, who had "constantly pleaded for a Commissioner"?295 If all the discord between the black press and black baseball since the December 3, 1943, meeting between the major leagues and the delegation of black publishers was a guide, the answer was a likely "no" — unless ownership and current leadership in both leagues had finally come to their senses.
The NAL also had one more league meeting during the 1944 season. As was often the case, the NAL's June 13 Chicago meeting had little notable news, if the Chicago Defender's brief reportage was to be believed. In addition to setting second-half schedules, the NAL announced the release of catcher Bruce Petway and the purchase of right fielder Jimmie Crutchfield by Cleveland.296
Ultimately, the 1944 season ended with the NNL pennant winning Homestead Grays besting the NAL pennant winning Birmingham Black Barons 4 games to 1. The Negro World Series had now been played for three straight years after a 14-year hiatus — and even though Wendell Smith had been rejected as statistician for the leagues, he had been appointed to a three-man commission with noted sportswriters Fay Young of the Chicago Defender and Sam Lacy of the Baltimore Afro-American to rule on any disputes arising from a now officially-designated championship series.297 J.B. Martin was so pleased with the lack of controversy over the World Series that he called it "the finest thing that has happened in Negro baseball. … It is the first time we've had a Series in which the fans, leagues, and clubs could look toward it with confidence and pride."298
The 1944 season should have given both the NNL and NAL reasons for optimism for a successful and prosperous future. But there had been a Thanksgiving surprise — Commissioner Kenesaw Mountain Landis suddenly died on November 25, 1944. The baseball world was turned on its ear — and change, in an America poised to imminently defeat the forces of evil abroad and confront those same forces at home, was in the offing.
1945
For the first time in the eight years of a two-league structure in black baseball, the NNL and NAL scheduled their annual first winter meetings as preludes to a subsequent joint meeting the following day. Ordinarily, the leagues met jointly in midseason (although in 1944 there was no reported joint meeting of the two leagues at any time of the season), to work out in-season disputes as well as iron out plans for the annual East-West Game and, more recently, plan a postseason World Series. In 1940, there was a joint session on February 24, though this meeting followed earlier NNL and NAL meetings, the NAL back in December and the NNL in early February. Why was there a need for a two-league gathering at the beginning of the winter offseason?
Clues can be found in a December 6, 1944, letter reading like a press release found in Effa Manley's files. This letter, which lists league Presidents Wilson and Martin and NNL Secretary Posey at bottom, announces the calling of a joint meeting in New York on Friday, December 15, in New York at the Theresa Hotel. The letter mentioned the airing of grievances of two or three teams, clearing up the still ongoing battle between the leagues over the "St. Louis situation which caused a rift between the two leagues," discussing the potential blacklisting of players who jumped their teams and "outlaw clubs" they jumped to, as well as issues involving the East-West Game, in which the players' 1944 strike threat had earned them a substantial raise to $200 from $25 that they had gotten previously.299
The final paragraph of the December 6 meeting announcement, however, may have been the most critical. It mentioned "rumors of a third league of Negro Baseball" which NNL and NAL franchise holders were determined not to allow.300 The specter of Gus Greenlee and other independent clubs organizing a rival league still existed, and the NNL and NAL would be prepared.
Related to the concern over Greenlee, however, was the reality of major-league Commissioner Landis's recent death. In describing the agenda for this early joint meeting, the New York Amsterdam News suggested that among matters to be discussed was "the effect the death of baseball czar Judge Kenesaw Mountain Landis will have on park owners and what will be the attitude of Landis' successor as high commissioner of baseball."301 The immediate concern was threats to the NNL and NAL on getting playing dates at major-league ballparks; but lurking in the background, at least implicitly, were the rumblings of movement on ending the color line by signing Negro League players. Would Landis's successor have a different attitude about allowing black players into the major leagues? Negro League owners saw threats to their viability everywhere — but the operations of the major leagues were arguably the biggest threat to their existence both in the short term and in the long run.
The press also found itself cooling its heels outside of the two league meetings on December 15. According to Wendell Smith, after the black sportswriters threated to "give the moguls some 'very bad press' the media was "welcomed with open arms" at the joint meeting on Saturday, December 16.302 What the "assembled scribes" missed witnessing at the league meetings was tension and disputes in the hitherto cooperative NAL environment and smooth and untroubled proceedings in the usually raucous NNL atmosphere.303 The NAL meeting included a split vote on the re-election of J.B. Martin, as owners Thomas Hayes of Birmingham and Syd Pollock of Cincinnati/Indianapolis voted for attorney and former Negro League player James Shackleford to replace Martin.304 In addition, the brothers Martin, president J.B. and owner B.B. of the Memphis Red Sox, voted to retain Robert Simmons as secretary, but the other four teams prevailed in replacing him with Fay Young, sportswriter for the Chicago Defender. According to the Defender, the voting process was animated, with objections given to Martin calling for a vote to succeed himself as NAL president, while his brother B.B. "strenuously objected" to an alternative suggestion of Hayes (a friend of B.B. Martin's) as president, and a "lengthy speech" made by J.B. Martin in favor of retaining Simmons as secretary which was ultimately voted down.305
In contrast, the NNL again re-elected its entire slate of officers, although the New York Amsterdam News relied on "reports that sifted in from the smoke-filled room where the boys talked over secret league maneuvers."306 Wendell Smith, in his column entitled "Caught on the Fly at the Baseball Meeting," quoted Syd Pollock and his secretary Bunny Downs as saying that "bad publicity is better than no publicity."307 One can only speculate whether the periodic keeping of the news hounds out of meetings generated controversy and thereby publicity, or whether it ultimately discouraged the media from giving full support to promoting black baseball.
Otherwise, though, the big news from these winter meetings was the forming of two committees. At the Saturday afternoon joint session, the leagues chose Cum Posey and Ed Bolden to represent the NNL and B.B. Martin and Tom Hayes to represent the NAL to form a group deputized to present a list of candidates to be commissioner overseeing the two leagues. They also chose Abe Manley and Alex Pompez as NNL representatives, and Tom Baird of the Kansas City Monarchs and Ernest Wright of the Cleveland Buckeyes as NAL representatives on a committee tasked with detailed planning for the annual East-West Game, with special attention to avoiding a repeat of the labor dispute that marred the 1944 contest.
The previous afternoon, both leagues also met jointly and listened to William Nunn, managing editor of the Courier (and former NNL secretary) declare that Negro League baseball had grown into a big business, necessitating ownership action in "building your fences" and specifically, choosing a baseball czar to oversee the game and a planning committee for a successful East-West affair.308 Apparently, ownership responded with alacrity to Nunn, as they had not done to the suggestions of Wendell Smith and others over the years. But nothing was simply executed when it came to the operations of the Negro Leagues.
Finally, trades and trade rumors filled the air. James "Soldier Boy" Semler, owner of the Black Yankees, purchased Ted "Double-Duty" Radcliffe from the Birmingham Black Barons. Kansas City sent catcher Quincy Trouppe to Cleveland for pitcher Theolic "Fireball" Smith. And Memphis hoping to make James "Cool Papa" Bell their manager, offered outfielder Cowan "Bubba" Hyde to the Homestead Grays in return for Bell, but Posey turned that deal down. Cleveland owner Ernie Wright also rejected what he characterized as "a bad deal" that would have sent outfielder Buddy Armour to Kansas City for pitcher Jack Matchett.309
Before any more NNL or NAL meetings were held, one more "Black baseball" league meeting was held — one that was not at all welcomed by the existing leagues. On December 27, 1944, in Pittsburgh, the formative meeting of the "United States Negro Baseball League" (usually referred to as the United States League or USL) was held. The league, which included six formerly independent teams, chose Gus Greenlee as its vice president and Wendell Smith as secretary, but left the president slot open for a "nationally known lawyer and athlete "who they wished to convince to accept."310 That individual turned out to be James Shackleford, the losing candidate at the recent NAL meeting for the NAL presidency.
The new league included the controversial St. Louis Stars, the Philadelphia/Hilldale Daisies (to be moved to Brooklyn in May and renamed the Brooklyn Brown Dodgers), the Chicago Brown Bombers, the Detroit City Motor Giants, the Atlanta Black Crackers, and Greenlee's Pittsburgh Crawfords.311 According to Greenlee, once he had been rejected by the NNL for an associate membership in 1944, he was also rejected by the NAL as "the American league owners were afraid of creating trouble by taking me after the National has rejected my bids."312 Though Greenlee claimed that he was not competing with the two existing Negro Leagues, the Courier believed otherwise, suggesting that his entry would be problematic for the NNL and NAL, who would need to "launch a new and vigorous program" to compete with Greenlee's league.313 Both leagues, therefore, should have had plenty of incentive to straighten out some of their more dysfunctional elements within their own structures and between the NNL and NAL.
When the NNL reconvened in New York late February or early March for their second and last preseason meeting, however, it primarily focused on undermining the fledgling structure of Greenlee's new circuit. As reported by the New York Amsterdam News, the "biggest bombshell of mid-winter baseball palavering" was the announcement by Birmingham manager Winfield Welch that Abe Saperstein would not book games nor would he be "connected with the newly-formed (Gus Greenlee & Co.) U.S. League," even though it mentioned that Saperstein was part of the financing of the St. Louis Stars, one of the six teams in the new league.314 In other activities, NNL owners turned down an application for associate membership from an Indianapolis contingent, saying that the presence of an Indianapolis team in the NAL in essence meant that the NAL had authority over any black baseball to be played in that city. And the newly-reorganized Negro Southern League's President R.R. Jackson declared his league to a be a minor-league circuit, offering to develop players for the NNL and NAL in return for their protection of his operations.315
The NAL followed suit, holding its final preseason meeting on March 5 and 6 in Chicago. One notable difference in this year's proceedings was the degree to which each league participated in each other's meetings, as it was NAL team manager Welch of Birmingham who, accompanied by NAL President J.B. Martin, prominently participated in the prior NNL discussion by declaring Saperstein's independence from the new USL, while NNL league owners Pompez, Abe Manley, Ed Gottlieb, and NNL President and Baltimore owner Wilson all attended the NAL conference. It certainly seemed that the threat of a new operation (one that would soon be joined by Branch Rickey) in black baseball was effectively bringing the rival NNL and NAL together in protection of their legitimacy in the eyes of black fans as well as the black press.316 In fact, at this meeting the NAL "fell in line with the Negro National League's action" in rejecting a franchise bid of the same Indianapolis interests who had applied for an associate membership at the recent NNL confab, even though this could mean that the NAL Clowns would not have access to the American Association park in Indianapolis that it had previously used, as the failed bidders were now expected to join the USL and had "'tied' the ball park up. …"317
Dizzy Dismukes, now the business manager of the Kansas City Monarchs, announced at this meeting that the Monarchs had signed Jackie Robinson to play the infield, noting that he had been a "top-notch baseball player before joining the Army." In reality, Robinson had batted .097 for the 1940 varsity UCLA baseball team, and shared the team lead in errors committed; his prowess as an all-around athlete, starring in football, basketball, and track, had more to do with his reputation as a quality baseball player invoked by Dismukes.318 Finally, the NAL declared at this meeting that it would adhere to a 25 percent mileage reduction in scheduling the 1945 season in accordance with the request of the ODT.319
That mileage reduction also applied to the major leagues and resulted in the cancellation of the 1945 major-league All-Star Game, according to Neil Lanctot.320 So what would be the fate of the East-West contest in 1945? The East-West contest could have been canceled, but it was apparently saved by J.B. Martin claiming that it was "ninety-eight percent a Chicago affair" and would therefore not involve heavy travel.321 According to correspondence between William Nunn of the Pittsburgh Courier and Abe Manley, however, a significant discrepancy existed between Martin's view of the East-West Game committee's authority and that of the committee members. Nunn proposed that the committee decide upon allocation of the game's receipts, perform a thorough study of the game's promotion, consider increasing pricing, stage a banquet on the night prior to the game, and underwrite the sportswriter's expenses322 Manley responded by agreeing with all of Nunn's proposals, but informing him that the East-West committee was told by J.B. Martin at the NAL meeting that their sole responsibility for the East-West Game was to solve any problems associated with players striking as they did in 1944.323 More correspondence ensued, with Nunn making clear that he wanted no part in chairing the East-West committee if it was limited to dealing with player compensation,324 and Posey weighed in by declaring in a May 5, 1945, Norfolk Journal and Guide column that "there is too much control over this game in the hands of one man, Dr. J.B. Martin."325
While this conflict played out, the major leagues held an April 24 meeting in which they announced that they had elected Albert B. "Happy" Chandler the new commissioner of baseball, and also that the American and National Leagues had agreed to a request by Sam Lacy of the Baltimore Afro-American to set up a committee to study "colored baseball" with an intention of exploring how to incorporate it into "the organized game" and eventually, bring black ballplayers to the major leagues.326 And on May 7, Branch Rickey held a press conference in which he announced his involvement with the USL through the Brooklyn Brown Dodgers, and simultaneously blasted the Negro Leagues for being "leagues in name only and not in practice" due to their need for booking agents and their shaky player contracts.327 When you add in tryouts at Dodgers training camp for pitchers Terris McDuffie and first baseman Dave "Showboat" Thomas, as well as the infamous Red Sox tryout of Jackie Robinson, outfielder Sam Jethroe, and infielder Marvin Williams, one could easily conclude that there was more going on that affected the status of Negro League baseball than ever before — and on June 12, the leagues would be deciding how to proceed on the choice of a black baseball commissioner.
Negro League historian Neil Lanctot considered the June 12, 1945, joint meeting of the NNL and NAL to be one of critical importance in the history of the Negro Leagues.328 In addition to the vote on commissioner of the two leagues, the response of the leagues to Sam Lacy's committee and the handling of preparations for the East-West Game would be decided. Effa Manley reported as the lone NNL or NAL club owner to have attended Branch Rickey's May 7 USL press conference, and representatives of the Mexican League were "lurking in Chicago" with their assumed intent being "taking star players from both Leagues to play in Mexico."329
If this meeting was a test of the strength of conviction of both Negro Leagues to work together and address their myriad challenges and organize systems to handle internal conflicts and outside threats, the leagues would get a failing grade. Although NNL President Wilson "spoke for three minutes asking for a harmonious meeting," what he got was no agreement on a new commissioner and inaction on most of the other burning issues.330
Two candidates ran for commissioner: Bob Church, a black millionaire and Tennessee political figure with no previous baseball experience, and Judge William Hueston, a former federal official and also president of the first Negro National League from 1927 through 1931.331 Predictably, Church was nominated by Memphis Red Sox officer (and third Martin brother) W.S. Martin while Hueston was proposed by Posey as "the East's candidate for baseball commissioner." As described by Posey in his "Posey's Points" column of June 23, 1945, Effa Manley defected from the Eastern bloc in supporting Church, so that it was "only an aggressive fight by the remaining Negro National League members … that kept Memphis, Tenn. — the weakest baseball city in organized Negro baseball — from becoming the capital of Negro baseball."
Not only was it decided to require a three-fourths majority, but also to have a written ballot — and once the 7-to-5 vote for Church failed to achieve the necessary approval, a motion for a second ballot failed.332 In describing the ultimate inaction by the leagues, Rollo Wilson, who had been observing league proceedings since the second NNL began, commented as follows: "The National and American League clubmen showed that they want no commissioner. … No second vote was taken which would seem to evidence that nobody except the fans, the newsmen and possibly a minority of the owners want a check-rein on Negro baseball."333
Other non-responses from this crucial joint meeting included: 1) In response to Effa Manley's report on the USL/Branch Rickey press conference, a suggestion, but no subsequent vote, on a proposed committee of two players and two club representatives to question Rickey and the two major-league presidents, Ford Frick and William Harridge, about what they expected from the two Negro Leagues, 2) an instruction to NAL Chairman Martin to let Sam Lacy know that his letter forming the committee to study black baseball that included major-league officials and known black figures and asking for a Negro League representative "had been received and read" as the joint membership took no position on it, 3) a motion "putting the East-West [Game] up to Dr. J.B. Martin" was made by Kansas City owner Tom Baird and seconded by Cleveland owner Wilbur Hayes but no vote was recorded. The only mention of the East-West Game committee was that it had previously allocated $100 compensation for each player chosen; a motion carried to allow each team $300 to split among players who were not chosen for the contest.334
Only one other in-season meeting was covered by the black press in 1945. The NNL held a special meeting in early July in New York, one characterized by the Baltimore Afro-American as "one of the most progressive in the history of the organization," in which the league imposed a $500 penalty on the New York Black Yankees for causing two forfeits of games in the past month along with $50 fines on manager George Scales and infielder Buddy Barker for refusing to leave the field after being thrown out of the game. In addition, the league decided to impose a five-year suspension on players who either had already jumped to the Mexican League or planned to do so in the future.335 That the league announced a punitive action against the Black Yankees clearly surprised Sam Lacy, who predicted that "the NNL officials ain't agoing to do nothing to the Black Yankees" because Bill Leuschner, booking agent owner of the Black Yankees and the Bushwicks, had power over them.336
Despite the organizational paralysis and contention that continued to beset the two leagues, they continued to be prosperous in 1945. Attendance around the league continued to be solid; particularly noteworthy was the attendance of 101,818 fans to nine weeknight Negro League games at Philadelphia's Shibe Park, when its two major-league tenants, the A's and the Phillies, only drew 773,020 fans combined for their entire home seasons.337 The Cleveland Buckeyes swept the Homestead Grays, four games to none, in the 1945 Negro World Series, played in the immediate aftermath of V-J Day.338 Cleveland Buckeyes general manager Wilbur Hayes had predicted correctly that his team would win the 1945 NAL pennant back in December 1944 at the NAL's winter meeting; but who could predict the firestorm of excitement, condemnation, and pressure (the last on Negro League owners and officials) that would be unleashed with the October 23, 1945, announcement of the signing of Jackie Robinson by Branch Rickey and the Brooklyn Dodgers?339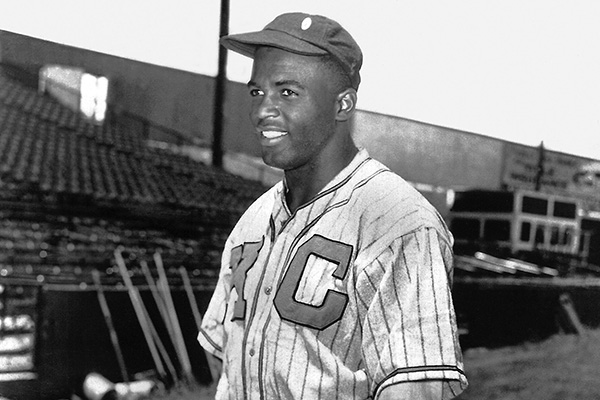 Jackie Robinson's signing with the Brooklyn Dodgers in 1945 led to the integration of major-league baseball, but had a fatal effect on the sustainability of the Negro Leagues. (National Baseball Hall of Fame Library)
PART 3: INTEGRATION AND STORM CLOUDS — AND THE DEMISE OF THE NNL (1945-1948)
Robinson Signs
Although Jackie Robinson signed an agreement with the Brooklyn Dodgers organization on August 28, 1945, the actual signing of a contract to play with the Montreal Royals in the International League for the 1946 season occurred and was announced on October 23, 1945.340 The signing was hailed in most public pronouncements, including the initial response of NAL President J.B. Martin, whose league had employed Robinson in 1945. The October 27, 1945, New York Times published a letter that Martin sent to Branch Rickey in which he wrote: "I take great pleasure on congratulating you for your moral courage in making the initial step which will give the Negro ball players a chance to participate in the major leagues."341
The early comments by the Kansas City Monarchs owners were mixed. Both J.L. Wilkinson and Tom Baird indicated that they were "happy to see any Negro player make the major league grade.342 Wilkinson, though, also noted that "we have been out some expense in training players such as Robinson" and that "something should be done to prevent white organized baseball from just stepping in and taking our players."343 According to the November 3, 1945 Baltimore Afro-American, "Baird was reported to have protested the signing of Jackie and threatened an appeal to Baseball Commissioner A.B. (Happy) Chandler."344 The Afro-American went on to say that Baird had wired them to say that he had been "misquoted and misinterpreted. We would not do anything to hamper or impede the advancement of any colored player, nor would we do anything to keep any colored player out of the white major leagues."345
Behind the scenes, Effa Manley and J.B. Martin exchanged letters discussing how to handle this monumental turn of events. Manley suggested to Martin that John Johnson, chair of New York Mayor Fiorello LaGuardia's Committee on Unity, which had a baseball subcommittee that had been part of the impetus toward baseball integration, could arrange a meeting with National League President Ford Frick and Branch Rickey to see what could be done about getting compensation for any of their ballplayers signed by the major leagues. Effa Manley realized that "the future of Negro Baseball was in question" as Jackie's signing threatened the livelihood of Negro League owners, yet she also seemed to get that diplomatic efforts must be made to work with white Organized Baseball to set precedents for future such signings.346 In return, Martin agreed that Frick and not Chandler should be approached and that some compensation should be received for Robinson "to set up a principle for the ones to follow. There will be no price named, for we are not going to jeopardize Robinson's chance."347
Martin also realized that he needed to say more publicly about the signing and its ramifications. Accordingly, he put out a statement in early November denying that the NAL objected to Robinson's signing and once again lauding Rickey for the stand he took which would provide opportunity for black players to advance to the majors, while expressing the belief that Rickey "must have a big heart" and "is too big not to compensate the Kansas City Monarchs for Jackie Robinson." At the same time, he acknowledged that Rickey had called the Negro Leagues "a racket" and felt the need to mention various business procedures of the Negro Leagues that indicated that "we have an organization" with "By-Laws and Constitution, contracts and Gentlemen's Agreements which have always been carried out by the two leagues" although "we will admit that we do not have a commissioner."348 In reporting on Chandler's statement, the Cleveland Call and Post editorialized that Martin's statement "indicates the usual slipshod technique of the Negro leagues" — and there is no doubt that Branch Rickey would have agreed with the Call and Post.349
Further steps were needed, in the eyes of the black press as well as the Negro League owners and operators. In the November 10 Call and Post, sports editor Bob Williams had a lot to say about Martin, Monarchs ownership, and the two leagues — and none of it was pretty. He characterized the initial NAL statements on the signing as "confusing, asinine, or at best, irrational" and added that "Dr. J.B. Martin, league prexy, hemmed, hawed and beat around the bush in typical presidential style, while, on a tangent of his own, T.Y. Baird injected the first sour note of the development" by questioning the signing without compensation. Williams acknowledged that both Baird and Martin found "safer ground" but indicated that they were in danger of permanently damaging Negro baseball unless they gave unqualified support to the Robinson deal. And what about the NNL? When Williams wrote his commentary, the NNL apparently had released no public statements — Williams ironically stating that "they have never been quite so silent on matters heretofore which were definitely none of their business."350
Cum Posey was indeed busy behind the scenes. He sent a letter to Commissioner Chandler dated November 1, 1945, along lines similar to that of Martin's public statement, but going a bit further. Posey not only enumerated factors that indicated organized business practices on the part of the NNL (and said that he assumed the NAL "operates in the same manner" given their joint agreement) but mentioned that other NNL players had been recently approached by the Dodgers. He made it clear that "we are not protesting the signing of Jackie Robinson or any other player of organized Negro baseball. We are protesting the manner in which he was signed. We feel that the clubs or Organized Negro Baseball … should be approached, and deals made between clubs involved. … That is the only way in which we can be assured that Negro Organized Baseball can continue to operate."351
Posey sent a copy of his letter to Chandler to Washington Senators owner Clark Griffith, who responded to Posey by saying that "Organized Baseball has no moral right to take anything away from [your two leagues] without their consent" while calling Rickey's characterization of Negro League baseball as a racket an "assertion you can prove not to be true."352 Griffith expressed a hope that Commissioner Chandler would protect the rights of the Negro League clubs to their players and suggested to Posey that "you folks should leave no stone unturned to protect the existence of your two established Negro Leagues."353 It is important to remember that Posey's Grays were tenants of Griffith's Senators and lucrative ones at that — so Griffith had a vested interest in the viability of the Negro Leagues, and a desire to keep mining cheap talent from Joe Cambria's scouting of Latin countries without competition from this new resource. Griffith had not shown any interest in signing Negro Leaguers, nor would the Senators bring their first black player Carlos Paula, to the majors until September 1954, almost nine years after Branch Rickey signed Jackie Robinson.354 No, Clark Griffith was not going to make it any easier for Branch Rickey to pave the way for the signing of more Negro Leaguers — and, therefore, he was sympathetic to the arguments of Posey and the other Negro League owners.
Clearly, a special meeting was in order — and so the leagues held a joint meeting on November 9 at their usual New York venue, the Hotel Theresa in Harlem. And not just the NNL and the NAL were meeting. The USL was originally scheduled to meet in Chicago on the same day, then shifted to New York to accommodate Branch Rickey. The USL was also going to meet at the Hotel Theresa on the 9th, and ultimately moved their gathering to the YMCA to avoid confusion over "rooms 102-3 at the Hotel Theresa where such meetings were held."355 USL President Shackleford attempted to get NNL and NAL members to come to his meeting, but got little response to his invitations. According to Dan Burley's account in the New York Amsterdam News, "Negro League Baseball's troublesome course seemed heading for a violent explosion" as the three leagues (and also the minor-league NSL) strategized about how to deal with the major leagues and each other. At the joint NNL/NAL meeting, the announced intent was to strategize about how to stop "Organized White Baseball from raiding Organized Negro Baseball."356
— New York Amsterdam News, November 17, 1945
Apparently, those terms were used advisedly, as Burley noted the sending of a letter to Chandler at this meeting in which the league magnates described black baseball as having been organized for 15 years and having followed white Organized Baseball's rules, and suggesting that Branch Rickey was now violating those rules by not dealing directly with the black owners.357 While Burley also expressed the belief that all three leagues were attempting to become a part of organized white baseball, the November 17 Chicago Defender made no mention of this goal, saying that the NNL and NAL "sought to have white organized baseball owners deal with Negro organized baseball owners in a businesslike manner and to halt the tampering with their players."358 At the end of 1945, organized Negro baseball was in quite a pickle.
1946
For the second year, the NNL and NAL decided that their first winter meeting would include a joint meeting. This time, the undercurrent of change was now a tidal wave that could sweep both leagues aside if they did not come up with a survival strategy. Accordingly, the two-day meeting, held in Chicago on December 12 and 13, was an attempt to organize and "get their house 'in order.'"359 In its individual meeting, the NAL re-elected last year's slate of officers, while the NNL deferred its election to a later meeting because of the absence of Cum Posey. Each league considered, but did not act upon, possible new entrants: in the NAL, a team in Detroit, and in the NNL, a team owned by Gus Greenlee possibly in Montreal and the Brooklyn Brown Dodgers. Together, the two leagues agreed to adopt both the constitution of and uniform player contracts of the major leagues as a prelude to applying for recognition as official organizations of black baseball, with the possibility of eventually becoming part of the current system of white Organized Baseball. According to the December 22, 1945, Pittsburgh Courier, "When the two-day meeting was over, their disorderly house still had big leaks in the roof and its foundation was still resting precariously on quicksand.360
— Atlanta Daily World, December 22, 1945
In its analysis of the same meeting, the Atlanta Daily World said that the two leagues "completely ignored the touchy colored baseball question" occasioned by Robinson's signing.361 The evidence suggests, however, that the two leagues were preparing an approach to Chandler, the league presidents and National Association President William Bramham to gain legal recognition of their rights to black ballplayers. Shortly after the joint meeting, the two Negro leagues sent a resolution to those individuals asking them to promote action at the first 1946 white baseball meetings to agree to negotiate with Negro League clubs before procuring black ballplayers for their respective leagues.362 NNL President Wilson and NAL head Martin did succeed in gaining an audience with Chandler, American League President Will Harridge, and National League President Ford Frick on January 17, 1946. The result was that Chandler offered hope that, once the Negro Leagues were better organized, they could apply to be a part of a system of Organized Baseball that would put all — white major and minor leagues, black major and minor leagues, and even amateur baseball — under Commissioner Chandler's jurisdiction.363
President Martin, however, put out a press release after this conference because he wanted to underscore the desire of the Negro Leagues for being a part of one system of Organized Baseball but make clear that they had no desire to segregate their ballplayers within the Negro Leagues, thereby impeding their advancement into major-league baseball. Chandler had also said that "The Negro Leagues favor keeping their own boys and with their leagues on a sound basis. … [T]hey expect those boys to want to stay in their class." 364 Organized black baseball was trying to walk a tightrope, ensuring their future by gaining legitimacy from white baseball but also appearing to support opportunities of black players to leave the Negro Leagues and play integrated baseball, as long as appropriate compensation was arranged for releasing the players from their Negro League contracts. Martin needed to make clear that he did not support the expressed views of Chandler which made it appear that Chandler "viewed a strong black organization as a substitute for integration" or Martin would be lambasted by the black press for obstructing the advancement of black civil rights in favor of the selfish business interests of the two Negro leagues.365
One thing Martin and Wilson did not support was the recommendation by Chandler that the leagues would be better off with presidents who were not also club owners.366 Wilson had been ill until recently, but he still ran for another term as NNL president at the February 20-21 meeting of NNL owners in New York. This time, Cum Posey and Effa Manley together backed an opposition candidate, Samuel Battle, a parole board commissioner who had been a New York City patrolman as far back as 1911 and was one of the first black appointees to that post.367 Posey had been critical of the two league presidents looking to reinforce their power through their dealings with Chandler.368 Unfortunately, Posey was seriously ill, so it was his co-owner Rufus Jackson who nominated Battle; Posey would die in March of 1946. The other four NNL teams still backed Wilson, and even Rufus Jackson, after the 4-to-2 vote for Wilson, did not want it recorded that he supported Battle. The league also replaced Ed Bolden, voting in Alex Pompez as the new vice president, and chose Curtis Leak as acting secretary given Cum Posey's declining health.369
Both Wilson and J.B. Martin, who attended the meeting, discussed their January 17 session with Chandler. Wilson reported that Chandler approved the new contracts modeled after those of the major leagues but said that the old contracts were not acceptable.370 Chandler offered consideration of a petition for the Negro Leagues to be recognized by organized white baseball as a minor league; Wilson indicated that he considered black baseball to be below major league but above the International League in caliber.371 Martin added that Chandler's public statements were "contrary to the ones he had made in his meeting with Mr. Wilson and myself."372 It was reported in the Courier that J.B. Martin said that NAL owners would wait for the Joe Louis fight with Billy Conn in June to come back to New York for their next joint meeting — giving an indication of the priorities of the NAL magnates.373
During the second day of the meeting, the league voted to limit fees for renting ballparks to 25 percent of receipts, to play 40 games in each half of the 1946 schedule, to petition Organized Baseball for recognition, to approve a working agreement with the NSL, to invite sportswriter Art Carter to their next meeting to "discuss the possibility of a public relations set up," and to postpone deciding on applications for two new franchises in the NNL from Gus Greenlee and USL President John Shackleford. In the minutes, a "long drawn out discussion" of applications by Greenlee for a team in Montreal and possibly Rickey for a Brooklyn team led to a conclusion (without Greenlee and Shackleford present) to ask for a $2,500 franchise fee for either team and judgment that the owners "morally wanted to do something for Gus Greenlee."374
The NAL held its next meeting on February 24 and 25 in Chicago. In this meeting, whose primary purpose was to set the 1946 NAL schedule, the league turned down an application from Greenlee and Shackleford for an NAL team in Detroit because they could not provide assurance that Briggs Stadium, home of the Detroit Tigers, was available. There was discussion of granting an associate membership to W.S. Welch for a team in either Detroit or Cincinnati — the league was apparently willing, but Welch could not decide whether to accept it or have an independent club.375
Before holding its June joint meeting with the NAL, the NNL had two more special meetings in 1946. The first, on March 12, was held in Baltimore. The NNL decided at this meeting to turn down Gus Greenlee's request to rejoin the NNL with two franchises, one in either Boston or Brooklyn and the other in Montreal, as it saw "no benefit to the league members" by adding any franchises, although it went on record as giving Greenlee first preference in the future "if he obtained a city that would be beneficial to league members."376
Both the decision and the process through which the NNL made this decision to exclude Greenlee were heavily criticized by William Nunn. In his Courier column of March 23, Nunn called the decision a breach of ethics. He charged that the NNL knew it would turn Greenlee down when it deferred its decision on Greenlee's application in February and delayed it to do damage to the USL, which was trying to set up operations for 1946 even though it had "limped through its first season" in 1945.377 Nunn expressed the belief that Greenlee was an innovative owner who would have contributed a great deal to the Negro Leagues going forward; rejecting him indicated that the all the Negro League owners "won't see the light. Some just can't keep pace with the changing trends. Others continue stubbornly in the same old pattern because they're sore with those who so correctly advocated for a change."378
As the managing editor of the Pittsburgh Courier and a man who had been chairman of the ill-fated East-West Committee, which had "never been permitted to function and the details were handled by the President of the [Negro] American League," Nunn may have had an axe to grind but he also had a respected voice among the press.379
Another respected voice of the press, Art Carter, was hired for $1,000 for the season by the NNL at the March 12 special meeting. Carter was asked to do public relations for the league, which included tracking of the club standings and creating good will for the league with the press, something sorely needed.380 The league did get some positive press immediately for this hiring and for moving "towards other reforms to make the league a more practicable working organization" including a players pool with compensation for third- and second-place clubs, cash prizes to the league's leading pitcher, hitter and "home run clouter," and the forming of a constitution committee to revise the NNL constitution along the lines of the National League constitution, preliminary to applying for recognition from Commissioner Chandler.381
The second NNL special meeting was held in Philadelphia on May 6, 1946, right at the start of the NNL season. The primary focus of this meeting was cracking down on players who had been thrown out of a game by an umpire or had struck an umpire as well as players who had abandoned the Negro Leagues for Mexico. The league ruled that players would be fined $100 and suspended 10 days for striking an umpire, and fined escalating amounts of $10, $25, and $50 for first, second, and third ejections from games. The league banned eight players, including future Hall of Famers Ray Dandridge and Raymond Brown, for jumping to Mexico.382
The meetings were coming fast and furious this year, so that six weeks after its second special meeting, the NNL met jointly with the NAL on June 19 and then followed with its own meeting on June 20. The NAL had its own league meeting on June 20 as it set its second-half schedule and "were in New York in time to witness the Louis knockout of Billy Conn", the previous night.383 In the joint meeting, the two leagues not only decided on August 18 as the date for the annual East-West Game in Chicago, but they also agreed on a second East-West Game (sometimes referred to as the Dream Game) to be played in Washington on August 15. There was also discussion of the lack of coverage the two leagues were getting from the Pittsburgh Courier. When William Nunn acknowledged the validity of the complaint and promised that the Courier would give the NNL more publicity, an order to have Art Carter investigate was dropped.384 The need to pressure the Courier to increase its coverage of Negro League baseball was an ominous sign for the future of the Negro Leagues, as there was an obvious shift toward covering Jackie Robinson, and also John Wright, Roy Partlow, Don Newcombe, and Roy Campanella, all of whom were playing in the minor leagues of organized white baseball in 1946.
The NNL had still one more special meeting in 1946, this one held in Philadelphia on July 15, in order to organize the second East-West Game in Washington (which had been decided on at the joint meeting). The July 27, 1946, edition of the Norfolk Journal and Guide listed players from the six NNL teams that were being considered for selection for the game, including Josh Gibson, Buck Leonard, and Sam Bankhead of the Homestead Grays, Monte Irvin, Leon Day, and Larry Doby of the Newark Eagles, Orestes "Minnie" Minoso and Silvio Garcia of the New York Cubans, Bill Byrd of the Baltimore Elite Giants, and Gene Benson of the Philadelphia Stars.385
This illustrious group of players, including several future Hall of Famers, was an indication of the continuing vitality of the NNL in 1946. Another indication of the quality of the league was the quality of the seven-game Negro World Series won by the NNL pennant winner Newark Eagles over the NAL pennant winner Kansas City Monarchs. That World Series was later characterized by longtime New Jersey sportswriter Jerry Izenberg as "the greatest World Series ever played between the Negro National and American Leagues."386 The Series was a back and forth struggle, with Kansas City winning games 1, 3, and 5 to take a 3-2 series lead, and the Eagles winning games 6 and 7, the latter a 3-2 win in front of "more than 13,000 vociferous fanatics" at Newark's Ruppert Stadium.387 The series featured pitchers Satchel Paige and Hilton Smith for the Monarchs and Leon Day for the Eagles (all future Hall of Famers) as well as 1946 NAL batting leader Buck O'Neil and Hall of Famer Monte Irvin in a starring role. Monte swatted 3 home runs, 2 of them in the crucial Game 6, and drove in the first run and scored the winning run in Game 7.388Author Brian Carroll described the 1946 Negro League as having had a "banner season" but also reported his own content analysis that showed that the Pittsburgh Courier and Chicago Defender's coverage of the Negro Leagues "sharply declined in 1946 as Robinson's major league debut approached."389
Negro League owners realized that their window of opportunity was closing — and without any concrete encouraging news from Chandler, they arranged a September 26, 1946, meeting between Effa Manley, Alex Pompez, and Curtis Leak and National League attorney Louis Carroll. In the meeting, they asked Carroll about their prospects for recognition by the major leagues. As reported in a document found in Effa Manley's files, Carroll said it was premature to assess, but that the NNL "needed a concrete program and proof that [we] were operating our business along the lines of established business principles." Carroll said that Commissioner Chandler would want to see the new Negro League constitution and Carroll would keep them informed of developments.390 But 1947 would bring Jackie Robinson to the major leagues — and Wendell Smith, so instrumental in Jackie's signing, opined that although recent seasons had been profitable ones for the Negro Leagues, "the lush days haven't been here long and they won't be here much longer" as he expressed sympathy even for those owners who "aren't wholly in support of this campaign to bring more Negro players into the majors. But we'll forgive them and go along with them because they can't do anything about it anyway."391
1947
"As 1947 dawned, most owners, players, fans, and sportswriters had little reason to recognize that an era in black baseball had ended and the future of the once prosperous institution would soon be in doubt."392 So said Neil Lanctot in his coverage of the period of baseball integration, combined with the changing postwar world that faced the institution of black baseball. Lanctot was pointing out that 1946 was also, for the sixth straight year, one of strong attendance figures for the Negro Leagues, so that when the owners of the NAL and NNL convened for their late 1946/early 1947 league meetings, they were not inclined to fully grasp how perilous their future path would be. 393 Nor would Negro League players, who had yet to appear in the white major leagues, or even black sportswriters, who had long warned the Negro League owners to get their house in order when postwar prosperity and the beginnings of baseball integration converged, be likely to fully realize just how fast the future prospects of the Negro Leagues would decline in 1947.
As was generally the case, the NAL held the first winter meeting on December 26 and 27 in Chicago. In reporting on the meeting, the January 4, 1947, Chicago Defender focused on the mundane details of a meeting in which the previous slate of NAL officers was re-elected, the league decided to defer any decision on Abe Saperstein's application to enter the Cincinnati Crescents as a 1947 NAL franchise, W.S. Martin announced that his newly built $250,000 ballpark in Memphis would be ready for the new season, and R.S. Simmons resigned his position as the traveling secretary of the Chicago American Giants. The NAL owners wanted six or eight clubs in the league for 1947 and were also waiting to hear whether teams in Detroit and St. Louis would apply.394
The NNL held its first winter meeting on January 5, 1947, in the Hotel Theresa in New York, as it usually did. The major piece of news of this meeting was a change in leadership — the league elected John H. Johnson, a pastor and police chaplain, to succeed Tom Wilson, who was co-president of the Negro League in 1938 and thereafter, had been president for the past eight years, despite numerous attempts, usually involving the Manleys, to unseat him. This time around, the Manleys were again involved in finding an alternative to Wilson — and their efforts to elect someone different were enhanced by Wilson being advised to give up the job by his personal physician for reasons of poor health.395
Several challengers to Wilson's presidency were discussed. In addition to Johnson, they included Judge William C. Hueston, who had been president of the first NNL from 1927 through 1931 and had been a candidate for Negro Leagues commissioner in 1945; sportswriter and 1946 NNL publicity agent Art Carter; Frank Forbes, formerly business manager of the 1935 New York Cubans among other positions in black baseball and currently a judge on the New York State Athletic Commission; Samuel Battle, last year's challenger to Wilson's throne; and a Harlem lawyer named John Doles. That Johnson was the "handpicked candidate" of the Manleys influenced his being chosen to successfully run against Wilson.396
Johnson's victory was generally welcomed by the press, not only because it meant that the NNL had finally picked a non-owner to head their operations, but also for the actions he promised to work for that would ostensibly strengthen the league. In his "The Sports Beat" column of January 11, 1947, Wendell Smith welcomed the new president, seeing him as a "righteous man … a non-owner … who will not be vulnerable to charges of favoritism and gerrymandering. … [H]is hands are clean and he will make decisions as he sees fit."397 Johnson addressed the need for the league to "get its house in order," for quite some time a favorite exhortation to the league from various members of the black press, and specifically develop a balanced schedule of league games, and redraw the league's constitution with an eye toward gaining recognition from Organized Baseball.398 Although Dan Burley saw Johnson as a "conservative choice" with limited prior connections to baseball, Effa Manley believed that Johnson's election "will also give the lie to hints that we don't want Negroes to go to the major leagues because our new commissioner was one of the most forceful fighters on former Mayor LaGuardia's committee [on baseball]. … [W]e want them to go in an organized fashion and not be virtually "kidnaped" (sic)."399
In his 'Confidentially Yours' column of January 11, 1947, Burley did cynically suggest that the NNL owners hiring Pastor Johnson was "a long step forward in eliminating the practice of cussing out loud at their powwows, especially when splitting up the money is the main agenda at such gatherings." More seriously, Burley asked a crucial question: "Will the hard-headed club owners give Johnson all the authority he demands, and will they abide by his decisions?" Burley was doubtful that the owners would cede control to Johnson, given their failure to follow the rulings of Commissioner Ferdinand Morton, the last independent ruler of black baseball back in the early years of the second NNL.400
There was no doubt that Johnson, as pastor of St. Thomas Episcopal Church in Harlem, a chaplain of the New York City Police Department as well as a former member of Mayor LaGuardia's well-respected Committee on Unity (which has since been credited by many researchers as being influential in the process of baseball integration) had the potential to earn respect while introducing needed reforms. The real question was whether Johnson could create sufficient change in league practices to fully replace what the Pittsburgh Courier once called "the loose-leaf organizational structure of the two leagues" which enabled Branch Rickey to sign Jackie Robinson and eschew compensation to the NAL's Monarchs because he deemed the two leagues as "in effect … not actually organized."401 The jury was out, and it was worth noting that the NAL still had J.B. Martin, owner of the Chicago American Giants, as its president, and the two leagues still had not chosen an independent commissioner to oversee their joint operations.
In 1947 the two leagues chose to have their first joint meeting on February 24 and 25, this time in Chicago, NAL territory, at the Appomattox Hotel on the 24th and the Hotel Grand on the 25th.402 The realities facing the two leagues seemed to be leading them to more and earlier joint sessions in which a mutual decision process was vital. Each league was also holding its own session in Chicago, although these were to be primarily for arranging their first-half schedules.403
In the joint sessions, returning NAL President Martin acted as chairman, which was not surprising given that the NNL had a new leader in Johnson. The leagues decided to more closely coordinate their respective schedules, starting their season on the first Sunday in May and ending it on September 15, and playing the same number of games in each circuit.404 The March 1, 1947, New York Times, reporting on this joint meeting, added that the two leagues were planning on adopting the major-league model of playing all World Series games in the two home cities of the competing teams, departing from their typical practice of playing in several league cities. They also mentioned the banning for five years of several players who had jumped to the Mexican League including the Philadelphia Stars' star second baseman Marvin "Tex" Williams and the infamous Ted "Double Duty" Radcliffe.405 The Atlanta Daily World's reporting of the same meeting was especially focused on Radcliffe, who was "seen in the lobby of the hotel" with his younger brother and fellow Negro Leaguer Alex. "Double Duty" was described as being known by the owners as the "Peck's bad boy" of Negro League baseball, and he "felt the wrath" of the NNL and NAL owners as they banned him from playing any league or nonleague club in league games or in exhibitions.406
In the individual league meetings, the NAL admitted two new franchises, the Detroit Senators and the perennially-wanderering St. Louis Stars, while denying Abe Saperstein a franchise for his Cincinnati Crescents. Employing a bit of hyperbole, the Cleveland Call and Post described the NAL meeting as "a sensational history making session" with the adding of two teams along with upholding the 1946 ban on ballplayers who jumped to Latin American countries, demonstrating that the NAL "has a planned program for maintaining its high standards among the nation's top-notch baseball leagues." The Call and Post also described an "elegant plea" by Saperstein for a Cincinnati franchise that would play at the Cincinnati Reds ballpark, Crosley Field. Despite the "impressive style" of Saperstein's presentation, the NAL decided that St. Louis had more advantages.407 In contrast, the Atlanta Daily World must have been singularly unimpressed with Saperstein's pitch or have missed it entirely, as it reported that Saperstein missed the meeting.408
The NNL meeting, naturally presided over by new President Johnson, centered upon the adoption of a new constitution and bylaws using those of the International League as a model.409 The NNL also declared that the Black Yankees would play at Yankee Stadium when at home, that the Cubans would play at the Polo Grounds, and that the Newark Eagles would play some games at Ebbets Field.410
One could conclude that, as the 1947 season commenced, both the NNL and the NAL were in their own way attempting to legitimize their operations, the NNL with more formalized methods of operations and tighter bonds with major-league owners through their park operations, the NAL with an expanded league and the enforcement of discipline on jumping players that may have been modeled after the five-year ban instituted by Chandler against major-league players who had jumped to Mexico. They were also continuing to work together to mimic major-league operations with an eye toward getting formal recognition by Chandler, as Effa Manley believed they would get more money from major-league owners for their black players if they were recognized as part of major-league operations, and without such significant compensation, they would have a very bleak future.411
The 1947 Negro League season was played against the backdrop of Jackie Robinson debuting as the first African-American major leaguer of the twentieth century, with Larry Doby soon following as the first American League player of color. Staying in the limelight, even in the eyes of black America, would prove to be quite a challenge. In his "The Sports Beat" column of June 14, 1947, Wendell Smith reported that the Negro Leagues were experiencing "a definite decline in interest and probably at the turnstiles, too." He blamed the "moguls of the Negro American and Negro National League" for not sending their standings to the black press with regularity and generally not keeping the black public informed of their doings, claiming that the owners were "dodging the issue" by saying that Jackie Robinson's advance to the majors had destroyed their former prosperity.412 But Smith was also dodging the issue as he failed to acknowledge that the Courier and other black newspapers were no longer giving comprehensive coverage to the Negro Leagues.413
There was at least some recognition by Negro League owners that they needed to curry favor with the black press, as the second joint NNL/NAL meeting of 1947, which was held June 10 and 11 in New York, included a banquet at Small's Paradise, a venerable New York black nightclub, with the black sportswriters as guests of honor. Although J.D. Martin ended up being the keynote speaker, the two leagues attempted to get Branch Rickey to attend and accept an award for breaking the color barrier with the signing of Jackie Robinson. That Martin's speech spoke of black baseball's full support for integration did not negate the missed opportunity to "score a public relations coup" that Rickey's presence and participation would have engendered.414
The joint meeting included the usual determination of the date of the East-West All-Star Game, which would be held on July 27, and the planning of each league's second-half schedule. In addition, the leagues announced that Ray Brown of the Homestead Grays and Creed McGinnis of the Chicago American Giants were being reinstated after previously being banned for not returning from Mexico before a set deadline date. Earlier, NNL President Johnson had temporarily banned Claro Duany, a Cuban who had played in Mexico in 1946, but Cubans owner Pompez protested that ban, saying Duany had been released by the Cubans and had not jumped to Mexico. Banning Duany was an indication that Johnson was meting out appropriate discipline, thereby keeping them in line with major-league rulings by Chandler. But at the joint meeting, Duany was also reinstated. Whatever the merits of each case, rescinding the bans indicated that the leagues needed returning players desperately, as owners like Pompez pressured the leagues to reinstate their players so they could compete successfully for postseason berths and draw fans who came out to see the star players on Negro League rosters.415
Two other issues raised at the June 10 and 11 joint meetings showed the spreading cracks in the façade of the Negro League operations. Manager Homer Curry of the Philadelphia Stars appeared as a spokesperson for a player committee to create a pension plan for retired Negro League players. According to the Norfolk Journal and Guide, the owners first expressed interest but then determined that the financial outlay of $75,000 to $100,000 made it too expensive for them. Also, the two leagues decided to eliminate free passes for visiting players because it reduced the owners' profit margin.416
The season concluded with a bang — and several whimpers. The New York Cubans won their first league pennant, and dispatched the 1945 World Series winner the Cleveland Buckeyes in five games. An exciting series saw the Cubans lose the first game at home in New York and then win four straight games on the road — but those road games were played in Philadelphia and Chicago before the series finale in Cleveland, contrary to the declaration at the February joint meetings that all World Series games would be played in the home cities of the competing teams, as the Negro Leagues reverted to the traveling cities model they had previously used to reach enough fans. The first two games drew decent crowds of 5,500 for a rained-out game at the Polo Grounds and 9,000 for a game at Yankee Stadium, but the rest were sparsely attended.417
Financially, the solid gains that the Negro Leagues had made in solvency over the past six years were largely wiped away in one year. According to Lanctot, "the overall attendance decline in black baseball during 1947 was startling" even though the leagues still drew from a core of loyal fans despite competition from the major leagues.418 While author Carroll, in his exposition focused on the role of the black press in baseball integration, stated that only two teams, the World Series contestants Cleveland Buckeyes and New York Cubans, made money in 1947, evidence suggests that the Cubans actually lost money, with Pompez claiming to have lost $20,000.419
Before beginning what would turn out to be the final season of the Negro National League in 1948, the Negro Leagues were beset with two essential truths. The first, as expressed by Joseph Pierce in his 1947 tome Negro Business and Business Education, was what he described as a Negro businessman's dilemma — "he disapproves of racial segregation but as a business man has a vested interest in segregation because it creates a convenient market for his goods and services."420 This dilemma captures the essence of the apparent unwillingness of Negro League owners to prepare for the eventuality of integration as well as their slow and inconsistent response to its early stages — they did not want to give up the captive audience they had as a result of organized white baseball's institutional racism.
The second truth, which was devastating to their future prospects, was expressed by Neil Lanctot as a summary of 1947: "[T]he year also exposed the essential weaknesses of black business when subjected to outside competition."421 The competition from the major leagues was not going to recede, and even though the rest of the teams (besides the three who brought black players to the major leagues in 1947) would do so with "deliberate speed," the audience for Negro League baseball would, for the most part, never return.
1948
The Negro Leagues did indeed survive 1947 intact. The year had been wildly successful for Jackie Robinson in the major leagues, as he won the Rookie of the Year Award and competed — and starred — in a losing World Series effort, but the other four black players who made their major-league debuts in 1947 — Dan Bankhead for the Dodgers, Larry Doby for the Indians, and Willard Brown and Hank Thompson for the St. Louis Browns — had very little success. There was every reason to expect more debuts of black major leaguers in 1948 — at least, for the Dodgers and the Indians (the Browns could easily describe their first integration efforts as a fiasco) — but the other major-league organizations were still rather hesitant to move forward and sign black players. Horace Stoneham, for one, had told The Sporting News in early 1948 that he had yet to find a black player to "fit in our plans."422 At the end of the 1947 season, the Negro League owners and officials still had high hopes that they would be incorporated into the system of white Organized Baseball, and that they would become a well-paid conduit for black talent to the major leagues. They could also anticipate that the process of baseball integration would be slow to develop, meaning that the Negro Leagues would not lose their most talented players precipitously, and they would have time to develop more young, outstanding black players to first star on their teams before they were sold to white organizations.
Before the Negro Leagues held their annual year-end winter meetings, the National Association of Professional Baseball Leagues, the organization that governed minor-league baseball, held its three-day convention from December 3 through 5 in Miami. On the eve of the three-day meeting, George Trautman, entering his second year as president of the minor leagues after succeeding William Bramham at the end of 1946, announced that he saw no need for further expansion of the minor leagues, saying that "our main job is not to seek additional leagues but to strengthen all our existing leagues."423 During the three days, the minor leagues dealt with business items such as guaranteeing a minimum salary for umpires and also discussed a resolution by the Pacific Coast League to become a third major league.424 What the various newspapers reporting on the National Association convention did not report for some time was the decision by an executive committee of the National Association made during the Miami convention to turn down a written application of the two Negro Leagues to join organized white baseball. A letter written on December 17, 1947, to NNL President Johnson and NAL President Martin said that "the committee was of the opinion that it would be impossible to do anything with these applications at this time."425 The main obstacle was territorial rights in that Negro League clubs played in major- and minor-league parks in the same territories played in by those major- and minor-league teams.426
In examining the actions taken by both Negro Leagues in their initial winter meetings prior to the 1948 season, knowing that the leagues now knew that their hopes of affiliating with organized white baseball had been dashed informs the actions that they took to desperately shore up the foundation of their now sinking ship, though they were not yet ready to publicly acknowledge the devastating news.
As always, the NAL held the first winter meeting, on December 29 in Chicago. Unlike the meetings of previous years, which were usually held at hotels, this one was held at 910 Michigan Avenue, Room 612. The January 3, 1948, Chicago Defender reported that, along with re-electing 1947's NAL officers, there was discussion about possible player trades, Chicago city tax increases, and rises in hotel and restaurant prices.427 Were rising costs, 1947 financial losses, and most recently the National Association's denial of affiliation for the Negro Leagues with Organized Baseball leading league magnates to economize on their meeting space?
What was not speculative was that an uncertain economic future led to a decision to turn down applications for new franchises in New Orleans and Nashville in favor of staying with six clubs, as the owners were "not caring to venture out too far in 1948 as the season looked uncertain for such a move."428 Economics were also responsible for the NAL passing a $6,000 club salary cap for the 1948 season.
The NAL announced several managerial changes for the new season, including Buck O'Neil replacing Frank Duncan as manager of the Kansas City Monarchs, Lorenzo "Piper" Davis taking over the managerial duties of the Birmingham Black Barons from Tommy Sampson, and Quincy Trouppe, after being sold by the Cleveland Buckeyes to the Chicago American Giants, leaving Cleveland's manager post to Alonzo Boone and taking over the position in Chicago.429 And President J.B. Martin announced that the team he owned, the Chicago American Giants, was accusing the San Diego Padres of the Pacific Coast League of tampering with the 1947 NAL batting leader — catcher John Ritchey — by signing him to a 1948 contract, while simultaneously owner J.L. Wilkinson repeated his now more than two-year-old accusation regarding Rickey violating the Monarchs' contractual rights to Jackie Robinson. Unfortunately, Martin's charge was investigated and quickly found to be invalid by Commissioner Chandler, because Chicago could not produce a 1947 contract for Ritchey, further underscoring the similar circumstance of Robinson not having a written contract.
Martin was clearly embarrassed, claiming that all the other American Giants were signed, and it was simply a "costly oversight" that defeated his claim.430 Luckily for Martin, the Padres decided to honor the nonexistent contract and pay a "satisfactory sum" to the Giants for Ritchey, but Wendell Smith commented that the dubious claim of tampering underscored that Negro League operations were still "slipshod" long after Robinson was signed without compensation.431
The NNL held its first winter meeting on January 19, 1948, in New York at its usual haunt, the Hotel Theresa. The league joined the NAL in creating a $6,000 per team salary limit, as it was responding to its own economic straits along with the problems it shared with the NAL.432 In particular, Dan Topping, who succeeded Larry MacPhail as owner and front man of the New York Yankees, had recently released attendance figures showing that attendance at Negro National League games at Yankee Stadium had dropped to over 63,000 patrons in 1947 from in excess of 155,000 in 1946 — and Dan Burley estimated that such Yankee Stadium contests in 1945 drew over 200,000 fans. Burley's conclusion — "when Robinson went into big league baseball he took the Negro attendance at all-Negro contests with him."433
In addition to saving money through team salary limits, the NNL saw the potential of economic gain in selling younger players that they developed to the major and minor leagues, mentioning as an example the $15,000 that Bill Veeck paid the Newark Eagles for Larry Doby.434 One could argue, however, that the recent failed attempt to gain recognition from the National Association, combined with the disastrous attempt by the NAL to challenge the major leagues on the Ritchey and Robinson signings, cast doubt that the Veeck signing of Doby would be a successful model for future sales of black players to Organized Baseball. In addition, Effa Manley's success in selling Doby to Veeck in 1947 was a marked contrast to her failure to get Rickey to pay her for the Dodgers signing Newark Eagles pitcher Don Newcombe in 1946, and their failed attempt to sign star infielder-outfielder Monte Irvin without compensating the Eagles in 1948 — and the Newark Eagles did have all of their players signed to written contracts at least since the early 1940s.435
Otherwise, the NNL decided to continue to ban players who had jumped to Mexico (despite the exceptions it made for Brown, McGinnis, and Duany in 1947) as the Homestead Grays failed to persuade the other owners to overturn it. The league re-elected its 1947 officers, which meant that the owners were reasonably satisfied with the efforts made by Johnson in his first term as NNL president. The league also entertained the possibility of expanding to eight teams, but for the time being it passed on the application of the Richmond Giants, as it could not convince the Asheville, North Carolina, Blues to apply and was not interested in having seven teams.436
In his commentary on the January 19 meeting, Dan Burley revealed the previously unreported failure of the two leagues to affiliate with Organized Baseball. Burley published two columns in the January 24, 1948, New York Amsterdam News. His "Confidentially Yours" column, which was more of a notes column, expressed his opinions of the important decisions the league had made and added that "the meeting featured little else but re-electing all officials and some discussions they didn't want made public," while his news column was the first published account to report the rejection of the affiliation application, which could well have been one discussion the NNL was trying to keep private for the time being.437
It was not until February 23, 1948, that NNL President John Johnson expressed the anguish of his league over its rejection by the National Association. That day, he released a statement outlining the tangled history of two years of failed promises and dashed hopes for the Negro Leagues. Johnson had been a member of the subcommittee on baseball integration that was part of New York Mayor Fiorello LaGuardia's Committee on Unity, when in mid-September 1945, fellow committee member and Yankees owner Larry MacPhail submitted his own written statement regarding "The Negro in Baseball." MacPhail's statement that he would support admitting the Negro Leagues to Organized Baseball "IF and when the Negro leagues put their house in order — establish themselves on a sound and ethical operations basis — and conform to the standards of Organized Baseball" was now cited in Johnson's statement of February 23 as the basis for a two-year process of attempting to conform to MacPhail's — and later Commissioner Chandler's — requirements.
Johnson stated that the Negro leagues had taken the active steps of formulating a new constitution and adopting uniform contracts, yet "in spite of improved organization, when these two Negro leagues made formal application for admission to organized baseball. … They were turned down cold. … Two years after MacPhail's recommendations were made, the Negro leagues still possess no status, no voice, no rights, no relationship at all to the major or minor leagues."438 Johnson praised Rickey's signing of Robinson as a contribution to solving the "question of the Negro in baseball," in sharp contrast to the inaction of Organized Baseball to the fulfillment of MacPhail's recommendations. The result, according to Johnson, was that the Negro Leagues were currently in a "precarious situation" after the "wellnigh disastrous season" of 1947.439
At this point, it hardly mattered who the real villain was — MacPhail for suggesting a false pathway to major-league recognition in September 1945; Chandler for reinforcing that possibility in a meeting with the NNL and NAL presidents on January 17, 1946; National League attorney Louis Carroll for suggesting that there was still some purpose to continuing to apply for recognition when he met with NNL officials on September 26, 1946; or Branch Rickey for setting the precedent for denying that the Negro Leagues were sufficiently organized to deserve compensation when he signed Jackie Robinson on October 23, 1945.440 The two Negro Leagues now knew that they had no future as a part of the white baseball establishment — they would have to find their own way to survive.
The NAL and the NNL continued to meet and (later on) compete — separately and jointly — throughout 1948. The NAL quietly held its schedule meeting in Chicago back at the Hotel Grand on February 21 and 22. The most important news had already been announced prior to the meeting — that J.L. Wilkinson had sold his half-interest in the Kansas City Monarchs to co-owner Tom Baird due to his failing eyesight.441
The NNL had its next meeting at the end of February or the beginning of March. There was inconclusive discussion of adding two more teams, now including a possible Brooklyn franchise along with earlier applicant Richmond, and temporary approval of Jim Semler's proposal to move his New York Black Yankees to Rochester, New York, leaving New York City venues to Alex Pompez's New York Cubans. In addition, the league promised to consider a proposal to create an interlocking schedule with the Negro American League, which would mean that interleague games would be formally included in each other's league schedules and count in their respective league standings.442 As was frequently the case when new league proposals were considered, neither proposal ever materialized.443 The NNL reconvened in New York on March 14 and 15 to finalize its first-half schedule.
The two leagues had their annual midseason joint meeting on June 23 and 24 in New York, preceded by an NNL gathering on the morning of the 23rd. They announced their annual East-West all-star contest would be held in Chicago on August 22, followed by the third (and last) Eastern All-Star Dream Game in Yankee Stadium on August 24. Other declared actions prior to the meeting were the lifting of a ban against the Negro American Association because they stopped exploring the possibility of a franchise in Baltimore, which would infringe on the territorial rights of the NNL's Baltimore Elite Giants, and retaining a 10-day suspension against Thomas Butts, shortstop for those same Giants, for striking an umpire.
The leagues now rejected the interlocking schedule, the possibility of including interleague contests within each league's standings, because they could not work out the extensive bus travel required to include such contests in a regular slate of games. They also met with a representative of the Caribbean Federation of Leagues, who wanted an accord with the Negro Leagues on banning ineligible players as an adjunct to their being given "special classification by the National Association" — since the Negro Leagues had a "tacit understanding with Organized Baseball to conform with its law and regulations and therefore wanted to be in harmony with them."444 It certainly seemed that everyone — the Mexican League, the Caribbean Federation, even the Pacific Coast League — had a better chance of getting what they wanted from Organized Baseball than did the Negro Leagues.445
The 1948 season culminated in a five-game triumph by the Homestead Grays, still featuring first baseman Buck Leonard, in his 16th of 18 successive seasons playing for Homestead, over the Birmingham Black Barons, for whom 17-year-old Willie Mays drove in the winning run in their only triumph. Two of the all-time great Negro League teams contesting the Negro League Fall Classic with an all-time-great ballplayer and several other top-notch talents still drew limited attention from the black press. Though newspapers including the Baltimore Afro-American, Pittsburgh Courier, and Chicago Defender did run some stories on the Grays-Black Barons series, they did not run box scores and paid a great deal more attention to the Cleveland Indians, featuring Larry Doby and Satchel Paige, triumphing over the Boston Braves in the 1948 major-league World Series.446
The season was not without its highlights, but it was also replete with failures and indignities. Starting with the February 1948 announcement by NNL President Johnson of the denial of major-league affiliation, the Negro Leagues were simultaneously dealing with Jackie Robinson telling a reporter that "Negro baseball needs a housecleaning from bottom to top," followed by an article written by Robinson appearing in the June 1948 issue of Ebony magazine entitled "What's Wrong with Negro Baseball?" in which Robinson "outlined the unpleasant lifestyle in black baseball" along with the questionable business dealings of Negro Leagues owners. Newark Eagles owner Effa Manley pushed back very forcefully against Robinson's charges, suggesting that he was "ungrateful" and did not comprehend how much had been sacrificed by the operators of black baseball. But the damage had been done — arguably, Manley only succeeded in widening the distance between those who were working toward integration and the owners of a declining black baseball institution just trying to survive.447
Attendance continued to drop significantly in 1948, limited only by how far it had previously fallen in 1947 from its peak years from 1941 through 1946. The 1948 East-West Game held on August 22 still drew more than 42,000 fans, but the Dream Game at Yankee Stadium held two days later drew fewer than 18,000 fans, far fewer than the expected crowd of 40,000 reported in the August 21, 1948, New York Amsterdam News.448
By September 1948 the shoes were beginning to drop. First, the New York Black Yankees "discontinued league activities in late August."449 Next, Homestead Grays owner Rufus Jackson lamented that "something must be done. We are experiencing our worst season in years and I don't know what the solution is."450 On September 9, five days before the opening game of the Negro World Series, Effa Manley held a press conference at which she announced that the Newark Eagles were for sale. While she negotiated with various buyers, the future of the Grays also appeared in doubt, even as they were winning the Negro World Series.451 Effa Manley "said that more than $100,000 had gone through her fingers the past three years" while Jackson's books had recorded losses of $35,000 in 1947 and another $10,000 in 1948, for a total of $45,000.452
While Rome was burning, NAL President J.B. Martin declared that Negro baseball had not been hurt by the advancement of black players to the major leagues, and that the "million dollar business" of "our baseball" was "here to stay." While he acknowledged vaguely that "Negro baseball has become a paramount issue," he evinced the belief that "since we can now furnish players for the majors, we are now stronger, especially financially. Martin's pronouncements were reported in the November 24, 1948, Atlanta Daily World and it is important to note that he did not mention the NNL in his reassurances of the future viability of "our baseball."453
The final disposition of the Negro National League was determined in a special two-day joint meeting held in Chicago on November 29 and 30, 1948. The facts were that at the meeting, the New York Black Yankees, the now-Washington Homestead Grays, and the Newark Eagles formally dropped out of the Negro National League, while the other three 1948 NNL clubs, the Philadelphia Stars, the Baltimore Elite Giants, and the New York Cubans, along with the new Houston club, purchased from the Manleys and transplanted from Newark, were added to the NAL to form one 10-team circuit.454
A survey of the headlines of some of the leading black newspapers revealed somewhat different perspectives on the ending of a 16-year run by the second Negro National League and the early prospects for a successful 1949. The Cleveland Call and Post headline was the most positive: "Negro Baseball Leagues Merge Into Ten-Team Circuit."455 There was no mention of disbanding teams, rather a merger of forces. The Chicago Defender and the Baltimore Afro-American were balanced, each including a reference to one or more teams quitting but also indicating a future entity: "2 More Teams Quit Baseball, Keep Single Loop" headlined the Defender piece, while "Grays Quit League; New Circuit Formed" was the headline in the Afro-American.456
The Pittsburgh Courier headline only spoke of failure — "National Circuit Folds Up." In evocative and telling language, the Courier article describing the demise of the longest-lasting league in Negro League history started as follows:
Like a ship without a rudder, Negro baseball was drifting wildly in a deep sea of utter confusion this week as owners of teams in the Negro National and American Leagues met here in a joint meeting designed to save the battered hull of what was once a profitable financial vessel."457
According to Negro League historian John Holway, the great Rube Foster, having brought together owners of top black clubs of the Midwest on Friday, February 13, 1920, and convinced them of the need to organize into a Negro National League, told them "We are the ship … all else the sea."458 Twenty-eight years later, the leading black newspaper in America described a now leaky vessel with one of its two engines no longer working. But the surviving Negro American League would not breathe its last breath until 1962.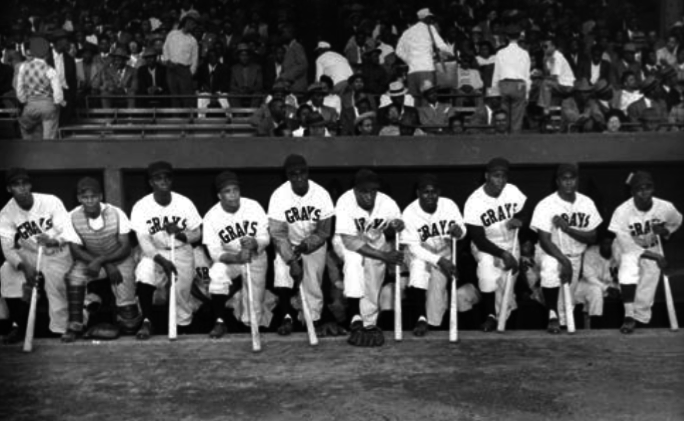 Members of the 1948 Homestead Grays, Negro National League Champions. (National Baseball Hall of Fame Library)
PART 4: THE SURVIVING NAL — THE END OF THE NEGRO LEAGUES (1949-1962)
The Last Years of the Negro American League
"Some one (sic) … has to make the public realize that Negro baseball must go on. It is horrible to think that just because four Negroes are accepted into the major leagues, Negro baseball is doomed. If that happens, no less than 400 young men will lose their jobs as players in our league. We can't let that happen."459
So stated Effa Manley, the "One-Woman Riot" of Negro baseball, in her newly self-defined role as the unofficial ambassador of black baseball, now that she was no longer a Negro League owner.460 Outspoken to the end, Effa Manley would now operate from the sidelines as the Negro American League operated in an environment of declining interest from the black press and the black fan base as they attempted to put a competitive product on the field and remain financially viable. Manley was not wrong that abandoning black baseball was premature given the preliminary steps that major-league baseball had taken to incorporate black athletes into their system. Only Jackie Robinson, Roy Campanella, the ageless Satchel Paige, and Larry Doby, the four Negroes she referenced, had established themselves in the major leagues by the end of 1948. In its new one-league format with 10 teams competing, it was an exaggeration to claim that 400 players still would make their livelihood from Negro American League baseball in 1949, but about half of that — 200 or more — was certainly accurate.461 The Negro American League owners therefore trudged onward, fulfilling the obligation Effa Manley outlined and continuing to provide a showcase for the skills of many black ballplayers as the development of an operating pipeline to the major leagues for the best of these individuals continued.
This article's final part will provide a brief summary of the basic operations and the slow yet relatively steady decline of the NAL, the final remaining Negro major league. The league continued to exist in some form through the 1962 season — starting with 10 teams in 1949 and ending up with but three in 1962. The NAL continued to have one or two winter meetings every year until the 1962 season, and usually had a midseason meeting to schedule games for the season's second half. These meetings tended to be limited to basic operations such as working out the schedule, planning for the annual East-West Game, and especially trying to maintain the number of teams in the league from season to season. On August 26, 1962, when the last of 30 East-West All-Star Games was played, not in Chicago, but in Kansas City, the Negro Leagues had essentially staged their last contest.462
1949
As noted earlier, the first winter meeting of 1949 was on November 29 and 30, 1948, an earlier date than usual, occasioned by the NNL's dissolution. When the NAL reconvened on February 7 and 8, 1949, at 910 Michigan Avenue, Room 612, the same location as its December 29, 1947, meeting, the league was primarily concerned with establishing the framework for its new operations.463 The recorded minutes of this meeting noted that "by common consent, it was agreed that there be an East and West Division and the standing be carried separately" but did not actually specify the teams that would play in each division.464 Since the league approved the moving of owner Ernest Wright's Cleveland Buckeyes to Louisville and was also adding the Houston Eagles to replace the Newark Eagles while dropping the Homestead Grays and the New York Black Yankees from the former NNL, the Indianapolis Clowns were now placed in the East so that each division would have five teams.465 The East Division included the Baltimore Elite Giants, New York Cubans, Philadelphia Stars, Indianapolis Clowns, and the Louisville Buckeyes, while the West Division had the Chicago American Giants, Memphis Red Sox, Kansas City Monarchs, Birmingham Black Barons, and Houston Eagles.466
Naturally, the one-league, two-division setup did not eliminate ownership battles. The February meeting discussed but did not resolve an ownership dispute among the three Martin brothers, NAL President J.B., who in addition to owning the Chicago American Giants had a partial ownership stake in the Memphis Red Sox and his brothers W.S. and B.B. Martin. J.B. wanted to relinquish his rights in the Memphis club equally to his brothers, who were arguing over their resulting share percentages of the team.467
At the midseason scheduling meeting, held at the same location as the February meeting on June 22 and 23, 1949, the discussed ownership battle was between new Houston owner Doctor Young and New York Cubans owner Alex Pompez over the rights to Negro League star Ray Dandridge. In this instance, the dispute was resolved with Pompez giving Young $750 for Dandridge.468 Otherwise, the NAL discussed the process of player selection for the 1949 East-West contest, to be held on August 14, 1949 at the usual venue, Chicago's Comiskey Park, while deciding not to continue the Eastern Dream Game, which had been held for the past three years.469
At year's end, the Kansas City Monarchs swept a four-game Negro World Series from the Baltimore Elite Giants. The Giants won both halves of the East Division's split season; the Monarchs won the West Division's first half, but the second-half-winning Chicago American Giants forfeited a playoff series, leaving Kansas City as the West's contestant in this last Negro League fall classic.470 Not only did Chicago and Kansas City not play each other for the West Division pennant in 1949, but the West Division did not publish their standings.471 It was not an especially good harbinger for 1950 and beyond.
1950-1955
The first half of the 1950s saw the Negro American League start with its full 1949 complement of 10 teams in two divisions, East and West, at the beginning of 1950. By the end of 1950, the East Division had one team, the Cleveland Buckeyes, drop out after playing only two games and two others, the New York Cubans and the Philadelphia Stars, play shortened schedules.472 The 1951 season saw the league deciding to form four-team East and West divisions, with Cleveland not returning and the New York Cubans also being dropped from the league.473 It was not surprising that by 1952, the league had further consolidated into one six-team division; by 1953 it was down to four teams. In 1954, the league added two teams, Detroit and Louisville, but by 1955 the NAL was again a four-team outfit, where it would essentially remain through the end of the decade.474
Prior to the first scheduled meeting on January 14 and 15, 1950, owner Tom Hayes of the Birmingham Black Barons suggested that the NAL "confine its operations to the Deep South," primarily playing in cities like Atlanta, Memphis, New Orleans, and Birmingham, and thereby "seek refuge and security behind the jim crow curtain of the Deep South."475 As the January 5, 1950, Atlanta Daily World put it, the "owners will grapple with the problem of completely surrendering the Eastern section of the United States to major league baseball or finding a way to lure customers through the turnstiles to see their teams play."476
The league ended up postponing this meeting to February 7 and 8, by which time the "Southern strategy" was no longer being considered, other than continuing to play in Memphis, Birmingham, and Houston, as the other Northern teams were still a part of the league. Wendell Smith, in his "Sports Beat" column of February 18, 1950, described the NAL as "on the ropes and ready for the killing," while in contrast, the owners at the meeting were expressing optimism that their "roughest days" were in the past, and, as the headline to the Pittsburgh Courier's February 18 piece suggested, 1950 would be their best season since 1945.477 By the time of the NAL's midseason schedule meeting, it was clear that the league still had a "serious problem of making the turnstiles click more often," and according to the June 24, 1950, Norfolk Journal and Guide, "the league was ready to call it quits but J.B. Martin … persuaded the owners to carry on."478
It never really got any better after that. As year by year the number of teams declined, ownership of the remaining teams continually changed hands. For example, in 1951 J.B. Martin, while continuing on as NAL president, announced at the January 3 and 4 winter meeting held in Chicago (where almost all NAL meetings were now held) that he had sold the Chicago American Giants to former Giants manager Winfield Welch for $50,000.479 Then, at the midseason meeting held on June 14 and 15, the league announced (but ultimately did not succeed in) the selling of the Baltimore Elite Giants to William S. Bridgforth of Nashville from Henryene Green, the widow of Bill Green, who in turn had acquired the team after longtime NNL President Tom Wilson died in 1947.480 According to Cal Jacox's column in the May 17, 1951, Norfolk Journal and Guide, "Today, the Negro American League is concentrated solely on developing future talent for the majors and the minors."481 And, it would seem, trying to avoid a total failure of the institution.
At the first meeting of 1952, the Eagles, who had shifted operations to New Orleans from Houston in 1951, withdrew from the NAL.482 With only six teams remaining and down to one division, Birmingham Black Barons owner Tom Hayes, one of those promoting a Southern-based NAL in 1950, said at the league meeting that things were "up in the air" as he expressed doubts about the league's future.483 Hayes had tried to sell the franchise at the end of 1951, and though he continued to own the team in 1952, he brought in William Bridgforth, who had supposedly bought the now-disbanded Baltimore team to move it to Nashville but would instead be "affiliated" with the Barons.484
— Atlanta Daily World, January 10, 1952
By 1953, the league was down to four teams — longtime members the Kansas City Monarchs, Birmingham Black Barons, and Memphis Red Sox, and the Indianapolis Clowns, who became NAL members in 1944 for the first time after overcoming the opposition of primarily NNL owners to their extensive clowning and presenting of racial stereotypes. The league postponed its first meeting in December, with several owners unable to attend, but President J.B. Martin, in announcing that the meeting would be held in February, proclaimed, "I do believe that 1953 will be the best year the Negro American League has had in many years."485 While Martin maintained a show of optimism, the black press covered the NAL less and less. This researcher could not find any reports of a midseason meeting, and although press coverage continued, many of the articles were shorter and less detailed about league operations.
In 1954, hope sprang anew as the NAL, "anticipating a boom in Negro baseball interest this year," admitted Detroit and Louisville as the fifth and sixth league members at its February meeting.486 Rumors were afoot, however, that the Kansas City Monarchs, a member of the original Negro National League of 1920 and thereafter a steady presence in the successor leagues, would leave the NAL and go independent.487 Though sources conflict about whether Kansas City stayed in the league, merely considering leaving it was an ominous sign for the future.
Whether or not Louisville and Kansas City participated in the 1954 NAL, the Indianapolis Clowns and the Louisville club (called the Buckeyes back in 1949 but later referenced in the media without a club name) dropped out of the NAL at the 1955 winter meeting.488 The big announcement of this meeting was the relocation of the annual East-West Game to Kansas City after 22 successive — and generally successful — years at Chicago's Comiskey Park. Monarchs owner Tom Baird had been reportedly seeking the transfer of venue for the past four years, as attendance at the annual classic had dropped from above 50,000 at its peak during World War II to around 10,000 in 1954.489 In a rare Milwaukee midseason meeting, the league reversed its earlier vote at the behest of NAL President Martin and decided to keep the game in Chicago.490
According to Neil Lanctot, by the end of the 1955 season the league was truly in trouble. The Monarchs suffered their worst season now that they were competing with the newly relocated Kansas City Athletics for fans, as owner Tom Baird stated that the Athletics had "cut our … crowd over 2/3."491 By the beginning of 1956, Baird sold off most of his players to major- and minor-league teams, and the remainder of his team to Ted Rasberry, a man who became heavily involved in the very final years of NAL operations. As Rasberry would primarily operate out of Michigan with rare dates in Kansas City, the cornerstone franchise of the NAL was largely gone.492 But the league would go on.
1956-1959
"Negro baseball, a sport that appears to be wobbling on its last legs, will hold a league meeting in Memphis, Tenn., Feb. 18. The Negro American League confab will be chaired by Dr. J. V. (sic). Martin, president of the four-team loop.
"The NAL was handed a severe jolt recently when it was announced that Tom Baird, owner of the Kansas City Monarchs, had decided not to field a team during the coming season. The departure of the Monarchs leaves only three teams in the loop. Unless a fourth team can be added it appears as if the NAL will have died."493
The above constituted the entire column of the February 18, 1956, Pittsburgh Courier, reporting that the NAL was just about dead. But it was wrong. With the selling of three teams, the league reconstituted as a four-team loop and limped onward. At the meeting, Detroit Stars owner Ted Rasberry purchased the Kansas City Monarchs while he attempted to sell his Detroit team. The Birmingham Black Barons were sold to Dr. Anderson Ross, road secretary of the Memphis Red Sox in the 1920s.494 The league now consisted of Detroit, Kansas City (but in name only), Memphis, and Birmingham, which would soon be renamed the Birmingham Giants.495
Although by now there was very little reportage in the black press on the operations of the league, the February 23, 1957, Chicago Defender, reporting on an upcoming March 15 meeting of the NAL in Memphis at the offices of Dr. B.B. Martin, quoted NAL President J.B. Martin as saying, "I believe it will be a better year than we've had for a long time" as he said that some independent clubs had expressed interest in joining the league.496 Martin lacked credibility in his assessment, as he had been saying for years that the league was in good shape, and now was indirectly acknowledging that prior years had not been successful. Nevertheless, at a meeting in April, the league announced that teams in Mobile and New Orleans would join Memphis, Birmingham, Kansas City, and Detroit in a six-team circuit.497 It seemed that the attempt in 1950 to make a league concentrated in the South might become reality — but Mobile and New Orleans did not finish the second half of the season.498
In 1958, the NAL held a spring meeting in which Arthur Dove, a potential team owner from Raleigh, was turned down in his attempt to get a franchise as the league had no interest in an odd number of teams and would continue with the same four clubs — Birmingham, Memphis, Detroit, and Kansas City, the last two represented by Ted Rasberry, who operated primarily out of Michigan and would represent both Detroit and Kansas City at meetings.499 On May 7, 1958, New York Times reporter Roscoe McGowen reported that two NAL doubleheaders were planned for June 1, when the Memphis Red Sox would take on the Detroit Clowns and June 29, when the Memphis Red Sox would play the Kansas City Monarchs.
McGowen also said that the four NAL teams were planning a 140-game season.500 Although it is very unlikely that such a long season, at least in league play, was completed by any NAL team, the two doubleheaders at Yankee Stadium were played, with the Detroit Clowns splitting their June doubleheader with Memphis in front of 15,000 spectators, and the Kansas City Monarchs sweeping the Memphis Red Sox with an attendance of 7,500.501
So there was still a bit of life in the NAL at the end of 1958. And 1959 brought the possibility of new franchises, with five applications reportedly being considered at the upcoming February 10 NAL meeting in Memphis as possible new league members.502 Unfortunately, by season's end, of the six teams that opened the campaign, the two new teams in Raleigh, North Carolina, and Newark, New Jersey, "threw in the towel" while only the stalwart Memphis Red Sox, Kansas City Monarchs, Detroit Stars, and Birmingham Black Barons "managed to keep swinging until the last ball was pitched."503 As 1959 ended, the NAL was still alive — but not for very long.
1960-1962
The Negro American League's remaining four franchises — the Raleigh Tigers, who were apparently revived for the 1960 season, the Detroit-New Orleans Stars, the Kansas City Monarchs, and the Birmingham Black Barons — met again sometime in early April to plan for the 1960 season.504 Not only had the Newark Indians, who made a brief appearance in the 1959 NAL, dropped out of the league, but the Memphis Red Sox also ceased operations, a "crushing blow" for the league.505 At this juncture, J.B. Martin was still the titular head of the NAL, but he reportedly had "limited his duties mainly to presiding over league meetings, keeping an eye on team personnel, and sponsoring the East-West All-Star Baseball Game. …"506 The real power behind the throne was Ted Rasberry, the NAL vice president, who "has virtually taken over the field operations of the circuit and controls many of the administrative functions."507 In his May 27, 1960, column in the Atlanta Daily World, sportswriter Marion Jackson expressed the view that Rasberry had new ideas of how to make the league profitable. These included limiting travel, finding useful old ballparks to play in, creating new associate memberships, and finding new talent by playing in areas like Atlanta and Philadelphia.508
Unfortunately, most of the ideas suggested by Jackson were not new — and by now, with all 16 major-league teams finally integrated, the sources for black talent were being mostly tapped into by Organized Baseball. The league played on, and held its final Chicago East-West Game on August 21, 1960. The West defeated the East by a score of 8-4 in front of approximately 5,000 fans.509 In the August 23, 1960, Defender there was a picture of J.B. Martin shaking hands with longtime Chicago Mayor Richard Daley, but there was no article on the game, just a few lines under the photograph reporting the score and mentioning the deciding four-run rally.510
At the beginning of 1961, representatives of the four surviving teams — the Raleigh Tigers, Detroit Stars, Kansas City Monarchs, and Birmingham Black Barons — met in Chicago in late February or early March to go over league plans.511 The league decided to switch its East-West Game for the first time to a place outside Chicago — to Yankee Stadium, a locale with a rich history of well-attended Negro League doubleheaders and years of league contests.512
Cal Jacox's August 12, 1961, column in the Norfolk Journal and Guide began as follows: "Though there are many fans who are unaware of its present existence, the Negro American League is still active on the baseball front."513 Jacox talked about Satchel Paige pitching for the Monarchs that year, but noted that publicity was virtually nonexistent for the league, a seeming contradiction given that Satchel was always a one-man publicity machine!514 No doubt the highlight of the penultimate season of the NAL was Satchel Paige pitching three scoreless innings to start the August 20, 1961, East-West contest, getting the win in a 7-1 triumph for the West.515 J.B. Martin estimated that more than 20,000 people would show up, much more than in recent years of East-West Games, given a large advance sale.516 Once again President Martin was unrealistic, just like his yearly expressed expectations of another outstanding NAL season, as attending the contest were a mere 7,245 fans — a pale shadow of the throngs that used to attend this yearly highlight of the Negro League season.517
In 1962 the league had only three teams — the Birmingham Black Barons, Kansas City Monarchs, and Raleigh Tigers — though the Philadelphia Stars were an associate member. J.D. Martin stepped down as league president, and reportedly Ted Rasberry became president.518 There is no record of league meetings, league officials other than Rasberry, or a regular season slate of games, as the teams apparently operated by barnstorming.519 The league held a 30th — and final — East-West All-Star Game, this time in Kansas City. On August 26, 1962, the West All-Stars defeated the East by a score of 5-2. Jackie Robinson was given two plaques and a key to the city, and local resident Satchel Paige, who had won last year's East-West Game at the age of 55 but did not pitch in this one, was honored as well.520 Although the NAL never declared that it had disbanded, the Center for Negro League Research has found no evidence to suggest that there was any operating NAL in 1963.521 The era of black baseball had ended.
Conclusion
The January 27, 1961 Memphis-based Tri-State Defender published an article entitled "Dark Shadows." The article described the demolition of Martin Stadium on Crump Boulevard in Memphis.522 Martin Stadium was built in 1947 with an estimated $250,000 spent by the Martin brothers, owners of the Memphis Red Sox, to create one of the two most significant ballparks built for Negro League play, the other being Greenlee Field, built for the powerhouse NNL Pittsburgh Crawfords back in 1932, the year prior to the start of the second NNL.523 The stadium had an 8,000 seating capacity but attendance had typically been only a few hundred people at Memphis Red Sox games in their last three years of play until they closed operations at the end of the 1959 season.524
"The dream that was Martin stadium was predicted (sic) on the belief that there would always be a place in the American scheme of things for organized Negro baseball."525 A poetic statement, but one that flies in the face of the hopes and aspirations of a subjugated race of people. The Tri-State Defender was expressing nostalgia for bygone days of great performances, great performers, and stadiums filled with people, mostly black people, who celebrated the outstanding stars of their race who were denied the privilege of playing in white Organized Baseball.
Negro League Baseball was a contentious, disorganized, immensely important institution, run by owners who made it possible for those great contests to happen. The story of this era is still being studied and must continue to be told.
DORON "DUKE" GOLDMAN is a longtime SABR member who specializes in researching the Negro Leagues, the career of Monte Irvin, and the process of baseball integration. A resident of Northampton, Mass. but born in the Bronx, he nevertheless roots avidly for the Yankees to lose every day, as well as for the Mets and the Red Sox. He is a 2016 recipient of the McFarland-SABR award for his article entitled "The Double Victory Campaign and the Campaign to Integrate Baseball" which was included in the 2015 SABR publication "Who's on First? Replacement Players in World War II." In 2017 Duke received the Robert Peterson Recognition Award for bodies of work that increase public awareness about the Negro Leagues. The award acknowledges his "Black Ball" articles and other SABR publications.
Notes
1 Leslie Heaphy, The Negro Leagues 1869-1960 (Jefferson, North Carolina: McFarland, 2003), 98,103,106.
2 William Leuchtenberg, Franklin Roosevelt and the New Deal (New York: Harper and Row, 1963) as quoted in Neil Lanctot, Negro League Baseball: The Rise and Ruin of a Black Institution (Philadelphia: University of Pennsylvania Press, 2004),18.
3 David Kennedy, Freedom From Fear: The American People in Depression and War, 1929-1945 (New York: Oxford University Press, 1999), 1964.
4 See https://www.nlbm.com/s/current.htm; Thomas Aiello, The Kings of Casino Park: Black Baseball in the Lost Season of 1932 (Tuscaloosa, Alabama: University of Alabama Press, 2011), 3.
5 See Heaphy, The Negro Leagues, 133-34.
6 Ibid., 54; Neil Lanctot, Negro League Baseball, 9; https://www.nlbm.com/s/team.htm
7 Pittsburgh Courier, January 16, 1932; see also Alan J. Pollock, Barnstorming to Heaven: Syd Pollock and His Great Black Teams (Tuscaloosa, Alabam,a: University of Alabama Press 2006),77-78. Syd Pollock, later the owner of teams in various cities that were called the Clowns, was at that time proprietor of a team called the Cuban House of David or the Cuban Stars. Pollock's Cuban Stars were entered in the 1932 East-West League; Alejandro "Alex" Pompez launched an earlier team called the Cuban Stars which was a member of the ECL. Adrian Burgos, Jr., Cuban Star: How One Negro-League Owner Changed The Face of Baseball (New York: Hill and Wang, 2011), 45-67.
8 Heaphy, The Negro Leagues, 42.
9 Pittsburgh Courier, December 31, 1932; Chicago Defender December 24, 1932; Aiello, The Kings of Casino Park, 5.
10 Chicago Defender, December 24, 1932.
11 Ibid.
12 Pittsburgh Courier, December 31, 1932.
13 Pittsburgh Courier, January 7, 1933.
14 Chicago Defender, February 25, 1933.
15 Pittsburgh Courier, March 4, 1933.
16 Lanctot, Negro League Baseball, 10.
17 Rob Ruck, Sandlot Seasons: Sport in Black Pittsburgh (Urbana, Illinois: University of Illinois Press, 1987), 149-51.
18 Email, Jim Overmyer to Bill Nowlin, October 2, 2017.
19 Pittsburgh Courier, August 15, 1942.
20 Email, Jim Overmyer to Bill Nowlin, October 2, 2017.
21 Pittsburgh Courier, February 11, 1933; In Wilson's March 4, 1933 Courier column, he reported that "reports from the West last week" indicated that Greenlee had been elected permanent chairman of the NNL — he was clearly referring to the February 15 meeting in Indianapolis. Pittsburgh Courier, March 4, 1933.
22 Lanctot, Negro League Baseball, 23-24.
23 Pittsburgh Courier, March 4, 1933.
24"Speaking of Sports," Chicago Defender, February 25, 1933.
25 Ibid.
26 Chicago Defender, February 5, 1933.
27 Ibid.
28 Ibid.
29 Pittsburgh Courier, March 11, 1933. The NNL in 1933 was sometimes referred to as the Negro National Association.
30 Ibid.
31 Chicago Defender, March 18, 1933.
32 Lanctot, Negro League Baseball, 20.
33 Paul DeBono, The Chicago American Giants (Jefferson, North Carolina: McFarland, 2007),133.
34 Norfolk Journal and Guide, July 8, 1933. This was the first reference found to a league constitution.
35 Ibid.
36 Lanctot, Negro League Baseball, 22; "Posey's Points," Pittsburgh Courier, August 15, 1942.
37 "Posey's Points," Pittsburgh Courier, August 15, 1942.
38 Lanctot, Negro League Baseball, 22.
39 "Posey's Points," Pittsburgh Courier, August 15, 1942.
40 Pittsburgh Courier, July 8, 1933.
41 Pittsburgh Courier, August 12, 1933.
42 Ibid.
43 Pittsburgh Courier, July 22, 1933.
44 Ibid.
45 Pittsburgh Courier, January 29, 1938. The Courier column discusses how divisive and disordered the 1937 NNL was and says that the league needs a "'dictator'… a man who will set a course and follow it…regardless!" and ends with the statement that what Negro baseball" needs most at PRESENT is a revival of the Rube Foster method!" See also Chicago Defender, February 15, 1936. The Defender column, written by Candy Jim Taylor, indicates that the owners are at fault for various problems in the NNL and says that the greatest success and best men in baseball were in the original NNL in the 1920's.
46 Larry Lester, Black Baseball's National Showcase (Lincoln: University of Nebraska Press, 2001), 37 citing Kansas City Call, September 14, 1933 (19,568); Lanctot, Negro League Baseball, 23 (12,000).
47 Heaphy, The Negro Leagues, 108.
48 New York Amsterdam News, September 27, 1933.
49 Pittsburgh Courier, August 12, 1933.
50 Pittsburgh Courier, September 16, 1933.
51 Pittsburgh Courier, January 6, 1934.
52 Ibid.
53 Pittsburgh Courier, January 5, 1935. John Clark, the secretary of the NNL, stated that notices were sent to "all prospective club owners, Cum Posey and Prentice Byrd were the only men to respond" in his comprehensive description of 1934 meetings published at the beginning of 1935. In contrast, Cum Posey's version was that he attended along with representatives of Pittsburgh and Nashville. Pittsburgh Courier, January 20, 1934.
54 Pittsburgh Courier, January 5, 1935.
55 Pittsburgh Courier, January 6, 1934.
56 Pittsburgh Courier, February 17, 1934; January 5, 1935.
57 Pittsburgh Courier, January 5, 1935.
58 New York Amsterdam News, March 17, 1934.
59 Lanctot, Negro League Baseball, 33-34.
60 Pittsburgh Courier, January 5, 1935.
61 Rebecca Alpert, Out Of Left Field: Jews And Black Baseball (New York: Oxford University Press, 2011), 51-52.
62 Pittsburgh Courier, June 2, 1934.
63 Ibid.
64 Atlanta Daily World, July 9, 1934.
65 Pittsburgh Courier, June 16, 1934.
66 Pittsburgh Courier, June 30, 1934.
67 Pittsburgh Courier, July 14, 1934.
68 Atlanta Daily World, July 9, 1934.
69 Chicago Defender, July 14, 1934.
70 Once again, different sources provide different attendance figures. Lester reports an attendance of 30,000, while Lanctot has it as above 25,000. Lester, Black Baseball's National Showcase, 61; Lanctot, Negro League Baseball. 38.
71 DeBono, The Chicago American Giants, 137.
72 Lanctot, Negro League Baseball, 37.
73 Philadelphia Tribune, September 13, 1934.
74 New York Amsterdam News, October 20, 1934.
75 New York Amsterdam News, November 10,1934; DeBono, The Chicago American Giants, 137.
76 Pittsburgh Courier, September 15, 1934 as quoted in Lanctot, Negro League Baseball,38; Baltimore Afro-American, January 19, 1935 as quoted in Lanctot, Negro League Baseball, 39.
77 In his history of the Chicago American Giants, Paul DeBono pointed out that "the supposed World Series between the Chicago American Giants and Philadelphia Stars would not generate anything near the amount of fan interest, so it made sense from a business standpoint to schedule the games at Yankee stadium" even though they disrupted the league championship playoff. DeBono, The Chicago American Giants, 137.
78 Lanctot, Negro League Baseball, 40.
79 Atlanta Daily World, January 4, 1935.
80 Burgos, Cuban Star, 84; Lanctot, Negro League Baseball, 24.
81 Lanctot, Negro League Baseball, 41.
82 The Bacharach Giants also sent a representative to the conference but were refused admission to the league, as was a team from Boston. Atlanta Daily World, January 23, 1935; see also Chicago Defender, January 19, 1935.
83 Chicago Defender, January 19, 1935.
84 Atlanta Daily World, January 23, 1935; Chicago Defender, January 19, 1935.
85 Pittsburgh Courier, March 16, 1935.
86 Ibid.; New York Amsterdam News, March 16, 1935.
87 Lanctot, Negro League Baseball, 44.
88 New York Amsterdam News, March 16, 1935.
89 Lanctot, Negro League Baseball, 46.
90 New York Amsterdam News, August 31, 1935.
91 Pittsburgh Courier, November 16, 1935.
92 Lanctot, Negro League Baseball, 48-50.
93 Heaphy, The Negro Leagues, Appendix D, 241.
94 Courtney Smith, "A Fine Line Between Admiration and Animosity: Ed Bolden's Philadelphia Stars, the Negro National League, and the Philadelphia Tribune, 1933-1938," Black Ball Vol.6 (Fall 2013), 45-46 citing Philadelphia Tribune, January 16, 30 1936
95 Chicago Defender, January 18, 1936.
96 Chicago Defender, February 15, 1936.
97 Ibid.
98 Chicago Defender, February 29,1936.
99 New York Amsterdam News, March 14, 1936.
100 Chicago Defender, June 27, 1936.
101 Heaphy, The Negro Leagues, 110.
102 Lanctot, Negro League Baseball, 53.
103 Chicago Defender, October 24, 1936; see also Lanctot, Negro League Baseball, 54-55.
104 Chicago Defender, October 24,1936.
105 Philadelphia Tribune, July 30, 1936 as quoted in Lanctot, Negro League Baseball, 55.
106 Pittsburgh Courier, August 29,1936 as quoted in Lanctot, Negro League Baseball, 55.
107 Chicago Defender, October 17, 1936.
108 Chicago Defender, December 19,1936.
109 New York Amsterdam News, January 2, 1937.
110 New York Amsterdam News, January 16, 1937.
111 Ibid.
112 Pittsburgh Courier, January 30,1937.
113 Pittsburgh Courier, March 27, 1937.
114 Lanctot, Negro League Baseball, 58.
115 Burgos, Cuban Star, 101.
116 Burgos, Cuban Star, 100; Lanctot, Negro League Baseball, 59-62.
117 New York Amsterdam News, June 19, 1937.
118 Lanctot, Negro League Baseball, 65-66.
119 Chicago Defender, February 27, 1937.
120 Ibid.
121 DeBono, The Chicago American Giants, 144-45.
122 Lanctot, Negro League Baseball, 59.
123 Heaphy, The Negro Leagues, 111.
124 Chicago Defender, September 25, 1937 as quoted in DeBono, The Chicago American Giants, 144.
125 Pittsburgh Courier, September 18, 1937.
126 Chicago Defender, October 9, 1937.
127 Lanctot, Negro League Baseball, 67.
128 Pittsburgh Courier, January 29,1938.
129 Document titled "League Meeting," 1938 Newark Eagles Records, Newark Public Library. Documents from this set of files will be referred to as "Manley Files" hereinafter.
130 Ibid.
131 Chicago Defender, February 26, 1938.
132 Pittsburgh Courier, January 29, 1938.
133 Pittsburgh Courier, February 5, 1938.
134 Lanctot, Negro League Baseball, 75.
135 Pittsburgh Courier, February 5, 1938 (states upcoming meeting will be on February 19); Pittsburgh Courier, March 19, 1938.
136 Pittsburgh Courier, March 12, 1938.
137 Chicago Defender, March 19, 1938.
138 Lanctot, Negro League Baseball, 74.
139 Ibid., 76.
140 Heaphy, The Negro Leagues, 112.
141 Chicago Defender, December 18, 1937.
142 Pittsburgh Courier, February 26, 1938; Chicago Defender, February 26, 1938.
143 Chicago Defender, February 26, 1938.
144 Heaphy, The Negro Leagues, Appendix D, 241.
145 Chicago Defender, July 2, 1938.
146 Pittsburgh Courier, December 17, 1938.
147 Ibid.
148 Chicago Defender, January 14, 1939.
149 Lanctot, Negro League Baseball, 78-79.
150 Pittsburgh Courier, February 25, 1939.
151 Summary of 1939 NNL meeting by Cum Posey, Manley Files. Although this meeting description does not specify the meeting date, the matters covered accord with the description of the February NNL meeting discussed in the February 25, 1939 edition of the Pittsburgh Courier.
152 Pittsburgh Courier, February 25, 1939.
153 Document titled "Notes/Memo by Cum Posey," which describes spring 1939 NNL business, Manley Files.
154 Chicago Defender, February 18, 1939.
155 Letter, Cum Posey to Effa Manley, April 14, 1939, Manley Files.
156 Lanctot, Negro League Baseball, 83; Minutes, Meeting of Negro National League, June 20, 1939, Manley Papers.
157 Atlanta Daily World, July 1, 1939
158 Agreement Between The Negro National League and the Negro American League, Joint Meeting June 20, 1939, Manley Papers.
159 Minutes, Combined Meeting of the Negro National League and the Negro American League, June 20, 1939, Manley Papers.
160 Minutes, Joint Meeting of Negro National and Negro American League, August 27, 1939, Manley Papers.
161 Lanctot, Negro League Baseball, 84.
162 Minutes, Meeting of Negro National League, August 28, 1939, Manley Papers.
163 Heaphy, The Negro Leagues, Appendix D, 241.
164 Letter, Cum Posey to Abe Manley, October 17, 1939, Manley Papers; Lanctot, Negro League Baseball, 84-85.
165 Draft of Statement of Abe Manley to NAL Owners, December 9, 1939, Manley Papers. The statement, which has handwritten notations, does not explicitly state who it is intended for but its date and subject matter clearly reference an NAL meeting on December 9 at which Abe's wife Effa would attend and present his thoughts.
166 Lanctot, Negro League Baseball, 86.
167 Ibid., 87.
168 Report on annual meeting of Negro American League, December 9 and 10, 1939, Manley Papers. After Effa Manley's failed attempt to nominate Judge Hastie, the Judge wrote to tell her that he would not be able to handle the "larger job of guidance, direction and publicity" because of his current commitments, which included being Chairman of the National Legal Committee of the NAACP. Letter, William Hastie to Effa Manley, February 1, 1940, Manley Papers.
169 Ibid; Chicago Defender, December 16, 1939 as quoted in Lanctot, Negro League Baseball, 87.
170 Chicago Defender, February 10, 1940.
171 Pittsburgh Courier, February 3, 1940
172 See, e.g. Pittsburgh Courier, May 11, 1940
173 Baltimore Afro-American, February 10, 1940; Letter, Effa Manley to Art Carter, February 7, 1940, Manley Papers. Since the black press published on a weekly basis, one would presume that the Feb. 10 edition came out several days earlier, otherwise Effa would not have been able to date her letter February 7 and criticize Carter for his "column of Feb. 10 in the Afro" unless she was either clairvoyant or she erroneously dated the letter!
174 Letter, Effa Manley to Art Carter, February 7, 1940, Manley Papers.
175 Baltimore Afro-American, February 10, 1940; Chicago Defender, February 10, 24,1940; Pittsburgh Courier, February 10, 1940. Both the Afro-American and Defender accounts contain vivid accounts of the Posey/Manley confrontation. The Courier account described the deadlock in more neutral terms. On February 24, two weeks after the original reportage of this meeting, the Defender quoted Effa as saying that "the league ought to be run for colored by colored." Recent evidence suggesting that Effa could have been white places statements like these and others by Effa Manley in a different light.
176 Baltimore Afro-American, March 2, 1940; Adrian Burgos, Cuban Star, 152 citing New York Age, March 9, 1940.
177 Minutes, Joint Meeting Negro National and Negro American Leagues, February 24, 1940, Manley Papers.
178 Chicago Defender, June 29, 1940.
179 Letter, Effa Manley to B.B. Martin and Thomas Wilson, June 2, 1940, Manley Papers; Lanctot, Negro League Baseball, 91.
180 Chicago Defender, June 29, 1940.
181 Heaphy, Negro League Baseball, 116; Chicago Defender, June 29, 1940.
182 Pittsburgh Courier, November 9, 1940.
183 Pittsburgh Courier, May 11, 1940.
184 Chicago Defender, January 4, 1941.
185 Ibid.
186 Baltimore Afro-American, January 11, 1941.
187 Baltimore Afro-American, January 11, 1941; Pittsburgh Courier, January 11, 1941.
188 Ibid.
189 Ibid.
190 New York Amsterdam News, January 11, 1941; see also Burgos, Cuban Star, 152.
191 Baltimore Afro-American, January 11, 1941.
192 Chicago Defender, January 18, 1941.
193 Chicago Defender, March 1, 1941.
194 New York Amsterdam News, March 8, 1941.
195 Pittsburgh Courier, March 29, 1941; Alpert, Out of Left Field, 72-74.
196 Chicago Defender, May 24, 1941.
197 Lanctot, Negro League Baseball, 105.
198 Pittsburgh Courier, June 28, 1941.
199 Ibid.
200 Cleveland Call and Post, August 13, 1941.
201 Cleveland Call and Post, August 13, 1941.
202 Resolutions passed at NNL Fall Meeting, September 15, 1941, Manley Papers; Pittsburgh Courier, December 27, 1941.
203 Chicago Defender, October 25, 1941.
204 Ibid.
205 Lanctot, Negro League Baseball, 110.
206 Letter, Effa Manley to Cum Posey, October 13, 1941, Manley Papers.
207 Heaphy, The Negro Leagues, Appendix D., 241.
208 Pittsburgh Courier, December 27, 1941.
209 Pittsburgh Courier, January 3, 1942.
210 Atlanta Daily World, December 31, 1941.
211 Letter, Effa Manley to Rufus "Sonnyman" Jackson, January 2, 1942, Manley Papers; Letter, Effa Manley to Joseph Rainey, January 26, 1942, Manley Papers.
212 Letter, Effa Manley to Joseph Rainey, January 26, 1942, Manley Papers.
213 Duke Goldman, "The Double Victory Campaign and the Campaign to Integrate Baseball," Who's on First: Replacement Players in World War II (Phoenix, Arizona: Society for American Baseball Research, 2015), 405-06; Patrick Washburn, "The Pittsburgh Courier's Double V Campaign in 1942," American Journalism (Vol. 74, No. 2 1986), 73-74.
214 Pittsburgh Courier, February 14, 1942.
215 New York Amsterdam News, February 21, 1942.
216 Baltimore Afro-American, February 21, 1942.
217 New York Amsterdam News, February 21, 1942.
218 Baltimore Afro-American, February 21, 1942; New York Amsterdam News, February 21, 1942.
219 New York Amsterdam News, February 21, 1942.
220 Alpert, Out Of Left Field, 78; Pittsburgh Courier, March 7, 1942.
221 Letter, Gus Greenlee to Abe Manley, February 21, 1942, Manley Papers.
222 New York Amsterdam News, March 7, 1942.
223 Atlanta Daily World, March 11, 1942.
224 Baltimore Afro-American, May 9, 1942 as quoted in Lanctot, Negro League Baseball, 119.
225 Lanctot, Negro League Baseball, 127-28.
226 Minutes, Joint Meeting Negro American and Negro National Leagues, June 10, 1942, Manley Papers; Pittsburgh Courier, June 20, 1942.
227 Pittsburgh Courier, October 31, 1942 as quoted in Alpert, Out Of Left Field, 81.
228 Chicago Defender, December 12, 1942.
229 Heaphy, Negro League Baseball, Appendix D., 241.
230 Chicago Defender, December 27, 1942.
231 Chicago Defender, December 12, 1942.
232 Ibid.
233 DeBono, The Chicago American Giants, 160.
234 Chicago Defender, December 19, 1942.
235 New York Amsterdam News, January 30, 1943. Although the Amsterdam News stated that Wilson's "entire cabinet was reelected for another term," in actuality Abe Manley was restored to the treasurer post after two years of Posey serving as both secretary and treasurer of the NNL. In light of the ongoing power plays and the reality of shifting alliances between owners, Abe Manley's being voted back into his previous league office is worth nothing.
236 Pittsburgh Courier, January 23, 1943.
237 Lanctot, Negro League Baseball, 129.
238 Ibid, 132.
239 Ibid., 131-32.
240 Baltimore Afro-American, April 3, 1943; Chicago Defender, April 3, 1943.
241 Baltimore Afro-American, April 3, 1943.
242 Chicago Defender, April 3, 1943.
243 New York Amsterdam News, April 3, 1943.
244 Pittsburgh Courier, April 10, 1943 (sell buses and train travel); Baltimore Afro-American, April 17, 1943 (carry on and try for special considerations); Chicago Defender, April 17, 1943 (trains and commercial buses).
245 Chicago Defender, April 17, 1943.
246 Baltimore Afro-American, April 17, 1943.
247 Lanctot, Negro League Baseball, 133-134.
248 Press Release, May 2, 1943, Manley Papers.
249 Chicago Defender, June 12, 1943.
250 Minutes, Meeting of Negro National League, June 1, 1943, Manley Papers.
251 Ibid. The original vote on the resolution to return the 10 players had Newark not voting and Homestead and Cleveland voting no. But Homestead and Cleveland objected to any ruling on the vote, which led to extensive rearguing of the issue. After another vote with the same result, Presidents and Martin and Wilson signed the order.
252 Lanctot, Negro League Baseball, 138.
253 Brian Carroll, When to Stop the Cheering? The Black Press, the Black Community, and the Integration of Professional Baseball (New York: Routledge, 2007), 129.
254 Minutes, Joint Meeting of the Negro American and Negro National Leagues, August 2, 1943, Manley Papers.
255 Ibid.
256 Alpert, Out Of Left Field, 84.
257 Carroll, When to Stop the Cheering?, 129.
258 J.B. Martin was reported as saying that 1943 had been the most profitable year in league history and that he expected an even better year in 1944. Pittsburgh Courier, December 18, 1943. The Courier also reported that the NAL would resist efforts by some NNL owners to form a one-league structure. In addition, there was to be discussion of disputes over NAL players being used without permission by NNL teams, in one instance by the Homestead Grays during the Negro World Series. Chicago Defender, December 18, 1943.
259 Pittsburgh Courier, December 18, 1943.
260 Ibid. See also Carroll, When to Stop the Cheering?, 131-132. According to Carroll, Smith's column, however inadvertently, provided cover for major-league owners to question Negro League legitimacy. Carroll goes on to characterize Smith's columns on Negro League operations as "patronizing" and delivering "unvarnished criticism" of Negro League owners, likely leading to both leagues rejecting his offer to compile statistics for league games for a fee.
261 Ibid. See also, Lester, Black Baseball's National Showcase, 208-210; Lanctot, Negro League Baseball, 245.
262 Lanctot, Negro League Baseball, 245; Pittsburgh Courier, December 11, 1943 as quoted in Lester, Black Baseball's National Showcase, 209.
263 Carroll, When to Stop the Cheering?, 129.
264 New York Amsterdam News, January 1, 1944.
265 Atlanta Daily World, December 29, 1943.
266 Lanctot, Negro League Baseball, 247 citing Philadelphia Independent, January 2, 1944.
267 Atlanta Daily World, December 29, 1943.
268 New York Amsterdam News, January 15, 1944; Pittsburgh Courier, January 1, 1944. Wilson's statement on baseball integration appeared in a printed brochure whereas Martin's was an oral response.
269 Chicago Defender, December 25, 1943. Traveling secretary Simmons was reelected even though some NAL owners had concerns about a team's road secretary doubling as the league's secretary. Chicago Defender, December 18, 1943.
270 Chicago Defender, December 25, 1943.
271 Norfolk Journal and Guide, January 1, 1944.
272 Pittsburgh Courier, January 1, 1944.
273 Chicago Defender, January 15, 1944.
274 New York Amsterdam News, January 15, 1944.
275 Ibid.
276 Ibid.; Lanctot, Negro League Baseball, 134; Pittsburgh Courier, March 11, 1944. Although Lanctot states that the NNL "would not receive relief until February 1944 when the ODT accepted the league's somewhat dubious claim that it also operated in the south," the March 11 edition of the Courier states that no definitive word from ODT had yet to be received although it was assumed that approval of the 2,000 mile allowance was imminent. This author has found no evidence that the NNL did not end up receiving the allowance.
277 Chicago Defender, March 11, 1944; Alpert, Out Of Left Field, 86.
278 Baltimore Afro-American, March 18, 1944.
279 Pittsburgh Courier, March 11, 1944.
280 Lanctot, Negro League Baseball, 141.
281 Letter, Effa Manley to Wendell Smith, February 7, 1944, Manley Papers.
282 Lanctot, Negro League Baseball, 141-42.
283 Atlanta Daily World, March 14, 1944.
284 Cleveland Call and Post, March25, 1944. The "all in caps" is reproduced here as it appears in the column by Bob Williams.
285Ibid.
286 Ibid.
287 Pittsburgh Courier, March 11, 1944. The Courier column mentioned "a rumor circling the lobby" that owner Semler of the Black Yankees would trade Hopgood and Stone to the Philadelphia Stars for pitcher Terris McDuffie. Hopgood and Stone did end up on the Stars, but McDuffie would pitch for Newark in 1944.
288 New York Amsterdam News, May 20, 1944.
289 Lanctot, Negro League Baseball, 147; Philadelphia Tribune, January 6, 1945 as quoted in Lanctot, 147.
290 Baltimore Afro-American, June 24, 1944; Pittsburgh Courier, June 17, 1944. The Afro-American reported that the meeting's big news was that the press was admitted to the sessions, with the "bigwigs of the NNL finally agreeing to call off their series of 'executive sessions…'" Unfortunately, deciding to finally provide full access to the press in 1944 turned out to be too late given the soon-to-be integration of major league baseball and attendant dramatic shift in the coverage of the black press away from the Negro Leagues.
291 Baltimore Afro-American, June 24, 1944; Philadelphia Tribune, July 1, 1944.
292 Lanctot, Negro League Baseball, 147.
293 Ibid, 145; Baltimore Afro-American, July 1, 1944.
294 Norfolk Journal and Guide, July 29, 1944.
295 Letter, Wendell Smith to Effa Manley, May 19, 1944, Manley Papers.
296 Chicago Defender, June 24, 1944.
297 Heaphy, The Negro Leagues, Appendix D, 241; Lanctot, Negro League Baseball, 143.
298 Philadelphia Tribune, September 16, 1944 as quoted in Lanctot, Negro League Baseball, 143.
299 Letter reading as a press release, December 6, 1944, probably written by Cum Posey for league presidents Tom Wilson and J.B. Martin, Manley Papers; New York Amsterdam News, December 16, 1944.
300 Letter reading as a press release, December 6, 1944, Manley Papers.
301 New York Amsterdam News, December 16, 1944. The article criticized Landis for failing to encourage steps towards integration but noted that he did not interfere in rental arrangements between major-league clubs and Negro League owners.
302 Pittsburgh Courier, December 23, 1944. According to the Amsterdam News, after the media was barred from Friday's league meetings, some "went home in a huff. Others got some minor details from the joint session…"New York Amsterdam News, December 23, 1944.
303 Ibid.; Chicago Defender, December 23, 1944.
304 Pittsburgh Courier, December 23, 1944.
305 Chicago Defender, December 23, 1944.
306 New York Amsterdam News, December 23, 1944.
307 Pittsburgh Courier, December 23, 1944.
308 Ibid.
309 Pittsburgh Courier, December 23, 1944.
310 Chicago Defender, January 6, 1945.
311 See, e.g., Lanctot, Negro League Baseball, 263-271; Heaphy, The Negro Leagues, 198-200. There were several apparent shifts in ownership and location of United States League (USL) franchises in 1945, along with the sudden involvement of Branch Rickey in May of 1945. This article will only cover the USL as it pertains to the ongoing issues of the NNL and NAL.
312 Pittsburgh Courier, January 6, 1945.
313 Ibid.
314 New York Amsterdam News, March 3, 1945. The article mentioned that Saperstein was involved in the operations of the Indianapolis-Cincinnati Clowns and the Birmingham Black Barons of the NAL, along with his financial interest in the USL St Louis franchise. Clearly, Saperstein was all over the map — given his role in booking Negro League games, promoting the East-West Game, and owning basketball's Harlem Globetrotters.
315 Ibid.
316 Pittsburgh Courier, March 17, 1945. NNL and NAL owners had attended each other's meetings in the past, but the cooperative involvement in each other's affairs represented by a) supporting each other in the rejection of a new Indianapolis franchise and b) essentially keeping Saperstein "off limits" to USL operations seems to this author a departure from largely acrimonious dealings between the two leagues in the past.
317 Ibid.
318 Ibid; Arnold Rampersad, Jackie Robinson (New York: Alfred A. Knopf, 1997), 74.
319 Pittsburgh Courier, March 17, 1945.
320 Lanctot, Negro League Baseball, 252.
321 Letter, J.B. Martin to V.T. Corbett, April 5, 1945, Records of the Office of Defense Transportation, National Archives at College Park, College Park, Maryland as quoted in Lanctot, Negro League Baseball, 253. It is interesting to note that the final line of "Posey's Points" in the June 23, 1945 Pittsburgh Courier stated that East-West Game attendance in 1945 would be "limited almost entirely to Chicago fans," thereby bolstering J.B. Martin's claim. Pittsburgh Courier, June 23, 1945.
322 Letter, William Nunn to Abe Manley, March 22, 1945, Manley Papers.
323 Letter, Abe Manley to William Nunn, April 7, 1945, Manley Papers.
324 Letter, William Nunn to Tom Baird, May 9, 1945, Manley Papers.
325 Norfolk Journal and Guide, May 5, 1945.
326 Lanctot, Negro League Baseball, 259-262; Baltimore Afro-American, July 14, 1945.
327 Baltimore Afro-American, May 19, 1945 as quoted in Lanctot, Negro League Baseball, 266.
328 Lanctot, Negro League Baseball, 272.
329 Minutes of Joint Session, June 12, 1945, Manley Papers.
330 Ibid.
331 Lanctot, Negro League Baseball, 273.
332 Minutes of Joint Session, June 12, 1945, Manley Papers.
333 Philadelphia Tribune, June 23, 1945.
334 Minutes of Joint Session, June 12, 1945, Manley Papers.
335 Baltimore Afro-American, July 14, 1945.
336 Baltimore Afro-American, July 14, 1945. Lacy's column appeared on July 14, the same date the Afro-American published a separate piece reporting the fine on the Black Yankees and a week after the Norfolk Journal and Guide published their article reporting the fine. One can only speculate that Lacy's piece was written before the announced punishment or that he did not believe it would be enforced. Norfolk Journal and Guide, July 7, 1945.
337 Lanctot, Negro League Baseball, 274.
338 Heaphy, The Negro Leagues, Appendix D, 241. After V-J day, the Pittsburgh Courier stopped putting a "vv" between printed articles as a symbol of 1942's Double Victory campaign, presumably because victory in the war had been achieved. There is no evidence that the Courier knew that victory in the campaign for baseball integration had also been achieved, as Jackie Robinson's August 28, 1945 agreement with the Dodgers was a secret, not being announced until October 23. Duke Goldman, The Double Victory Campaign, 407.
339 Pittsburgh Courier, December 23, 1944.
340 Rampersad, Jackie Robinson, 129.
341 New York Times, October 27, 1945.
342 Chicago Defender, November 3, 1945.
343 Kansas City Call, October 26, 1945 as quoted in Lanctot, Negro League Baseball, 280 ("we have been out"); Pittsburgh Courier, November 3, 1945 as quoted in Lanctot, Negro League Baseball, 280 ("something should be done").
344 Baltimore Afro-American, November 3, 1945.
345 Ibid.
346 Letter, Effa Manley to J.B. Martin, October 26, 1945, Manley Papers. Johnson would be elected NNL president in 1947.
347 Letter, J.B. Martin to Effa Manley, October 29, 1945, Manley Papers.
348 Statement of J.B. Martin from the Office of the Negro American League, November 1945 (undated specifically but referred to in early November newspaper articles), Manley Papers.
349 Cleveland Call and Post, November 3, 1945.
350 Cleveland Call and Post, November 3, 1945.
351 Letter, Cum Posey to Albert B. Chandler, November 1, 1945, Manley Papers.
352 Ibid.
353 Letter, Clark Griffith to Cum Posey, November 5, 1945, Manley Papers.
354 Robert McGregor, A Calculus of Color: The Integration of Baseball's American League (Jefferson, North Carolina: McFarland, 2015), 149.
355 New York Amsterdam News, November 17, 1945.
356 Ibid.
357 Ibid.
358 Ibid.; Chicago Defender, November 17, 1945.
359 Pittsburgh Courier, December 22, 1945.
360 Ibid.; Chicago Defender, December 22, 1945.
361 Atlanta Daily World, December 22, 1945.
362 Undated resolution, likely in late 1945 or early 1946, Manley Papers.
363 New York Times, January 21, 1946.
364 Hartford Courant, January 22, 1946.
365 Lanctot, Negro League Baseball, 285.
366 Pittsburgh Courier, February 16, 1946.
367 Lanctot, Negro League Baseball, 284-85.
368 Pittsburgh Courier, January 5, 1946.
369 Minutes of regular meeting, Negro National League, February 20, 1946, Manley Papers.
370Ibid.
371 Ibid. Wilson also claimed that Chandler "said nothing against owners being officers of the league." While Chandler may not have specifically raised such an objection when meeting Wilson, his objection to club owners holding the office of President had been reported in the media, as previously noted. Pittsburgh Courier, February 16, 1946
372 Minutes of regular meeting, Negro National League, second day, February 21, 1946, Manley Papers.
373 Pittsburgh Courier, February 16, 1946.
374 Ibid. Crossed out was a statement that "legally they were not obligated to him or anyone else."
375 Philadelphia Tribune, March 9, 1946.
376 Minutes of special meeting, Negro National League, March 12, 1946, Manley Papers.
377 Heaphy, The Negro Leagues, 200.
378 Pittsburgh Courier, March 23, 1946.
379 Pittsburgh Courier, December 22, 1945.
380 Minutes of special meeting, Negro National League, March 12, 1946, Manley Papers.
381 Pittsburgh Courier, March 23, 1946.
382 Philadelphia Tribune, May 11, 1946.
383 Chicago Defender, June 29, 1946.
384 Minutes of Joint meeting, Negro American League and Negro National League, June 19, 1946, Manley Papers.
385 Norfolk Journal and Guide, July 27, 1946.
386 Newark Star-Ledger, May 19, 1996
387 Effa Manley and Leon Hardwick, Negro Baseball Before Integration (Chicago: Adams Press, 1976),96.
388 Doron "Duke" Goldman, " Monte's Missions: Mastering Mexico, Military Service, Defeating Monarchs and Minor League Magic," Black Ball Vol 9 (2017), 54-55.
389 Brian Carroll, "The Black Press and the Integration of Baseball: A content analysis of changes in coverage," Cooperstown Symposium on Baseball and American Culture (Jefferson, North Carolina: McFarland, 2003), 216-231 as quoted in Carroll, When to Stop the Cheering, 150,152.
390 Report of Meeting With Louis Carroll, Lawyer For The National League, September 26, 1946, Manley Papers.
391 Pittsburgh Courier, May 3, 1947.
392 Lanctot, The Negro Leagues, 306.
393 Ibid.
394 Chicago Defender, January 4, 1947; Chicago Defender, December 21, 1946.
395 Chicago Defender, January 11, 1947. The Defender claimed that in 1946 Wilson had tried to "relinquish the office but the owners insisted that he serve another year."
396 Lanctot, Negro League Baseball, 307-309. Lanctot's sources indicate that despite Wilson's ill health, he was still supported by Baltimore and Philadelphia for another term. Manley championed Johnson and was supported by the Grays and Cubans owner Alex Pompez. A deadlock was averted when Black Yankees owner Semler voted for Johnson despite having supported Wilson in previous years. Lanctot speculates that Semler's support was won over by an offer to be the exclusive promoter at Yankee stadium as Cum Posey had once suggested that "Semler will do anything if money is shoved him." Letter, Cum Posey to Abe Manley, October 25, 1942, Manley Papers, as quoted in Lanctot, Negro League Baseball, 301 n.13. See also James A. Riley, The Biographical Encyclopedia of the Negro Leagues (New York: Carroll & Graf, paperback edition, 2002), 287,400 (biographical information on Forbes and Hueston).
397 Pittsburgh Courier, January 11, 1947.
398 New York Amsterdam News, January 11, 1947.
399 Ibid; People's Voice, February 1, 1947 as quoted in Lanctot, Negro League Baseball, 309.
400 New York Amsterdam News, January 11, 1947.
401 Pittsburgh Courier, December 22, 1945.
402 Atlanta Daily World, March 5, 1947.
403 Chicago Defender, February 22, 1947.
404 Atlanta Daily World, March 5, 1947.
405 New York Times, March 1, 1947.
406 Atlanta Daily World, March 5, 1947.
407 Cleveland Call and Post, March 1, 1947.
408 Atlanta Daily World, March 1, 1947.
409 New York Times, March 1, 1947.
410 Atlanta Daily World, March 1, 1947. The Daily World also reported that Ed Gottlieb would no longer have to be involved in booking Yankee Stadium games. This decision gives credence to the conjecture by Lanctot mentioned in footnote 396 above that Semler may have been "bought off" by opportunities to promote his own games at Yankee Stadium.
411 See Adrian Burgos, Cuban Star, 179, citing Baltimore Afro-American, April 20, 1946.
412 Pittsburgh Courier, June 14, 1947.
413 Carroll, When to Stop the Cheering?, 156-57. Carroll gives the example of the Chicago Defender giving extensive coverage to Jackie Robinson's game-winning home run in the 1947 major-league World Series and minor coverage of the New York Cubans winning the 1947 Negro World Series.
414 Lanctot, Negro League Baseball, 312-13.
415 Baltimore Afro-American, June 21, 1947. For a discussion of the Duany case, see Burgos, Cuban Star, 171-72.
416 Norfolk Journal and Guide, June 21, 1947. Note that other sources say that the league was willing to consider playing yearly benefit games to raise money for a pension fund. See Baltimore Afro-American, June 21, 1947; Heaphy, The Negro Leagues, 215 citing Joint Meeting minutes, June 10, 1947, Tom Baird Papers, University of Kansas Libraries, Lawrence Kansas (rescinding visiting passes).
417 Burgos, Cuban Star, 175-76; Cleveland Call and Post, October 11, 1947.
418 Lanctot, Negro League Baseball, 317.
419 Carroll, When to Stop the Cheering?, 156; Cleveland Call and Post, October 11, 1946. Columnist and noted early black baseball historian A.S. "Doc" Young, who reported the $20,000 loss figure in the Call and Post, stated that he considered Pompez's claim to be exaggerated, but author Roberto Echevarria also reported that Pompez claimed to have lost money in 1947. Roberto Echevarria, The Pride of Havana: A History of Cuban Baseball (New York: Oxford Press, 1999), 207.
420 Joseph A. Pierce, Negro Business and Business Education (Boston: Springer Science + Business Media, 1995 reprint), 219.
421 Lanctot, Negro League Baseball, 318.
422 The Sporting News, March 17, 1948 as quoted in Lanctot, Negro League Baseball, 336.
423 Hartford Courant, December 3, 1947.
424 Ibid.; New York Times, December 6, 1947.
425 Washington Post, February 6, 1948.
426Ibid.
427 Chicago Defender, January 3, 1948.
428 Philadelphia Tribune, January 3, 1948.
429 Ibid.
430 Atlanta Daily World, January 13, 1948.
431 Pittsburgh Courier, January 24, 1948 as quoted in Lanctot, Negro League Baseball, 325.
432 Atlanta Daily World, January 24, 1948.
433 New York Amsterdam News, January 3, 1948.
434 Atlanta Daily World, January 24, 1948.
435 See, e.g., 1941 contract of Monte Irvin, Manley Papers. The Eagles ultimately received $5,000 for Monte Irvin's contract in 1948 after successfully fighting off the Dodgers' overtures. The level of compensation for Irvin may have been a more realistic standard for future signings than that for Doby.
436 New York Amsterdam News, January 24, 1948. Richmond and Asheville joined another new Negro League, the Negro American Association.
437 Dan Burley, "Confidentially Yours," New York Amsterdam News, January 24, 1948, 13; New York Amsterdam News, January 24, 1948, 12.
438 New York Amsterdam News, September 22, 1945 (MacPhail statement); Boston Globe, February 24, 1948 (Johnson statement).
439 Boston Globe, February 24, 1948.
440 It deserves mention that at about the same time Johnson announced his bitter disappointment at being betrayed by organized baseball, Commissioner Chandler was reportedly having an official meeting with representatives of the Mexican league. It was to be the first official meeting between the organizations since the Mexican leagues raided the major leagues in 1946 and signed several of their players, and Chandler suspended those players for five years in response. The meeting was to include a discussion of a future affiliation of the Mexican league with organized baseball. New York Times, February 21, 22, 1948.
441 Chicago Defender, February 21, 1948.
442 Baltimore Afro-American, March 6, 1948; New York Amsterdam News, March 6, 1948; Atlanta Daily World, March 11, 1948.
443 Lanctot, Negro League Baseball, 328; Atlanta Daily World, June 29, 1948.
444 Atlanta Daily World, June 29, 1948.
445Ibid. Although the Pacific Coast League never succeeded in their attempt to become the third major league, they successfully petitioned to become an "open" classification, which exempted their players from the annual draft of minor-league players under certain conditions, and gave the Pacific Coast League a status between Triple A and major league. New York Times, January 1, 1952. Such a status may well have been appropriate for the Negro Leagues given the level of talent they featured during the two-year period between Jackie Robinson's signing and the rejection of their application to affiliate with organized baseball. As previously mentioned, at the Feb. 20 and 21, 1946 NNL meetings, NNL President Wilson had assessed black major-league baseball as being below major league but above the Triple-A International League in caliber.
446 Richard Puerzer, "The 1948 Negro League World Series," Bittersweet Goodbye: The Black Barons, The Grays, And The 1948 Negro League World Series (Phoenix, Arizona: Society for American Baseball Research 2017), Frederick Bush and Bill Nowlin, eds., 386, 388.
447 Philadelphia Tribune, February 14, 1948 as quoted in Lanctot, Negro League Baseball, 332 (outlined); Jackie Robinson, "What's Wrong with Negro Baseball?" Ebony, June 1948 as quoted in Lanctot, Negro League Baseball, 332; Effa Manley, "Negro Baseball Isn't Dead," Our World, August 1948, as quoted in Lanctot, Negro League Baseball, 334.
448 Thomas Kern, "The 1948 East-West All-Star Games." Bittersweet Goodbye, Frederick Bush and Bill Nowlin, eds., 369, 371; New York Amsterdam News, August 21, 1948.
449 Baltimore Afro-American, December 11, 1948.
450 Baltimore Afro-American, September 4, 11, 1948, as quoted in Lanctot, Negro League Baseball, 337.
451 Lanctot, Negro League Baseball,
452 Pittsburgh Courier, December 11, 1948. Whether or not Effa Manley meant that her team lost $100,000 from 1946 through 1948, it is worth noting that 1946 was the year that her Newark Eagles won their only Negro League World Series.
453 Atlanta Daily World, November 24, 1948.
454 Chicago Defender, December 11, 1948.
455 Cleveland Call and Post, December 4, 1948.
456 Chicago Defender, December 11, 1948; Baltimore Afro-American, December 11, 1948.
457 Pittsburgh Courier, December 11, 1948.
458 John Holway, Blackball Stars (Westport, Connecticut: Meckler Books 1988), 21.
459 Pittsburgh Courier, December 11, 1948.
460 Ibid.
461 It is possible that Effa Manley was including other leagues like the Negro American Association and the Negro Southern League (NSL) when she came up with the figure of 400 remaining black ballplayers. As of 1950, those two leagues still existed, and they apparently reformulated into one Negro Southern Association in 1951. See Atlanta Daily World, June 15, 1950 and Atlanta Daily World, March 27, 1951.
462 Pittsburgh Courier, August 25, 1962.
463 Minutes, Schedule Meeting of the Negro American League, February 7 and 8, 1949. Minutes provided by SABR's Negro Leagues Committee Chair Larry Lester, August 2017.
464 Ibid.
465 Ibid. The offered justification for approving the move of the Buckeyes to Louisville was that "the appearance of Larry Doby and Satchel Paige with the major league Cleveland Indians had attracted most of the Buckeye fans." Atlanta Daily World, February 15, 1949. The team was sold by Wright to former Cleveland Buckeyes business manager Wilbur Hayes, who brought the team back to Cleveland for the 1950 NAL season. See Pittsburgh Courier, February 18, 1950.
466 Atlanta Daily World, February 15, 1949.
467 Minutes, Schedule Meeting of the Negro American League, February 7 and 8, 1949.
468 Schedule Meeting of the Negro American League, June 22 and 23, 1949. Minutes provided by Larry Lester, August 2017.
469 Ibid.
470 Heaphy, The Negro Leagues, Appendix D, 241.
471 Dick Clark and Larry Lester, editors, The Negro Leagues Book (Cleveland, Ohio: Society for American Baseball Research, 1994), 163.
472 Ibid.
473 Ibid.; Norfolk Journal and Guide, January 20, 1951.
474 Ibid. This researcher found conflicting information on the number of teams who played in the 1954 NAL. In The Negro Leagues Book, only four teams — the Indianapolis Stars, Memphis Red Sox, Birmingham Black Barons, and Detroit Stars — appear in the standings. But the March 27, 1954 Baltimore Afro-American stated that six teams, including the perennial NAL entry the Kansas City Monarchs, who were not in the 1954 standings in the Negro Leagues Book, and two new teams, in Louisville and Detroit, would play the 1954 season. The February 5, 1955 Chicago Defender stated that two teams — the Indianapolis Clowns and Louisville — were dropped from the league to again make it a four-team circuit. Baltimore Afro-American, March 27, 1954; Chicago Defender, February 5, 1955. Additional research or perhaps other existing resources may resolve this difference.
475 Atlanta Daily World, January 4, 1950.
476 Atlanta Daily World, January 5, 1950.
477 Wendell Smith, Pittsburgh Courier, January 18, 1950; Pittsburgh Courier, January 18, 1950 (roughest days).
478 Chicago Defender, June 17, 1950; Norfolk Journal and Guide, June 24, 1950.
479 Baltimore Afro-American, January 13, 1951.
480 Pittsburgh Courier, June 23, 1951. Apparently, the sale did not go through, and Baltimore operated as a traveling team through much of 1951, and was dropped from the league at the January 1952 meeting. Chicago Defender, January 5, 1952.
481 Norfolk Journal and Guide, May 17, 1951.
482 Chicago Defender, January 5, 1952.
483 Atlanta Daily World, January 10, 1952.
484 Chicago Defender, January 5, 1952; Pittsburgh Courier, February 23, 1952.
485 Pittsburgh Courier, February 7, 1953.
486 Pittsburgh Courier, February 13, 1954; Baltimore Afro-American, March 27, 1954.
487 Chicago Defender, February 6, 1954.
488 Chicago Defender, February 5, 1955.
489 Ibid. One can speculate that moving the game to Kansas City may have been related to keeping Tom Baird happy and his Kansas City Monarchs in the rapidly shrinking NAL, after his dalliance with independent play in 1954.
490 Pittsburgh Courier, June 11, 1955.
491 Letter, Tom Baird to Oscar Rico, May 21, 1955, Tom Baird Collection, box 3, correspondence about Cuban Giants, 1954 as quoted in Lanctot, Negro League Baseball, 385.
492 Lanctot, Negro League Baseball, 385-386.
493 Pittsburgh Courier, February 18, 1956.
494 Chicago Defender, March 3, 1956.
495 The Pittsburgh Courier reported that new owner Ross changed the name because previous owner Floyd Meshack had the "Black Barons" name copyrighted, but also noted that the "old name of the club had long been offensive to a large segment of the baseball fans." Pittsburgh Courier, March 24, 1956.
496 Chicago Defender, February 23, 1957.
497 Norfolk Journal and Guide, May 4, 1957.
498 Chicago Defender, March 29, 1958.
499 Chicago Defender, April 12, 1958.
500 New York Times, May 7, 1958. This author does not know anything about the Detroit Clowns.
501 Pittsburgh Courier, June 7, 1958 (Clowns vs. Red Sox); New York Times, June 30, 1958 (Monarchs vs. Red Sox).
502 Atlanta Daily World, January 6, 1959.
503 Atlanta Daily World, December 11, 1959.
504 www.cnlbr.org/Portals/0/RL/Demise%20of%20the%20Negro%20Leagues.pdf, accessed March 15, 2017. Some of the facts from the 1960-1962 period are drawn from this website. Here, the Birmingham team is called the "Black Barons" and is now owned by Arthur Dove. Perhaps Dove changed the name back to its original when he acquired the club. This source and others continues to include the Kansas City Monarchs as a league team although Neil Lanctot has indicated that the team rarely played in Kansas City.
505 Ibid.
506 Atlanta Daily World, May 27, 1960.
507 Ibid.
508 Ibid.
509 Chicago Defender, August 23, 1960.
510 Ibid.
511 Cleveland Call and Post, March 11, 1961.
512 Atlanta Daily World, April 18, 1961.
513 Norfolk Journal and Guide, August 12, 1961.
514 Ibid.
515 Philadelphia Tribune, August 22, 1961.
516 Chicago Defender, August 20, 1961.
517 www.cnlbr.org/Portals/0/RL/Demise%20of%20the%20Negro%20Leagues.pdf
518 Ibid. The report was a self-report.
519 Ibid.
520 Chicago Defender, August 28, 1962.
521 www.cnlbr.org/Portals/0/RL/Demise%20of%20the%20Negro%20Leagues.pdf
522 Tri-State Defender, January 27, 1961.
523 Chicago Defender, January 4, 1947; Riley, Biographical Encyclopedia, 339 (Greenlee Field).
524 Tri-State Defender, January 27, 1961.
525 Ibid.
https://sabr.org/wp-content/uploads/2020/03/research-collection4_350x300.jpg
300
350
admin
/wp-content/uploads/2020/02/sabr_logo.png
admin
2018-05-07 17:39:00
2021-12-01 03:08:59
1933-1962: The Business Meetings of Negro League Baseball