2018 SABR Analytics: Diamond Dollars Case Competition
The 2018 Diamond Dollars Case Competition winners were announced Friday, March 9 during the SABR Analytics Conference at the Hyatt Regency Phoenix in Phoenix, Arizona.
The winning teams selected were from Washington University in St. Louis, Maggie L. Walker Governor's School, the University of Southern California, and Indiana University.
The Washington University team — which was picked to deliver an encore presentation in front of the full SABR Analytics Conference on Saturday — included Jarod Bacon, Isaiah Berg, Tyler Brandt, Rohan Gupta, and Bailey Winston (pictured above).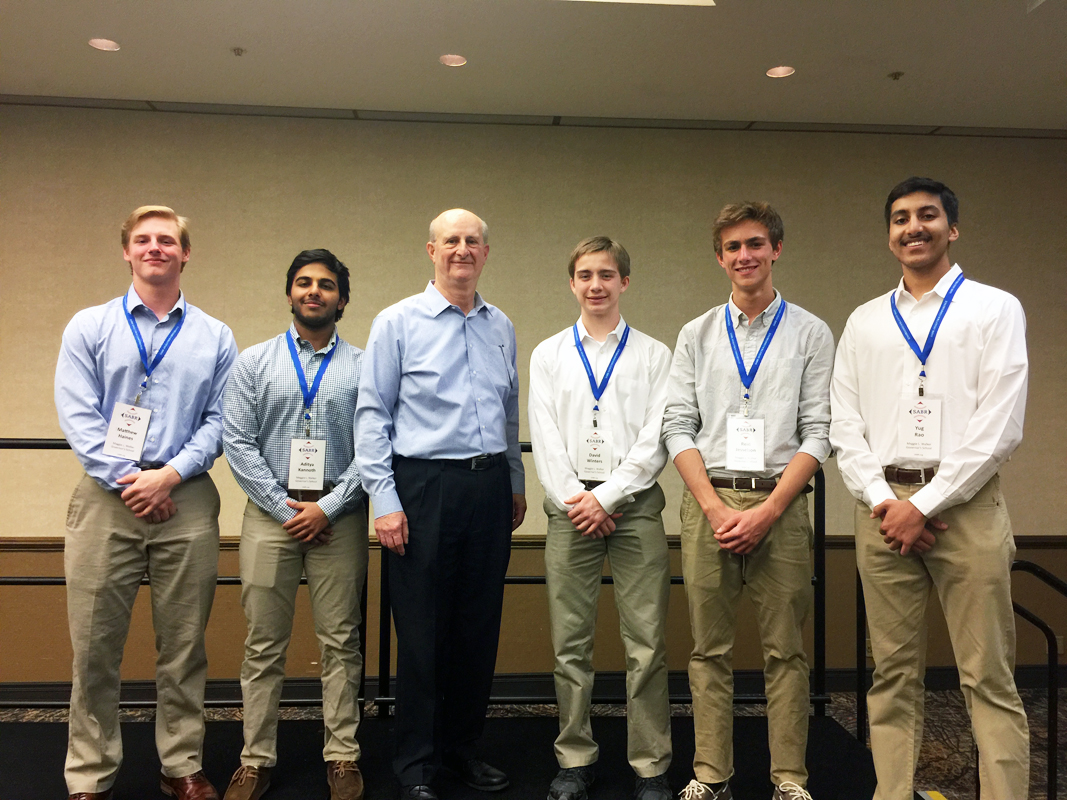 Maggie L. Walker Governor's School sent three teams to participate in this year's Case Competition; the winning team consisted of Matthew Haines, Reid Jesselson, Aditya Kannoth, Yug Rao, and David Winters.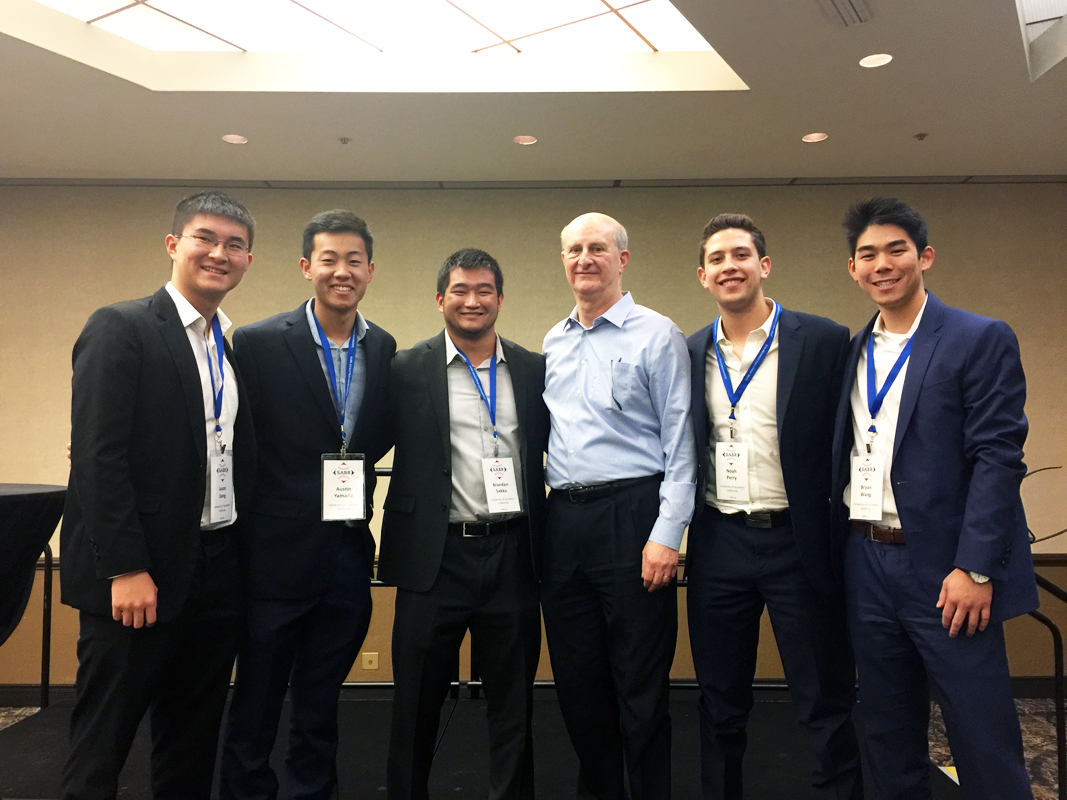 The USC team included Jason Jiang, Noah Perry, Brandan Sakka, Bryan Wang, and Austin Yamada.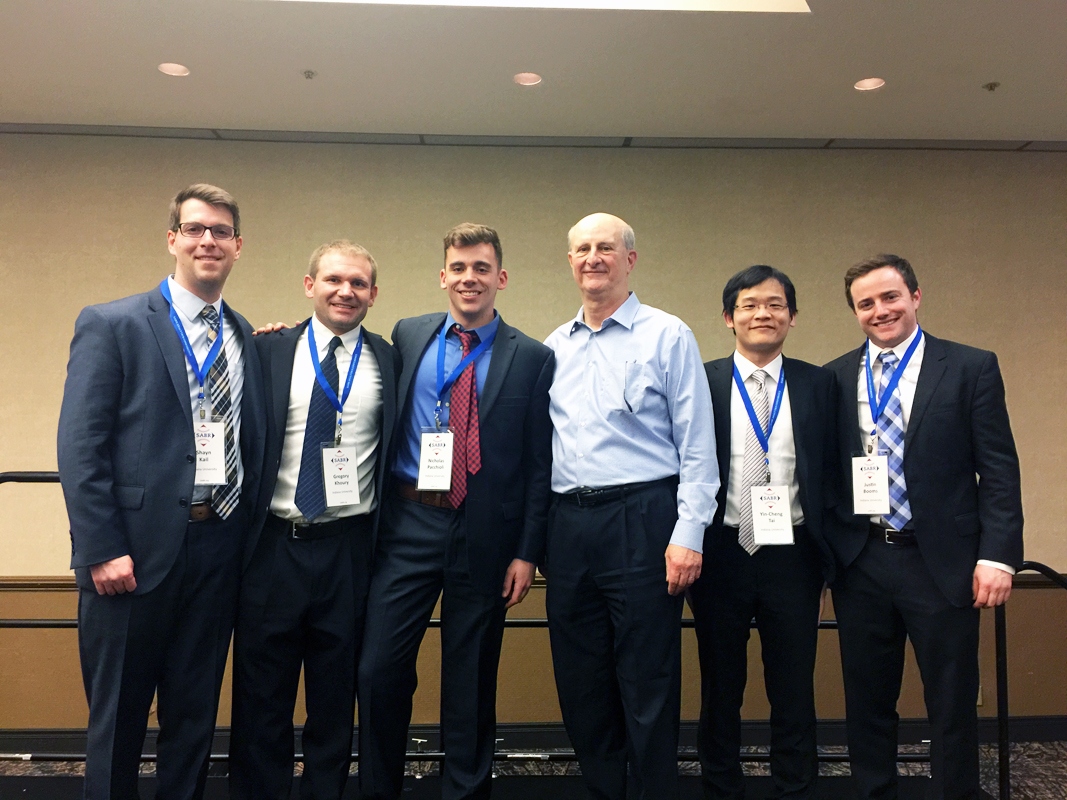 The Indiana University team consisted of Justin Booms, Shayn Kail, Gregory Khoury, Nicholas Pacchioli, and Yin-Cheng Tai.
In this year's case, students were asked to evaluate the relationship between launch angle and exit velocity, using data from MLB Statcast, BaseballSavant.com, and other publicly available tools, and then determine the optimal launch angle for four major-league hitters.
In the Diamond Dollars Case Competition, undergraduate, graduate and professional school students from colleges and universities across the country compete against each other by preparing an analysis and presentation of a baseball operations decision — the type of decision a team's GM and his staff is faced with over the course of a season. The cases are developed by SABR President Vince Gennaro, author of Diamond Dollars: The Economics of Winning in Baseball, and consultant to MLB teams. The Diamond Dollars Case Competition is the first national competition to be based solely on baseball operations issues.
Four- to five-person student teams are asked to evaluate a baseball operations case problem. The student team presents their analysis and recommendations to a panel of judges that includes MLB front office executives.
This year's judges included Greg Rybarczyk, Boston Red Sox; Dave Cameron, San Diego Padres; Sarah Gelles, Baltimore Orioles; Ben Jedlovec, MLB; Michael Gries, San Francisco Giants; Joe Lefkowitz, New York Mets; Chris Pang, New York Mets; Max Phillips, Arizona Diamondbacks; Joe Rosales, Baseball Info Solutions; Michael Schatz, Cincinnati Reds; Mike Snyder, Baltimore Orioles; Kevin Tenenbaum, Cleveland Indians; and Keith Woolner, Cleveland Indians.
Other participating schools were: Arizona State University; California Polytechnic State University; Elon University; Johns Hopkins University; Kenyon College; NYU-Tisch Institute for Global Sport; Oklahoma State University; Ryerson University's Ted Rogers School of Management; St. John Fisher College; Syracuse University; University of Alabama's Manderson School of Business; University of Arizona; University of Massachusetts-Amherst's Isenberg School of Management; and University of West Florida.
For more coverage of the 2018 SABR Analytics Conference, visit SABR.org/analytics/2018.
More than 70 alumni from the 2012, 2013, 2014, 2015, 2016, and 2017 Diamond Dollars Case Competitions have secured internships or permanent positions within Major League Baseball.
---
Originally published: March 9, 2018. Last Updated: July 27, 2020.
https://sabr.org/wp-content/uploads/2020/03/research-collection4_350x300.jpg
300
350
admin
/wp-content/uploads/2020/02/sabr_logo.png
admin
2018-03-09 22:15:28
2020-07-27 15:52:03
2018 SABR Analytics: Diamond Dollars Case Competition