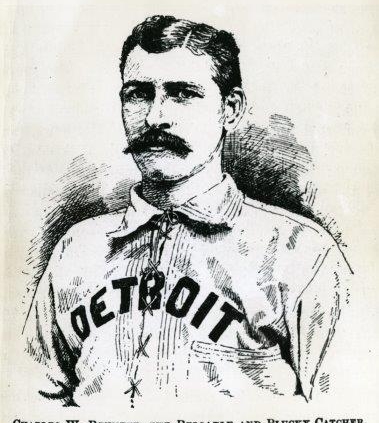 Charlie Bennett selected as SABR's Overlooked 19th Century Base Ball Legend of 2021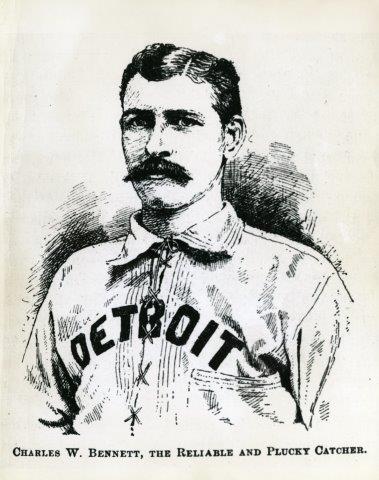 JUNE 29, 2021 — Charles Wesley "Charlie" Bennett has been selected as SABR's Overlooked 19th Century Baseball Legend for 2021. The announcement was made on Tuesday, June 29 at the Nineteenth Century Committee's annual business meeting, held virtually through Zoom.
This spring, a record-tying total of 341 SABR members submitted their votes for the 2021 Overlooked 19th Century Base Ball Legend — a 19th-century player, manager, executive or other baseball personality not yet inducted into the National Baseball Hall of Fame in Cooperstown, New York.
This December, the Hall of Fame's Early Baseball Committee will meet and vote on eligible candidates for induction whose greatest contributions to the game were realized prior to 1950. This committee is not scheduled to vote again until 2030.
Previous Overlooked Legends were Pete Browning in 2009, Deacon White (2010), Harry Stovey (2011), Bill Dahlen (2012), Ross Barnes (2013), Doc Adams (2014), Tony Mullane (2015), Jack Glasscock (2016), Bob Caruthers (2017), William Hoy (2018), Jim Creighton (2019), and Bud Fowler last year. White became the first Overlooked Legend to be inducted into the Hall of Fame in 2013.
Bennett was one of the greatest catchers of the nineteenth century, starring for the Detroit Wolverines in the National League (and playing every season of the franchise's existence). He was a powerful hitter who often ranked among the leaders in home runs and slugging percentage while finishing in the top 10 in bases on balls six times. His .256 batting average was below the league average, but his .340 on-base percentage and .387 slugging percentage were both well above average.
Bennett, a leader on the field, also provided stellar defense behind the plate. He led NL catchers in fielding percentage seven times, putouts three times, and ranked in the top five in games caught 10 times. He caught Lee Richmond's perfect game on June 12, 1880, the first perfect game in professional baseball history. Bennett was also an innovator in the use of equipment by popularizing the use of a chest protector and the catcher's mitt. He is credited with inventing the chest protector in 1883 when he wore a cork pad to protect himself from foul tips. He deflected much of the credit for the innovation to his wife, Alice, who was in constant worry of her husband being a target for the speed merchants of his day.
While traveling on a hunting trip with John Clarkson during the offseason in 1894, Bennett suffered a terrible train accident and lost both of his legs. He ended his career with the most games caught in history with 954. In 1896, Detroit's new ballpark (Bennett Park) was named after the city's beloved hero. Bennett caught the ceremonial first pitch at the stadium every year from 1896 until 1926.
Bennett also stands out from a sabermetric perspective. He has a very impressive wins above replacement (WAR) total of 38.8 despite playing in only 1,062 games. While he was a very strong hitter (76 batting runs above average), his 136 fielding runs above average are second all-time among catchers (behind Ivan Rodriguez's 147). When you consider that Rodriguez played 2,543 games, Bennett's total looks even better. Gary Carter, Gabby Hartnett, and Charlie Bennett are the only three catchers in history with 75+ batting runs and 75+ fielding runs.
Bennett was an Overlooked Legend finalist from 2015 to 2021, finishing as runner-up in 2020. Here are the final election results, with their point totals:
Charlie Bennett: 563 points
Chris Von der Ahe: 494
Bobby Mathews: 449
Al Reach: 444
George Stovey: 440
Tommy Bond: 391
Jim McCormick: 372
George Van Haltren: 372
Grant Johnson: 341
Paul Hines: 258
Cal McVey: 254
Lave Cross: 248
Joe Start: 184
Mike Tiernan: 131
Jack Stivetts: 68
For an extended biography of Charlie Bennett, see his SABR bio written by Paul Hofmann.
For more information on the Overlooked 19th Century Baseball Legends Project, visit SABR.org/overlooked-19th-century-baseball-legends or contact Project co-chairs Adam Darowski (adarowski@gmail.com) and Joe Williams (overlookedlegends@gmail.com).
---
Originally published: June 29, 2021. Last Updated: July 19, 2022.
https://sabr.org/wp-content/uploads/2012/01/2-Bennett-Charlie-2414-74_HS_PD.jpg
480
379
sabr
/wp-content/uploads/2020/02/sabr_logo.png
sabr
2021-06-29 17:35:16
2022-07-19 14:43:51
Charlie Bennett selected as SABR's Overlooked 19th Century Base Ball Legend of 2021