SABR 41: Distinguished Panel Discusses Changes Over SABR's Four Decades
LONG BEACH — When SABR was founded on August 10, 1971, there were no designated hitters or free agents, Ty Cobb's career hit total was still thought to be 4,191, and the term "sabermetrics" wasn't even in Bill James' vocabulary yet. A lot has changed in baseball over the previous four decades, and a distinguished panel of experts came together on Friday at the 41st annual SABR convention in Long Beach to discuss the impact of that progress.
Moderated by Tom Hufford, one of SABR's 16 founding members who now serves on its Board of Directors, the hour-long talk (which could have been twice as long!) included digressions on the possibility of female major league players, the emergence of statistical analysis in MLB front offices and many other subjects.
The featured panelists included MLB Official Historian John Thorn; John Dewan, a founder of STATS, Inc., and Baseball Info Solutions; Roland Hemond, three-time winner of MLB's Executive of the Year Award; Wes Parker, former Dodgers Gold Glove first baseman and the team's player representative in 1971 when SABR was founded; and Dennis Gilbert, one of baseball's top player agents during the 1990s and a longtime benefactor of scouts.
---
Audio: Listen to the "40 Years of SABR" panel
Related link: Click here for Cecilia Tan's live blog with a partial transcript of the discussion
---
Hemond — the 2011 recipient of the Baseball Hall of Fame's Buck O'Neil Lifetime Achievement Award — noted that, warts and all, "baseball's good ol' days are now."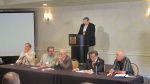 Added Thorn, "When Albert Spalding brought two all-star teams of major league players on a round-the-world tour (in 1888-89) to make the national pastime the international pastime … I think he had the right motives, but I think he was off by about 125 years. I think the international pastime is what baseball is becoming. This is the great growth area for baseball."
Thorn, whose book Baseball in the Garden of Eden on the subject of the game's origins was released in March, also made the case that the story of diversity in baseball cannot be told without representation by female players.
"It seems to me that a woman relief pitcher, a woman second baseman, is not implausible (in the major leagues)," he said. "The rise of women in baseball is a tremendously interesting field. … It is to young girls and women (who played in 1740s England) that we owe the very game of baseball."
Dewan, author of the influential The Fielding Bible, detailed how advanced metrics have changed the way baseball people study the game.
"I was a closet statistician. I was playing Strat-O-Matic baseball and drafting my team on batting average and I was getting clobbered! The guys who were picking lineups based on walks were beating me. But in the 1970s, batting average was all we had. Then in the 1980s we started to get more," Dewan said. "If you haven't read The Hidden Game of Baseball, go read it, and if you have, go read it again. OPS came out of that for me."
"And then there was Bill James. It took a while but soon his books were stacked up in bookstores," said Dewan, who strongly advocated for the pioneer of statistical analysis to be enshrined as a member of the Baseball Hall of Fame. "I joined SABR because he encouraged so much of us to do so, and when he started Project Scoresheet I looked him up in directory assistance and called him up and the next thing you know I was the director of Project Scoresheet. Later that grew into David Smith's Retrosheet and I started Baseball Info Solutions. We were providing stats and analytical data to news organizations. And from there it just explodes, with Baseball Prospectus, and all the other great sites, and now you don't have to be in the closet about being a statistician. Now every team has a stats guy or a stats staff, and they can use BATS (a video software analysis program). And fan communities spring up; at Fangraphs, you have incredibly deep information. And then you have all the things like (mobile) apps and MLB.com Gameday and the At-Bat app, which is incredible."
For more stories from SABR 41, click here.
— Jacob Pomrenke
---
Originally published: July 13, 2011. Last Updated: July 27, 2020.
https://sabr.org/wp-content/uploads/2020/03/research-collection4_350x300.jpg
300
350
jpomrenke
/wp-content/uploads/2020/02/sabr_logo.png
jpomrenke
2011-07-13 19:25:24
2020-07-27 16:54:55
SABR 41: Distinguished Panel Discusses Changes Over SABR's Four Decades