SABR Diamond Report: February 2013
Editor's note: The Diamond Report is a series of monthly messages, written by SABR President Vince Gennaro and Executive Director Marc Appleman, to keep SABR members better informed about the Society's direction and progress. The Diamond Report archives are collected at SABR.org/diamondreport. To learn more about becoming a SABR member, visit SABR.org/join.
February 4, 2013
By Vince Gennaro
SABR President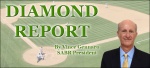 Do you ever wonder why you're a SABR member? Maybe for some members, it's a way to be part of a community that shares a passion for baseball. On those bleak February nights, with no ballgames on radio or TV, being a SABR member is an opportunity to be part of a group of people who are thinking and doing the same thing as you — counting the days until spring training. Commiserating about the winter weather, or the fortunes of your favorite team, is all part of being in the SABR community.
For others it may be the opportunity to share in a research project. For example, hundreds of researchers have collaborated on player biographies as part of the SABR BioProject, while others have engaged with the 19th Century Committee to learn and write about a specific great ballgame from the 1800s that otherwise would be anonymous and part of our lost history. Some may value the events SABR produces — from the hundreds of regional chapter meetings, to the Jerry Malloy Conference, which celebrates the storied history of the Negro Leagues, to our National Convention, our Analytics Conference, or the annual Frederick Ivor-Campbell 19th Century Conference in Cooperstown.
Many are members because of the great publications SABR produces, from the Baseball Research Journal, to The National Pastime, to the sometimes under-appreciated Committee newsletters, many of which contain some of SABR's outstanding research. I suspect many of you are SABR members for a combination of these reasons.
I'll add one to the list — in fact, it sits atop my list of the many reasons to be an active and engaged member of the SABR community — the cultivation of young fans and their passion for baseball. Few things give me greater enjoyment than the opportunity to nurture the enthusiasm of a young person who shows an interest in baseball.
On SABR Day in New York City last month, Evelyn Begley and Ernestine Miller produced an outstanding program of speakers, trivia questions and overall baseball fellowship, as they do every year. But I was particularly struck by the growing number of young people attending our events (in New York and elsewhere). I had the chance to talk to many of them, who ranged in age from 10 years old to their early 20s, and discuss their baseball interests and the opportunities the SABR community provides to develop their interests. In Montpelier, Vermont, a group of young SABR members gathered to hear Vermont native and ESPN analyst Buster Olney speak. The youngsters, who live in nearby Burlington, formed their own SABR Chapter — the Buster Olney Junior Chapter — and meet regularly at SABR member Tom Simon's house to share their baseball passion.
Even this year's SABR Analytics Conference is attracting aspiring baseball analysts, as a group of high school students from the D.C. area are attending with their school administrators. In an era when it feels like video games have taken over our planet (yes, I know there are baseball video games, too) and when social media seems to consume all of our young people's time, it's heartening to see so many kids and young adults with a deep interest in baseball. Like many of you, I was introduced to the game at a very young age by my grandfather and father, attending my first game at Yankee Stadium when I was just 5 years old. Even though more than five decades have passed since that fateful day when I experienced the enormity of the ballpark, the smell of hot dogs and peanuts, and the sounds of the game, the memory of that day is more vivid than many other important days in my life.
Baseball has woven a path throughout my life. It has been a factor in my social relationships, in my work and in my family. I've passed on my passion for the game to my daughter, Danielle, with unconditional trust that she will do the same someday. In our lives we are often faced with opportunities, obligations, responsibilities and privileges. It's unusual for all of these to intersect at one point. For me, spreading my passion for baseball to the next generation is one of those rare intersection points. I see it as an opportunity, an obligation, a responsibility, and above all, a privilege.
SABR gives all of us a great platform to help the next generation understand and appreciate the nuances of baseball, its rich history, the legendary characters of the game, and even the power of the bonds and friendships it can help forge. Incidentally, doing so also ensures SABR's legacy. There are many reasons to be a SABR member, but spreading the word to the next generation is at the top of my personal list.
Vince Gennaro was elected as SABR's President in 2011. He is also the author of "Diamond Dollars: The Economics of Winning in Baseball", a consultant to Major League teams, and appears regularly on MLB Network. Read his blog, "Diamond Dollars", at vincegennaro.mlblogs.com.
---
Originally published: February 4, 2013. Last Updated: February 4, 2013.
https://sabr.org/wp-content/uploads/2020/03/research-collection4_350x300.jpg
300
350
jpomrenke
/wp-content/uploads/2020/02/sabr_logo.png
jpomrenke
2013-02-04 10:49:20
2013-02-04 10:49:20
SABR Diamond Report: February 2013