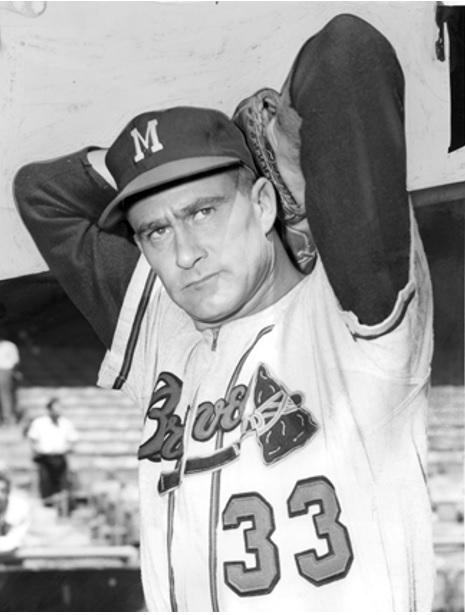 October 7, 1957: Fidgety Lew Burdette befuddles Yankees in World Series shutout
---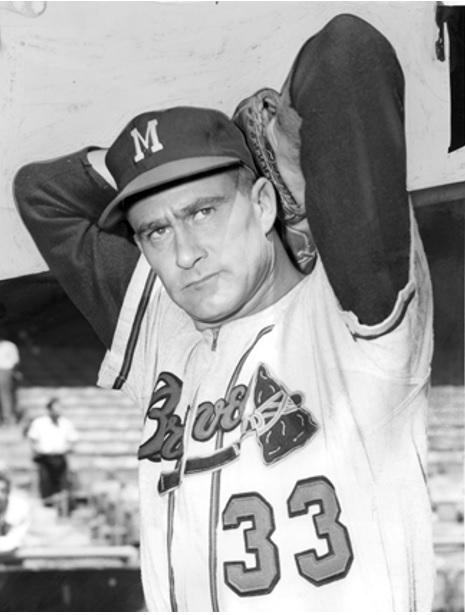 Game Five of the 1957 World Series had everything a fan wanted to see: nail-biting tension, high-stakes drama, unsung heroes, excellent fielding, aggressive base running, clutch hitting, and lights-out pitching.
In what was described as the "fiercest struggle of the World Series thus far," Milwaukee's Lew Burdette hurled a masterful shutout, needing only 86 pitches to defeat the vaunted New York Yankees, 1-0, and put the underdog Braves on the cusp of their first championship.1 Sportswriters from Beer City to the Big Apple praised the fidgety right-hander's seven-hitter. "Superb," exclaimed Oliver E. Kuechle, sports editor of Milwaukee Journal;2 "dazzling," gushed John Drebinger of the New York Times.3 "Burdette seems to have the power to transmit his attitude of calm to his worshippers," opined nationally syndicated columnist Red Smith, a Wisconsin native, who continued, "(T)here is a striking air of assurance about him, a cool, deliberate efficiency."4
The 30-year-old Burdette, a former Yankee farmhand who went 17-9 for the Braves in 1957, had displayed his nerves of steel to a national audience four days earlier, in Game Two of the fall classic at Yankee Stadium. His sparkling seven-hit, 4-2 victory over the Bronx Bombers tied the series at one game apiece. After the clubs split the next two games at County Stadium, the pressure was on for Milwaukee to win Game Five. The prospects of winning the final two in the House that Ruth Built were daunting.
County Stadium was packed with 45,811 screaming fans – seven more than in Games Three and Four – on a warm and sunny Monday afternoon, October 7. The game was scoreless through the first 5½ innings, but there were inklings that the day would belong to the Braves. The Yankees' Hank Bauer led off the game with a single to extend his hitting streak in the World Series to 12 games; he then moved to second on Tony Kubek's sacrifice bunt. But in the first of several potentially run-saving defensive plays for the Braves, 36-year-old right fielder Andy Pafko sprinted to snare Gil McDougald's sinking fly "at his knees."5
The Braves got a scare in the second inning when second baseman Red Schoendienst re-aggravated his right groin muscle attempting to reach a grounder by Enos "Country" Slaughter. The All-Star keystone sacker, whom the Braves acquired from the New York Giants at the trading deadline, left the game moments later after the Braves completed their first of three double plays when Burdette whiffed Harry Simpson and Del Crandall fired a bullet to Johnny Logan to cut down Slaughter's steal attempt. Schoendienst was replaced by 22-year-old Felix Mantilla, who played flawlessly, registering seven assists. ("Mantilla did a terrific job for us today," said manager Fred Haney after the game).6
McDougald led off the fourth with a powerful blast that appeared to be a double, if not a home run, until left fielder Wes Covington made a spectacular catch. "The ball nestled in his glove just as he crashed into the wire fence,' wrote Cleon Walfoort of the Milwaukee Journal.7 Covington caromed off the fence and somersaulted on the warning track. "It was a miracle that the impact did not jar him loose from the ball," suggested Bob Wolf, also of the Journal.8
The Yankees put another man in scoring position following first baseman Joe Adcock's error on Yogi Berra's grounder and Slaughter's hit; however, third baseman Eddie Mathews thwarted their rally, leaping to snare Simpson's high bouncer and initiating another demoralizing double play.
Through the first five innings, the Braves had no answer for southpaw Whitey Ford, who yielded only a walk and three singles (two by Pafko). The Yankees' ace, Ford had hurled an impressive five-hitter to defeat Warren Spahn in Game One, 3-1, and seemed primed to notch his sixth career victory in the World Series after recording two quick outs in the sixth.
However, the game's momentum suddenly shifted when Mathews chopped a hard grounder to second baseman Jerry Coleman. The former All-Star was playing on the grass and waited for a long hop, apparently underestimating the ruggedly stout Mathews' speed.
"When I saw that Coleman wasn't going to charge the ball," said Mathews after the game, "I knew that I was going to make it."9
Hank Aaron followed with bloop single that Wolf claimed "probably should have been [an] out, but when Coleman waved Bauer away and then got there too late himself, the ball dropped," allowing Mathews to race to third.10 Up stepped Adcock, hitless in his last eight World Series at-bats as part of Haney's platoon at first with Frank Torre. The muscular Louisianan connected on an inside fastball. "I decided to go right field," said the notorious pull hitter. "I fouled off the previous pitch trying to slap the ball to right. This one I got hold of. Not much wood on it. But enough."11
Mathews, the hero of Game Four with his walk-off two-run home run in the 10th inning, scored easily on the softly hit single, and the Braves took a 1-0 lead.
Excellent defense and pitching stymied the Yankees for the rest of the game. Berra led off the seventh with a single, but was immediately erased on a 6-3 double play when Mantilla fielded Slaughter's grounder, stepped on second, and fired a bullet to Adcock.
"The most tense, dramatic moment of the battle," according to Drebinger, occurred in the eighth inning. After Coleman connected for a one-out single, he was replaced by Mickey Mantle, who did not start in center field because of a sore shoulder. With the game on the line, the "Ol' Perfessor," Casey Stengel, sent Elston Howard to pinch-hit for Ford. The 28-year-old left fielder/catcher, who earned his first of nine consecutive All-Star berths in 1957, had launched a dramatic three-run home run in the ninth inning to send Game Four into extra innings a day earlier.
Undeterred, Burdette struck out Howard on three pitches, the last of which was a called strike that elicited a vehement protest from Howard. With Bauer at the plate, Stengel gave Mantle the green light to steal second and move into scoring position, but Del Crandall, arguably the NL's best defensive catcher and an eight-time All-Star, fired a bull's-eye to Mantilla to cut down Mantle and end the inning.12
"The biggest thing in the game for me," said Burdette, "was striking out Howard with Mickey Mantle on first base. … If I hadn't got Howard I could have been in real trouble."13
After Yankees reliever Bullet Bob Turley fanned Logan and Mathews to set down the side in the eighth, Burdette showed that he, too, could pack a punch. Seemingly getting stronger as the game progressed, the hurler from Nitro, West Virginia, fanned Bauer on four pitches, and then Kubek on three for his fifth strikeout of the game. After McDougald singled to center, Burdette induced Berra to pop up meekly to third sacker Mathews to end the game in exactly two hours. Roscoe McGowen of the New York Times summed up the game as "thrilling."14 Haney seemed to take it all in stride: "I've told you all along that we expected to win."15
Kuechle suggested that the Braves won because of hustle, such as the defensive plays by Covington, Crandall, Mantilla, Mathews, and Pakfo, as well as Mathews' all-out sprint to first base in the seventh. But the star of the game was Lew Burdette. Described as "stout hearted" by Milwaukee beat writer Cleon Walfoort, Burdette yielded just seven hits (all singles), only three in the last five innings, while not issuing a walk. He permitted Yankees baserunners to get as far as second base just twice, the last of which was in the fourth.
"I don't go out there to lose," said a proud Burdette after the game.16 With his victory, Burdette became just the second Braves pitcher to win twice in a World Series, joining Dick Rudolph in 1914; he also joined Bill James (1914) and Johnny Sain (1948) as the only Braves hurlers to toss a shutout in the fall classic.
When asked what kinds of pitches he threw, Burdette responded "sliders, screwballs, fastball, the whole works."17 Indeed, the affable hurler whom Red Smith described as a "rangy tower of muscle with sandy blond hair and cold blue eyes" seemed to mesmerize the slugging Yankees all afternoon with both his pitching and his nervous, fidgety habits of fingering the bill of his cap, tugging at his trousers, and wetting his fingers.
Many opponents complained that he threw a spitter, but the Yankees didn't register even a mild protest to Burdette's fussing on the mound. "I kind of missed that squawking from their dugout," he said jokingly after the game.18
Three days later, Burdette took the mound again, on just two days' rest, on the biggest stage in baseball for the deciding Game Seven in Yankee Stadium. He tossed another seven-hit shutout to help David slay Goliath, giving "Bushville" their only World Series title.
This article appears in "From the Braves to the Brewers: Great Games and Exciting History at Milwaukee's County Stadium" (SABR, 2016), edited by Gregory H. Wolf. To read more stories from this book at the SABR Games Project, click here.

Notes
1 Red Smith, "Burdette Didn't Have to Lick Hand, Obedient Yankees Did it for Him," Milwaukee Journal, October 8, 1957: II, 2. According to Otto Kuechle, "Time Out For talk," Milwaukee Journal, October 8, 1957: II, 1, Burdette threw 86 pitches. According to Lloyd Larson, "Monday Proves to Be Holiday in Braveland. … We Win," Milwaukee Sentinel, October 8, 1957: II, 2, Burdette tossed 87.
2 Kuechle.
3 John Drebinger, "Braves Win, 1-0, and lead Yankees in Series, 3 to 2," New York Times, October 8, 1957: 1.
4 Smith.
5 Kuechle.
6 Cleon Walfoort, "Burdette, Once Property of Yanks, Now Owns His Former Team," Milwaukee Journal, October 8, 1957: II, 1.
7 Ibid.
8 Bob Wolf, "Burdette Puts Braves in 'Driver's Seat,' " Milwaukee Journal, October 8, 1957: II, 1.
9 Ed Bryl, "Aimed for Right Field, Says Adcock", Milwaukee Sentinel, October 8, 1958: II, 2.
10 Wolf.
11 Walfoort.
12 Wolf.
13 Roscoe McGowen, "Fanning Howard With Mantle on Base in Eighth Is High Point for Burdette," New York Times, October 8, 1957: 56.
14 Ibid.
15 Walfoort.
16 Lou Chapman, "Stengel Must Know Lew's Name Now," Milwaukee Sentinel, October 8, 1957: II, 2.
17 Ibid.
18 Ibid.
Additional Stats
Milwaukee Braves 1
New York Yankees 0
Game 5, WS
---
County Stadium
Milwaukee, WI
Box Score + PBP:
Corrections? Additions?
If you can help us improve this game story, contact us.
Tags
https://sabr.org/sites/default/files/Lew%20Burdette.jpg
600
800
admin
/wp-content/uploads/2020/02/sabr_logo.png
admin
2018-03-27 18:53:29
2020-04-17 13:34:03
October 7, 1957: Fidgety Lew Burdette befuddles Yankees in World Series shutout