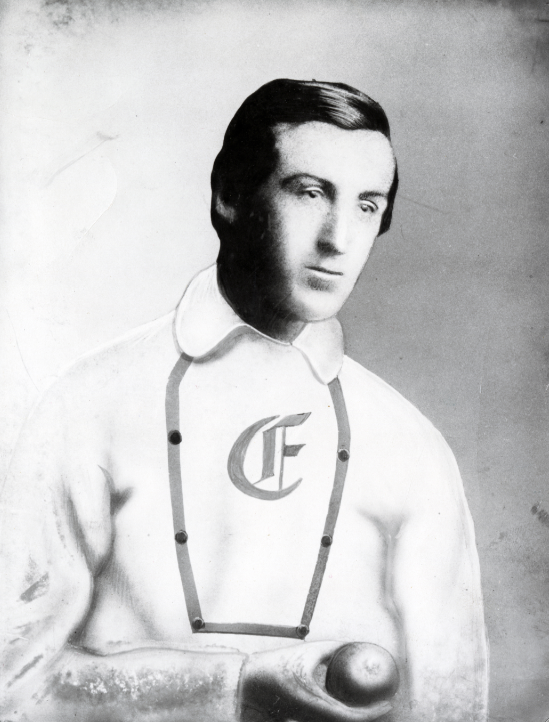 Each year, SABR's Nineteenth Century Research Committee selects its Overlooked 19th Century Base Ball Legend — a 19th century player, manager, executive or other baseball personality not yet inducted into the National Baseball Hall of Fame in Cooperstown, New York.
Committee members vote to narrow down the ballot to 10 finalists, then all SABR members are eligible to cast a vote for the winner. The winner is announced at the Nineteenth Century Committee's annual meeting at the SABR convention.
Vote now in the Primary Election: The preliminary voting process, which we call the Overlooked Primary Election, will consist of each voter selecting 10 names from the list of 26 candidates. The top 10 will be presented to the SABR membership later this spring, when all members will be able to vote in the final election. The winner will be announced at the SABR 50 convention this summer in Baltimore. Click here to download a PDF file with the 26 candidates for 2020 and a brief explanation of their baseball accomplishments and/or contributions to our national pastime. The voting in the Overlooked Primary Election will end at 11:59 p.m. MST on Monday, March 2, 2020. To vote in the Primary Election, you must be a member of the Nineteenth Century Committee. Click here to join the group and then you can request a copy of the ballot from Adam Darowski.
Here are the previous Overlooked 19th Century Baseball Legends:
Pioneer Profiles: Click here to learn more about our new Pioneer Profiles, which will honor 19th-century figures who made non-playing and other contributions to the game. 
To receive e-mail announcements on the Overlooked 19th Century Baseball Legends Project and other committee announcements, click the "Join Group" button here.
For more information on the Overlooked 19th Century Baseball Legends Project, contact project co-chairs Adam Darowski or Joe Williams, or visit the project's Facebook page.