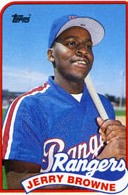 From 1957 through 2001, in only one year did a native of the U.S. Virgin Islands not play in the major leagues. After the Dodgers released José Morales in June 1984, most of two seasons went by until Jerry Browne picked up the baton. The Texas Rangers called up the 20-year-old from St. Croix in September 1986, and he stuck around for another nine years. Browne's hallmark was versatility, as he branched out from his natural second base to become a useful utilityman. But for a personal choice, "The Guv'nor" -- nicknamed after the former California politician -- could have played several more years.

Jerome Austin Browne was born in Christiansted on February 13, 1966. He was the fourth of five children (three boys and two girls) born to Rudolph and Iris Browne.

Growing up, young Jerry played Little League, Babe Ruth League, and American Legion ball. "Baseball was pretty much the pastime, besides basketball -- and my thing was baseball. That's all I did, really. I got started playing through my uncle, who ran a Little League team, and then I got introduced to Horace Clarke and Elmo Plaskett [two other major-leaguers from St. Croix who became government-paid baseball instructors when their playing days were over]. They taught us a lot of the fundamentals.

"Elmo and Horace were the ones that got us to a lot of trips to Puerto Rico -- and that opened up a lot of opportunity to us to play winter ball, get a little recognition, let people know what kind of players the Virgin Islands had." In March 1983, a few months before he graduated from Central High School, the Rangers signed Browne as an undrafted free agent thanks to scout Orlando Gómez. Gómez, a longtime catcher and manager in Puerto Rico, had played with Clarke, Joe Christopher (also from St. Croix), and José Morales, among others.

"We had a little tournament in Puerto Rico. They actually came over to St. Croix first, and Orlando came over with them. The following week, we ended up going back over there, and luckily I had a pretty good series. I caught his eye, and he came back, and we sat down and talked. He told me who he was and what was going on, and I'm like 'Whoa!' That was kind of surprising. There were a few scouts coming in and out of the Virgin Islands, but not very many."

Browne showed off his good speed at four minor-league stops: Sarasota (Rookie League, 1983); Burlington (Midwest League, 1984); Salem (Carolina League, 1985), and Tulsa (Texas League, 1986). With the Drillers in '86, he hit .303 with 39 stolen bases. Then -- even though he was so quiet his teammates thought he spoke no English [1] -- he made a splash when the Rangers brought him up that September. Browne appeared only in the field in his debut on September 6 and then pinch-ran twice. His first hit came in his second at-bat, against Minnesota's Dwayne Henry on September 13. But in three straight starts from September 30 to October 2, he went 8-for-17. He finished 10-for-24 (.417).

In the winter of 1986-87, Browne became the fourth Virgin Islander to win Rookie of the Year in the Puerto Rican Winter League, batting .316 and scoring a league-leading 36 runs for the Santurce Cangrejeros. Luis Rodríguez Mayoral, the ubiquitous and tireless baseball booster who became Latin American liaison for the Rangers, secured an exemption for Browne to play as a "native" of Puerto Rico, not as an import. Mayoral got support from Juan Luis, then governor of the Virgin Islands. Elmo Plaskett and another well-connected vet from St. Croix, Valmy Thomas, also used their influence.

Yet despite this auspicious season, Browne did not return to winter ball for many years to come. He noted, "I ended up just staying here in Texas," where he took up residence after joining the Rangers first. "I started to do a lot of stuff with my off-season program up here, instead of going back and forth. It wasn't so much that the Rangers didn't want me to play. It really wasn't no need for me to go down and play any more, wearing myself out."

Browne was also the Rangers' top rookie in 1987 after winning the regular second base job. Toby Harrah was not re-signed and wound up managing in Triple-A. That spring, Jeff Kunkel separated his shoulder, management decided that shifting Steve Buechele from third was not the answer, and Curtis Wilkerson remained a reserve. Manager Bobby Valentine was dubious at first that the young Crucian was ready. But as camp ended, he said, "Jerry began to put more effort out. He relaxed more and got his rhythm together on the double play. There's definite growth opportunity the way we've gone. I tested him, and he passed the test." After a slow start, The Guv'nor himself noted, "I just had to be more patient. I was swinging at bad pitches. That's not me." [2]

In his first full season, Browne played 132 games, missing a couple of stretches with hamstring problems. He hit .271 and stole 27 bases (though he got caught 17 times). He had just one homer -- an inside-the-parker, his first in the majors, off Bud Black on August 19 -- and 38 RBIs.

One story holds that it was Texas third-base coach Dave Oliver, a Californian, who nicknamed Browne that year after the Golden State's quirky former governor. [3] But the label appears in news stories before then; it may date as far back as rookie league. Browne confirmed that Oliver coined it, but whenever it was it was, the Caribbean observed, "The funny part about it is that I wasn't sure who he was talking about."

The next year Browne started nicely but slid below the [Mario] Mendoza Line (a .200 batting average). He was sent back to the minors on June 9, spending his first stretch in AAA (.252-5-34 in 76 games with the Oklahoma City '89ers). Two higher-profile demotions came around the same time: #1 draft picks Oddibe McDowell and Bobby Witt. Returning to the Rangers in September, Jerry finished the year at .229-1-17 in 73 games. Initially he didn't want to speak to the media, but then he opened up. "It's the same swing, but I'm hitting the ball more on a line than I was at the beginning of the season."

Said Rangers general manager Tom Grieve, "Jerry is doing what he has to do to get back in the picture," which fit with his remarks in June. But that December, Browne was sent to the Cleveland Indians along with Pete O'Brien and McDowell in the four-player swap that brought future batting champ Julio Franco to Texas. In a story filed by Fort Worth Star-Telegram writer T.R. Sullivan, Grieve observed, "I realize Jerry Browne has the potential to become a Johnny Ray or Willie Randolph -- a young second baseman who is traded before he establishes himself in the big leagues. But I know right now Julio Franco is an outstanding second baseman, and (Browne) can not fit in our plans if Julio Franco is our second baseman."

Sullivan added that Browne took it well, saying, "I want to be an everyday second baseman, and if that's the kind of chance I'm getting then I'm going to have no regrets. There's no room for me to be bitter about the Rangers. They gave me a shot at second one year and I did all right. They gave me another shot and I stunk. They said they had to make some trades, and I guess I just made myself one of them."

Browne did get to handle nearly all the keystone duties for Cleveland in 1989. He hit a career-high .299 -- including .314 as the leadoff man after the Indians gave up on McDowell -- to go with 5 homers and 45 RBIs. He was called "the saving grace" of the Franco trade, and the Cleveland baseball writers voted him Indians' Man of the Year. Jerry was the regular again in 1990 (.267-6-50). However, he had an off year in '91 (.228-1-29), and emerging star Carlos Baerga moved over from third base. Cleveland released Browne late the next spring training. Manager Mike Hargrove said, "That might be the hardest thing I've ever done in my life." [4]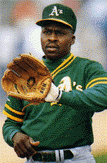 The Guv'nor joined the Oakland A's, who initially assigned him to Triple-A Tacoma but called him up after the first few weeks of the season. In the East Bay, Jerry adapted fully to the utility role he had begun to inhabit the previous season. Tony La Russa played him at seven positions, mainly third and the outfield, and he posted .287-3-40 numbers. He also went 4-for-10 in the ALCS against the Blue Jays -- all the hits came in Game 5, as he singled four times in as many at-bats. "'Jerry Browne is outstanding,' said winning pitcher Dave Stewart. 'He's more than a fill-in.'" [5] A broken hand restricted him in 1993, though (.250-2-19). So the A's decided not to offer Browne arbitration, making him a free agent.

Browne signed with Florida, an attractive option because of playing time, weather, and hailing distance from St. Croix. He joined fellow Crucian José Morales, who was then the Marlins batting coach -- "I had a blast when Shady was there." Manager René Lachemann said, "It's fun to hear them talk... you can't understand a word they're saying." [6]

Dave Magadan's broken leg left Browne a semi-regular at third base in strike-shortened '94, and he had a nice year (.295-3-30). But the Marlins signed Terry Pendleton as the '95 season began, and so Browne went back to the bench. His showing was fair (.255-1-17), but Florida chose not to resign their utilityman. Browne went to camp with the Mets in 1996 and appeared to have won a job, but when Dallas Green decided to carry 11 pitchers, the veteran was optioned to Norfolk. He refused the assignment, irritating his old manager Bobby Valentine, who was then running the Tides. The reason: his pregnant wife and family were more important than returning to the minor leagues.

When asked in 1999 if he would react differently if he had to do it all over again, Browne responded,: "I doubt it. I don't regret nothing I did. I went into camp as an invitee, knowing that I had to have a real good spring to make the club, and I knew to myself that I did. I was the odd man out, and I sat down with the Mets and asked, 'Now if I go to Norfolk, what's the chances of getting called up?' And they said, 'We can't guarantee anything.' So I made the decision that I was going to come home and hang out with the family, and I don't regret it one bit."

But following his layoff, Browne felt the desire to play ball again, and the Rangers invited him to their minor-league camp in 1997. "I said I'ma bite the bullet, no fuss at all about it, not even complainin' about nothin'. I did everything they asked me to do. The only thing I asked them was, if you guys know that I'm not going to make your team, release me in enough time so I can try to catch on with somebody else before spring training's over. They said 'Well, no, you're a veteran player, we can see you helping our organization.'

"Well, cool, I already had my mind made up, I'm going to Triple-A. If anything happens, and the Rangers don't call me up, I might catch someone else's eye and go back in the big leagues. Two days before the season opens in Oklahoma City, sitting on the bus getting ready to go to Tulsa to play the Double-A team, they released me. That one I thought was the worst of anything else because I asked them to give me time. But I just jumped in my truck and came on home."

However, even though that comeback fell short, Browne still wasn't quite ready to quit. After ten seasons away from Puerto Rico, he played for the Arecibo Lobos in the winter of 1997-98. "I sat down and talked to my family again. I said, look, I'm going to give it one more shot. I had to make that club again, and I had a real good winter ball [.284-1-13 in 39 games]. I got two calls in the early part of the winter, feelers from the Giants and Houston, but I didn't hear anything after that. So I said, ain't nothin' else I can do, it's time for me to shut it down."

Browne finished his major-league career with 23 homers, 288 RBIs, and a .271 average. He played in 982 games, second only to Horace Clarke on the lifetime list among Virgin Islanders. He had many things in common with Clarke as a player -- size, speed, natural position, switch-hitting, and modest power. Browne hit for better average than his mentor, and he worked out a lot more walks, but his base-stealing decisions were not as good (62%). Though he led off a lot, skillful bunting also made him a good number-two hitter. However, like Clarke, his weakness as a second baseman was turning the double play.

The Rangers of the '80s were criticized for rushing players to the majors, and Browne might have benefited from more seasoning. Nonetheless, he was a productive major-leaguer and a classy, good-humored presence in the clubhouse.

Although Browne hasn't lived in the Virgin Islands for a long time, he still felt a deep attachment to his birthplace. "I love it," he said. "It'll always be my place." Though he mainly headed back to Christiansted at Thanksgiving or Christmastime, he said, "Once in a while I might get the urge to jump up and go." He got a little information about what's happening with baseball there and his fellow players, though he admitted, "Half of the guys from the islands that signed, I don't know them personally."

Jerry kept tabs on the careers of the two Virgin Islanders who followed him most closely in the majors: Midre Cummings and Calvin Pickering. The new millennium brought a lean stretch at the top level. After 2001, Cummings and Pickering resurfaced just briefly, for a total of 57 big-league games in '04 and nine in '05. Browne does not know Midre, but while Calvin used to call him quite a bit in years past, they fell out of touch and never did reconnect. As of 2007, Cummings was retired; "Picko" hung on in independent leagues through 2008.

Yet several heirs to the V.I. baseball tradition emerged, though their time in the majors has been brief. A young second baseman from St. Thomas named Callix Crabbe (born 1983) played for the San Diego Padres in 2008. Three more St. Thomians -- pitcher Akeel Morris (Mets, 2015); outfielder Jabari Blash (Padres, 2016), and pitcher Jharel Cotton (A's, 2016) -- have since made it to The Show. Several other players have appeared in the lower minors. Often they had been drafted after attending either college or high school on the mainland, as was the case with Crabbe. Browne stated, "I don't think the caliber of ball in the islands is what it used to be. It's harder to get scouts in there to take a look."

Also, in recent decades, basketball's popularity surged in the Virgin Islands. Tim Duncan, Christiansted's NBA star, was a big factor. Browne added, "A lot of kids are getting away from baseball, not just in the islands, all over. It's easier to get into basketball or football, there's no minor-league system. In baseball, even if you get drafted #1, you still have to go through the minors." There was an audible tinge of sadness when the subject of the Puerto Rican Winter League, which canceled its 2007-08 season, came up. "It's unbelievable not to have winter ball in Puerto Rico," he said.

Yet there is still a Virgin Islands baseball scene. At least one big-league organization, the Angels, has held youth camps there. Arnold Brathwaite, a St. Croix native and Angels scout, helped these clinics come together in late 2005 and early 2006. "I met him the year before last when I went home," said Browne in 2007. "I was there for the Queen Louise [Home for Children] golf tournament. He was giving those clinics. It's a lot of real small kids -- not saying they're not baseball material, but it's harder to judge."

After the most recent sessions on St. Thomas in September 2007, Brathwaite's colleague with the Angels, Ron Marigny, made a telling remark. "What I've noticed over the past four years is that there's a gap between little league and high school where there are not enough avenues available that allow the kids to keep playing all year round." [7] Horace Clarke has also stated that this is the crucial time for young prospects.

For some years after retiring, Jerry remained at home in Arlington with his wife, Wanda Reed Browne. In 1999 he said, "I had fun at baseball, I thought I was really going to miss it, but I got other stuff going. I'll sit down and watch a ballgame at home now, but I won't go out to the ballpark. The guys I played with, whenever they come to town, I'll go out and shoot the breeze with them, but I can't even tell you the last time I picked up a bat and ball."

But in 2001, Browne returned to the game as a roving infield instructor in the Toronto Blue Jays organization. Former A's teammate Dave Stewart gave Jerry a call and asked him if he was ready yet. In November '01, he noted, "The kids were one of my big sticking points, but they're 9 and 5, old enough to let me go. They got they own little life going on. It turned out to be pretty good. I'm working at all levels, top to bottom. I just got back from Instructional League in Florida."

The Jays purged several of their minor-league coaches after the 2002 season, though, and Browne was not affiliated with any club for the next two years. Starting in 2005, he served as a hitting coach at various levels. He was first with the Augusta GreenJackets of the South Atlantic League, in the San Francisco Giants chain. He then joined the Washington Nationals, instructing young pros with the Savannah Sand Gnats (2006), Hagerstown Suns (2007), Potomac Nationals (2008-09), and Syracuse Chiefs (2010-11). In something of a surprise, he never talked shop with his friend, hitting guru José Morales. But Browne was his own man.

"I like coaching," said The Guv'nor in 2007. "I like the game, giving them insight and getting them to the next level. And these days, the Internet is so big, the players will check out coaches on the Net. If they see you haven't done anything they may not respect you. But if you did, they listen."

This biography originally appeared on the now-defunct website "Baseball in the Virgin Islands," from which it was adapted. Grateful acknowledgment to Jerry Browne for his personal memories (additional telephone interviews on November 10, 2001 and October 1, 2007).


Notes

[1] Michael A. Lutz, The Associated Press, March 26, 1987.

[2] The Sporting News, April 13, 1987, p. 22.

[3] David Bush, "A's Browne Can Do It All--and Does," San Francisco Chronicle, June 19, 1992, p. F1.

[4] Sheldon Ocker, "Tribe Springs a Surprise, Releases Hillegas," Akron Beacon Journal, April 1, 1992, p. B1.

[5] Tom Haudricourt, "'Fill-in Browne at plate," Milwaukee Journal Sentinel, October 13, 1992.

[6] Gordon Edes, "Browne Feeling Warm and Fuzzy after Re-Signing," Fort Lauderdale Sun-Sentinel, April 11, 1995, p. C7.

[7] James Gardner, "Big Smiles and New Wrinkles at L.A. Angels Baseball Workshop," St. Thomas Source, September 1, 2007


Sources

www.retrosheet.org

www.paperofrecord.com (items from The Sporting News)

T.R. Sullivan, Rangers beat writer for mlb.com and previously for the Fort Worth Star-Telegram.


Photo Credits

The Topps Company