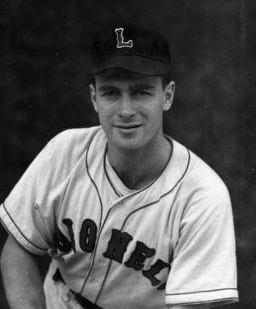 ---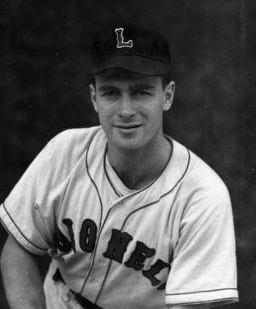 Bob Scherbarth was a catcher for the Red Sox. He played in just one major-league game — and never did get the opportunity to bat. His "cup of coffee" came on April 23, 1950, in the first game of a doubleheader against the PhiladelpJoe McCarthyhia Athletics. "I went up there for a month," he recounted in a 2001 interview. "Birdie Tebbetts and Buddy Rosar both got injured. Birdie busted his little finger and Rosar had some busted ribs or something. Matt Batts was in the bullpen and they brought me up there from Louisville until they got well."1 Tebbetts had an "incomplete fracture" of one finger, and Scherbarth was formally recalled to the Red Sox on April 13.2
In the April 23 game at Shibe Park, Joe Dobson was pitching for Boston but didn't have a good day and gave up runs in the second and third, then got touched up for four more in the fifth. He suffered from some unfortunate Red Sox fielding on a very wet Philadelphia field. Ted Williams was out with a cold, but a first-inning Johnny Pesky single and a Vern Stephens triple saw Boston draw first blood. Birdie Tebbetts, despite his healing finger, started the game behind the plate, but after he fouled out to first base in the top of the sixth inning, manager Joe McCarthy pulled him (Tebbetts was 1-for-3) and inserted rookie Scherbarth as catcher. The rookie played ever so briefly, catching Dobson in the sixth inning and Gordie Mueller in the seventh.3
When it was Scherbarth's turn to hit in the eighth inning, McCarthy sent up Merrill Combs as a pinch-hitter. Combs drew a walk. McCarthy then had Tom Wright pinch-hit for the pitcher, Gordie Mueller, and Wright singled, driving in a run. The Red Sox still lost the game, 9-4, but came back and won the day's second game, 12-2, the game called on account of darkness after six innings. Matt Batts caught the second game, going 1-for-2. As far as appearing in a big-league boxscore, that was it for Bob Scherbarth; he never played in another major-league game.
Scherbarth wouldn't ever forget it, though. Who would? "That was really something! I was in the bullpen and all of a sudden, the coach [George Susce] says, 'Scherbarth, you're in there!' The managers and coaches said they were really grateful that I came up to help them out. Even though I didn't play or anything, they got me in one inning just so I'd get my name in the book."
Interestingly, the base on balls was the only appearance Combs had for the Red Sox in 1950. He left with a 1.000 OBP, and was traded to Washington about two weeks later. The game was also notable because it provided a first for Tom Wright. Wright had appeared in three games in 1948 and five in 1949, but it wasn't until this game in 1950 that he made his first major-league putout, after he entered the game in the eighth. He singled in the inning, pinch-hitting,then went 3-for-4 in the second game.
But back to Bob Scherbarth. He was a right-handed catcher, standing an even 6 feet tall and listed at 180 pounds. We don't know how much he weighed when he first entered this world but we do know he was born on January 18, 1926, in Milwaukee. Scherbarth's father, Elmer, also a native of the Badger State, worked at\s the manager of a bowling alley. Bob said his father had played for Toledo 1914-20.4 Bob's grandfather emigrated from Germany and had worked as an operator of coal yards. Bob's mother, Florence, was a South Dakotan by birth. Bob had a brother, Charles, who was one year older.
Bob went to the Walnut and Brown Street school, and graduated from Milwaukee's West Division High School where he was on the gym team, earned letters in a couple of sports, and served on the "Sport Senate." He played amateur and American Legion ball as a boy. Had he not played baseball, he had expected to go into physical education.5
Bob served in the United States Navy during World War II, from February 8, 1944, to June 4, 1946. He'd been a pitcher on his high school team, but upon joining the Navy, he found "there seemed to be more pitchers than chief petty officers, so I became a catcher. I got good instruction from Clyde McCullough, former Cubs and Pirates catcher, who had been left behind when Broadway Charlie Wagner and Phil Rizzuto had been shipped out. I got in quite a lot of catching before I got my sailing orders for the South Pacific."6
Scherbarth played on the Norfolk Naval Air Station team both as a pitcher and a catcher.7
Why had he signed with the Red Sox? John Drohan of the Boston Traveler wrote, "What sold Bob Scherbarth on signing a contract right after he received his honorable discharge from the Navy was the Red Sox scout waiting for him at the Navy Yard gate in Norfolk, Va. There wasn't any other scout around, and it was the first Bob had a fountain pen in his hands in three years."8
The scout was Paul Decker.
After signing with the Red Sox, he was assigned to Roanoke and appeared in 68 games for the Roanoke Red Sox in the Class-B Piedmont League. He hit .225 with four home runs, but these were the days when catchers were primarily prized for their game-calling and defense and not looked upon to be offensive threats. Roanoke won the Piedmont League pennant under manager Eddie Popowski. In 1947, his first full season, he played for Roanoke again (this time, with Pinky Higgins as manager) and improved to .265 with 15 homers in 103 games. Roanoke repeated atop the standings, 21 games ahead of second-place Norfolk. This time, unlike 1946, they won both rounds of the playoffs as well. Scherbarth was one of two catchers named to the league All-Star squad.
He played for two teams in 1948, both in Class-C ball. Scherbarth played 89 games in Texas for the El Paso Texans, and 28 for the California League's San Jose Red Sox, playing first base. He hit .363 with El Paso, before being sent to San Jose, where he hit .310.
In 1949 he started the season in Scranton "for maybe eight to ten games – something like that – then they sent me to Louisville. I stayed at Louisville for two years." In 1949 he was with the Louisville Colonels, played in 83 games and hit .289 at the Triple-A level. This earned him an invitation to spring training with the big-league club in 1950.
"I went to spring training in 1950. I'd had a good year. I thought I was going to make it. I went to Washington, New York, and Philadelphia. I was in Boston, too." (The team opened the season in Boston, with the Yankees visiting. Then the team went to Philadelphia, Washington, and New York, then back to Boston for almost three weeks.)
Scherbarth's one game was on April 23. One week later, on April 30, he was sent back to Louisville, the same day that Walt Dropo was called up to fill the void at first base after Billy Billy Goodman had chipped his ankle tripping over first base as he beat out a base hit.
In 1951 he had to contend with an array of others all vying to become the catcher for the Red Sox – Matt Batts, Al Evans, Mike Guerra, Buddy Rosar among them. He didn't make the cut. "In 1951 I went to spring training with the Red Sox. My arm didn't come around. We were playing the Giants and I made a snap throw on one of the boys that tried to steal. I snapped something in my shoulder and that did it. It just didn't come around." He was cut on April 2.
Scherbarth was back with the Colonels for a second year in Louisville; he hit .244 in 80 games. He soldiered on for a third year in Louisville in 1951, but saw his batting average dip again, to .231. He did hit four home runs, double the number he'd hit in 1949 and 1950 combined.
"The next year I went to Albany, New York, because I told them I'd just as soon play first base and forget everything else." In 1952 he was effectively demoted, being placed with Albany (Class-A Eastern League) where he played in 75 games, hitting .269. He also played five games with Double-A Birmingham. And then retired.
In his career after baseball, Scherbarth explained, "I was busy as an artist in lithography. Now I'm taking up oil painting. I did scouting for the New York Mets for 11 years but I finally retired because I had too much business in my printing company.
"I was doing regional scouting, like a bird dog. I had a salary. I found a kid who signed on as a pitcher. He went out and played in a rookie league. He lived on a farm and when he came back after the season, he cut his thumb off. The best prospect I had was a kid named Pinto. He played football, too, and he went to Madison but I think he got injured, too. The New York Giants signed him. He was a kicker and I think he injured his leg."
He worked for Krueger Lithography in Milwaukee and was active as a member of the Kilburn Masonic Lodge. In the late 1980s, he moved to Presque Isle, Wisconsin.
Scherbarth's last years were difficult ones. "I just got out of the hospital," he said at the time of the October 2001 interview. It had been a lengthy stay. "I have diabetes and they just amputated all of the toes on my right foot. That's your diabetes, boy. I spent about seven months in the hospital and I'm sure glad to be home, for Pete's sake."
He lived another seven-plus years, dying in his home at Presque Isle on January 31, 2009, just under two weeks after his 83rd birthday. He did not have a family of his own; he was survived by a cousin.
He had his memories to keep him company, though, and shared some of them regarding his 1950 Red Sox teammates in the interview. Ted Williams, of course, stood out. "When I sat right next to him in the clubhouse in Florida, a rookie reporter came in and he came over to Ted and asked him for a little dope on himself. Ted was so teed off – I don't know, maybe he wasn't hitting during spring training – he really told him to get the hell out of there. The thing was this – he sat down for a minute and then he called the guy over and he said, 'Listen, do me a favor. Give me a buzz. I'll be up in my room and I'll give you a report on myself.'
"Being so famous, he'd come down to the dining room for breakfast and everybody's around him to get his autograph, and his meal gets cold. The next day he took off early in the morning and ate at another restaurant.
"He never bothered anybody. He just went along and did his work. It was such a joy to watch him hit. Even when the Yankees were in town and we were both in our dugouts, when he went up to hit, everything seemed to be so quiet."
He added a couple of other memories. "Goodman and Doerr, they always went out to have their malted milk. They never went down to the bar and had a beer. I think I met those guys in a hamburger place in New York.
"Ellis Kinder, he'd come into the clubhouse with red eyes almost every other night. I think he pitched better when he didn't have enough sleep."
As a catcher, he was most impressed with Mel Parnell. "He could throw. He threw a real heavy ball. Slider. I enjoyed catching him.
"I have definitely remained a Red Sox fan. It was the greatest thing that ever happened to me — just to put on the Red Sox uniform. The Red Sox, they treat you like you're ..I never felt so good in my life as I did when I got up there."
Sources
In addition to the sources noted in this biography, the author also accessed Scherbarth's player file and player questionnaire from the National Baseball Hall of Fame, the Encyclopedia of Minor League Baseball, Retrosheet.org, Baseball-Reference.com, Rod Nelson of SABR's Scouts Committee, and the SABR Minor Leagues Database, accessed online at Baseball-Reference.com.
Notes
Born
January 18, 1926 at Milwaukee, WI (USA)
Died
January 31, 2009 at Presque Isle, WI (USA)
If you can help us improve this player's biography, contact us.
http://sabr.org/sites/default/files/ScherbarthBob.jpg
600
800
admin
/wp-content/uploads/2020/02/sabr_logo.png
admin
2016-05-26 13:52:16
2016-05-26 13:52:16
Bob Scherbarth