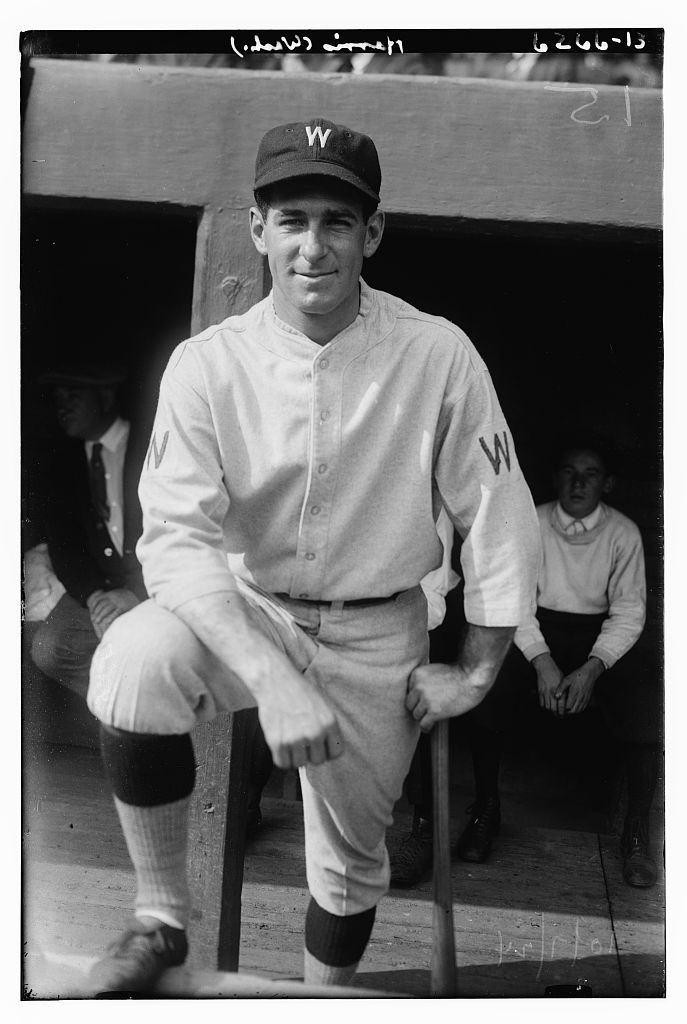 ---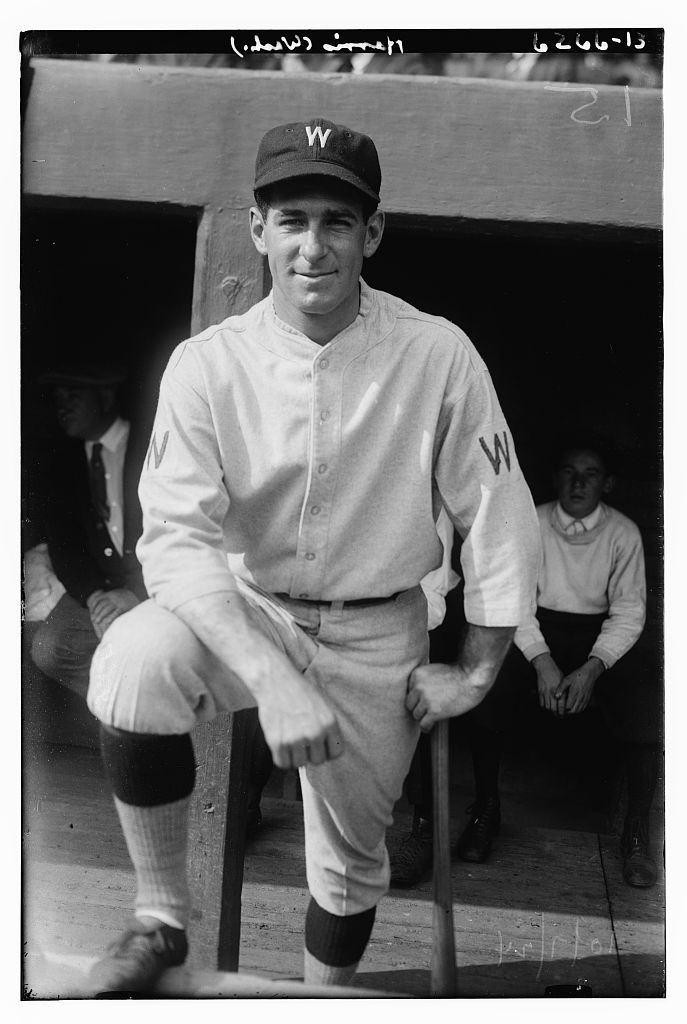 The New York Yankees of 1946 had many of the same stars who made them the dominant team of the pre-World War II years, but they finished in third place, seventeen games behind the Boston Red Sox, under three different managers. After the season, Bucky Harris, an experienced and well-traveled skipper, was brought in to lead the team in 1947. Harris had previously managed in Washington, Detroit, Boston, and Philadelphia, but after his success with the Senators in his first two seasons, he had a sub-.500 record as skipper. Despite the losing record, Harris was well-respected among his peers and his players, with a reputation as a smart and savvy manager.
Harris first earned fame as the "boy manager" of the 1924 Washington Senators. Washington had failed to field a competitive team through a succession of managers until owner Clark Griffith boldly named the twenty-seven-year-old second baseman with five years of Major League playing experience, but none as a manager, to lead the team. The Senators won the pennant and the World Series in his first year and repeated as pennant winner the next year.
Stanley Raymond Harris, son of Thomas Harris, a native of Wales, and Catherine (Rupp) Harris, was born on November 8, 1896, in Port Jervis, New York, an area where New York, Pennsylvania, and New Jersey meet. His father was a coal miner for the Pennsylvania Coal Company, and also worked at various times as a detective for the Erie Railroad, a patrolman for the Port Jervis Police Department, a police inspector for the Lackawanna and Western Railroad, and a police magistrate.
Stanley was raised in Pittston, Pennsylvania, near Scranton. Brother Merle, seven years older, was a Minor League player. When Stanley was thirteen years old his father abandoned the family, and young Stanley quit school to help his mother. A neighbor, W.P. Jennings, superintendent of a Pennsylvania Coal Company mine, gave him a job separating coal and slate. He worked nine hours a day for twelve cents an hour. It was hazardous work; accidents were not uncommon, with limbs getting caught and mashed by the crushing and sorting machines. After work he played baseball with other youngsters until dark, usually with a ball made by winding string around a rubber core and covering it with tape.
After six months Stanley became an office boy at the Butler Colliery for less pay but with a better chance for promotion. The following year he was promoted to assistant weigh-master, tasked with keeping a check on the coal leaving the colliery. He was now earning $9.72 a week as a fourteen-year-old, and even though he weighed only about one hundred pounds, he still yearned to become a professional ballplayer like brother Merle. He played basketball during the winter to keep in shape and build up his strength. There he earned his lifelong nickname. "I had a couple of players on my back in a rough game," he said. "When I shook them off and shot a basket [a friend] said I bucked like a tough little bronco"1
Still just fourteen, Harris earned a chance to play in the semipro Suburban League for two dollars a game. He was the youngest player in the league, and said in an autobiography written in 1925, that it wasn't talent that earned him the opportunity: "They were short on infielders, ability didn't turn the trick." But he found a mentor in another player, Tony Walsh, who worked with him to improve his game.
In 1916 Harris was invited to play for Scranton of the New York State League in an exhibition game against the Yankees. Manager Bill Coughlin put him in at third base for the last four innings of the game. Coughlin then offered Harris $125 a month—more than a year's salary in the mines—to play for Scranton, but the Detroit Tigers swooped in, signed him, sent him to training camp in Waxahachie, Texas, then to the Muskegon (Michigan) Reds of the Central League. He was released, re-signed when his replacement fared no better, and released again after finishing the season with a .166 batting average in 169 at-bats and a poor fielding percentage.
In 1917 Harris played in sixteen games for Norfolk in the Virginia League before the league disbanded after the U.S. entered the World War. He played as a semipro again for a short while, then joined the Reading (Pennsylvania) Pretzels of the Class B New York State League. Manager George "Hooks" Wiltse thought he was hiring Merle but gave Bucky the opportunity to play, and Bucky played in seventy-five games, hitting .250. When the season was over, he went back to work in the mines.
The next year, Harris played with the Buffalo Bisons in the International League. He still weighed only about 130 pounds, but he hit a respectable .241. After the season Harris joined the Baltimore Dry Dock Club, an exhibition team made up of major and minor leaguers, and the advice he received from the veterans on the team helped him improve at the plate and in the field. He returned to Buffalo for the 1919 season, became a fixture at second base, and batted .282. Harris had a tryout at the Polo Grounds in front of New York Giants manager John McGraw. "Evidently I didn't make much of an impression," Harris recalled.2 (The next time they met was in the 1924 World Series.)
Harris did, however, impress Senators scout Joe Engel, when playing a game for the Bisons in Binghamton, he was hit in the hand by a line drive, but played through the pain. Engel recommended him to Griffith, the club owner. Griffith went to see for himself, and the Senators purchased Harris's contract for $4,500. Harris made his debut on August 28, 1919, getting a single off the Yankees' Carl Mays in his first at-bat to drive in two runs. Harris was still in pain, and X-rays showed that his hand was broken in three places. After eight games, he was done for the year.
After the season, Harris played basketball to keep in shape. He went to spring training in 1920 competing to keep the second-base job, and he worked hard to correct his weaknesses, the double-play pivot and getting under pop flys. He won the job, and by going 4-for-4 on the last day of the season finished at an even .300. In 1921 he finished with a .289 average. The following season his average slipped to .269, but he rebounded in 1923, hitting .282.
Harris led the league in getting hit by pitches for three consecutive years starting in 1920, but it was in the field where he really earned his pay. After placing second in 1921 in put-outs among American League second baseman, Bucky led the league in 1922 and 1923. He also ranked in the top three for assists and in the top five for fielding percentages for 1921–1923, despite committing thirty or more errors a season. Harris simply got to more balls than just about anyone else.
After the 1923 season Griffith, who had tried three different managers in the last three seasons, fired the latest entrant, Donie Bush, and gave the job to Harris at a salary of nine thousand dollars. At twenty-seven he became the youngest non-interim Major League manager to that point; he was also the second youngest starter on the team. (As of 2011 Lou Boudreau was the youngest manager, signing on to lead the Cleveland Indians in 1941 at the age of twenty-four.) Griffith said he had Harris in mind as a "manager in the making" for several years. "You're only a kid, as managers go, but I'm gambling on you having the right stuff," he told Bucky.3
Harris was a hard-working manager. In spring training, he was diligent in drilling the team on fundamentals. He let the new players know what was expected of them, and he learned the strengths and weaknesses of all his players. He was proud that they had learned to work well together and that there was no dissension. And there was no interference from Griffith — this was Bucky's team.
Harris showed a gift for strategy and for handling his pitchers. Before spring training ended he sent Walter Johnson home to prepare for Opening Day. He decided that he would not be afraid to pull his starting pitchers when they were hit hard or if they didn't have their best stuff, a change from the standard practice at the time. He had faith in his relief pitchers, and made Firpo Marberry a closer, long before this practice became fashionable. (Marberry relieved in thirty-six games that season and finished thirty-one.) Despite the preseason predictions of a second-division finish, the Senators were contending by June, and the players' confidence grew. The Senators, who had finished under .500 the season before, won their first pennant, edging the Yankees by two games.
The World Series cemented Harris's reputation as a shrewd manager. Thirty-six-year-old Walter Johnson, who had led the league in victories, strikeouts, and ERA, started Game One but the Senators fell 4–3 in twelve innings to the Giants. By Game Five, Johnson's next start, with the teams tied at two wins each, Johnson was hit hard a 6–2 defeat. For Johnson, playing in his first World Series after eighteen years in the big leagues, the losses were heartbreaking. But Harris knew that Johnson was still a great pitcher, and gave him another chance in Game Seven—only not as the starter.
Harris planned to start right-hander Curley Ogden, but let him pitch to only one batter, then substitute left-hander George Mogridge. This would cause John McGraw to switch to his right-handed batting order and bench Bill Terry, whom Harris considered the Giants' most dangerous hitter. McGraw did pull Terry, in the sixth inning, and thus Terry's replacement, right-handed-hitting Irish Meusel, batted in the ninth inning against Walter Johnson with two on and two out, and grounded out.
Ogden struck out Freddie Lindstrom to start the game. Harris let him face Frankie Frisch but he walked Frisch, and was replaced by Mogridge. Mogridge pitched well until the sixth inning, when Marberry relieved him. Harris tied the score in the eighth inning with a bases-loaded single. (Earlier in the game he had hit his second home run of the Series.) In the ninth inning Harris called in Walter Johnson for one more appearance. Johnson gave up a one-out triple to Frisch, but he struck out George "High Pockets" Kelly and got Meusel to ground out. Johnson pitched four scoreless innings and the Senators won in the bottom of the twelfth. Harris had helped win the Series with his head and his bat, despite the Senators' being out-hit and out-fielded by McGraw's Giants. Harris hit .333 and drove in seven runs with two home runs, as many home runs as he would hit in any single season. Harris became the youngest manager to win a World Series.
Bucky's success as the young player-manager of the Senators endeared him not only to the Washington faithful, but to Washington's young socialites, as well. He met Mary Elizabeth Sutherland, daughter of a former Senator from West Virginia, and they married in 1926. The Harrises bought a home on Wyoming Avenue, in Washington's upscale Northwest section. They had three children: Stanley, Richard, and Sally. The couple was divorced in 1951.
The Senators repeated as American League champions in 1925, but lost a hard-fought World Series in seven games to the Pittsburgh Pirates. Harris's first losing season as a manager came in 1928, and after the season he was traded to Detroit and named the Tigers' manager. By this time he was almost exclusively a bench manager. In his five seasons with Detroit the team never finished higher than fifth. He resigned on September 23, 1933 after a Tigers victory over the Browns. Frank Navin, president of the Tigers, tried to dissuade him, but Harris would not be moved. Harris explained to the press that he felt, perhaps, someone else could do a better job and he wanted to be fair to Navin. "Perhaps he [his successor] can do better," Harris said. "I am not going to sit around and blame the breaks," he continued. "I dislike to sever my connections with the Tigers, but under the circumstances feel that it is the only fair thing to do."
In 1934 Harris managed the Boston Red Sox, who were in full rebuilding mode under new owner Tom Yawkey, to a fourth-place finish. The next season Harris returned to Washington to lead the Senators for eight more seasons, never finishing higher than fourth. In 1943 he signed on as manager of the National League's perennial losers, the Philadelphia Phillies. Phillies owner William D. Cox fired Harris less than two months into the season. So popular was he with his players that they threatened to strike when he was fired. (After he was fired, Harris told reporters that Cox had been placing bets on Phillies games. Cox was forced to resign and slapped with a lifetime ban from baseball.)
In 1944 and 1945 Harris served as manager and general manager for Buffalo, a Detroit Tigers affiliate, in the International League, before returning to the majors in 1947 with the Yankees. He led New York to the American League pennant and victory over the Brooklyn Dodgers in the World Series, for which he received his second Manager of the Year award. In 1948 the Yankees finished third despite a 94-60 record, and Harris was fired at the end of the year.
He managed San Diego of the Pacific Coast League in 1949, before returning to manage the Senators (1950–1954) and the Tigers (1955–1956), but with little success. Harris quipped of his three stints as manager in Washington that "Only Franklin D. Roosevelt had more terms than I did in Washington."4 He was remembered as a popular and knowledgeable manager who brought out the best in his players. Joe DiMaggio said, "If you can't play for Bucky, you don't belong in the major leagues." Goose Goslin called him "the best manager I ever played for."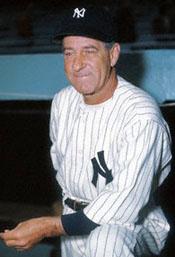 Harris had a career Major League batting average of .274. In 1,253 games at second base, he led the American League in putouts four times and in double plays five straight times (1921 to 1925). In twenty-nine years as a manager he won 2,158 games and lost 2,219. With two World Series victories and the respect of his peers, he was voted into the Baseball Hall of Fame by the Veterans Committee in 1975. Harris will be remembered as a scrappy ballplayer known for his great defense, his hard-nosed play, his base-running skills, getting hit by pitches, and for his clutch hitting in the 1924 World Series. As of 2011 only Connie Mack, Tony LaRussa, John McGraw, and Bobby Cox had managed more games than Harris, and he ranked seventh all-time in managerial victories and third in losses.
From 1956 to 1960 Harris was assistant general manager and then general manager of the Boston Red Sox, and he finished his baseball career as a scout with the Chicago White Sox, then as a special assistant with the expansion Washington Senators of the 1960s.
In 1954, as manager of the Senators, Harris put Carlos Paula, a black Cuban, on the roster as the first black Senator. Harris wasn't an activist; he appeared to be motivated to field the best team possible, regardless of color. When Pumpsie Green became the first black player for the Red Sox in 1959, Bucky was the general manager.
Harris died on his birthday, November 8, 1977, at the age of eighty-one, of Parkinson's disease. Bucky, whose second wife Marie deserted him when he became seriously ill, is buried at German Protestant Cemetery in Hughestown, Pennsylvania.
Sources
Harris, Stanley. Playing the Game. New York: Grosset and Dunlap, 1925.
Kashatus, William C. Diamonds in the Coalfields: 21 Remarkable Baseball Players, Managers, and Umpires from Northeast Pennsylvania. Jefferson, North Carolina: McFarland & Company, 2002.
Barbieri, Richard, The Hardball Times, November 11, 2010.
Markusen, Bruce and Ron Visco, "Bucky and the Big Train," Elysian Fields Quarterly, Vol 17, 2000.
Sullivan, Paul, "The young owner who may have saved the Phillies," The Hardball Times, May 31, 2011.
Alien Property Custodian," New York Times, September 12, 1926.
"Bucky' Harris to Wed Elizabeth Sutherland, Daughter of the Alien Property Custodian," New York Times, September 12, 1926.
Bucky Harris Obituary. New York Times, November 10, 1977.
Thomas Harris obituary, New York Times, September 27, 1943.
Mark Armour, "Firpo Marberry," SABR Baseball Biography Project.
http://www.lahabrahighschool.net/ourpages/auto/2009/11/18/41264327/Cilld%20Labor%20Coal%20Mines.pdf
http://www.efqreview.com/NewFiles/v17n3/onhistoricalground.html.
http://www.baseball-almanac.com/players/player.php?p=harribu01.
http://www.hardballtimes.com/main/article/this-annotated-week-in-baseball-history-nov.-6-nov.-13-1896.
The Curious Case of Curly Ogden, or How Bucky Harris Tricked John McGraw in the 1924 World Series
http://thebaseballpage.com/players/harribu01.
http://www.hardballtimes.com/main/printarticle/the-young-owner who-may-have-saved-the-Phillies.]
http://alt.nntp2http.com/obituaries/2006/11/12a51be1364ddd72239c9a059329281f.html.
http://entertainment.howstuffworks.com/bucky-harris-hof.htm.
http://www.baseball-reference.com/players/h/harribu01-field.shtml.
Jack Smiles, personal communication.
Telephone conversation between Thomas Bourke and Mrs Sally Goochin Orlando, Bucky Harris's daughter, on August 30, 2011.
Notes
Born
November 8, 1896 at Port Jervis, NY (USA)
Died
November 8, 1977 at Bethesda, MD (USA)
If you can help us improve this player's biography, contact us.
https://sabr.org/sites/default/files/Harris-Bucky-LOC-37594v.jpg
600
800
admin
/wp-content/uploads/2020/02/sabr_logo.png
admin
2012-01-04 20:09:38
2021-10-22 22:11:25
Bucky Harris